Today I've got one of my long-time jamming buddies talking with us; Mr. Michael Hill. Mike, thanks for doing this man, can you give folks the highlights about you and we'll get right into it.
My name is Michael Hill and I'm from Iva, South Carolina. I play the 5-string banjo and the bass. I play with a bluegrass band called Tugalo Holler.
JED: Tell us a little bit about your beginnings. Your origin story, so to speak. How did you get into music, and what made you choose this path over others?
Well I've loved music since I was a kid. And being in the 90's there was a lot of good music! I had this box of cassette tapes and a recorder / boom box to make mixtapes from songs that came on the radio…Good times.
JED: Man talk about a flashback; I remember doing that when I was like 8! What were some of the earliest tunes you remember doing that with?
A couple that come to mind are "Dust on the Bottle" by David Lee Murphy and "My Maria" by Brooks & Dunn. While both of those examples are country, I had so many different tapes…All genres.
But I didn't really have an interest in bluegrass until I was 16. I was at this jam where I saw this local picker Steve Snelgrove playing Foggy Mountain Breakdown on the banjo. I thought that was pretty cool, and shortly after that I got my first banjo. It was a Deering Goodtime II complete with an Earl Scruggs signature on the head, in red sharpie.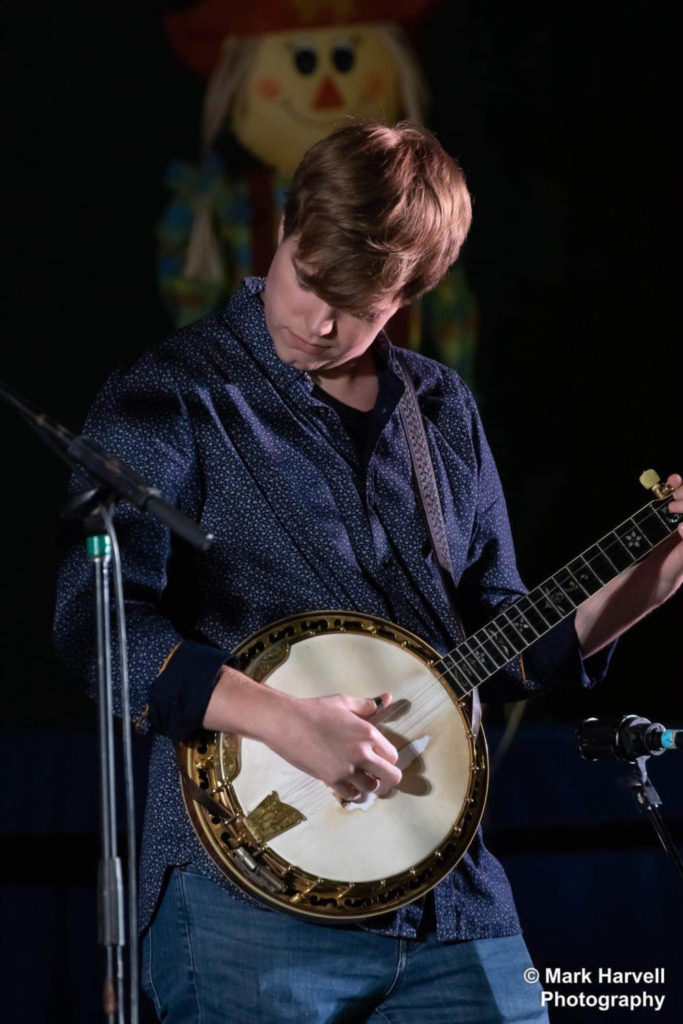 JED: Ha! So did you grow up around the music or have much exposure to it prior to 16?
I wasn't around it very much, nobody else in my family played instruments or anything. I do remember going to a couple of shows and festivals with my parents when I was a kid, but it wasn't a big part of my life before that time.
After I had been picking for a few years, I was playing little gigs and filling in wherever I could and I ended up at a church where I met this beautiful girl named Kayla, who is now my wife! Not long after we started dating, I started playing with a band called Tugalo Holler.
In 2013 I went to SPBGMA (Society For The Preservation Of Bluegrass Music in America's annual convention and awards ceremony in Nashville) and that made me want to get better at banjo. it also got me interested in playing bass for the first time. I ended up getting a "fretless" bass from a friend, which was actually just a regular electric bass with the frets removed.
JED: A homemade "jaco bass" of sorts? Dude SPBGMA is such a good hang. There are few years I've gone and not gotten sick from being in such tight quarters with everyone in that hotel. D'you get sick your first year?
Yeah, pretty much! I don't believe I did the first year, but I definitely have a couple of times. One year I couldn't hear out of my left ear at all.
JED: Why couldn't you hear out of your left ear? Sinus congestion or loud jams?
Sinus congestion. So I had to make sure the rhythm section was on the right side! Hahaha.
JED: What are your favorite 5 albums, and do they influence your work? If so, in what ways?
This will be difficult, but as far as bluegrass goes….No particular order:
Drive – Béla Fleck: This album was a game changer. Most of the bluegrass I listened to up until that point had been Earl Scruggs, J.D. Crowe, mostly trad stuff…Which is cool, but this made me want to get out of my comfort zone a little more.
So Long So Wrong – Alison Krauss & Union Station: When people ask what groove or pocket means to me, I tell them to listen to a few tracks on this. It's not the only example but it's a notable one.
Section House – Section House: Another instrumental album that breaks the mold. Their cut of "Koopa's Road" is one of my favorite tracks but they are all awesome.
Mountain Heart – Mountain Heart: The first record they made. I didn't hear this one until more recently, but it's become one of my favorite bluegrass albums. "Patching it up" means a lot to me. I believe the character of God is conveyed well in that song.
JED: Man that Mountain Heart album was released on Tim Austin's label (Doobie Shea Records) back in 1999. It isn't available on Spotify or iTunes. Where and how did you hear it?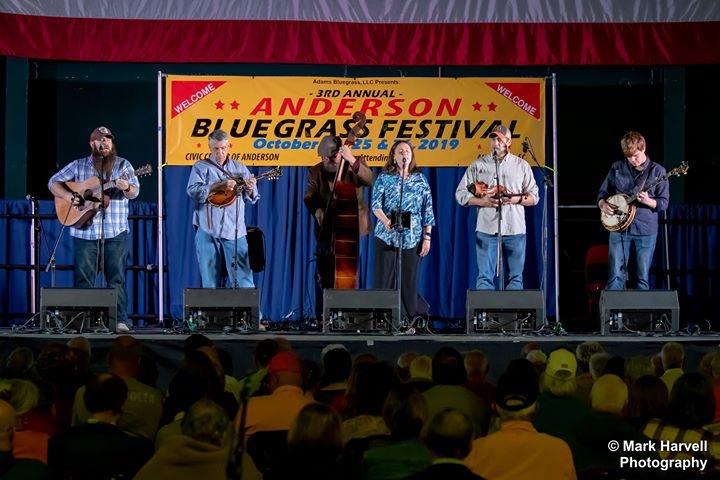 I had borrowed it from Stephen Hudson. We were talking about Mountain Heart and I showed him a video of them doing "Taney County" on YouTube, and he told me it was from their first album, and he had the CD.
Winding Through Life – Doyle Lawson & Quicksilver: This is one of the albums I heard often at an early age and although I wasn't into the music then, I knew all the songs. So this record is sort of sentimental to me now.
JED: Which part of your music career do you enjoy the most – live performance, recording, writing, etc.?
Definitely live performance…This hasn't always been the case, but there's nothing like playing for a crowd who wants to hear music. If you would have asked me a year or two ago, I would have probably said jamming. I still love that too though.
JED: I think the jamming element of Bluegrass music is so unique and cool. The only thing I feel like it could be likened to is Jazz music. You can meet a total stranger, and say "ok we're gonna do 'Little Cabin Home On The Hill,'" pick a key, and for the most part play a song from start to finish cohesively. I guess you could do that with any music as long as everyone knew the music, but the only music I've experienced it with has been Bluegrass.
Yeah dude! I love that about it too. Especially when you factor in the "Nashville Number System." That's been one of my biggest helps.
JED: Who are three musicians today that you think are underrated?
Allen Clayton. A great musician from here in South Carolina, and one of my favorite banjo players to jam with lately.
Grayson Lane. Plays, sings, and writes beyond his years; I've heard him do several genres and it all sounds awesome.
Blake Young: One of my favorite mandolin players. I've jammed and played several gigs with him over the years, and I'm always impressed! He's a great songwriter, too.
JED: Tell us a little bit about your current rig – what does your "rig" consist of?
My "rig" is a 2006 OME banjo, a 1930's Gibson TB-2 conversion banjo with a Stealth neck, an NS Design Omni Bass, a Yamaha TRBX305 bass, and a Mark Bass mini amp.
Did Patton Wages turn you on to the Stealth neck? I know he's a big fan of those.
Yeah man, Patton actually put that neck on it. The Stealth was killer on its own, but I'm happy with what we did. It turned out great!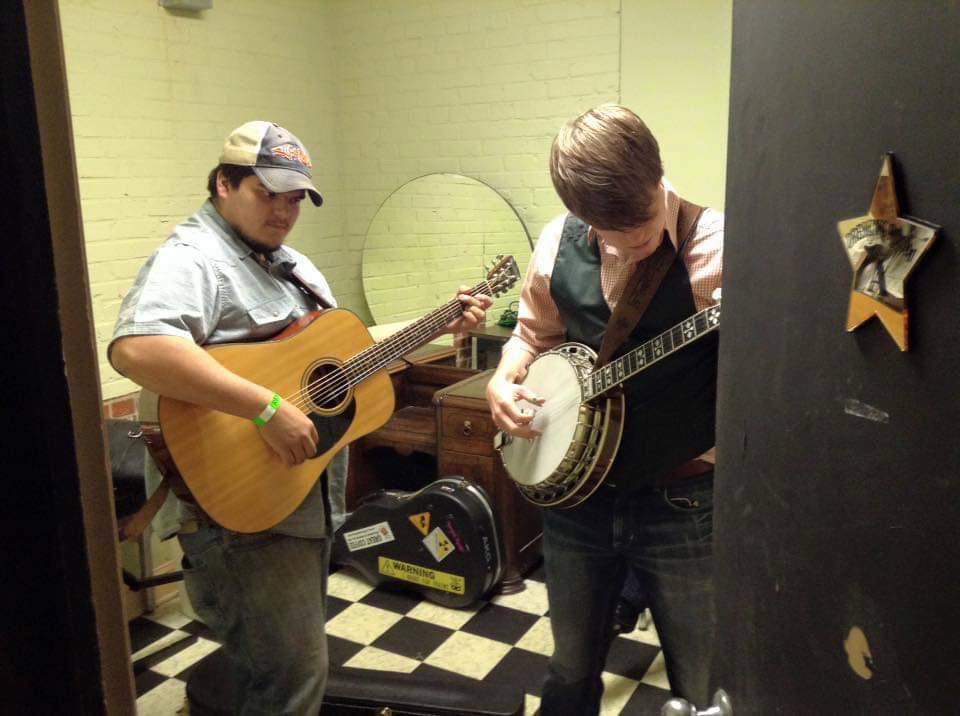 JED: If you were given $100,000 to spend on an album production, what would it look like?
Wow, I'd have to think about it…But I'd probably get Jeff Partin to record it and play dobro, and I have a pretty good idea of who else I'd want on it. With that kind of a budget I'd be recruiting some special guests no doubt. I would probably set a day aside to figure out arrangements, band licks etc. Then, I'd do live cuts playing banjo with a full band, maybe get a few takes of some tracks and then send everything to Aaron Ramsey to master it.
JED: Who are some of the other people you'd want involved on the project?
There's so many people I'd want to be involved…But to name a few: Stephen Hudson, Josh Hicks, Michael Andrews, Zack Arnold, John Meyer, and definitely you and your brother Harry.
JED: Man that is really flattering to be included among such talent. That would be a fun session! What is your favorite album or recording so far that you've made?
My favorite recording was this thing some friends and I did back in 2016, we recorded a few bluegrass cuts and the quality was really good. It was never finished, but it was a lot of fun! I mainly played bass at that point in time. I'd love to do some banjo overdubs on a couple of those tracks now.
JED: Bro you gotta finish that up and get it out! Who all played on it? What kind of material was on it?
It was mainly just bluegrass stuff with Josh Hicks, Michael Andrews, Jeff Partin, Jay Shuler and I. We recorded it live with each one of us in a different room, wearing headphones. But it still sounded natural, like we were standing in a circle.
JED: That is the ideal sound man. It is a statement of the caliber of players you were working with that you were able to attain that although each musician was isolated. What are you currently working on?
Teaching lessons. I had never done that until recently, and it has its own learning curve! But it's enjoyable, and helping someone make the ideas they have about playing into a reality is rewarding.
JED: It is amazing how much you learn by trying to teach someone else what you know. It's like you have to deconstruct your processes and articulate them in a way that makes sense to someone who is totally unfamiliar with them.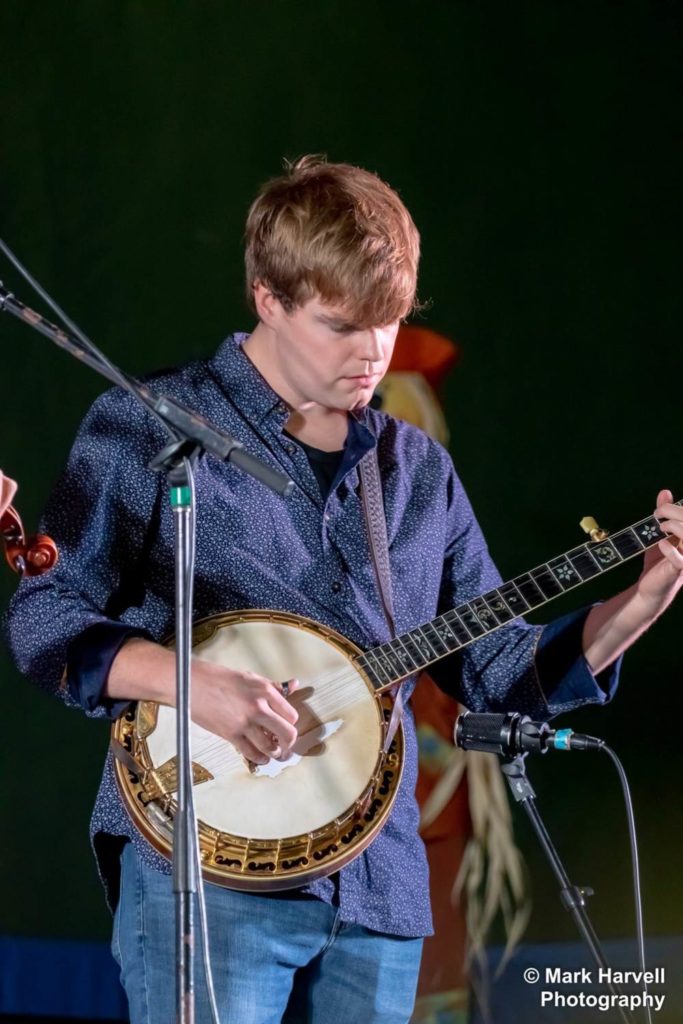 Yeah dude! Breaking all that down, and putting it into a lesson is practice in itself.
JED: Michael I'm really glad we got to talk a little bit about your story and your music. Thanks for joining me! Can you tell me what is coming up next for you?
Absolutely, Jed! I appreciate it. Well one thing is a new bluegrass band that I'm playing in, which we're calling "Savannah Ridge." It consists of Stephen Hudson on fiddle/vocals, Josh Hicks on banjo, Dustin Norris on mandolin, Joseph Welborn on guitar, and me on bass. We're currently working up some material!
Keep up with Michael at the Tugalo Holler Website. Featured photo by Kayla Hill.