Hey there! Thanks for taking some time to chat with us today. Tell us who you are, what you do, and where you're located?
Hello!! I'm Cassidy Maude, a 22 year old Queer Indie Folk musician currently living in Nashville TN.
JED: Where d'you hail from?
Battle Ground, Washington. When my family moved there it was a very small country town, but it has grown a lot in the last 13 years. Lots of waterfalls and about three things to do for fun!
JED: Tell us a little bit about your beginnings. Your origin story, so to speak. How did you get into music, and what made you choose this path over others?
I wrote my first song when I was four years old (my mom actually had to physically write it as I didn't know how to yet) and have never stopped. It's always been the only thing I've ever wanted to do along with painting, and the idea of creating new things for the rest of my life is so exciting to me. I feel like I didn't choose being a musician because it's just always been this way. I'm also the only musician in my family!
JED: That's interesting, so neither of your parents played music?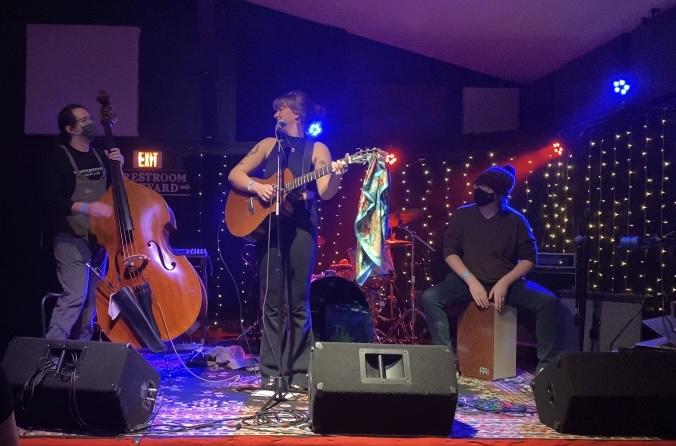 They did not! Although, my dad loved playing very loud Americana and folk music on speakers through the house growing up – and singing made up opera as loud as possible to wake us up on the weekends! I credit a lot of my music taste to him and my mother. I also think my mom has a lovely voice however I've only ever heard her sing quietly to herself. Both of them have been completely supportive of my music and my dad is one hundred percent my biggest fan.
JED: It's great to have a supportive family when pursuing what you love. That's really sweet to hear that your dad is your biggest fan. What are some of your favorite albums, and how do they influence your work?
"Sound & Color" by Alabama Shakes was the first album I got on vinyl which gave it a sweet spot in my heart forever. Brittany Howard's voice itches something in my brain that few modern voices do which makes me want to listen to this album on repeat. A lot of the lyrics feel very conversational which is what I strive for in my music as well. I want to feel like I am telling a story to a dear friend. I feel like I'm having a conversation with Brittany everytime I listen.
"In Memory Of Loss" by Nathaniel Rateliff is an album I discovered within the last year and every single song just rips me to pieces and puts me back again. Rateliff is so honest and unembarrassed in his writing and his voice is very unique. This is the first album I have heard in a long time that has absolutely no skips for me and that I can listen to everyday without getting bored.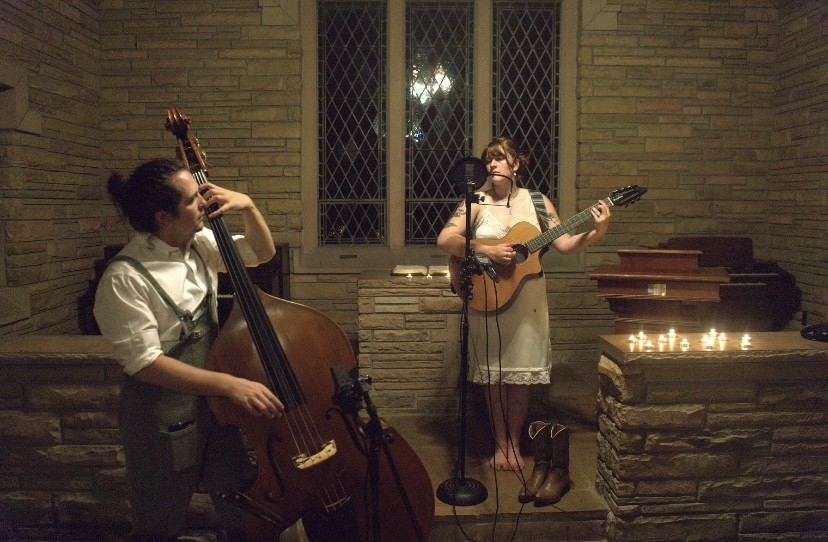 With "The Avett Brothers", you could pick any song from "I And Love And You" and I would have a childhood memory of my dad associated with it. This album is what I heard everyday growing up after it came out. I love the storytelling and instrumentation of the album, and in most of their music from before 2017. I think this album is what started my affinity for folk rock music.
The music I listen to inspires me to be open and raw with my lyrics and to just put out music that I love and would want to listen to. I also have grown a strong affinity in the past five years for lots of old country musicians like Marty Robbins, Patsy Cline, Ferlin Husky, Doc Watson and so many more.
JED: Which part of your music career do you enjoy the most – live performance, recording, writing, etc.?
I love performing live and I love meeting people that my music resonates with. It's so interesting and cool to have people like what I write and to talk about it with them. I also love making my merch!
JED: You make your own merch? Tell me more about that.
I carve and block-print all of my designs for merch! The shirts, bags, pants and other clothing I use for this are all thrifted and upcycled. I wanted to be environmentally conscious when creating it and the best way I found to do that was to upcycle- and it's really special because every piece is truly one of a kind. I also block-print my own posters and greeting cards and design all of my stickers. I like having fun one of a kind merch that you wouldn't tend to find from other artists like handmade zines and preserved and pinned butterflies with my signature on the card they are tacked to! It is a lot of work to do by myself but it is very rewarding.
JED: Very cool. Who are three musicians that you think are underrated or deserve more notoriety for their art?
Keenan O'Meara has a timeless voice and writing style. I think he always has beautiful melodies and lyrics as well. Every song of his puts me into a movie scene and I think he is on the same level as others that I would relate him to like Keaton Henson and Hozier. I also think the quality of the instrumentation in all of his songs is really great.
Purser! Purser is a dear friend and fellow Queer musician that I really admire. They actually opened for me on tour in the summer of 2022. Every single song they write is beautiful and tear jerking and "head bangable" at the same time. I don't know how they make everything seem so effortless. They can take these absolutely gut wrenching lyrics and make them fit into a beautiful melody for everyone to understand and digest. They also put on one of the best performances I've ever seen. Truly one to watch.
Field Guide does have a bigger following in the music world, but I would love to see him playing sold out arenas and being held to the same light as a lot of other musicians of his style. His lyrics are beautiful, his voice is precious and he just warms my heart. I think his music is really something special and I want as many people as possible to hear it.
JED: Tell us a little bit about your current rig – what does your "rig" consist of? What instrument(s) do you play, pedals, mics, etc.?
I generally play either my nylon Breedlove acoustic or this crappy Martin I picked up from a music store here in town. I like to keep things pretty simple, and I also have a band consisting of electric guitar, drums and upright bass!
JED: Tell me more about your band. Who plays in it? How did your band come to be?
I feel very lucky that they are all amazing musicians, but also great friends. I knew all of them as friends first before recruiting them for the band! JJ (Jeff Halpin Jr.) is my upright bassist and bestie. Charlie Fuertsch is my guitarist who actually just joined us and has played one or two gigs with the band, but I have known him for years now. Garrett Goodwin is my fantastic drummer and friend. We actually all lived in Boston around the same time and became friends there before moving to Nashville in 2021 and 2022! JJ and Charlie play in a band together and the three of them all went to Berklee together. I didn't go to school with them but was involved in the music scene as well. They are all a part of multiple bands, I don't know how they do it!
JED: If you were given an unlimited budget for an album production to record your dream album, what would it look like?
I would love to go somewhere very secluded with my band and just unplug from all social media and electronics except for the recording equipment. I'd probably take them on trust building exercises and bonding hikes haha. I would record the album that I currently have ready to go consisting of 12 original tunes and I would love to hire a full string orchestra. Still saving up!
JED: I like the emphasis on focusing on the music free from distractions. You have an album already recorded?
I think that my best songs have come to me when I'm completely unplugged from electronics. It makes it easier for me to just write and not focus on anything else. Not yet, but I have one ready! I have 3 singles out right now and have a 3 song Live EP coming out this month. I'm hoping to start on the album in 2023.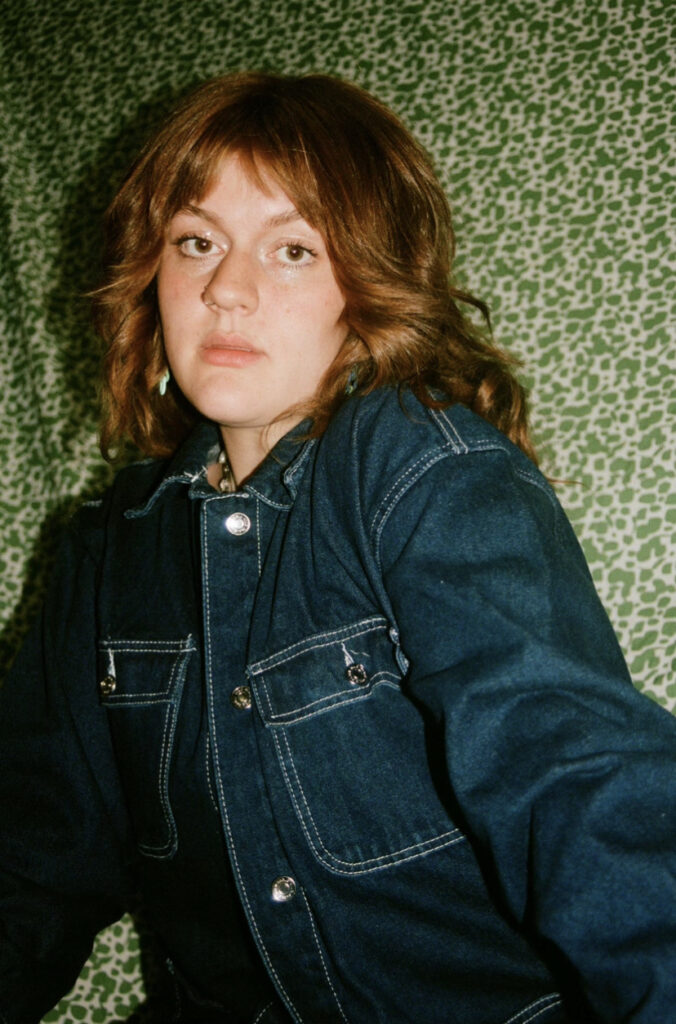 JED: What is your favorite album or recording that you've made to date?
I just released my second single titled "Ghost" that I love with my whole heart. It has such personal meaning to me- and it's actually been getting streams from over 60 countries in the world which is insane to me. To think that there are people with completely different lifestyles and backgrounds and cultures that are listening and relating to my music is crazy.
JED: What are you currently working on?
I have a live EP called "Live In The Quiet Church" coming out January 27th 2023 that I'm incredibly excited for. It just has myself and my upright bass player JJ on it which feels very special because they were the first person to join my band and are also one of my best friends. There are three original acoustic songs, two of which have never been released in any other format. One entitled 'Ghost" was released in October 2022 as a studio version. I think that this EP is putting me another step into where I want my music to be and I'm very hopeful that it will reach people who connect with it.
JED: Cassidy thank you for taking some time to tell us about your musical journey. We'll stay tuned for your EP release!
Follow Cassidy on Instagram, Twitter, and TikTok
Featured photo by Nylah Bannister.