John its been too long since we've gotten to catch up. I am really glad you've found time amidst all your goings-on to chat with us today. For those that aren't familiar with you or your music, give us an introduction to you.
My name is Johnny Meyer, I'm a singer/songwriter and multi-instrumentalist. I've been living in Nashville, Tennessee since 2014. I am currently touring with Country Music Hall of Fame Member Jimmy Fortune, as well as working in the studio on my debut album. Thank you for the chance to tell a bit of my story and share some new music!
JED: Tell us a little bit about your beginnings. Your origin story, so to speak. How did you get into music, and what made you choose this path over others?
I'm originally from the Midwest, I grew up around Sheldon, Missouri, about an hour north of Joplin. It's a pretty rural area, gravel roads, hayfields, lots of whitetail deer, and everything that goes along with that. Watch the roads if you're driving at night!
I have a lot of great memories from growing up there. Hunting with my brothers, building fences in the summer, cutting wood with dad to burn for the winter, we did a lot of the things you'd expect from a rural area.
I can't remember a time when I didn't listen to or enjoy music, although when I was younger, we listened to a lot of classical music. Being from a large family, maybe mom and dad figured it would have a calming effect on the chaos of all us kids in the house. I'm not sure if it did or not, but I still love classical music.
My first instrument was actually a Euphonium, which is like a baritone Tuba. I remember being at the music store with my mom who was taking cello lessons at the time and seeing a Tuba on the wall and thinking 'I want to play that thing.'
Anyway, I think it was a good foundation for me, it gave me the chance to learn basic music theory and how to read notation before heading in more of a bluegrass/folk music direction.
My dad played some guitar around the house, and he had a fantastic vintage Guild guitar. I started playing it when I was 11 or 12, I still remember trying to make out a C-chord, it seemed like the most impossible thing to master. I began learning and playing songs by ear, mostly hymns or southern gospel I'd heard in church or on the radio.
When I was 13 my mom told me 'I think you could play the banjo' and brought home a banjo from a yard sale. I think she paid $50 dollars for it. I started taking lessons, and that's really what catapulted me into the bluegrass music scene. My older brother was playing guitar, and within a short time, we were doing local gigs as the Meyer Bluegrass Band.
My siblings and I ended up taking 1st place in the 2009 KSMU Youth in Bluegrass Contest in Branson Missouri, which introduced us to an incredible extended 'family' of great folks and gave us opportunities to travel around the midwest doing festivals, fairs, town picnics, a lot of that sort of thing.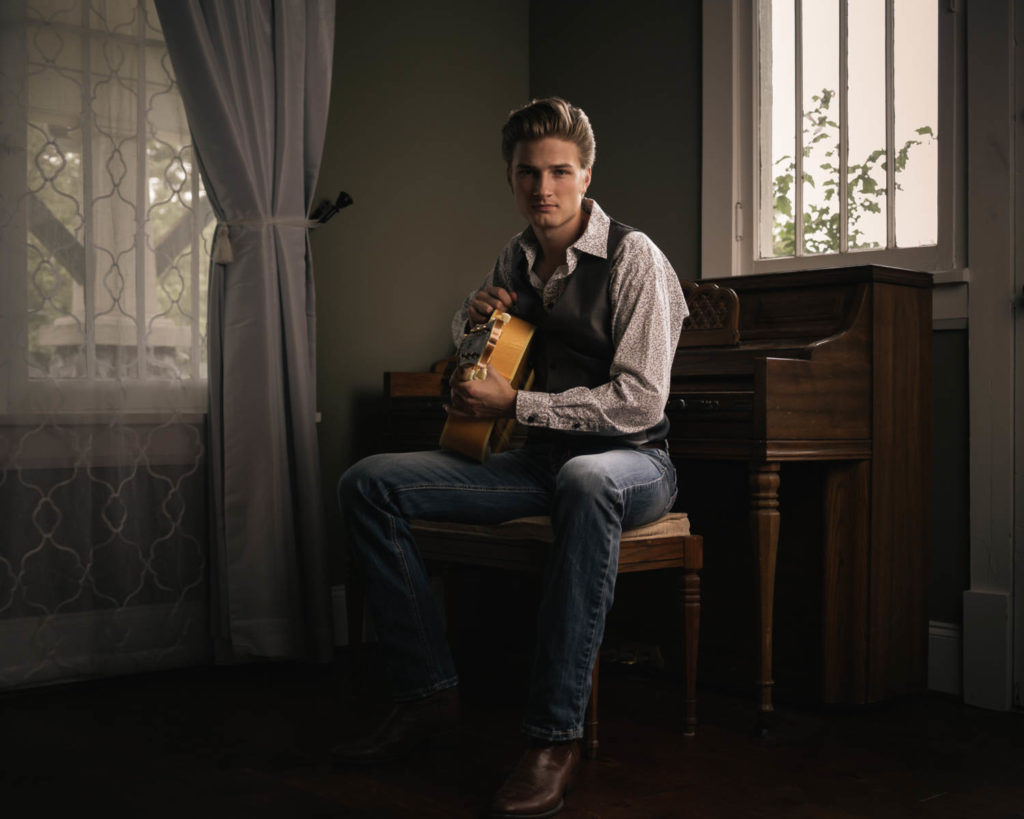 I was also fortunate enough to be a part of the winning bands in 2010 with you and Harry [Clark], and 2011 with Blue Rain. I think all the videos are still on YouTube somewhere. It's fun to go back and watch them sometimes. We were just kids learning to play together and having a great time.
In 2013 my siblings and I won the SPBGMA International Bluegrass Band Contest in Nashville, TN. I haven't played a contest since then, they make me incredibly nervous and I've never won one without being a bit shocked that we actually came in first.
So to answer your question, in a way, I don't distinctly remember choosing to play music as a career. It was kind of like it kept choosing me, I just knew I loved it. I loved learning how different melodies and harmonies fit together, and I loved playing music with other people.
I've had other jobs as well, when I was 18 I lived in Arkansas and worked in the oilfield which was booming there at the time. I made decent money, but the whole time I was thinking about playing music instead. I've also worked in construction and done handyman kind of work, which I enjoy, but again, I would always leave thinking of music or trying to write a song on the drive home.
Since moving to Nashville in 2014, I've had opportunities to work with many of my heroes in the bluegrass/country music world, which has been very rewarding. There's a lot of great folks out there making music for the right reasons.
I'm super grateful to every artist or group that has given me the chance to travel with and make music with them. I try to learn something from everyone I play with, I think everyone has something that they do especially well and worth emulating.
One of the things that has been helpful to me as a player has been really trying to focus on sounding good with the overall band. When I play, I try and think about the band. I try and play good rhythm behind who ever is soloing, or just stay out of the way if that's what's needed. I'm of the persuasion that if you can make the band sound good, if you can make whoever is in the spotlight sound better, you'll have work. People will hire you. My solo is only a fraction of what's going on during any given song.
Learning to sing backup vocals has been a huge help as well. Everybody needs backup vocals.
JED: What are your favorite 5 albums, and do they influence your work? If so, in what ways?
What a great question! Let's see if we can narrow it down to just five.
JD Crowe and the New South – Rounder #0044
This may be the first CD I bought with my own money. I was a year and a half into my banjo playing journey, and I saw J.D. and the New South perform at the Starvy Creek Bluegrass Festival in Conway, Missouri. J.D. was just ripping the banjo, and yet when I looked and listened closely, it seemed like he was barely tickling the strings. J.D. knows how to get maximum tone with minimum effort. His playing taught me that tone isn't about playing hard, it's about finding that sweet spot. Rounder #0044 was a benchmark bluegrass record from 1975 that still holds major influence today.
2. Tony Rice – Native American
Getting into the J.D. Crowe material via banjo playing introduced me to Tony Rice. Both Tony's vocal and playing ability carries with it an emotive quality that is just incredible. I also love the way Native American was recorded. There's so much space on that record. You can hear everything. It moves you. The music breathes, the rhythm breathes. It's very much alive.
I know I speak for myself and a lot of other people as well when I say that a Tony Rice record sets the standard for technical ability matched with the emotional connection needed to make great music. So many of us lean more toward one or the other. Tony was one hundred percent on both. Listening to his music also introduced me to Gordon Lightfoot, who remains one of my all-time favorite songwriters. I'd say that Tony's covers of Gordon's songs are an unbeatable combination. Those songs are a huge reason I got into songwriting, I wanted to write songs that made me feel the same way those songs did.
3. Buddy Miller – Best of the Hightone Years
I'll mention this record because it's a great compilation, but I really should just say 'anything by Buddy and Julie Miller.' When Julie writes a song, you feel it in your bones. When Buddy sings it, you believe it like it's gospel truth. It's just real, honest, heartfelt music. I had been hearing their songs for years covered by other artists before learning that they wrote all these great songs. A friend of mine introduced me to their material over several long road trips, and I still haven't gotten over it.
As I have started getting more into songwriting, I've started paying more attention to the lyrics, story, and emotion behind a song. Buddy and Julie present all of that in such a raw and unfettered way.
4. James Taylor – Live
This is a go-to record for me on road trips. I think it's the ultimate presentation of live music. Great material and the band is out of this world. I mean…James Taylor. Who can argue with that?
5. Bluegrass Album Band – Volume 1
Let's bring it full circle with another bluegrass project. As you well know, these albums were a traditional bluegrass collaboration between Tony Rice, JD. Crowe, Doyle Lawson, Bobby Hicks and Todd Philips. These guys were and still are a huge influence on how I hear music. I think they were just getting together to make music and kind of pay tribute to their own heroes in a way, but by doing so they became heroes to a whole new generation of pickers. That's pretty cool.
As a bit of a bonus, I have to mention all the stuff I listened to on the radio growing up. There was a classic country radio station not far from where we lived in Missouri. Unfortunately, it's gone under since then, but my brothers and I would listen to Johnny Cash, Merle, Waylon, Willie, Emmylou, all those folks. There's so many I'm not even listing, but you get the picture.
JED: Which part of your music career do you enjoy the most – live performance, recording, writing, etc.?
The answer is… yes! All three are so special, and enjoyable for different reasons. Live performance is what I've done the most. When the band is 'on' and the audience is receptive, it's pretty magical. It's not even about being in the spotlight, for me, it's more the enjoyment of music and getting to share that with others. Having great camaraderie with my fellow musicians on stage is a huge part of it as well.
Writing is a newer venture for me, I've tried to dive in headfirst really just in the last couple years. It's definitely a rush when you create something. I have a group of friends who write as well, we're always sending voice memos back and forth of songs or ideas. If it's a good fit, co-writing is such a great experience. Everyone brings something a little different to the table, sometimes a song ends up far exceeding even your own expectations due to the suggestions and vision of a co-writer. That's a magical feeling. Sometimes they don't, but when they do you just kinda float around for the rest of the day.
I'm in the studio over the fall season recording my debut solo album. I've been a part of other people's projects here and there, but previously haven't had the songs and the resources to make a solo project happen. I've got enough material to do an all-original album, but I haven't decided for sure on that, because if I come across some songs or covers that mean enough to me I'd be open to recording them, but so far I've been most excited about seeing the original songs come to life.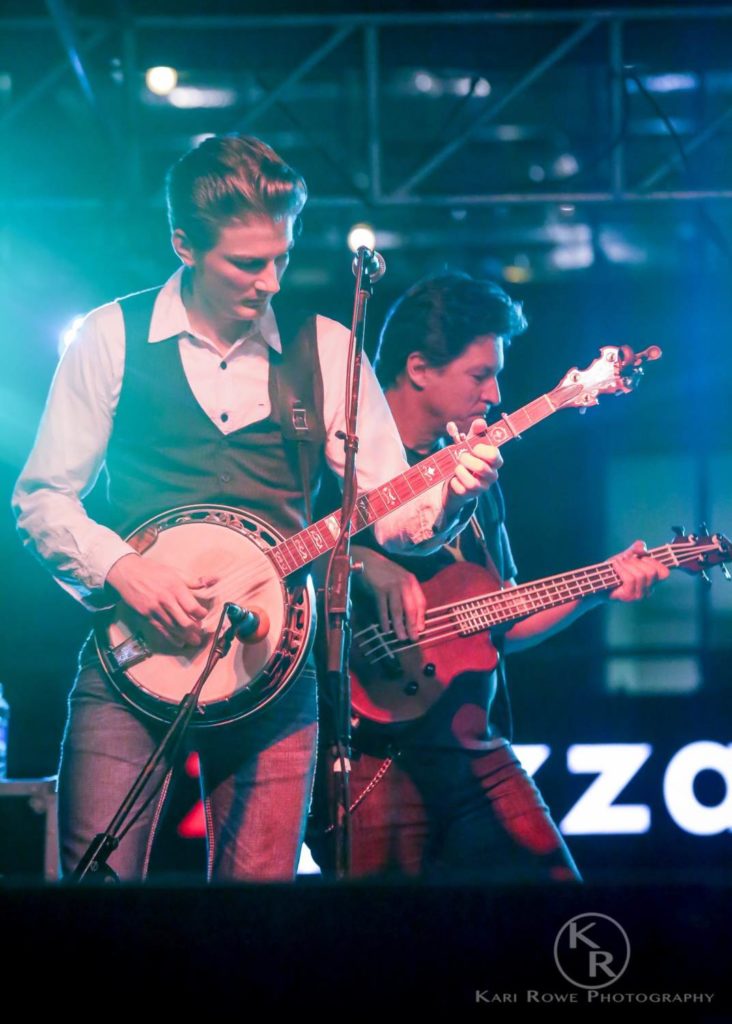 I've got some great players lined up to record with, we've started by simply rehearsing in my living room. I want it to feel like a band when we hit the red button. Like we've played together before. And most of us have played together, off and on, for years.
JED: What are three musicians today do you think are underrated?
Gaven Largent. He's currently playing with Dailey and Vincent, but he has worked with Blue Highway and Michael Cleveland and Flamekeeper. He's a monster dobro player, and also plays banjo, guitar, bass, you name it. He's playing Dobro on my material and he brings so much to the table.
Zeb Snyder. Zeb is an interesting guy, he's an unbelievable flat picker, but probably the only one I know who has been just as much influenced by southern rock as he has by bluegrass. It's a super cool combination. Zeb is touring with a group of longtime bluegrass veterans called the Appalachian Road Show. Check him out on YouTube, he gives great Skype lessons as well.
Mary Meyer. I may be biased on this last one, as Mary is my younger sister. But I think a little bias is ok here because she's genuinely fantastic. I mean, she has perfect pitch. She's got a great ear and voice for harmony. She plays mandolin, guitar, piano, fiddle, but she can pick up practically any instrument and make musical sounds come from it. It's like she skips the learning curve. She's a pretty darn good producer when she wants to be, I think every project she's been on she ends up with a co-producing credit just because her suggestions are so good. 
JED: Tell us a little bit about your current rig – what does your "rig" consist of? 
Well, my current rig is embarrassingly simple. On the road, I play an Eastman E20D guitar with the L.R. Baggs Full Anthem pickup, routed through the L.R. Baggs Venue D.I.
It gets the job done and I get compliments every night on how it sounds. Our sound engineer on the road loves it. He says he never has to do anything to it to make it sound good.
JED: Wow. That is great to hear from a live sound engineer. Especially considering that is a rosewood dreadnought guitar. Those are usually really difficult to make sound natural & clean plugged in. That is impressive. Are you endorsed by them?
I'm not endorsed by them, but maybe if they read this article and see what a nice shoutout I've given them, they'll give me another guitar. (Hey, It's worth a shot.)
I purchased my guitar from the Acoustic Music Shoppe in Springfield, Missouri. It's run by the Chapmans, (John, Jeremy and Jason) who are well known and loved in the bluegrass world. I can't recommend their store or their customer service enough. Great guys doing a lot for the bluegrass scene in the Springfield area.
I also have a Gibson J200 which was a gift from Jimmy Fortune. It's an instrument I treasure and plan to always keep. It's one of the more balanced J200's I've played. Such clear mid-tones! I do a lot of songwriting on it. It's got the mojo.
As far as banjo, I'm still playing my 2001 RB3 Gibson Mastertone. It's a great banjo. I haven't been super thrilled with how most banjo pickups sound, so I'm still playing it through an SM-57 on the road. I still plan to do some experimenting with different pickups for it though, because on some shows it'd be nice to have that extra mobility of being plugged in. 
JED: If you were given $100,000 to spend on an album production, what would it look like?
Well, this is what I call a fun question! I'd probably have to think about it long to answer it well, but the first thing I'd do is book a writing retreat in the wilderness somewhere and invite (or bribe) all my favorite writers to show up. That's how I'd want to spend the first month or so.
After that, just book a large chunk of time at a great sounding studio and get after it. I love the thought of not being rushed during the recording project. I think budget-wise, so many of us have to go in and do as many songs as we can in a day, simply because studio rental is so high.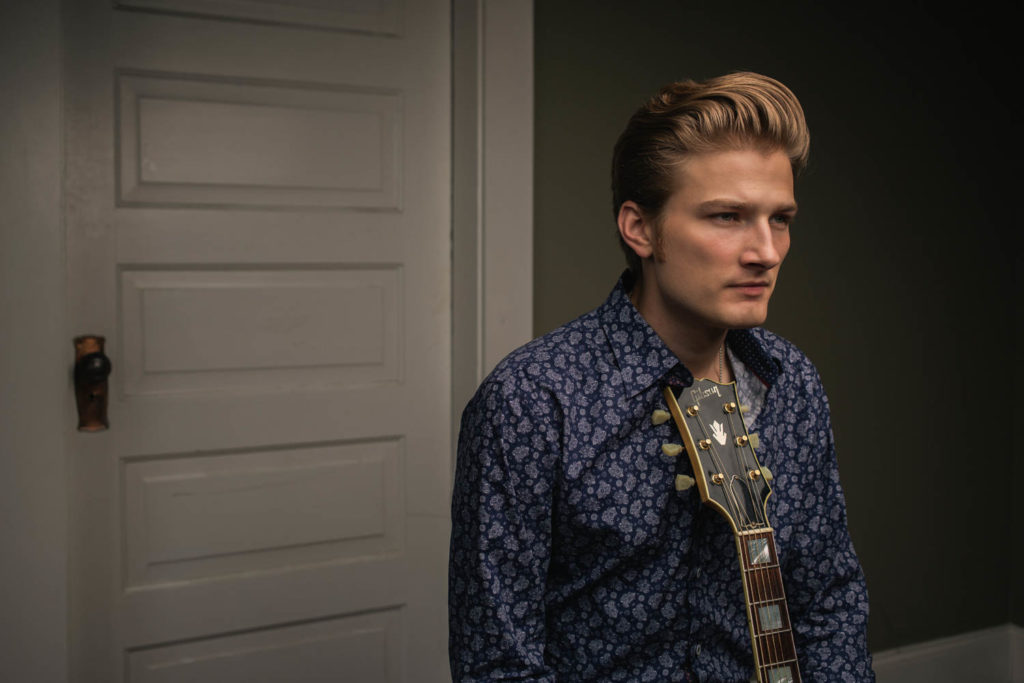 I don't know, I'd love to write in the studio as well. Just get a great group of players and see what happens. Having the freedom to let the creativity flow. As it is, I'm doing my best to do the due diligence on my songs beforehand, so I can show up in the studio and really nail it. This is the goal all along, but it'd be fun to have the time and budget to let everything come to life in the actual studio and capture it when it's fresh.
JED: It is cool that you'd allocate part of your budget to writing before-hand. Who are some people you'd want to involve in something like that? Musicians, engineers, producers, etc.
As far as musicians go, I'd like to think I'd use the fine folks that are playing with me right now anyway. I'm a big fan of albums recorded with the actual band, with perhaps a few studio guys here and there. I think it's a huge tragedy of the Nashville scene to only use studio players. I mean, I get it, they're the folks who can knock everything out in one take, but what happened to developing a unique sound with your band and then hitting the studio with that same lineup? I think a lot of our favorite records were done that way. I know sometimes it's more practical to use strictly session players. They're amazing. But a cool focus of the Bluegrass/Americana world is creating an album that's possible for you to reproduce onstage.  
But, you asked and it's a fun question, so as far as a bluegrass record I'm gonna say:
Wyatt Rice – Guitar
Dan Tyminski – Mandolin
Jenee Fleenor – Fiddle
Barry Bales – Upright Bass
Gaven Largent – Dobro
Yours truly – Banjo
Producers, man I would flip out if I ever got the chance to work with Buddy Miller. Also, both Bryan Sutton and Noam Pikelney have produced some great stuff I've been listening to lately. 
Engineers, let's see. Gary Paczosa and Bill Wolf have engineered so many great projects. It'd be hard to go wrong with those two.
JED: What is your favorite album or recording that you've made?
Honestly I'm more excited about my upcoming release than anything I've made in the past. 
JED: What are you currently working on?
Songwriting, and my debut album. I'm writing all the time. I write at the house, and around town, but I like to write when I drive. I love long solo road trips because it gives me a chance to write.
I'm having regular rehearsals, both for my record and for gigs coming up. My sister Mary Meyer and I have an opportunity to play the 2020 Country Music Cruise as a duo. We've got a band for that and are working up material for that as well. It'll be such a blast because it will also feature her and her music and I'll get to sing harmony behind her.
JED: Well John that is great man. I am excited to see your career doing great things and I can't tell you how much I appreciate you taking the time to chat with us!
Jed, thanks so much for having me on, and for doing what you do to cultivate the acoustic music scene. This has been great fun. Let's just say I'm a tad wary of cults but I'm honored to be a part of this one. Thank you! Till next time, Johnny Meyer.