Today we're chatting with banjo player Patton Wages. Patton, for those that don't know you, tell us who you are, what you do, and where home is.
My name is Patton Wages and I'm the banjo player for the band "Volume Five" as well as manage a small high end music shop in Clarkesville, GA. I currently live in the foothills of Mountain Rest, SC.
JED: Tell us a little bit about your beginnings. Your origin story, so to speak. How did you get into music, and what made you choose this path over others?
Well, I grew up south of Atlanta in Henry county in a small town called Ellenwood. I spent my childhood there. I started playing around 9 and learned banjo from my dad.
JED: So your dad played? Did you have any siblings that played also?
Yeah, my dad played a good bit locally when I was younger and carried me around to a lot of local festivals when I was younger. I've got a couple of sisters, but I was the only one that took to "The Bluegrass" as they say.
I also spent a lot of Saturday nights at Everett's Music Barn in Suwanee, GA where I met some incredible musicians through the years that I still hold as some of my greatest friends.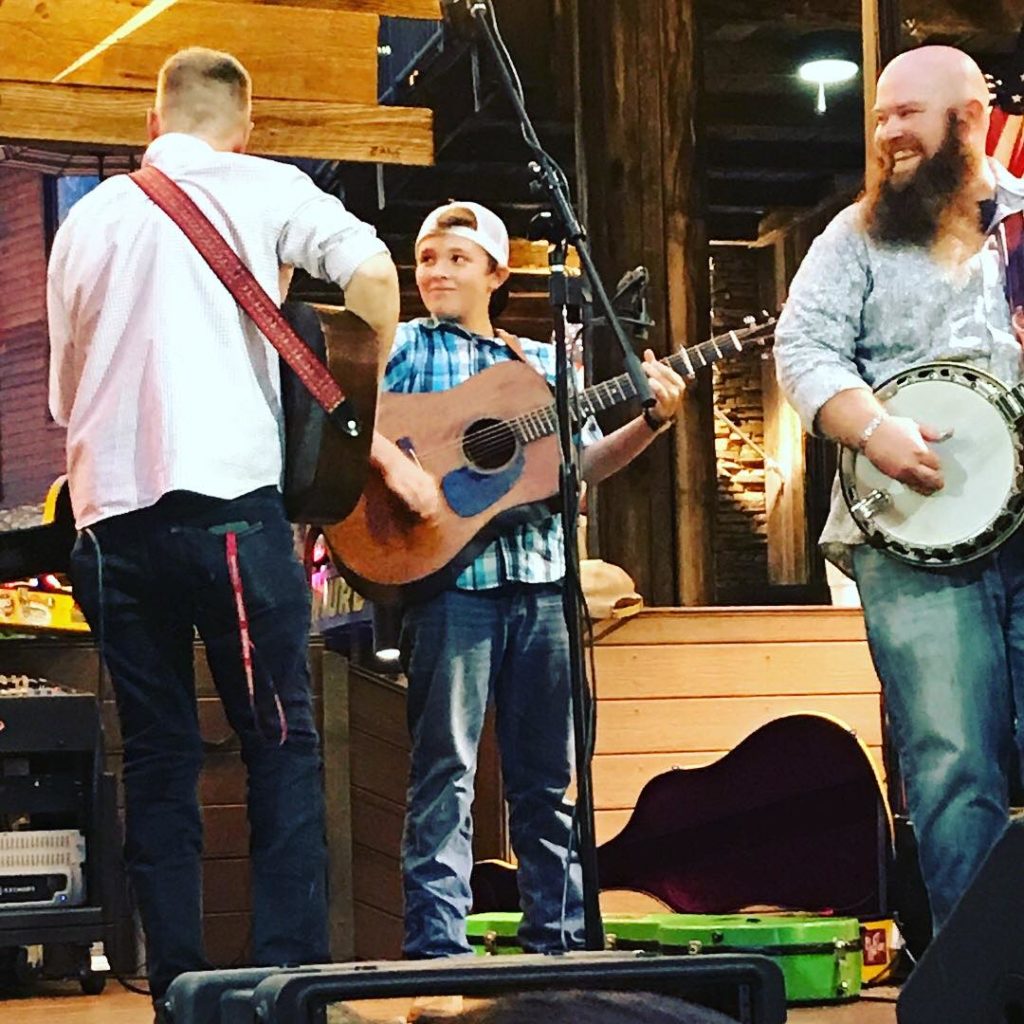 JED: Man I feel like I should know more about Everett's than I do; I've heard so many people talk about playing there but I know nothing about the venue. Tell me about growing up around that Bluegrass landmark. What is that venue like? Who were some of the bands you remember making an impact on you there?
Well, it's definitely a local gem and is still going strong. It's actually the home place of the Everett family and has brought a lot of bands to the area through the years. The shows go on out in the "barn," but the jamming goes on out in the house where the Everett's once lived. I credit so much of what I do from growing up there. I've seen every one from Doyle Lawson and Quicksilver, J.D. Crowe and The New South, The Osborne Brothers, and so many others. It was really cool to hang out up close and personal with these artists at an early age. Something that definitely sticks in my memory is hanging out listening to IIIrd Tyme Out rehearse in the early years and have Baucom show me licks in person. Great memories!
JED: That is awesome man. Sounds like a wonderful place to get to grow up close to.
Shortly after high school I moved to North GA for a short time, and then on to Nashville.
JED: When did you move to Nashville? Did you come to music city for a gig or did you just want to relocate?
I believe it was 99'ish!?! I was there playing some with Jeremy Garrett and his dad and just stayed. I ended up working at Gibson guitars shortly after and made Nashvegas home for the next 5 years.
JED: I didn't realize you worked at Gibson? What'd you do there?
I started out in the Dobro department and did just about every part of the build process before moving on to the banjo department, which I had a greater connection to. I mainly turned all the rims while I was there in that department. I spent some time doing frets, binding and what not when I would get caught up with rims. Towards the end I was doing final assembly on them. It was an interesting job for that time of my life for sure and the things I learned still comes in handy from time to time.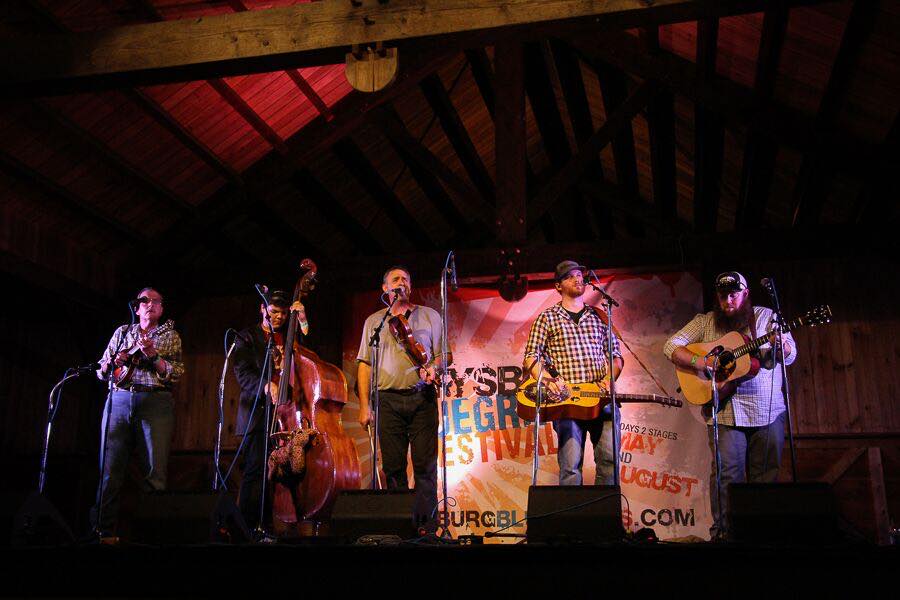 JED: I bet! What are your favorite 5 albums, and do they influence your work? If so, in what ways?
Man…just 5!?!
Well, I would say Bluegrass Album Band Volume 1 probably started it for me. I always say Volume 1, track 1 is why I do what I do. I think that collection of records and musicians are a "must-study" for a "Bluegrass" musician.
I'd say my others would be (in no particular order) Doyle Lawson & Quicksilver's I'll Wander Back Some Day, Flatt and Scruggs' Live at Carnegie Hall, Lonesome River Band's Carrying The Tradition, Tony Rice's Native American and Alison Krauss' Every Time You Say Goodbye I think these are the 5 that probably shaped my love of this music!
JED: Well you actually got us six. But hey, it doesn't hurt my feelings at all! 😀
Haha…yeah, guess I did! I'm sure I could keep adding to that list!
JED: Which part of your music career do you enjoy the most – live performance, recording, writing, etc.?
I don't really write, but I really enjoy it all. Playing shows and festivals has allowed me to see places I probably wouldn't have otherwise. I really love recording. It's the time for me to put my personal influence on the music we're documenting. I've been very fortunate to record with some incredible musicians as well as some of my personal heroes. I feel truly blessed with my entire experience so far.
JED: Tell me about some of your favorite recording experiences. Where did they happen and how did they come about?
Man, there's a few. I really enjoy recording with the guys in V5 for our stuff, which has been recorded at several different locations through the years. The last one we actually cut in the old house at Everett's Barn and was pretty special for me with the memories I already had there. I've been fortunate to record with good friends and even heroes of mine and that actually means more to me than the actual locations, which have been anywhere from home studios to established studios. I just feel fortunate to be asked to play on any project someone may want me on.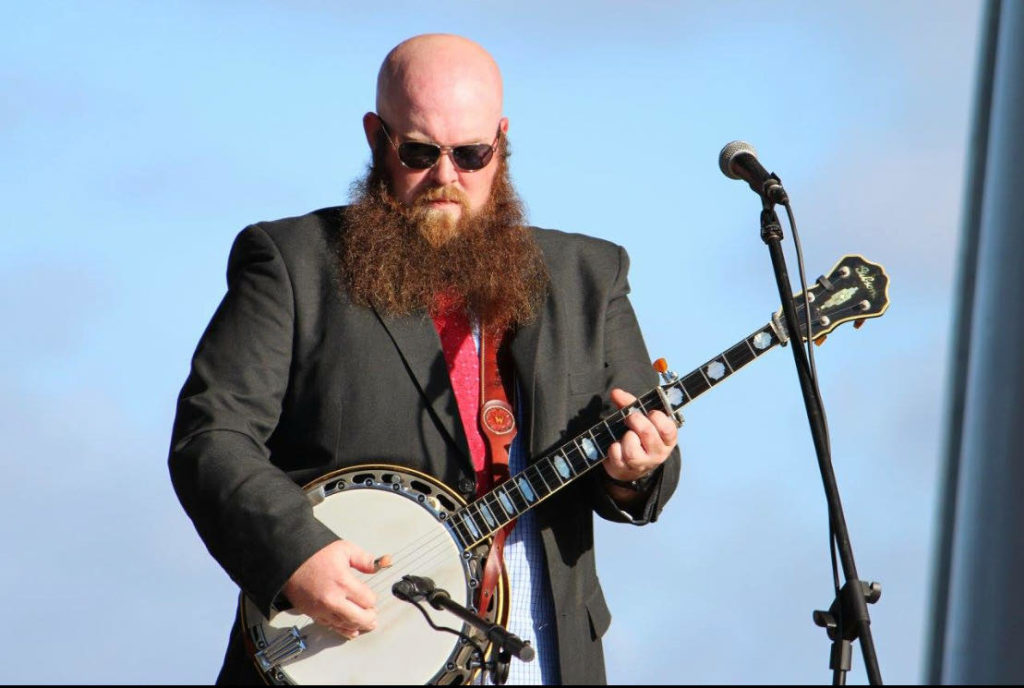 JED: What are three musicians today do you think are underrated or deserve more notoriety for their art?
Two of mine are fellow Banjo players…Jason Davis and Justin Jenkins. These two guys are two of my favorites on the 5 that's definitely deserving of some notoriety. The 3rd is Aaron Ramsey. I've watched him grow up from age 12 or so and man, he's a monster on anything he picks up. I think so many times there are some unbelievable musicians that people may know about, but they fly under the radar (for whatever reason) when the awards start getting voted on . . . these are just a few.
JED: Tell us a little bit about your current rig – what does your "rig" consist of? What instrument(s) do you play, pedals, mics, etc.?
My current rig is a 88' Gibson RB3 that my dad gave when I started. It's been my companion for 30+ years now. It's had several necks in it through the years, but currently has an old Randy Wood neck that was in an old Bowtie that belonged to Roger Everett of Everett's Music Barn mentioned earlier. It probably be with me till the end.
JED: Wow man – 30+ years? I'm lucky if I play the same guitar for 3 years. That is pretty neat to have had a single instrument stay relevant to you throughout your career. What kind of strings and bridge spacing do you use?
Yeah, I'd be lost if something ever happened to it! I'm a proud GHS endorsed artist and have been for years. They actually package a custom set for me that's a .010, .012, .014, .022, & .010 that I've used for as long as I can remember…guess I'll probably just stick with at this point. My bridge and spacing has varied through the years, but I've kinda settled in on a ⅝'' with Crowe spacing.
JED: If you were given an unlimited budget for an album production to record your dream album, what would it look like?
That would be awesome if possible! I'd probably just take a couple of months off and invite all my fellow friends and musicians to come in as they could and just jam and record in the different configurations as they fell together throughout the couple of months. Of course that would probably generate more than one album worth of music, but hey, it would be a blast!
JED: Where would you want to record it? Who would you want to play on it? Who'd mix & master?
I've got a group of friends I've played with for years I would want on a few that includes Aaron Ramsey, Brian and Maggie Stephens and Jeff Partin. There would probably be several different configurations including current and past Volume Five members like Harry Clark, Colby Laney, Chris Williamson, Jesse Daniel and Adam Duke. There's been so many people I've met and would want to include in the mix…which would probably be the hardest part. As to where…probably just anywhere we could. It would be more about the time making music with friends than the actual locations for me. And if it all possible, Gary Paczosa would just come capture it all wherever we were!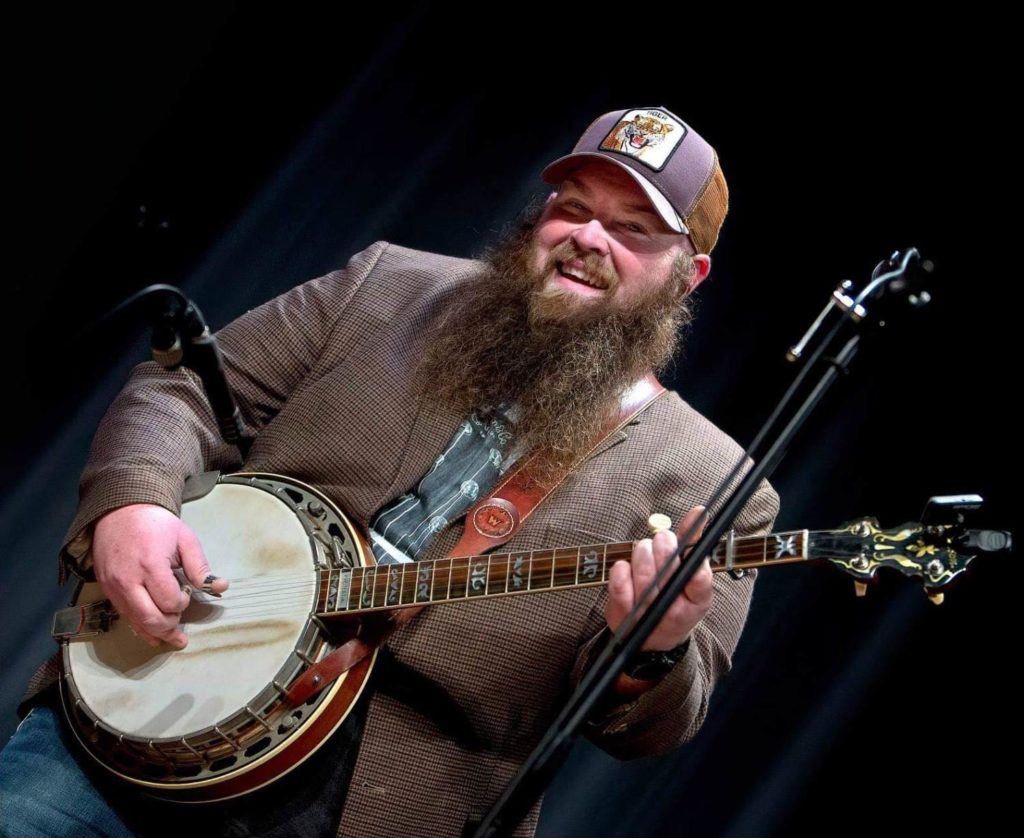 JED: What is your favorite album or recording that you've made to date?
I've been very fortunate to be a part of some great records through the years, but the latest Volume Five record For Those Who Care To Listen is something I'm really proud of. It was recorded at Everett's Barn in the old home place and just really was a lot of fun and meaningful to me.
JED: What are you currently working on?
Nothing currently. We'll gather songs and probably start on another record at some point, but for now we'll just enjoy a little time off and get back to the traveling part of it after a little winter break.
JED: Well Patton I really appreciate you making time to talk to us about your story and your music. Keep us updated on your next project with Volume 5!
Will do man. Thanks again for the opportunity.
You can stay up to date on Patton's latest via his Instagram and Volume 5's website. Article photo by Michelle Harrell.