Today we're talking with Jacob Burleson of Volume Five.
ACOUSTICULT: Hey Jacob! Tell us a bit about who you are, what you do and where you're located.
I'm the guitar player for the band Volume Five and I'm currently based out of Newland, North Carolina. I'm 20 years old and I play guitar and mandolin mostly.
ACOUSTICULT: Tell us a little bit about your beginnings. Your origin story, so to speak. How did you get into music, and what made you choose this path over others?
I got into music through my parents. My dad is the original banjo player for the group Blue Highway and has been with them for 25 years now, so I've been in the thick of it since the day I was born. He's a really talented multi instrumentalist and pretty much showed me everything I ever was taught on mandolin and guitar, as well as showing me basically everything I know about bluegrass music in general. He was also big in introducing me to a lot of my favorite music at a really young age, a lot of more progressive sounding bluegrass and acoustic music like New Grass Revival, Tony Rice, David Grisman and Punch Brothers as well a lot of the jazz stuff that he was into like Django Reinhardt, Weather Report, Béla Fleck and the Flecktones, etc. My mom is also a huge music lover and got me into a lot of the rock and pop music that she grew up loving like The Beatles, Michael Jackson, Stevie Wonder, James Taylor, The Police, etc.
ACOUSTICULT: What are your favorite 5 albums, and do they influence your work? If so, in what ways?
There are way too many albums in too many different genres to whittle it down to a definitive five, but as far as bluegrass/acoustic music goes, these have influenced me the most:
So Long, So Wrong or Every Time You Say Goodbye – Alison Krauss and Union Station
Still Climbing Mountains – Blue Highway
Tales from the Acoustic Planet, Vol 2: The Bluegrass Sessions – Béla Fleck
Antifogmatic – Punch Brothers
Native American – Tony Rice
ACOUSTICULT: Which part of your music career do you enjoy the most – live performance, recording, writing, etc.?
My favorite thing to do in music is just to play with other people that I like to play with. Could be onstage, in a studio or just sitting around jamming. As long as I'm doing that, I'm enjoying it.
ACOUSTICULT: What are three musicians today do you think are underrated?
Three artists I think are underrated in this music…
Jeff Partin. He's one of the best dobro player's I've ever heard and never seems to get talked about AND also happens to be probably my favorite bass player in this type of music. An addition to all of that, he's a really gifted songwriter and has written most of my favorite songs that our band does.
Ron Block: Also a really talented multi instrumentalist/songwriter that rarely gets any accolades, outside of his work with Union Station. I'd love to see him win the IBMA Banjo Player of the Year at least one time.
Carolina Blue: Not technically an individual but one of my favorite bluegrass bands of recent. Really great vocals and playing and they're really good at picking material that suits them.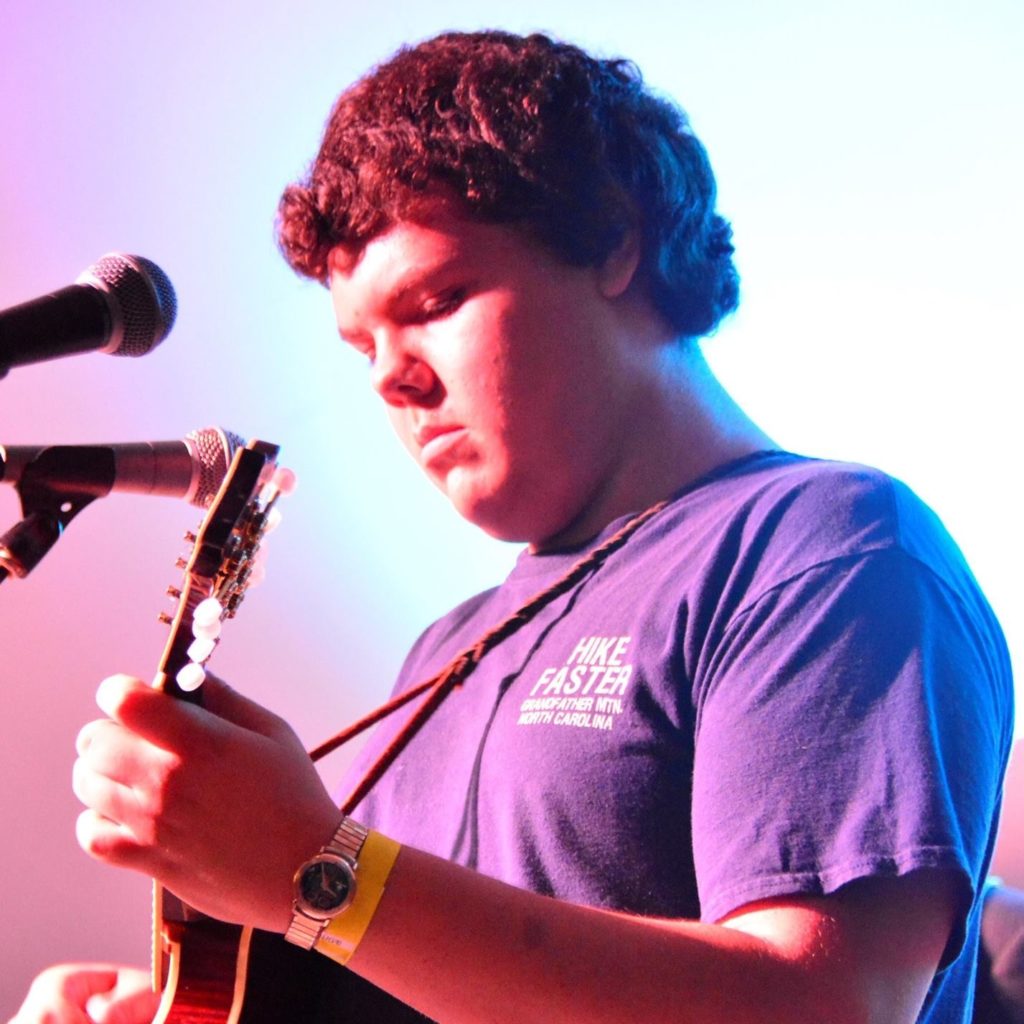 ACOUSTICULT: Tell us a little bit about your current rig – what does your "rig" consist of?
My current "rig", if you could call it that, is just an early 2000s Composite Acoustics Bluegrass Performer, a dreadnought shaped guitar made almost entirely out of carbon fiber. It's really the only guitar I play because it's so consistent sounding and easy to deal with. It also has a pickup with an onboard Fishman Aura preamp, which I very rarely use but sounds great.
ACOUSTICULT: If you were given $100,000 to spend on an album production, what would it look like?
If I had $100,000 to make an album I'd probably fly Gary Paczosa out to Abbey Road Studios in London and have everyone I've ever wanted to record on it that would be willing do it.
ACOUSTICULT: Who are some (or all) of the people you would want to play on it?
If it was gonna be a standard bluegrass ensemble, I'd probably have Jerry Douglas on dobro, Stuart Duncan on fiddle, Scott Vestal on banjo and Jeff Partin on bass. I'd also probably have a bunch of my favorite singers like Ronnie Bowman, Dan Tyminski, Russell Moore, Sarah Jarosz, Aoife O'Donnovan and some others that I'm forgetting.
ACOUSTICULT: What is your favorite album or recording so far that you've made?
My favorite album I've been on is probably Volume Five's forthcoming album, "For Those Who Care to Listen", because the recording process was so easy and the result blew us all away. I'm really excited for everyone to hear it! I also really like the album I recorded with Kenny and Amanda Smith, "Unbound". I really like all the songs and it's one of the best recorded acoustic albums I've ever heard, sound quality-wise.
ACOUSTICULT: What are you currently working on?
Our band isn't currently working on anything but we're about a month away from releasing our new album, so be out on the watch out for that on October 19th 2019! I'm not currently working on anything outside of V5.