Today I am getting to chat with the man who really does it all, Mr. Daniel Amick. Daniel tell our readers a little bit about who you are and what you do.
My name is Daniel Amick, I'm a musician, entrepreneur, and man of faith. Really, I do a little bit of everything. I travel and play music with some wonderful people, and we make up the bluegrass band, High Fidelity. I also have a company that takes up and resells railroad track. Besides that, I am working on turning my family farm into a business, which will have a variety of different things including animals, a vineyard/orchard, a sawmill for our large woodlot, a retail lumber and furniture store, and also a venue for festivals and events. I'm located in Centerville Tennessee, 70 miles west of Nashville, home of Minnie Pearl.
JED: Do you ever sleep man? Sounds like you're more than busy! Tell us a little bit about your beginnings and how you got into music.
I was the 3rd of five children and grew up in middle Tennessee on my family's farm. My dad and mom were strong believers in each of us kids learning music, and so at a fairly young age I began taking piano lessons, It wasn't long before I discovered the banjo. I received a 'Deering Goodtime' banjo for my 7th birthday and started taking clawhammer banjo lessons from a friend at church. That same friend also went to a few of the local bluegrass contests and invited me along. It was at the contests that I discovered there were ways to make money with this instrument. A little after that I picked up the harmonica and became very interested in it, so I took a few more lessons and learned how to play it. After that it was the mandolin which I completely fell in love with and today has become my favorite instrument. A couple of years went by and I began playing the guitar and bluegrass banjo. By then I had realized a lot more money could be made by playing multiple instruments and so by the time I was 16 or so, I was going to most of the contests in the state and quite a few out of state ones as well.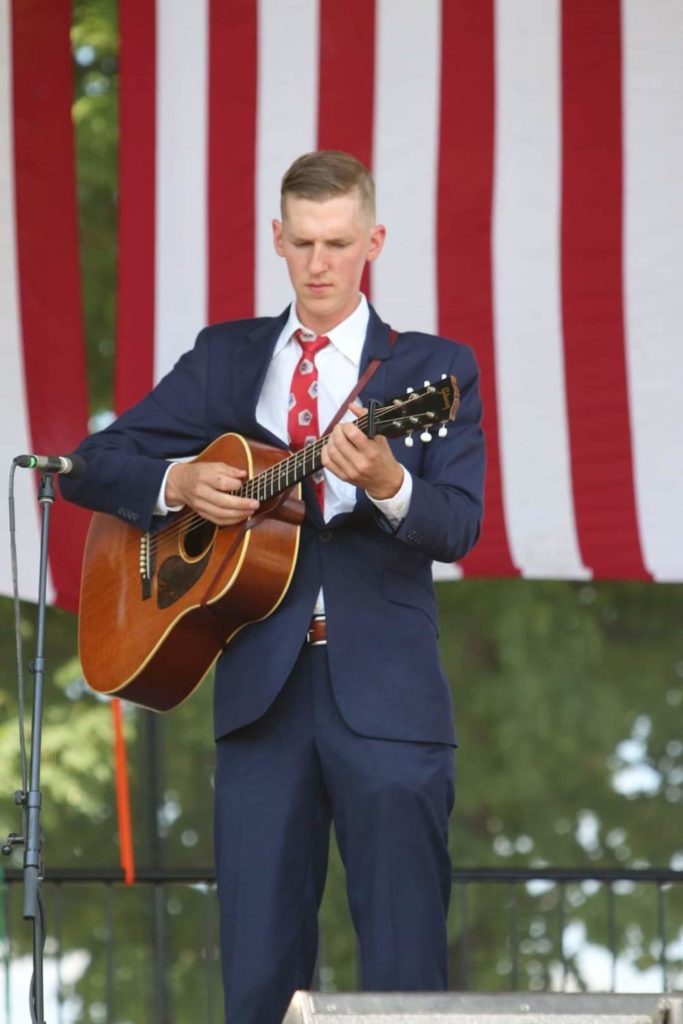 JED: Yeah man I can relate to that – contests were what lit a fire under me to practice more when I was younger. What were some of your favorite contests you attended growing up?
Early on, the Smithville Fiddlers Jamboree in Smithville TN quickly became my favorite contest due to the town square atmosphere and flawless way in which it was ran, it also didn't hurt that I won the youth national banjo championship the first time I entered the contest. There have been many other great contests as well including the Tennessee valley old time fiddlers convention in Athens AL, and Bluegrass along the Harpeth in Franklin TN.
Choosing this path over others really came about from my enjoyment in learning to understand and play these different instruments. And also the appealing fact that one could potentially earn money by simply playing a song. And if one played well enough on multiple instruments, it could actually be quite a lot of money. I met most of my current bandmates at contests. In 2014 Kurt Stephenson, Jeremy & Corrina Stephens, Vickie Vaughn and I formed a band called High Fidelity for the SPBGMA band championship and ended up winning the contest. Winning that contest became a springboard from which we received bookings from a few festival promoters. We recorded our first album a year or so after that. We are now traveling and playing all over the USA and currently signed to Rebel Records and working on our 3rd album.
JED: What are your favorite 5 albums, and do they influence your work? If so, in what ways?
The Nickel Creek (self titled) album is definitely one, that's where I first really got into Chris Thile's playing and singing, and mandolin was never the same for me after that.
I also grew up listening to an album called The Essential Bob Wills which was just a collection of his hits. It really gave me an appreciation for the texas swing/big band sound and I love playing stuff like that today.
When I was first beginning the banjo, there was an album called a Henry Reed Reunion by Alan Jabbour, James Reed and Bartram Levy. Listening to these guys playing old fiddle tunes really helped me to ground myself in roots music early on.
The country and bluegrass music of Ricky Skaggs really had a lot of influence on me over the years and I learned how to sing baritone by listening to the Skaggs and Rice album. If I had to pick a favorite it would probably be The High Notes.
For the past year or so I've really been listening to Tim O'Brien, his voice coupled with that raw playing is pretty inspiring. It's pretty hard to pick a favorite album, so I won't haha.
JED: Which part of your music career do you enjoy the most – live performance, recording, writing, etc.?
I would say live performance, It definitely gives me a channel to release some of the musical energy. I also really enjoy the adventure, networking, and just sitting down backstage with friends and playing some tunes together.
JED: What are three musicians today do you think are underrated?
Not real sure how to answer that. As far as musicians I know personally I guess Matthew Davis would be one, and Ivy Phillips could be as well. But I don't think it will take long for people to figure that out. Not to brag on my bandmate, but Jeremy Stephens continues to blow me away with his musicianship and versatility on different instruments and vocals. Can't wait to hear his solo album whenever that may be.
JED: Tell us a little bit about your "rig". What instruments do you play?
My "rig" consists of a 2004 Gibson F9 mandolin with a radiused fretboard and speed neck. I use Elixir lights on it and I like it pretty well. My guitar is a 2001 Martin D18 Golden Era, which I bought from Jake Stargel. I use Elixirs on it as well. For banjo I am currently playing a Davis top-tension made from walnut I think in 2015.
JED: If you were given $100,000 to spend on an album production, what would it look like?
I think If I was given $100,000 to make an album I would probably spend more of it on the marketing than the actual album production. Good music is important, but getting it in front of people is also important. I would probably hire fellow musicians and musical heroes to collaborate with and record original songs – most likely straying from any particular genre.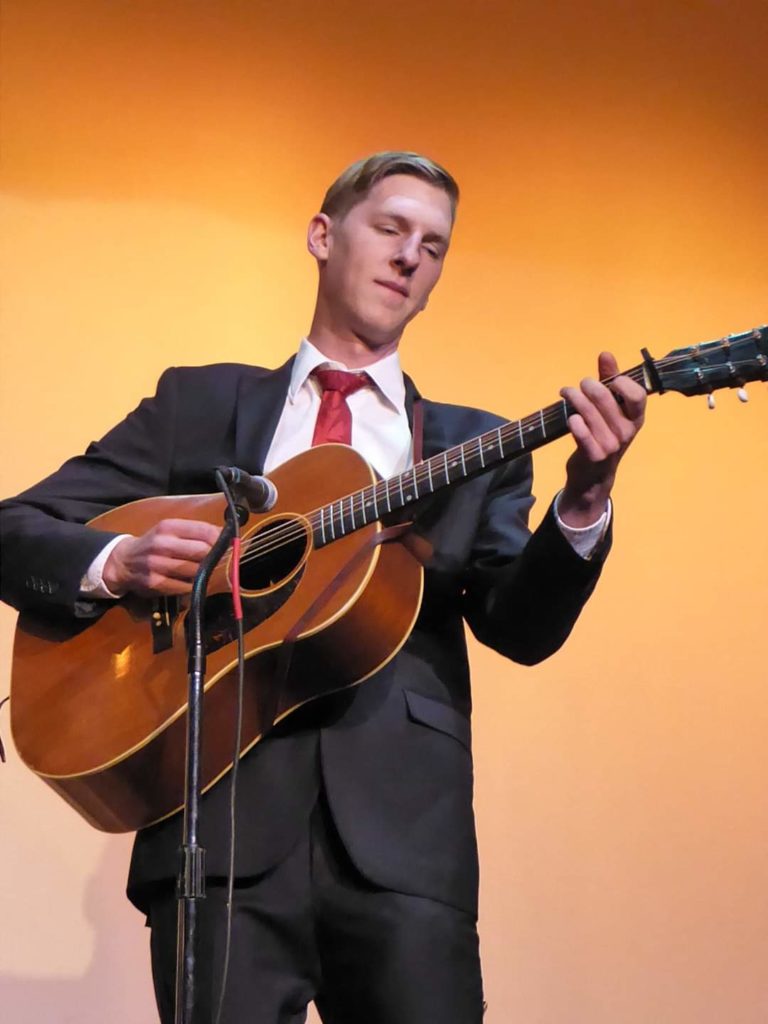 JED: Where would you want to record it? Who would you want to play on it?
I've only played in a handful of studios and really haven't thought that much about where I would record, although with Music City in my backyard I don't think that would be much of an issue.
I would definitely plan to collaborate a few tunes with Matthew Davis. Having Dan Tyminski cut a couple songs would be fun. For that matter, I would also love to have Jerry Douglas and Stuart Duncan.
JED: What is your favorite album or recording so far that you've made?
My favorite recording to be a part of so far has been with High Fidelity, the record was Hills and Home, produced by Brad Benge, Jeremy Stephens and Corrina Logston. We recorded it just outside of Nashville TN.
JED: We just recently interviewed Brad and we also interviewed your band-mate Kurt. You're in good company. What are you currently working on?
Currently working on a new album with High Fidelity and also a solo project as well.
JED: When can we expect to see HF's new record? When will you release your project? Can you tell us who is playing on it?
HF's record should be out by the middle of 2020 and mine will hopefully be shortly thereafter. Regarding the personnel on my solo project, its confidential.. haha, no actually I really don't have all of that nailed down yet so I hesitate to say. Definitely a few friends and bandmates, beyond that I'm not sure yet.
JED: Well Daniel I really appreciate you taking some time to chat with us and get us up to speed on what you're doing. Don't be a stranger!
Thanks for the opportunity Jed!