Today we've got an interview with Ivy Phillips – she was kind enough to tell us a bit about who she is, what she does, and where she's located.
ACOUSTICULT: Ivy! Tell us a bit about yourself.
I'm Ivy Phillips and I'm seventeen years old. I live in a small county called Chapmansboro, Tennessee, which is 30 miles west of Music City USA – Nashville. I'm close enough to be able to get to gigs and work in an efficient amount of time, but far enough out of town to stay away from the chaos and tourism.
ACOUSTICULT: Tell us a little bit about your beginnings. Your origin story, so to speak. How did you get into music, and what made you choose this path over others?
When I was 3 years old my brother (who was 6 at the time) began learning the very popular "Suzuki Method" of Violin. I would always sit in on his lessons at our local college, Austin Peay State University. My mom started noticing that when we would get home from his lessons – I would get his fiddle out and try to play what he had learned. Just a few short months later, I was learning how to play the fiddle. After taking lessons for a couple years we decided to stray away from the Suzuki method and start taking Bluegrass fiddle lessons…and that's when I fell in love. I'm currently in my senior year of high school and I'm happy to say that I've been homeschooled since 1st grade. I really think that this has allowed so much more time to learn and travel with my love of music. For the past fourteen years I've had the opportunity to learn every instrument in a Bluegrass band including: fiddle, mandolin, guitar, clawhammer banjo, dobro, bass, singing, and clogging. I've been very fortunate to study under some of the best fiddlers in Nashville – just to name a few: Deanie Richardson, Megan Lynch, Matt Combs. Learning from so many different teachers taught me a wide variety of styles/genres of fiddle playing. I'm lucky to be able to say that I can confidently play and book gigs as a bluegrass, swing/Texas style, country, oldtime, gospel, or Irish fiddle player.
ACOUSTICULT: What are your favorite 5 albums, and do they influence your work? If so, in what ways?
Here's my top five favorite albums. I will say that there's going to be a wide variety in date and genres, but there's something special in each one and hopefully I'll be able to explain a little bit of what I find so incredible about them.
"Aubrey Hayne – The Bluegrass Fiddle Album" For years I've been blown away by Aubrey's bow arm and the tone that he manages to draw out of his instrument. Every time I'm able to see him play – I leave speechless and somewhat confused on how it's possible to be so good. My favorite song on this album that I think really displays his tone would have be "Oopik Waltz."
Any recording from the Bluegrass Album Band. These are staples that I listen to all the time.
"Randy Howard – Hot Fiddlin'" This isn't a CD, but I've grown up watching this DVD and it's one of my favorites to turn to for contest tunes. Randy has written some of the prettiest waltzes I've heard on the fiddle. He's one of the best fiddlers that we lost way too soon…
"Midland – Let It Roll" Now this album hasn't been out for very long, but I really think that Midland is underrated. They are bringing back Honky Tonk songs one heartbreak at a time!
"Aretha Franklin – Amazing Grace: The Complete Recordings (Live)" Soul and emotion. Need I say more?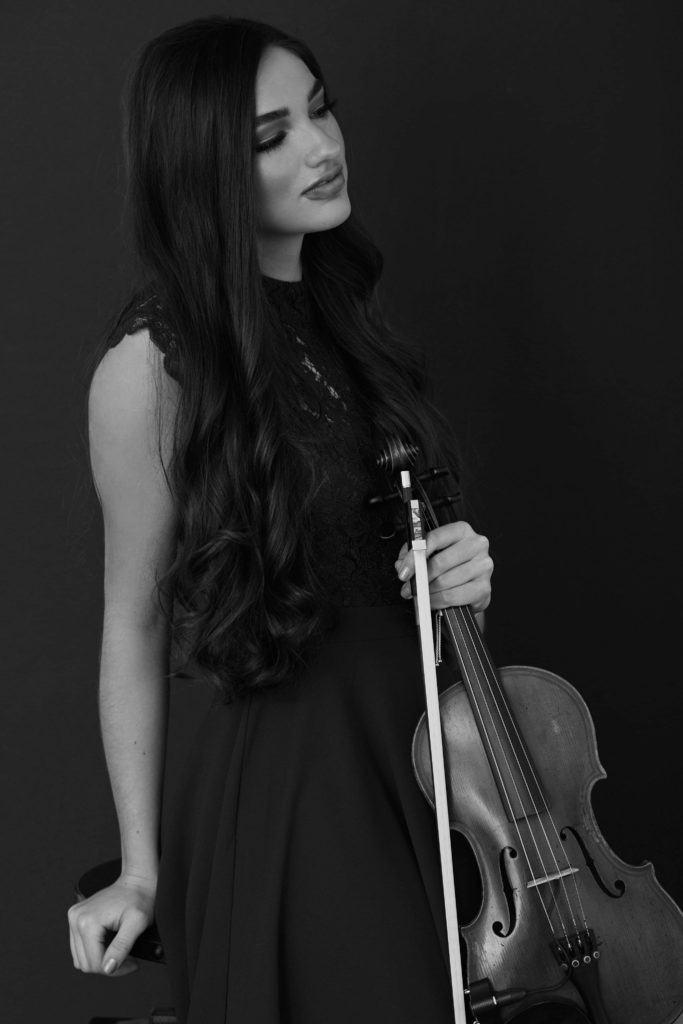 ACOUSTICULT: Which part of your music career do you enjoy the most – live performance, recording, writing, etc.?
Although I love recording and I'm starting to write more music of my own, live performances have to be my favorite. Being able to make people smile and hopefully have fun for one hour out of their day makes me happy! I've gotten to travel and play on so many stages and each one has something special about it.
ACOUSTICULT: What are three musicians today do you think are underrated?
Rhonda Vincent. Rhonda isn't underrated on the stage. She's one of the most popular female artists in the bluegrass community. I personally think she's underrated behind the scenes. She books and manages all of her own shows. I think this allows her to have a personal and more real connection with the venues.
Billy Contreras. Billy is an incredible musician who I just don't think he gets near enough credit for his amazing work.
All entertainment these days. I say this because they've done away with small opry's and venues that are willing to pay to book a bluegrass band. If you're not a famous artist or in the festival scene – it's almost impossible to make a living playing music.
ACOUSTICULT: If you were given $100,000 to spend on an album production, what would it look like?
I'd try to get the best of the best, production, sound equipment, appearance, and promotion.
ACOUSTICULT: So you would spend that money on improving your live show? What specific things would you spend money trying to improve?
I would make sure I have the best quality microphones and sound system. Sound will make or break you...and I'd pay to have a great sound guy.
ACOUSTICULT: What is your favorite album or recording so far that you've made?
I've recorded on demos and recordings for other people, but I've never recorded anything of my own.
ACOUSTICULT: Any plans for an Ivy Phillips record in the near future?
Hopefully, I'll be able to make an EP within the next year!
ACOUSTICULT: What are you currently working on?
I'm currently not working on any recording projects, but more focusing on all aspects of music business and travel.
ACOUSTICULT: In what way? Are you focusing more on playing out more?
It's my last year of high school, so I'm traveling a lot and filling in with new bands. I'm also trying out some country gigs, working at Carter Vintage Guitars, and teaching lessons! Hopefully, this will help me determine what direction I'll want to go.
Thanks for talking with us, Ivy. Best of luck!