Hey there! Thanks for taking some time to chat with us today. Tell us who you are, what you do, and where you're located?
Hello! Of course. Thanks for having me! My name is Xaris Waltman and I am a to-put-it-shortly folksinger. I am currently located in the southeastern corner of Kansas. I moved to Kansas in August of last year from my hometown of Pensacola, Florida.
JED: What made you decide to relocate to Kansas from Florida? That is quite the climate change!
It sure was! I've experienced living in "real winter" for the first time in my life since moving. I was looking for a more central place in the US for touring purposes and my boyfriend lives there. So it was the ideal move.
JED: Tell us a little bit about your beginnings. Your origin story, so to speak. How did you get into music, and what made you choose this path over others?
I grew up in north Florida as the oldest daughter to a preacher and his wife. My mom homeschooled me and my little sister during our childhood. She entwined the arts into our schooling, based on what we were interested in. My little sister grew up taking classical violin lessons. I was a little less traditional when it came to "music classes." My dad taught me the chords on the guitar that he knew and I taught myself the rest. Many of my projects in english/writing were songwriting and poetry based. I'm thankful to have had parents who encouraged my musical interests at a very young age.
JED: I was homeschooled too. One of the things that I really appreciated about my education was being able to allocate a lot of time towards my music endeavors. That was really cool of your mom to find ways to develop your artistry and fulfill an academic challenge at the same time.
Ha! Very cool. Yes, I find quite a few of us musicians grew up homeschooled! I agree! Homeschooling leaves time for things a traditional school setting might not leave time for. It's special. It was very cool of her. She's a good teacher. My mom never pushed me towards music but supported my endeavors when they made their way there. She claims I was humming tunes before I could speak. That's how I got started singing in church growing up and the little theatre downtown.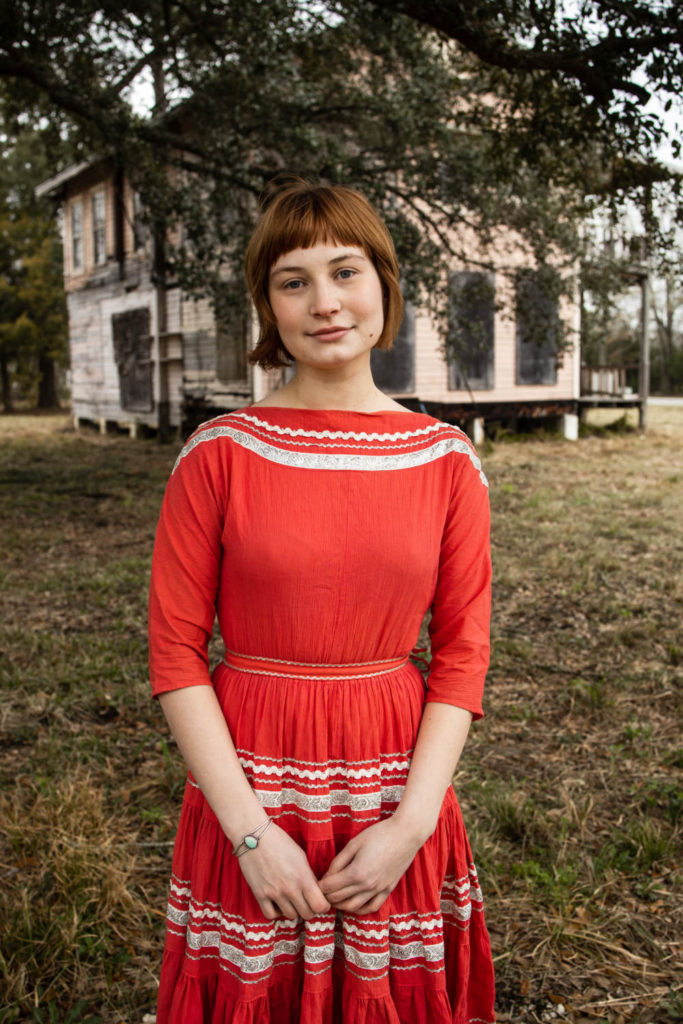 JED: What theatre?
It's called the Pensacola Little Theatre. It's just the local place for plays and such downtown.
When I was twelve I took an interest in folk music and I played my first show at a coffee shop called "The Drowsy Poet." I continued to play around town until I went to California to be on a singing competition show when I was sixteen. Until then, it was ever-so-often that I played shows out of state.
JED: Which singing show were you on? How did that come to pass?
It was "The Voice." One of my friends decided she wanted to audition and asked me to go with her. I thought it would just be a fun experience to meet some other singers so I went with her. We drove up to Nashville and went to an open call audition. We got there at 5am and stood in a line that went two or three times around Music City Center. I kept passing rounds until they flew me out to Hollywood for a month and was on one episode on TV.
JED: Wow so you made it to airtime, that is impressive!
The next summer (the summer I graduated from highschool) I left home to venture into the world. I went on my first tour. That was also when I went to my first bluegrass festival. It was certainly a fail of a tour if you looked at the logistics but it was nothing short of magical to me. Seeing the country on my own. Playing music for people who didn't know my name but would after the show. It was a special experience.
JED: There is truly nothing like it. What was your first bluegrass festival?
It was Merlefest.
JED: That is a great 'first.'
A couple weeks after that I had a college in north-west Mississippi reach out to me. They offered me a full scholarship in vocal performance. Up until then, college was something I never thought was for me. But I thought "with this scholarship I have nothing to lose." So I went. I was there for three months and then decided it wasn't for me. In school I learned loneliness and feeling isolated isn't necessarily a bad thing. I wrote some of my best songs because of those circumstances. Memphis was only about thirty minutes away from my school, so I spent quite a bit of time immersed in southern folklore and the blues. After my short college experience, my previous thoughts about continuing schooling were confirmed; it wasn't for me. Ever since then, I've been playing music full time. It seems to be the only thing that will hold my interest long enough. There's always more to discover.
JED: I can relate; music is infinitely interesting. What are your favorite 5 albums, and do they influence your work? If so, in what ways?
In no particular order…
Self Titled – Peter, Paul, and Mary (1962)
The first album that got me into folk music was the self titled Peter, Paul, and Mary album… when I was eleven or twelve. I grew up a preachers daughter who wasn't exposed to much music other than worship music. The closest thing to "secular music" we listened to was Bob Dylan's gospel album "Saved." I started collecting vinyl records at eleven (for whatever reason) and came across a Peter, Paul, and Mary album the local junk store. After seeing the album cover my eleven year old brain thought "Cool!" That album was like tree branches leading me to the fruits of so many different folk songs and artists. The album cover was taken at The Bitter End in Greenwich Village. Since I was eleven it was something in my day dreams to play there. I had my Bitter End (and New York City) debut in February of 2019. Doc Watson also played that stage in the 1960s, which I guess is a good transition for me to talk about why Doc's music is on my top five list.
Any Doc Watson album.
Doc Watson really treasured the art of storytelling. I think that is apparent to anyone who listens to his recorded music or was lucky enough to see him perform live. That is something that is very close to my heart. Storytelling… passing on stories through the generations through music… I think that's a big part of music's purpose that is slowly being forgotten. Along with that, Doc's flatpicking style is something I really look up to. Melody driven. Almost simple. But it was apparent Doc had a flashy run up his sleeve at any given time. Doc's recordings make you feel as if you are sitting with him in your own living room. That's something I look up to in a recording and try to portray. I could go on and on… I think I'll stop there though.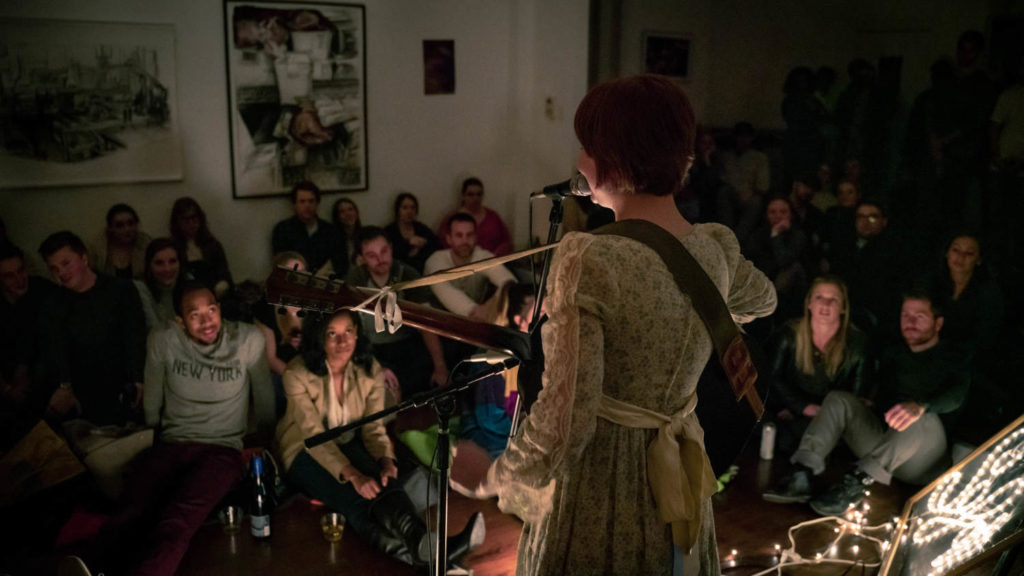 Revival – Gillian Welch (1996)
I'm convinced that Gillian Welch is one of the greatest writers of this century. The reason why I picked Revival instead of another one of her albums is because it was her first album. I can feel the excitement of being a young songwriter in this album. Maybe it's because I'm in a similar place. This album also holds two of my favorite songs. Not just by Gillian but just favorite songs… period. Orphan Girl and By The Mark. I look up to Gillians roomy, simple yet striking writing style. She could tell the same story in four verses that a movie could tell in two hours. An incredible gift. She has certainly influenced my outlook on songwriting.
Everytime You Say Goodbye – Alison Krauss & Union Station (1992)
This album is my go to road trip album. Alison's emotive way of singing keeps you hanging on every word. That, along with having Union Station carry the songs so gracefully and strong makes this album. I don't know if this album directly influences my music, necessarily. But if I were to ever put together a more contemporary, bluegrassy type band I'd definitely look to this album for inspiration.
Rising Sun Melodies – Ola Belle Reed (1964)
All of Ola Belle Reed's music sounds like the hills of North Carolina to me. During my childhood Maggie Valley, NC was almost a second home for me. My family would visit multiple times a year. That's actually where I went to my first old time jam. Anyways, I picked this album over any of her other's because some of my favorites are on it; Undone In Sorrow, Sing Me A Song, My Epitaph, and Foggy Mountain Top. Ola Belle Reed was a trailblazing pioneer for women in traditional mountain music. I love that this album just sounds like friends sitting around the house singing songs. It's not the least bit polished. It sounds very homey and that makes it one of my top albums. Without Ola Belle Reed I'd say the old time/bluegrass scene would be very different.
Dang! Only five is a hard choice. Those are just some of the top in my mind that I consider classics. Those five albums have really shone down light on me.
JED: It really is hard to narrow down your 5 biggest influencers. That is a tough question but you expounded on the influences well. You mentioned playing The Bitter End in New York. How did that come to pass? Tell me about getting to play there.
Thank you! They're very special albums to me. The Bitter End was one of the most personally memorable performances I've given to date. Being able to play my songs on a stage that so many of the people I look up to performed on was intense for me. It was almost full circle. The album that brought me to folk music's album cover was taken there. Without that album I wouldn't be playing folk. But because of it, I was on that stage.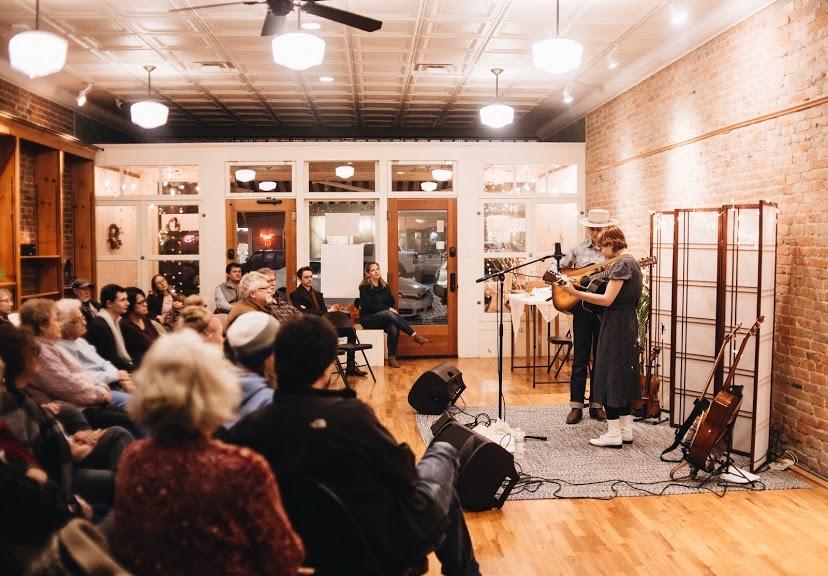 JED: Which part of your music career do you enjoy the most – live performance, recording, writing, etc.?
A healthy mix is definitely nice but I think as of now it's live performance. Connecting with my audience is a big one for me. I want the people at my shows to feel the vulnerability that it takes from me to perform the songs I've written. And the honor I feel to get to play those old traditionals.
Coming up here soon I am starting to play more trio and duo shows, rather than the solo stuff I've been touring with the past two years. April 3rd in Memphis, TN is the first trio show under my name. I'm grateful to be working with such talented female musicians as Grace Stormont (banjo) and Edith Sigler (fiddle). I met these girls through the scene (Grace at Hillberry in Arkansas and Edith at a show we co-billed in Kansas) in 2019 and am blown away by their individual artistry.
Milly Racoon and I also have some duo shows coming up in Colorado later this summer. Last year Julian Davis and I started playing some shows as a duo. We have quite a few gospel duo shows in 2020 that will be announced soon. This is probably my favorite thing about my career currently…working and collaborating with other musicians in a safe space.
JED: What are three musicians today do you think are underrated or deserve more notoriety for their art?
Laurel Premo – Out of the three of these artists Laurel is the one I don't know personally. I came across one of her videos with Red Tail Ring a couple years ago and fell in love with the softness she brings to the music. To me her singing, fiddling, and banjoing is similar to the way a mother sings a child a lullaby.
Vaden Landers – Vaden is about as classic country as it gets. He's got a voice like Hank Williams and dresses the part as well. I've spent quite a bit of time around Vaden and it's real. That's just him.
Bailey Bigger – Bailey is one of the best songwriters I've come across. She's the all american girl with guitar. I certainly think that she's going to be one of the next upcoming artists in the world of Americana music.
JED: Tell us a little bit about your current rig – what does your "rig" consist of? What instrument(s) do you play, pedals, mics, etc.?
I received two instrument endorsements last year that I'm really excited about! I'm playing a Waterloo WL-14. Waterloos are made by Collings Guitars out of Austin, TX. I really enjoy the light, raw sound that my guitar brings to my music.
I met Steve McCreary backstage at Merlefest last year. We got to talking about how I was looking for a new guitar and what type of music I make. Steve mentioned to me how he thought that a Waterloo would be perfect for the sound I'm going for since these guitars are based off of depression era guitars. He invited me to tour the Collings shop when I was touring Austin a couple weeks later. There I fell in love with the guitar with a sunburst top. I had them add a cream pickguard and had it with me a month or two later.
I'm also playing a minstrel banjo by Carver Banjos. Carver Banjos are made by luthier Brian Carver out of Indiana. Brian approached me a couple months back and asked me if I'd be interested in playing one of his banjos. I had been following him on instagram for a while watching him create and grow as a banjo maker so when he said he'd like to have me play one of his instruments I was honored. My banjo is a minstrel style with scalloped frets. I hadn't seen scalloped frets on a banjo before this. But, it's very nice. It allows for a fretless sound with the comfort of being able to see where you should place your fingers.
I currently don't have pickups in any of my instruments. As of recent, I've been using an AKG C1000 to mic my guitar and banjo. With my guitar I was using before the Waterloo I was using a LR Baggs Venue DI. Once I get a pickup put into my Waterloo I will be mixing the AKG C1000 and my LR Baggs DI. I'm pretty simple when it comes to the rig.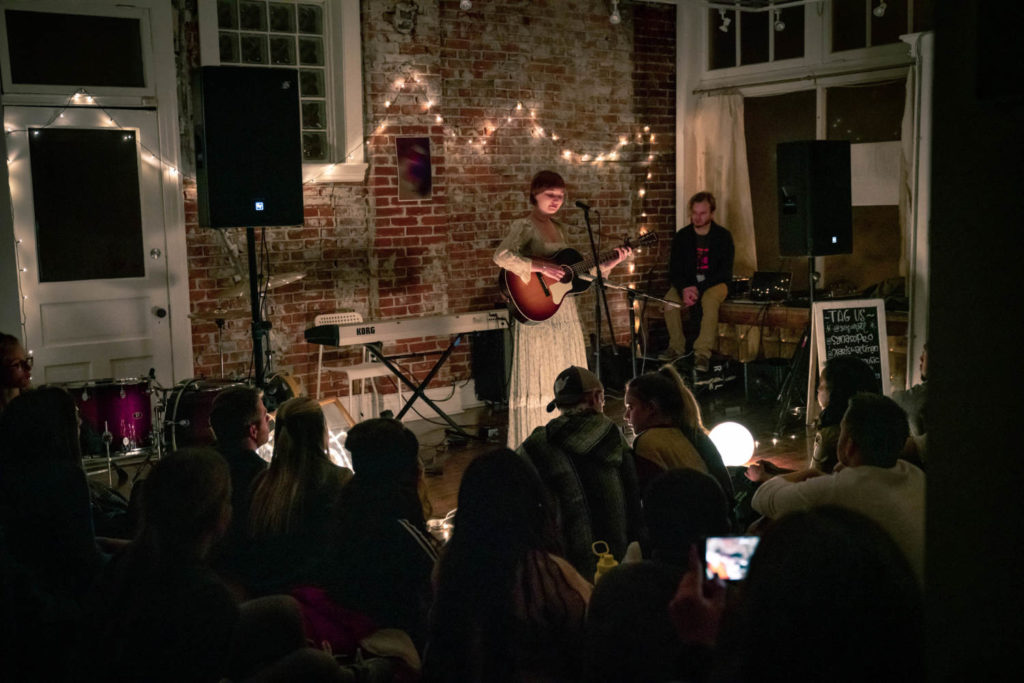 JED: If you were given an unlimited budget for an album production to record your dream album, what would it look like?
Whew! That's a question right there. First of all, I'd take my time. I've had a couple of studio experiences that made me feel almost nervous while recording because of time constraints due to limited cash. So that fear of mine would be out of the picture in these circumstances. I'd hire top notch musicians, that really respect my artistic decisions, to back me up. I'd hire Bonnie Raitt to listen over the demos of my original songs with me and tweak them if she felt necessary. I don't have any specific studio in mind if I'm honest. But, I'd love to hire Joan Baez and Alison Krauss to produce the album.
JED: Are there any specific musicians or engineers you'd want involved on the project? Is there a specific location you'd want to record it at?
I don't have a specific lineup of musicians or engineers in mind. It would take quite a lot of thought to narrow down. There are so many people that I'd love to be involved. I used to joke that if I had all the money in the world I'd just hire Union Station to back me up… so maybe that would be the outcome *laughs*
JED: What is your favorite album or recording that you've made to date?
My current album with BigTone Records which was released in June of 2019. It's titled "Under The Willow." We recorded it in two days at BigTone's studio in Bristol, VA. The album is sort of my take on old time music. It's a group of some of my favorite traditional songs I've learned through the years. I'm very thankful to have the players I did play on this album. We had a four piece string band consisting of Me (Guitar, Vocals), Alex Brown (Clawhammer Banjo), Kalia Yeagle (Fiddle), and Jon Atkinson (Upright Bass). One of the things that made this album so special to me is the way BigTone records; straight to tape with all vintage mics and equipment. It really adds a nice touch of something to playing old songs recorded in an old way.
JED: What are you currently working on?
That's a big question! In April I go back into the studio in Bristol with BigTone to record a single I wrote. The song is called "When I die Bury Me On The Prairie." I wrote it about a recurring dream I had a couple years back and my strange wanting to live on a prairie ever since I was small.
I'm always working on writing. I used to be able to write multiple songs a day. Songs were flowing out of me like a waterfall. These days it's a little farther in between. Maybe that is me subconsciously caring about the quality of my stories more than I did when I was younger.
Another project I'm working on is a fundraiser for my album of original music I want to record! I'm partnering with The American Sound Truck out of Asheville, NC to record songs of my fan's choosing directly onto vinyl. I'm hoping this is a fun fundraiser for both parties! Fan's get to choose a song for me to sing and I'll send it to them with a personalized note for $60. I'll be putting all the money raised back for the album.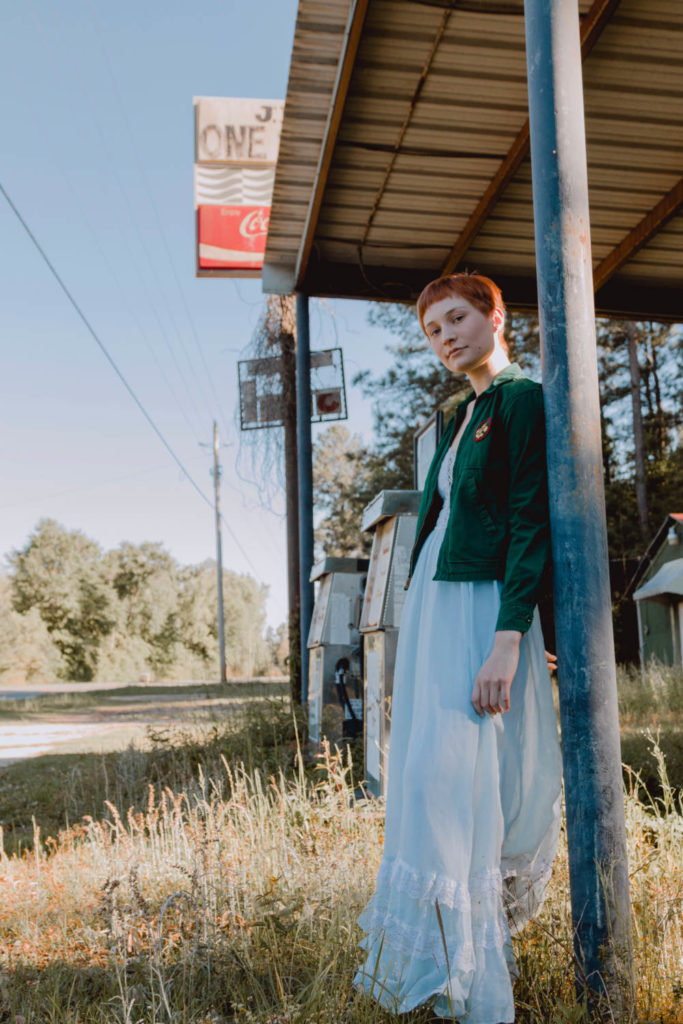 JED: Very interesting! I've never heard of such a concept. Where could folks find out more about this?
Just visit The American Sound Truck's website and e-mail me to purchase a vinyl and get their song on my list.
JED: Xaris thank you so much for taking some time to talk with us. I've really enjoyed getting to hear your story and hope you'll stop in again soon as say hi!
Stay in touch with Xaris at her Instagram page & website. Featured article photo by Randy McKinney.