I always love getting the chance to interview Arkies, especially if they're involved in the Mountain View music scene. Mountain View Arkansas holds so many good musical memories for me. Getting to grow up within an hour and a half of there was one of the greatest musical advantages I had growing up. Our guest today stays in the thick of it; she is a prolific performer at the Ozark Folk Center AND an instructor in the center's Music Roots program. Grace, thank you so much for being here and taking the time to talk with us. For those that are strangers, tell us who you are, and what you do.
Thanks for having me! My name is Grace Stormont and I am a 19 year old folk singer/songwriter currently located in Mountain View, Arkansas.
JED: Tell us a little bit about your beginnings. Your origin story, so to speak. How did you get into music, and what made you choose this path over others?
When I was around 13 years old, I decided I wanted to learn to play the guitar. At the time, my older brother had started playing and I wanted to learn so that I could play with him. I started taking formal lessons, and at my second or third lesson my guitar teacher invited me to a local bluegrass jam that happened every Friday night in my hometown of Heber Springs, Arkansas. In my first year of playing guitar, I mainly just played with the people at the jam, with my brother at home and at church. When I turned 14, a Coen Brothers movie called "Inside Llewyn Davis" had just come out. After seeing that movie, I absolutely fell in love with traditional folk and old time music. I couldn't get enough of it. I started listening to artists like Old Crow Medicine Show, Bob Dylan, Dom Flemmons, Mumford and Sons, Sarah Jarosz, Tim O'brien and Bela Fleck and Abigail Washburn. I actually saw Bela and Abigail at the Gillioz Theatre in Springfield, MO when I was 14, and after watching Abigail play, I knew that I wanted to play clawhammer banjo. When I turned 15, I became a contract employee with the Ozark Folk Center State Park here in Mountain View. For the first time ever, I had the opportunity to play the music I love with people my age. I started homeschooling once I moved to Mountain View so that I was able to set in with the music roots classes. By setting in with those classes, I was able to pick up clawhammer banjo, fiddle, bass, mandolin and mountain dulcimer. I chose the path of music because I have never felt that any other path was an option. It was the first thing that I was ever really passionate about. It was my first love.
JED: Tell us more about the music roots classes. What are those? Where are they offered? What do they cover?
Music Roots is a program that is available to students in 4th-8th grade who go to one of the three schools within the Mountain View School District. Homeschool students are welcome as well, as long as they live in Stone County. The goal of the Music Roots program is to share the traditional music of the Ozarks with the younger generations. Before school begins each year, students sign up to take classes for guitar, clawhammer banjo, mandolin, fiddle, autoharp or mountain dulcimer. They can either bring their own instruments to school, or if they don't have an instrument, they can check one out from Music Roots for the school year. Classes are separated by grade and instrument, and there are also ensemble classes that include all instruments together (sort of like a jam setting) for the kids that have excelled at their instrument. I am currently a Music Roots teacher at Mountain View Public Schools. I teach both guitar and banjo classes, and I help out in one of the dulcimer classes.
JED: That is fantastic! What a cool program! So you now teach for the program that helped you develop into the musician you are today?
Yes I do. I absolutely love it. It's such an honor and a privilege to be able to give back by helping perpetuate the music of this area by passing it down to younger generations.
JED: Is that program part of what led your family to move from Heber Springs to Mountain View?
It was definitely a part of what prompted us to make the move to Mountain View. Through Music Roots, I was able to meet young people who were just as interested in music as I was. I am in several bands with people I have met through Music Roots, and I consider many of them to be my best friends.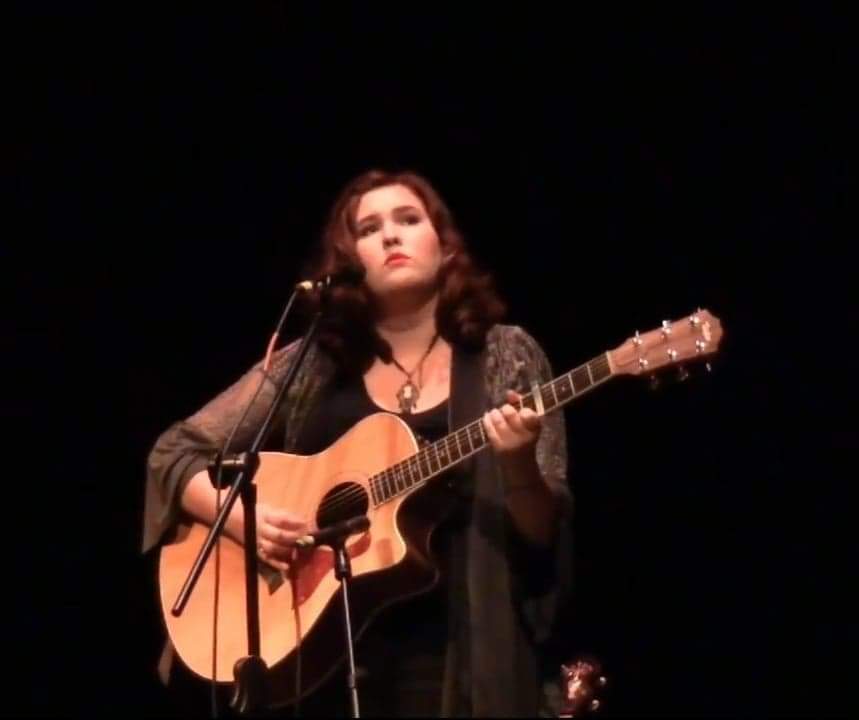 JED: That is awesome.What are your favorite 5 albums, and do they influence your work? If so, in what ways?
This list won't be in any particular order, but here are a few favorites that come to mind:
1. "I and Love and You" by the Avett Brothers – The Avett Brothers are one of my favorite artists and this album is probably my favorite one of theirs. I try to incorporate some of their style into what I do.
2. "Build Me Up From Bones" by Sarah Jarosz – I identify a lot with this album stylistically. I absolutely love Sarah's songwriting, and I am especially fond of her banjo playing. She has a really cool clunky sound. She has definitely had a huge influence on my style of playing. One of the things I picked up from her was playing the melody of a song on the banjo while I am singing it. In my opinion, it gives a bit more support to the vocals and gives the whole song more of a push.
3. "Folk Singer Vol. 1" by Willie Watson – This was one of the first folk albums that I listened to when I was first turned on to folk music, and I think it will always hold a special place in my heart. I took a lot of inspiration from Willie musically, but also when it comes to live performance. I was fortunate enough to actually get to see him in concert at the Ozark Folk Center and meet him. Seeing him be able to get on stage all by himself and just enjoy himself while he was up there really inspired me and gave me more confidence as a solo act. I also thought it was cool that he didn't have a whole band to pay.
4. "Elko" by Railroad Earth – This album isn't actually one that influences my work, but it is one of my go-to albums that I use to stay awake on long drives.
5. Anything by Billy Strings – I have been a huge Billy Strings fan for years. His music is so interesting because he always has something new to bring to the table. I admire his ability to take inspiration from jambands and rock and roll, and create something totally different and unique. He is definitely one of my favorite bluegrass artists, and he inspires me to try out new things and expand my horizons.
JED: Which part of your music career do you enjoy the most – live performance, recording, writing, etc.?
Live performance, hands down. I love being on stage and connecting with people. I feel most at home when I'm in front of an audience, sharing the music I love with them. It is definitely where I feel the most comfortable and able to be myself.
JED: Who are three musicians that you think are underrated or deserve more notoriety for their art?
1. Michelle Shocked. Most people have no idea who she is even though she has worked with musicians like Allison Krauss, Jerry Douglas and Taj Mahal. She is an amazing songwriter and musician, and her eccentric personality really shows through on stage, making her live performances all the more entertaining. She is one of the many female musicians that I look up to, and I really wish more people were aware of her work.
2. Malcom Holcombe. I actually had the privilege of opening for him when I was 15 at the Ozark Folk Center, and he made a great impression on me. He is not someone who draws you in with fantastic vocals or great musicianship. His draw is his raspy vocals and his poetic lyrics. What he does is so real and raw, which is something you don't find that often these days.
3. Dom Flemons. He can play just about anything, he can write, and he is one of the best showmen that I have ever seen. His performances are very expressive and animated. He puts so much research behind what he does, and he is able to present the old songs that he does in a unique and interesting way. He definitely has his own thing going for him.
JED: Tell us a little bit about your current rig – what does your "rig" consist of? What instrument(s) do you play, pedals, mics, etc.?
My guitar is a Taylor 416CE. My banjo is "The" E. Perry Alan New York, and the pot is the original one from the late 1890s. The neck was rebuilt by Scott Pool, a local luthier here in Mountain View. On the rare occasion that I pull out a fiddle and play, I reach for my favorite Hill Lytle fiddle.
JED: If you were given a $100,000 budget for an album production, what would it look like?
I would find a studio with a sound engineer that would respect my artistic choices, and give me liberty to try out any ideas I might have. I'd make sure that each song sounded EXACTLY like I hear them in my head, and I would bring in some of my favorite local musicians, including Kai Perry, Eden Pool and Crystal McCool. I would also spend some of that money on promotion for the album.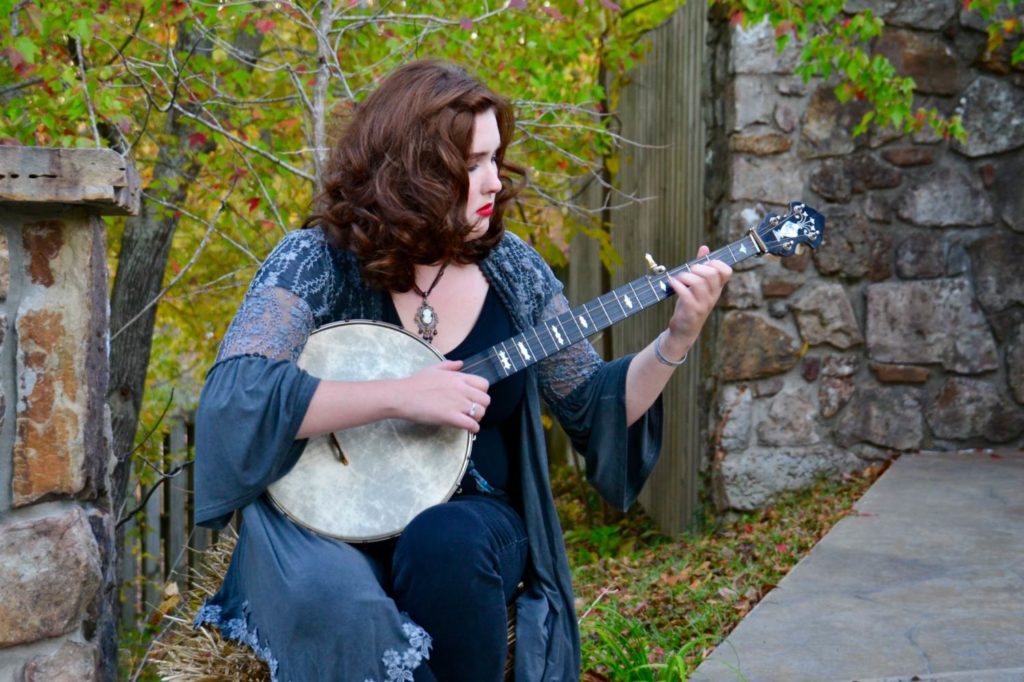 JED: Is there a particular studio and or producer that comes to mind for a project like this?
Nobody in particular comes to mind. A lot of my focus is centered on my live performances and how I can make them better, so I really haven't given recording much thought. It would definitely be something I would need to look into.
JED: What is your favorite album or recording that you've made to date?
My favorite recording that I have made so far is probably my single, "Brown Eyed Susan." It was my first real studio recording (my CD was recorded live at the Ozark Folk Center.) The song means a lot to me because I wrote it while I was going through a rough time in life. I feel like that song was my way of taking a situation that felt hopeless, and turning it into something beautiful. Music is my go-to coping mechanism.
JED: As far as coping mechanisms go that isn't a bad one 🙂 What are you currently working on?
At the moment, I am looking to expand the area that I do gigs. I am looking for more places to book gigs, and really focusing on learning the business aspect of things.
JED: Well Grace it has been great getting to chat with you and I hope you'll stay in touch!
I have enjoyed getting to talk to you, and I will definitely keep in touch!
Follow Grace on her Facebook Page. Article photo by Cindi Porterfield.