I first met Aaron and his family about 9 years ago at Branson Missouri's Silver Dollar City. I don't remember exactly how we broke the ice, but as we were close to the same age and playing guitar for our respective family bands, it didn't take us long to find some common ground and jam a bit. Today his family band has evolved from a traditional bluegrass band to a sound more reflective of a blend of The Avett Brothers, Mumford & Sons, and Coldplay. As happens in life, we've gotten busy and we haven't had the time we'd each like to be able to be able to jam and chat, but today we're fixing that! Aaron thanks for taking the time to chat with me a bit today! Tell us what you do, what you play, and where you're located.
My name is Aaron D. Link. I'm a guitarist, drummer, co-lead singer and one of the music producers for the band Dawson Hollow. We're from Lebanon Missouri. I also have a project where my stage name is Ivan The Surreal DJ, and it's mainly electrically based.
JED: Tell us a little bit about your beginnings. Your origin story, so to speak. How did you get into music, and what made you choose this path over others?
My mother was a music teacher and so we were always around music. My older siblings started to play music when I was very young, and they started a family band. I grew up around the stage and instruments and eventually wanted to join in musically. It took me years to figure out what instrument I wanted to focus on. I flipped and flopped around the fiddle, mandolin and piano, but the guitar was where my main groove found itself. I dove hard into the acoustic guitar world. Eating up Tony Rice, Dan Tyminski, and any other guitar player I could find.
JED: How old were you when you started getting into these bluegrass guitarists?
Around the age of twelve I started listening to all the guitar songs on my little nano iPod on loop as much as I could. I'd find a song with as little as one guitar lick that I loved and would put it on repeat. Acoustic music was a part of my everyday. My family band played at any event we could find and it turned into an 18 year career. Eventually we started writing our own music.
JED: Tell me about getting into writing your own material. What made you realize covering other tunes wasn't what you wanted to do?
Just playing chord progressions that were our own with original melodies and lyrics that come straight from our hearts meant the world to us. I remember writing new songs in various venue's bathrooms where the reverb makes you feel really good and flawless. It's one of my favorite places to create new melodies. Finding a routine place on the road to write was important for me. When we started writing our own material, that changed the game. We started playing our originals at these events and venues that really just wanted familiar music and covers.
JED: What kind of venues were you playing?
The typical venues we played were bluegrass festivals, snow bird retirement communities and churches. They didn't want new art. But new art, new songs were brewing in our hearts so intensely that we started another band; Dawson Hollow. Eventually we retired our family band and jumped into this new music.
JED: When did you decide to retire the family band? What was the turning point that led you to that decision?
The process of leaving the family band that we were comfortable with financially and jumping into a new band/business was rather difficult. It felt like we were leaving a shore that we were successful at and leaping into a dark, mysterious swirling ocean. We found ourselves in the unknown. Now we're in the daily grind of getting this new art and material out to the public and making friendships with our fans.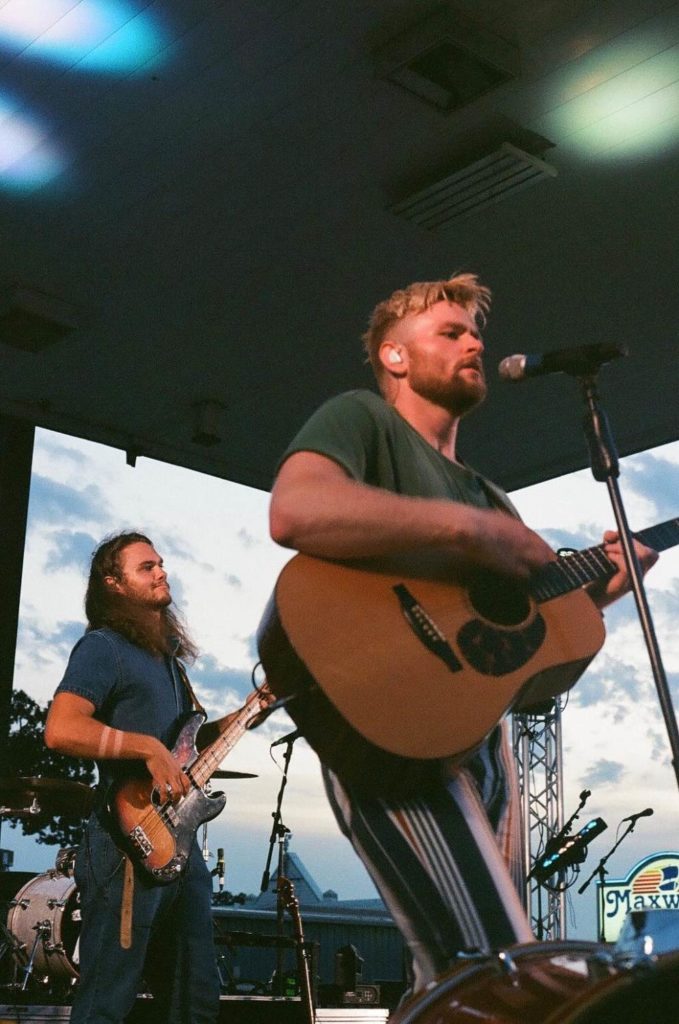 JED: How you would you describe your new art? How does it differ from what you've done previously?
Our new music is a mixture of old time instruments and modern elements mixed with an indie rock mindset.
JED: What are your favorite 5 albums, and do they influence your work? If so, in what ways?
Daft Punk – Random Access Memories – The journey each song takes you on is just so original, yet so familiar. The funk electric guitars transformed my style of playing.
Coldplay – Mylo Xyloto – The songs feel epic. They mixed huge production and emotional lyrics that created anthems for a generation.
The Avett Brothers – Emotionalism – The rawness and realism of these songs showed us what acoustic instruments can do if you're passionate about your art.
Switchfoot – Vice Versus – They let me dive into a punk mindset, but it had balance and maturity. The lyrics spoke directly to my heart and talked about eternal things my soul can cling onto.
The Beach Boys – Pet Sounds – The experimental aspect of this record really impacted our debut album and showed us chords, harmonies and melodies that changed a lot of our direction for the better. Harmonies that were correct but boring were given more spice and thinking about weirdness gave us more confidence in doing new/different stuff.
These greatly influence my current musicality. They're just a few albums that challenge me to write and create with greatness in mind.
JED: Which part of your music career do you enjoy the most – live performance, recording, writing, etc.?
I love live performance with a deep passion. However, the recording room is where a lot of my musicality truly has a platform to be utilized.
JED: Why do you feel like you're able to utilize more of your musicality in a recording session as opposed to a live performance?
I think the reason I feel more musical in the studio is that I can create a moment and have complete control of every element within. The layers, EQ, length, everything is at your finger tips. On the contrary, in a live setting, you still have control, but you're a lot more limited. But owning those limitations, the longer process to create with other musicians and the vulnerability of live music can be extremely exciting and fulfilling. They're both just different channels of music that I love and enjoy. But they're definitely different.
JED: What are three musicians today do you think are underrated?
Joe Majerus. He's one of the most gifted musicians I had the privilege to grow up with. His fiddle playing and vocals are on another level. His art needs to be shared. 
Colony House. One of the greatest indie bands out there.
Tyler Stück. He's an incredibly genius musician. Music scientist I should say. His producing and way with Lo-Fi music is on another level and his taste in musical elements is impeccable. Truly, truly a master of his craft. Not to mention a world-class drummer.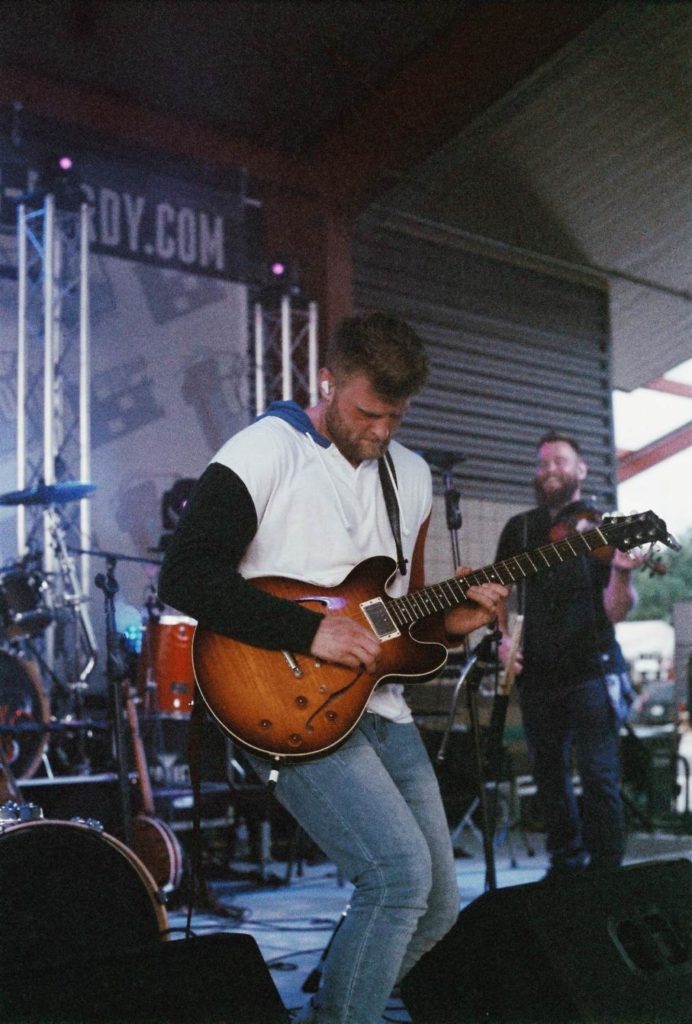 JED: Tell us a little bit about your current rig – what does your "rig" consist of?
I play a Bourgeois Country Boy Deluxe guitar. My favorite guitar I've ever played to this day. I also play a Pearl Export Kit.
JED: Do you play your Country Boy through a microphone or through a pickup?
I have a pick up and a microphone in my guitar and the blend they produce is surprisingly natural.
JED: If you were given $100,000 to spend on an album production, what would it look like?
I'd take my band Dawson Hollow to a remote mountain, set up the equipment with our Producer Ryan Poole, slot a month of recording time, and see what happens. We've done something like that before, and absolutely loved what came out of it.
JED: Would you feature any guests on the album or make it strictly a DH record?
For now, just DH.
JED: What is your favorite album or recording so far that you've made?
My favorite experience was going to the Mountains of Montana and recording our debut album Boy Of My Youth.
JED: What are you currently working on?
Dawson Hollow is working on releasing a few singles and I'm always working on Ivan The Surreal Surreal DJ tracks.
JED: It has been really good to catch up with you Aaron. Hug all your family for me. Thank you for joining us!