I have only gotten to attend MerleFest a handful of times. The few times I have been have been wonderful and memorable experiences. It was my 3rd trip to MerleFest in 2016 when I met a trio from Canada called "In With The Old" (Last year I interviewed Ms. Kasia Thorlakson who played with Jaxon in that band). They thought I talked funny and the feeling was mutual – thus we spent most of the festival hanging out with each other. Mr. Jaxon Lalonde made up one third of that trio and I am glad that after all these years we've been able to reconnect and catch up. Jaxon, for those that haven't met you, tell us who you are, what you do and where you're located.
My name is Jaxon Lalonde and I am a musician from Saskatoon, Saskatchewan, Canada. I sing and play banjo as well as both upright and electric bass. My main band right now is a bluegrass 4-piece called The Local Group. I also play bass in a high-energy folky bluesy rock setup with Dylan Cooper from Saskatoon. I'm also very honored to have recently gone on a tour of Italy, Switzerland and Germany on electric bass with the dark folk rock band Gunner and Smith.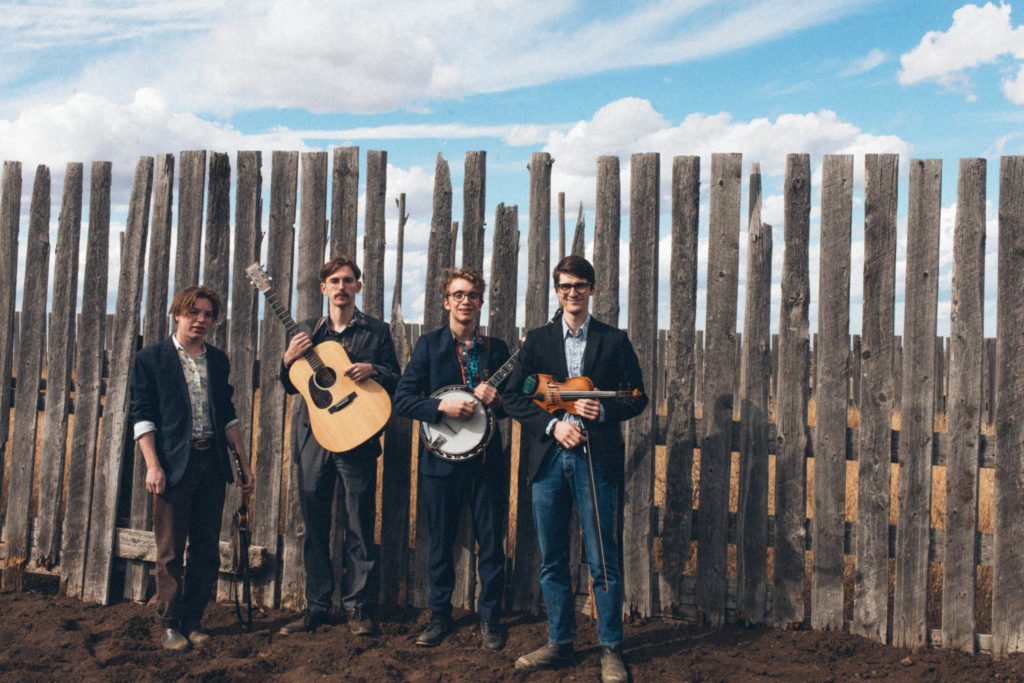 JED: Well it sounds like you've got your fingers in a lot of pies. Tell us a little bit about your beginnings. Your origin story, so to speak. How did you get into music, and what made you choose this path over others?
I was surrounded by bluegrass, country and folk music since I was quite young. My parents got involved in organizing the Northern Lights Bluegrass and Old Tyme Music camp and festival – the only festival of its kind in my province – around the time I was seven. I guess that's a somewhat unique situation for a kid in Saskatchewan to be in at that age. The Canadian prairies aren't necessarily a hub for bluegrass – I'd say in terms of roots/traditional music, country, folk and Canadian fiddle music are much more common – but, there's a small, tight-knit scene in my province centered around Northern Lights.
JED: So the Northern Lights camp & festival is in Saskatchewan?
The Northern Lights camp and festival takes place at Ness Creek in the forest of northern Saskatchewan.
My mom was also in an acoustic americana trio at that time called Touched Up Roots, so I had music around the house quite often. We attended many shows, hosted many house concerts and put up a lot of bands from the time I was young. When I was ten I started taking banjo lessons at the music camp every summer. I started playing double bass for high school band when I was 14. That was the age I joined my first band, In With The Old. I played banjo and upright with them. We recorded two albums, played all over western Canada, performed at Merlefest, and showcased at IBMA and Folk Alliance in the U.S. I don't remember ever making a decision to be a full-time musician; it just sort of happened, which is pretty wild. I started playing because I thought it would be fun and kept playing because it was, and also very gratifying to accomplish new things.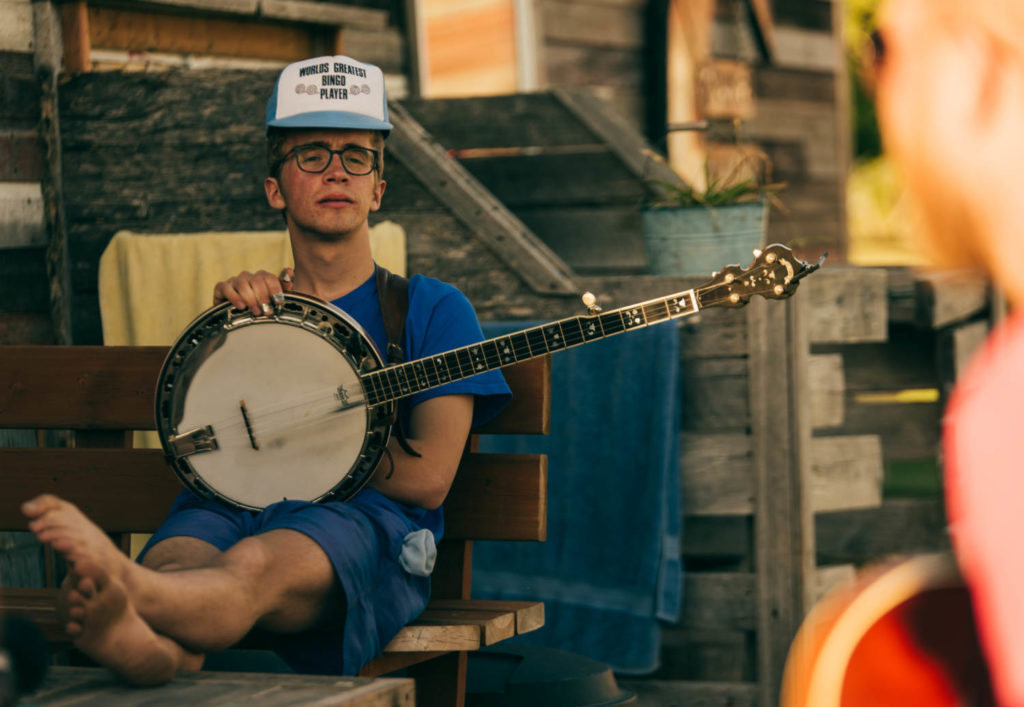 JED: I've heard a lot of people say the career kind of "chooses you." Would you say music chose you more than you chose it?
Maybe music did choose me, yeah. Like I said, it was never a conscious decision for me to become a "professional musician." I just started and kept playing music for the fun of it, and I am lucky enough to have come up in a community that was very encouraging and supportive. Combine that with the fact that bluegrass and old time is very appreciated in the prairies despite having not that many people who play it, and there you have it. In With The Old started getting gigs almost immediately after forming and I got many opportunities with them in my teen years. I think I got addicted to the feeling I get when I create something with other people that sounds cool, and I just kept doing it. Now music is essentially what I do. So maybe there is some divine bandleader that chose me to do their plunking on earth, who knows.
JED: What are your favorite 5 albums, and do they influence your work? If so, in what ways?
(right now – the list is ever changing):
The Flying Burrito Brothers – The Gilded Palace of Sin. I'm kind of obsessed with Gram Parsons. I want to be able to sing just him. His voice is so vulnerable and emotional and I love it. The harmonies and production and songwriting and sound of this album are wonderful.
JPEGMAFIA – Veteran. Really cool experimental hip-hop with a bunch of glitchy effects and random noise and vocal samples in it. It's very weird, but very creative and it somehow works for me.
Screaming Females – Ugly. This band rocks. Really solid rock straight up rock music with metal and punk edges to it. The singer is a badass too.
Stevie Wonder – Songs In The Key Of Life. I wasn't exposed to much Stevie Wonder for most of my youth, so this album blew my mind. I can't believe I've been missing out on this all my life. I love the way he can incorporate so many interesting chords and colors and melodies but still have his music be very accessible and simple.
Neutral Milk Hotel – In The Aeroplane Over The Sea. So this is kind of a basic choice, but I've really been loving this album. It has this innocence to it that I think is really special. The instrumentation and lyrics are out there, but it's a really energetic and passionate album.
I think all the music I listen to somehow influences my music in a way. Whether I want to or not, my brain is wired to always be analyzing what I hear and picking out what I like and don't like.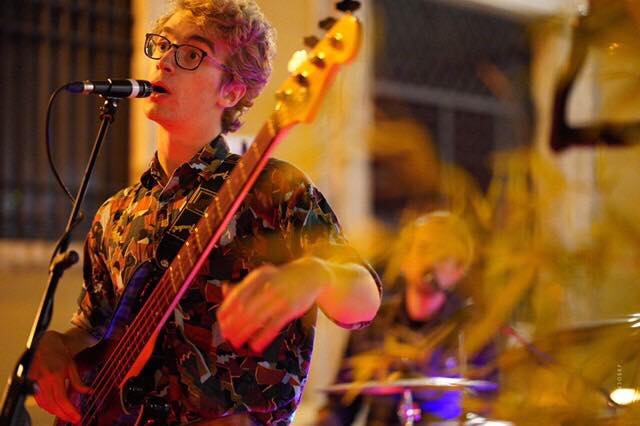 JED: Which part of your music career do you enjoy the most – live performance, recording, writing, etc.?
The part of my music career that I enjoy the most is working on new songs and coming up with new exciting ideas for them and hearing them take form. That's the most satisfying thing for me, being creative and making a mistake while playing a song and then using that for an unexpected new part. Also, I love live performance. It's a great feeling when you nail a song and people are really into it.
JED: What are three musicians today do you think are underrated?
Artists that I think are underrated:
John Hartford – Everyone in the bluegrass community adores him, and rightly so, but I think he should be world renowned as one of the greatest musicians, artists and creators of all time.
DahkaBrahka – A Ukrainian folk music/hip hop quartet that I saw at a music festival last summer. They were absolutely mind-blowing. Three girls and a guy that all sing ghostly traditional Ukrainian harmonies, as well as rap and play their own instruments.
Micah Erenberg – One of my favourite Canadian singer-songwriters. He comes from Manitoba, the lovely province to the east of mine. His voice and songwriting style are beautiful, while at the same time he doesn't take himself too seriously. Right now he's pretty well known in the Canadian folk scene, but I hope he can go much further.
JED: Tell us a little bit about your current rig – what does your "rig" consist of?
My current rig consists of: my new axe, a 2001 Stelling Sunflower banjo. It is beautiful and it rings like a bell.
I also play my Strunal maple double bass, a cheap squire electric bass, and with my band The Local Group, I occasionally play cajun-style triangle.
JED: If you were given $100,000 to spend on an album production, what would it look like?
If I were given $100,000 to spend on album production, I don't even know where I would begin. My dream is to create something that breaks genre boundaries. I would love to somehow fuse bluegrass with trap beats and crazy synths and all sorts of things that break the mold. I have no idea how I would do that, but with that money I could buy some new tech and start messing around.
JED: Now that is a cool approach; using the budget to acquire new gear to facilitate creating. Right?
Thanks! That's essentially my idea. Right now I have no clue how that would sound, but I think it could work somehow. I know it would be sacrilege, but music only progresses when people try weird things. I'll hopefully get some audio software in the future but for now my focus is on woodshedding hard on banjo, getting new musical ideas, and learning and writing new songs with The Local Group.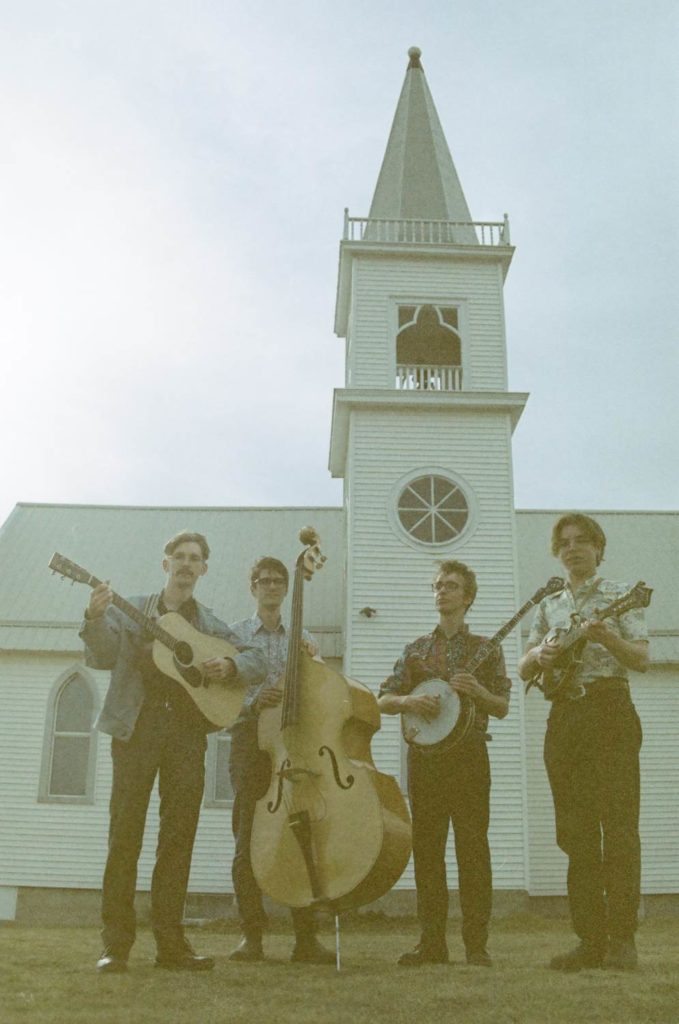 JED: What is your favorite album or recording so far that you've made?
My favorite album I've made so far has been My Mother's Couch by my band In With The Old, along with Kasia Leigh and Ellen Froese, two of my best friends and each great singer-songwriters in their own right. It was a fun creative process and it was quite satisfying to see and hear the finished product after lots of hard work. We took a bunch of weird, funny pictures for the CD and there's even a poster in there. That album is mostly a folk/americana type thing with a strong bluegrass influence and a bit of 60's psychedelia.
JED: What are you working on right now?
My current band is called The Local Group. It's a very vague name, I know. We call ourselves that after the name of the cluster of galaxies that our Milky Way is in. We've been playing for over three years and the ball is starting to roll for us. We were originally a trio, but we somehow just added an Australian mandolin player.
JED: Ha! How did that come to pass? Does your mandolinist reside in Canada?
Justin came to Canada in search of bluegrass, as there's apparently none in Australia. It's kind of funny that he chose here rather than the U.S but it was easier for him to get a visa, being from a Commonwealth country, and he thought it was close enough to Kentucky to have at least some bluegrass. We met by chance at the Nimble Fingers bluegrass camp in British Columbia (great camp by the way) and my friends and I told him that Saskatchewan is a cool place, and the absolute madman came to live here. He doesn't like the cold but he loves pickin the mandolin.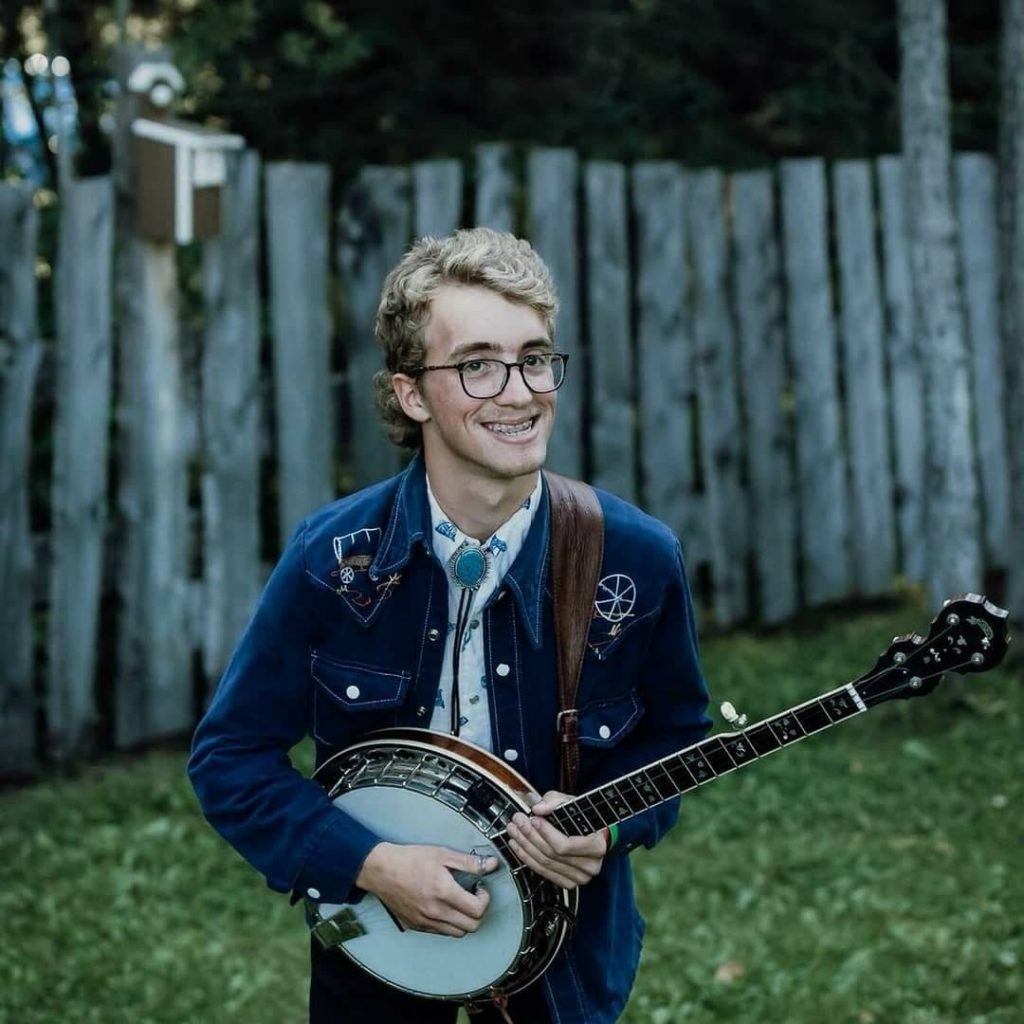 And here's how the band formed:
I met Elliot and Ethan (the guitar and the bass/fiddle/harmonica/penny whistle player, respectively) in high school. We all bonded over a shared love of all kinds of music, but especially folk and traditional kinds. We started the band to play in a school talent and we liked how it sounded, so we kept going after that. I brought them out to Northern Lights for them to hear what real music sounds like, and now they're hooked on the grass. It's great to be in a band with some of your best buds.
JED: I couldn't agree more man. Being in a band with musicians you respect is awesome, but if those same musicians are also your best bros, I don't see how it could get better than that.
We do hard-driving trad bluegrass, old country and some Celtic music and French-Canadian folk as well. We try to mix things up. Some of our big influences as a band are the Slocan Ramblers from Toronto, John Hartford, Joe Val and the New England Bluegrass Boys, and Gram Parsons. We're playing a lot in and around Saskatoon, and we've begun recording our first album. It will come out in early 2020.
JED: Fantastic man. Please keep us updated on your latest and greatest! It was great to catch up with you Jaxon. Hug Kasia and Ellen for me!
Stay in touch with Jaxon's latest happenings at The Local Group's Instagram & Website. Feature article photo by Little Jack Films.