Andy it is great to have you with us today. Give our readers a quick introduction to who you are, what you do, and where you're located.
I'm Andy Stinnett and I was born and raised in Sevierville, TN. In the last 3-4 years I've been living in Johnson City, TN going to school at ETSU majoring in music. When I mention where I'm from, I have to mention how great the music community is there. There are many great musicians around both locations, which made getting out and playing very easy when I started to. I just finished a bit of fill in work with the Clay Hess Band. Before that I was playing mandolin with the Bluegrass Outlaws and the Jerry Butler Band. I am also a full time member of the ETSU Bluegrass Pride Band playing bass.
JED: Tell us a little bit about your beginnings. Your origin story, so to speak. How did you get into music, and what made you choose this path over others?
I started playing at the age of 13 after my parents bought me a mandolin for Christmas. What really inspired me were a few artists that I just really liked listening to. The first was a hometown player who I still consider one of the best and my favorites, Roscoe Morgan. The second artist people will be more likely to have heard of; Adam Steffey. He has had a huge impact on me and my playing and is also a great mentor and teacher, helping me learn at ETSU. Another big aspect of what got me into bluegrass was the Dumplin Valley Bluegrass Festival. I lived a few houses up from it and got to go almost every year. Being in such close proximity to it really planted some seeds in my head. What made me choose this over anything else was how much I loved it. Not many other people can put as much passion or soul into their music just because they feel it that much and they love it. 
JED: You mentioned you played bass in the ETSU Bluegrass Pride band. Tell us a bit of your story about how you ended up at ETSU. What made you choose it over other music programs like Bethel University, South Plains College, or Berea College?
Number one, ETSU had a much bigger more developed program. Second, it was also closer to home and had Adam Steffey as an instructor, which was a big factor for me.
JED: What are your favorite 5 albums, and do they influence your work? If so, in what ways?
Five favorite albums – this is an almost impossible question for me. I'm gonna try and pick the most influential albums to me.
The Boxcars' It's Just a Road – It was the first album of them that I had and I just started playing. I listened to it nonstop, whenever I was able to, and it made me want to make something like it.
Dan Tyminski's Carry Me Across the Mountain – This is another great album. It has some guest artists and a lot of good material. I remember that being one of the first albums I started listening to.
Alison Krauss and Union Station's So Long So Wrong – Most people have noticed Steffey is on all of these albums. He's my favorite player. I loved every chance I had to study his playing and trying to figure out everything he played.
Bluegrass Album Band's Volume 4 – This album was the standard for what bluegrass would be for the next 20-30 years. That is the band to listen to in learning bluegrass.
Last but probably the most important album to me was actually something no one has heard or knows. Pine Mountain Railroad's The Old Radio released in 2003. This was the first Bluegrass I had ever heard and listened to, even to this day. This album featured Roscoe Morgan on mandolin and another hometown guy Jimbo Whaley as the lead singer and front man.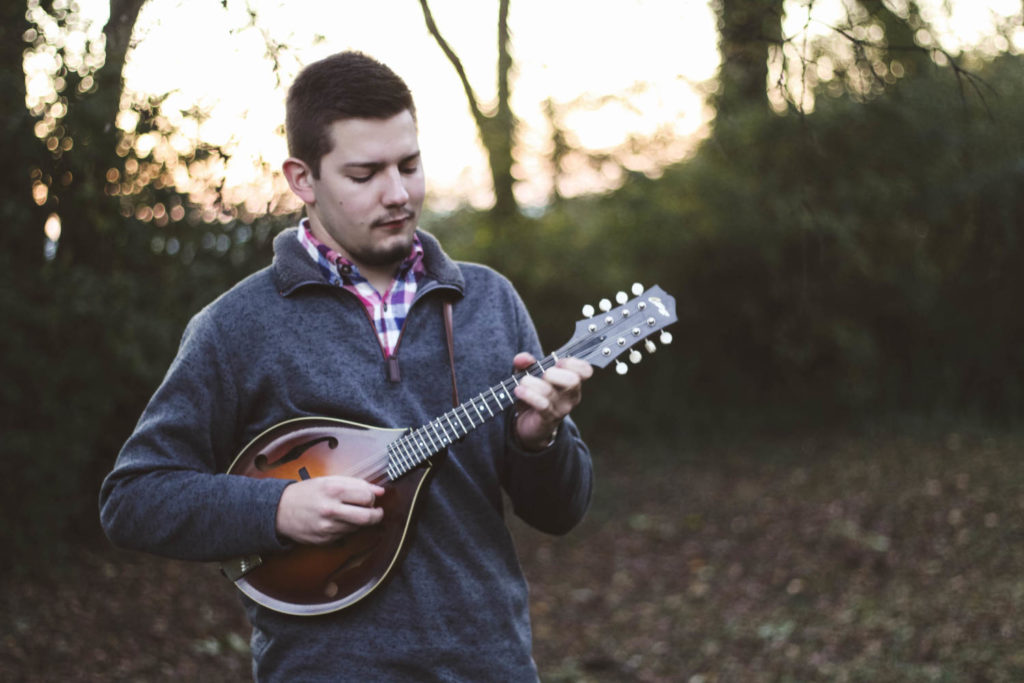 JED: Which part of your music career do you enjoy the most – live performance, recording, writing, etc.?
I absolutely love playing live to a great audience. It's the best and most awesome thing to me. If I can get on stage and have a good sound crew helping to get that groove going with a band, the feeling is insane. The feeling of playing something good and in good time with dynamics – there's just something about it to me. Live bluegrass music done right is just so powerful and emotional – I love it.
JED: What are three musicians today do you think are underrated?
Some of the best and most underrated in my opinion I know to be the following;
Jesse Brock. He's one of the most impressive and creative mandolin players I've ever seen. His playing is one of the most innovative modern styles I've ever seen.
Roscoe Morgan. As I stated before, he's just a class act. One of the best singers I've heard with a very modern Monroe creative style of mandolin playing that will blow your mind.
And last I'd say would be Jeff Partin. I probably consider him to be the next Barry Bales of bluegrass. But he can play anything in his hands. He's such a talented musician and a great person to add to it. Check out his music with Volume Five 'cause its groovy.
JED: Tell us a little bit about your current rig – what does your "rig" consist of?
I wouldn't really call what I use a rig. I just have one axe I take everywhere I go. No plugging in or anything like that, just two mics one to sing and one to play. The mandolin I am playing is a Sim Daley F5 classic. It's a killer axe and sounds incredible. Right now I'm using D'Addario Medium Heavy Nickel Bronze strings and a Bluechip TD 50. My pick of choice has a tendency to change on occasion if I'm looking to get more tone or whatever. For bass playing, just use the D'Addario Helicores. I think D'Addario makes some of the best strings and has a great team!
JED: If you were given $100,000 to spend on an album production, what would it look like?
This may not be everyone's approach but I think I could manage getting everything I want in an album for around $25,000. I think that the most expensive stuff would be studio time and equipment. I would probably use a lot of that money to build up a great advertisement system and maybe even a little to help book a tour to follow the release of the album.
JED: Who would you want to play on it? Where would you want to record it? Who would you want to mix & master it?
The people I'd want to play on it would be Jared Hensley on guitar, Eli Johnston singing and playing bass, Ron Stewart would be the go-to banjo guy, Hunter Berry on fiddle, and I'd probably have Dan Tyminski come in and do most of the singing. I really like tracking with Stephen Burwell and he does a great job so I'd probably record it at his place. To mix and master I'd want experts so I would have Aaron Ramsey and Ron Stewart.
JED: What is your favorite album or recording so far that you've made?
My favorite project I've done so far is probably one that me and a buddy of mine (Jacob Metz) put together to cut a demo for something we wrote. We had some great musicians in the studio which made it all so easy and fun to do. Eli Johnston played both guitar, bass, and sang lead. Stephen Burwell was our engineer and played fiddle. Chase Long played banjo. Jacob Metz played dobro and sang tenor. I sang baritone and played mandolin on it. I really got the sound I wanted out of the song and it was just a blast playing and singing with those guys and such an intimate setting.
JED: What are you currently working on?
I've been writing some and working on getting new material out. The demo song that we recorded is in the process of being recorded again by someone else and I'm really excited to get to release that info soon! I am currently still playing bass with the ETSU Bluegrass Pride Band and attending college. I am also still trying to get out playing and get on the road as much as possible so be on the lookout if you're at a festival! I've got some awesome stuff coming up in the near future that I can't release yet but am super excited to tell y'all about!
JED: Well Andy we can't wait to hear about it. Thanks for chatting with us today and let us know when you those projects get released!