Today we're sitting down with the banjo-turned-dobro convert Jacob Metz to chat about his story and his music. Jacob tell us a little bit about yourself.
I'm Jacob Metz, I am twenty years old, and I play resonator guitar for the Clay Hess band. I'm currently located in Johnson City, Tennessee where I'm a sophomore at ETSU in the Bluegrass, Old-Time, and Country music program there.
JED: Tell us a little bit about your beginnings. Your origin story, so to speak. How did you get into music, and what made you choose this path over others?
I guess you could say that I got into music fairly late compared to most other musicians I know. I grew up in the small town of Oxford, Kansas, which is actually about ten miles from the well known Walnut Valley festival in Winfield, Kansas. I can remember being around acoustic music from the festival at a young age and being really fascinated by it, but I didn't have any direct ties to it.
JED: How old were you when you first went to Winfield? I've only been twice but the two times I went were a blast. Did you ever enter any of the contests?
I think I was about fourteen the first time I went to Winfield. The great thing about that festival is that for a very green musician as I was, I think I jammed more at that festival than I ever have. People are so eager to get you in their circle to pick and give you the nod to take a break. Some of my best memories and "ahah" moments, as far as learning, happened around a jam circle at Winfield. I entered the banjo contest a couple of times, but I'm a terrible melodic player and had zero chance, haha.
It wasn't until I was about thirteen years old when my grandpa bought me a banjo that went really cheap at a local auction. That was when I started playing bluegrass music. I had only been playing for two or three months when I heard the band Blue Highway for the first time, of which Rob Ickes was the dobro player and had been for many years. Hearing Rob is what made me want to play the dobro, and it has since been my first love. But even then, music was just an extensive hobby for me and I didn't really see it as something I would do to make a living. But as I got involved with the Kansas Bluegrass Association and their youth band that did some regional touring, I fell in love with the road life and business side of it as well. That is when I started to think seriously about pursuing a career in this type of music.
JED : I'm glad you did man; you've got the chops for it. What are your favorite 5 albums, and do they influence your work? If so, in what ways?
That would be Through The Window Of A Train – Blue Highway, Native American – Tony Rice, Live in Louisville – Alison Krauss and Union Station, Golden Hits – George Jones and My Dixie Home – Jim Mills.
Each one of these albums has influenced my singing or playing in a way that I can still recognize it. However, the first two listed are the ones I would have to say have influenced me the most as a dobro player. Through The Window Of A Train, to me, should be every dobro player's guide on how to back up a vocalist. It's like Rob would nod his head in agreement with whatever was being said through what he played on his dobro. Native American is my favorite album out of any genre of all time. Between Tony Rice's ability to choose songs and arrange them so that they were perfect for his voice and style, and the way Jerry Douglas matched Tony's energy instrumentally, it is the one album I can leave on repeat for hours at a time, and often have. Native American gets me excited about playing unlike any other album I've listened to.
The AKUS live album is so full of great harmony singing, and I took notice of how careful the band was in backing up Alison. That translated to me at an early stage in my playing as to how important it is to be extremely mindful of the vocalist(s).
My mother was a big fan of The Possum (George Jones) and we listened to his music a lot around the house when I was little. We happened to have this album that had some of his pretty well known songs, and a couple that are a little more obscure/deep catalogue. Listening to that album taught me a lot about phrasing and how important individuality is as a singer. I mean, no one sounded or sounds like Jones.
My Dixie Home was basically my banjo hymnal when I started playing. When I got my first banjo, it actually came with Jim's Acutab video, so from the get go I studied his albums religiously. Jim is still a favorite of mine, and a lot of my banjo playing is based on his ideas.
JED: Which part of your music career do you enjoy the most – live performance, recording, writing, etc.?
To me, you can't beat the thrill of a great show, which is probably why most of us work so hard to have a career in music. I do love recording, writing new music, giving lessons, and all of the many other things are a part of being a musician, but for me it is all second to getting to travel and play live music for people and get the response and rush that comes with it.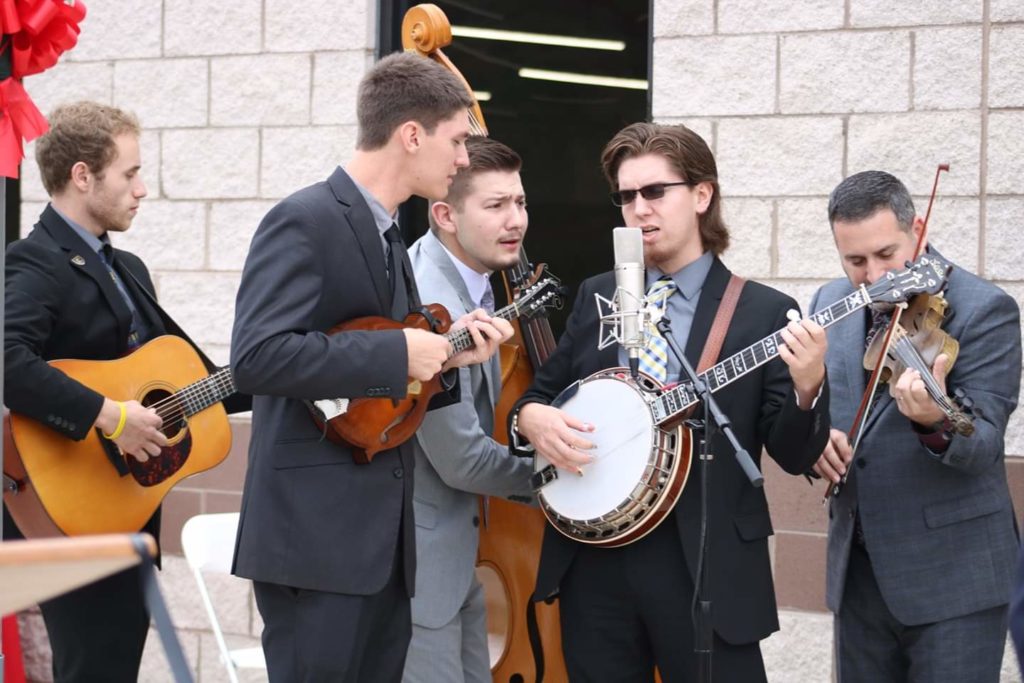 JED: What are three musicians today do you think are underrated?
Mitch Meadors, who is the new mandolin player with the Clay Hess band, is someone who I've known for only a short amount of time but has quickly become one of my top favorite mandolin players. To me, he's the best of all of my favorite mandolin players in one. His obvious appreciation for, and attention to, melody and how he listens to others makes him one of my favorite people to get to play music with.
Cory Walker: I've listened to his work on several great albums and in live atmospheres that require a deep understanding of multiple styles and genres. For someone to be able to play anything from traditional to the most progressive types of acoustic and bluegrass music and move between them so seamlessly as a banjo player is extremely impressive, and I think much greater recognition is due.
Matthew Songmaker: Matt plays mandolin with the Little Roy and Lizzy show, and he is someone who, just like Mitch, when I listen to him play I can hear all of his influences but it sounds like Matt and nobody else. His taste for traditional bluegrass and country music is among the best I've played with. It's always a great joy and a privilege to get to make music with him and more people should know who he is and the musician he is.
JED: What kind of dobro do you play? Do you like to "plug in" on-stage or are you a mic guy?
Like a few acoustic musicians I know, I haven't made the switch to be able to plug-in. Not because I think you shouldn't, but just due to the fact that I have not been in many situations that require it. I play a Jerry Pitt resonator guitar. The guitar is about two years old and so far out of all of the resonator guitars I've played, it's my favorite guitar by far.
JED: Tell us a little about the build of the guitar. What kind of wood, resonator, cone, etc? Also what kind of strings & slide d'you use?
It's made entirely out of solid curly maple, which is probably my favorite tone wood for dobro, and it's got a Quarterman cone. I use GHS TS1600 strings – the TS stands for Tim Scheerhorn. Back when Tim was still building, this was his custom set he would put on all of his guitars. The gauging is 17-19-28-36-46-56. I've tried several different makes and sets, but I always find myself going back to this set for their tone and longevity. I also use a Tim Scheerhorn stainless steel bar. Again, I've tried multiple bars, but the Scheerhorn is the only bar I have owned for the past 5-6 years.
JED: If you were given $100,000 to spend on an album production, what would it look like?
I would love to make a record at Randy Kohrs's studio, as some of my favorite sounding bluegrass records, including his solo albums, have been recorded and mixed by Randy at his studio. I would also schedule it so that it could all be done live, because there is something magical about the tight groove that happens on a live record that is hard to replicate.
JED: What is your favorite album or recording so far that you've made?
I'm fairly green on the scene and I haven't gotten to play on a lot of records yet. However, this past spring I got to play on a solo record for Kenny Ray Horton, who plays guitar and sings in the Country Current US Navy Bluegrass band. I had a lot of fun both learning the material and getting to record down at Hat Creek Recording Company, which is Bobby Starnes's recording studio. A lot of great players are on that album such as Adam Steffey, Barry Bales, Haley Stiltner and Matthew Songmaker who I mentioned earlier. Kenny has put a lot of hard work into writing all the material for that album which really lended itself to the dobro, and I'm looking forward to people getting to hear the final product of his hard work.
JED: What are you currently working on?
I'll be getting to go into the studio and make a new record with the Clay Hess Band here in the next couple of months. I also have plans and a lot of the foundational work done to record my own solo project here in the next 5-6 months. The lineup is going to be Clay Hess on guitar, Mitch Meadors on mandolin, Hunter Berry on fiddle, and Blake McLemore on bass. I'll also have Jimmy Campbell and Sally Lea singing all of the harmony. These are some of my favorite musicians and people in the world, which is really exciting for me to get to do, and when you asked about my dream album, man this is the lineup. I'm very excited for this project. As of now, the title of the album will be, "All Things Work For Good," so be looking for that soon. Overall, I'm really looking forward to all of the things that 2020 has in store!
JED: I am too Jacob. Keep us in the loop on your next project and be safe traveling down the road. Thanks for joining us to chat about your music!