Today we're talking with dobro player Ethan Hughes. Ethan thanks for taking some time to chat with me today. Tell us who you are, what you do, and where you're located.
My name is Ethan Hughes. I sing, play dobro and guitar, am trained as an applied scientist specializing in spectral remote sensing, and am a pony and puppy enthusiast. I currently live in Rochester, NY.
JED: That is a pretty interesting mix of things to be into! Are you from Rochester? Did you grow up there?
I grew up in Smyrna, DE and moved to Rochester in December of 2016 to go back to school for my graduate degree in Imaging Science.
JED: Gotcha. Well man tell us a little bit about your beginnings. Your origin story, so to speak. How did you get into music, and what made you choose this path over others?
My parents both played music while I was growing up. They had a bluegrass band called FretLoose. I have strong memories of my parents and their friends playing together during their Wednesday night band practice. The moment I wanted to play music occurred when I saw Rob Ickes play the song "Born with a Hammer in My Hand" at Delaware Valley Bluegrass Festival when I was 12 years old. To me he seemed like the lead guitarist in a rock band, and at the time sported a wicked horseshoe mustache. During that same festival I met the Mongan family (Mike, Karen, and Zach). Zach was two years older than I was and played the banjo. He was my first (and is still one of my best) musical friends. The Mongan's introduced me to other festivals like Grey Fox, Joe Val, Augusta, and more. I was bitten by the bluegrass bug and I'm still hooked. My taste in grass has changed as I've gotten older, but I love being a part of the community.
It would be wrong of me not to mention David Bromberg as an inspiration and guiding hand in my musical upbringing. He hosted a jam every Tuesday in Wilmington, Delaware. This is where I learned how to improvise. Everyone would sit in a circle and call a tune. I was always amazed at his taste, musicianship, and humbled by his kindness. David is still one of my favorite guitar players, a hero, and a friend.
JED: Community is such a huge part of bluegrass music. It is such a unique 'family' of musicians. What are your favorite 5 albums, and do they influence your work? If so, in what ways?
Picking favorite albums is hard, but if I had to choose I'd say:
Waitin' for the Hard Times to Go by The Nashville Bluegrass Band is a favorite of mine. I love Alan O'Bryant's singing and the fat tone of Stuart Duncan's fiddle work.
Puttin' New Roots Down by IIIrd Tyme Out is another album that influenced me. I liked that I could hear all three parts in the harmony singing.
The Cold Hard Facts by Del McCoury is an album that I listen to on repeat. I love Del's monster rhythm and his distinctive voice. Also, the man has a G-run that splits timber with a crack like a .44!
I love Manzanita by Tony Rice not only because of Tony's incredible guitar playing, but Ricky's smooth tenor and tasty dobro by a young Flux [Jerry Douglas].
Lastly, the self titled album by Blue Highway comes to mind. This album made me want to be a dobro player. Rob [Ickes]'s dobro work on this album is some of my favorite.
All of these recordings were formative for me. I had many of them on cassette and played them when I drove to school each morning in my old pickup.
JED: Man what a statement of the past; cassettes. Those were simpler times. Which part of your music career do you enjoy the most – live performance, recording, writing, etc.?
I have had some great experiences playing live and touring! Recording can also be a lot of fun if you're with the right folks.
JED: Can you tell me about some of your fondest traveling memories?
When I was a teenager I would spend the first half of the summer bailing hay and working on farms to save up my money to go to a bunch of festivals. My friend Zach Mongan and I would start at Grey Fox Bluegrass Festival and start our journey south to bluegrass week at Augusta Heritage Center, Clifftop, Galax, and finish the summer festival season off with Delaware Valley Bluegrass Festival. We'd camp for a month and a half going from festival to festival. These memories are some of my fondest.
A few years later when I was in college I got the opportunity to relive a similar experience with Zach and my friend Sav Sankaran. Sav and Zach were touring with The Dixie Beeliners and I got to go on the road with them and play some dobro. It was a weekend filled with shows and pasture picking late into the morning. It would be a dream come true to one day get to tour with my friends!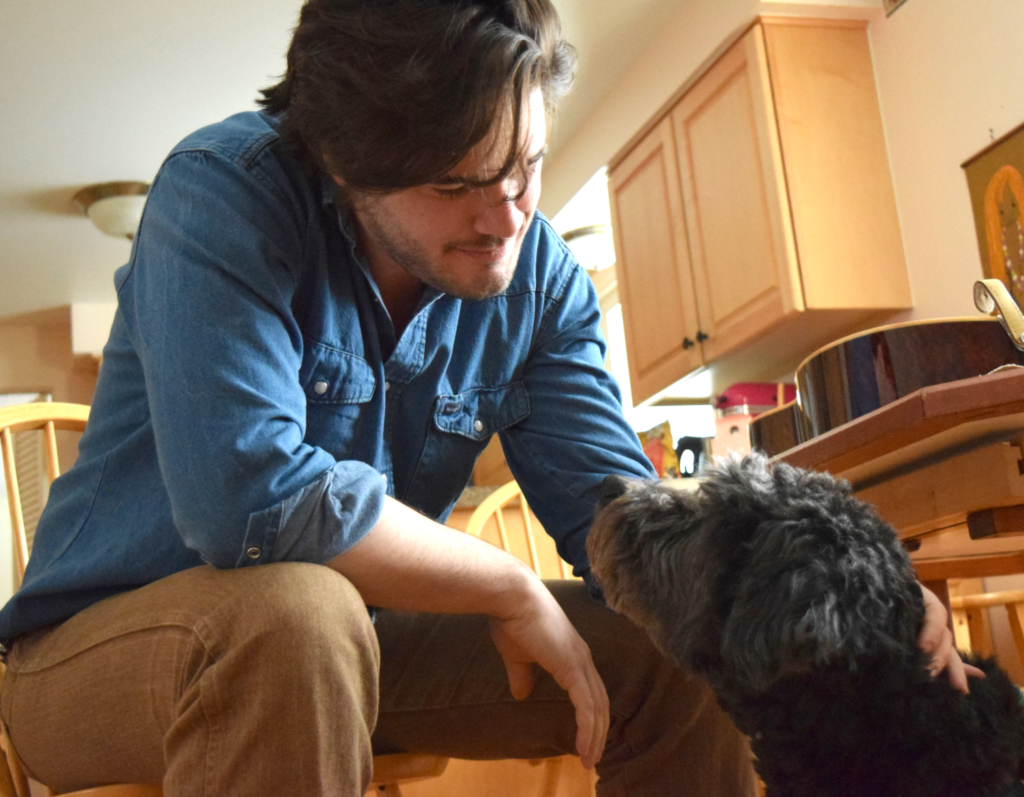 JED: What are three musicians today do you think are underrated or deserve more notoriety for their art?
I'm not sure if these musicians I'm about to list are underrated or not, but I really enjoy and respect what they are doing. Courtney Hartman is one of my favorite guitar players. I think her taste and tone is some of the best. Lucy Singleton is a great singer that has a band called the Tinder Sweethearts. Every time I hear her sing I get chills. Lastly, I think Mark Delaney should be everyone's favorite banjo player. His banjo playing is distinctive. I can recognize his playing immediately! I especially like his work on slow and swing tunes.
JED: Tell us a little bit about your current rig – what does your "rig" consist of? What instrument(s) do you play, pedals, mics, etc.?
I play a Rayco solid quilted maple resophonic guitar. The tone is fat! I prefer Scheerhorn bars, Beard Wave capos, BlueChip thumb picks, and EJ42 resophonic strings from D'Addario. I also play an Eastman sunburst dreadnought. I prefer D'Andrea PRO-354 Pro Plec 1.5mm teardrop guitar picks because they sound good, and I can afford to lose them.
JED: Ha! You know I'm pretty sure Johnny Meyer has an Eastman dread that he absolutely loves. I can totally understand going with a cheaper pick; loosing a $30+ piece of shell or an expensive synthetic really hurts.
I believe it! They're great guitars. I hope John is doing well!
JED: If you were given an unlimited budget for an album production to record your dream album, what would it look like?
I would record songs written by my friends with tight harmonies. I would love to have Alan O'Bryant and Del McCoury sing, Stuart Duncan on fiddle, Mark Delaney on banjo, and Chris Walls on bass. I'm not sure who'd play mandolin.
JED: Who would you want to produce the album? Where would you record it? Who would you want to mix and master it?
Man, I don't know. I've had luck working with Todd Stotler of Echoes Recording Studio. I think he has a great ear and is easy to work with. I like the idea of building my own studio and doing the work myself. I'd like to release my work for free so anyone who is interested can listen.
JED: What is your favorite album or recording that you've made to date?
Well the one I'm most proud of isn't out yet. I started it in 2016, and then went back to graduate school. I hope to finish the project this year.
JED: Man I can totally relate to having a project take longer than anticipated; my first 'real' project took 2 years and 7 months from start to finish and had at least a year and a half of talks of plans before that. It is unbelievably satisfying to finish a project like that once you've started it though.
Which project was that? Was it the 432 Sessions? I really liked that project.
JED: It was! Man thank you I'm glad you liked it. What are you currently working on?
I've been working on my guitar playing mostly for the past couple of years. Specifically, I've been working on tasteful vocal accompaniment (crosspicking, leads that are melody based, fat tone). I've always appreciated when players can sing and play a tune by themselves and make it seem full. Tim O'Brien is certainly an inspiration.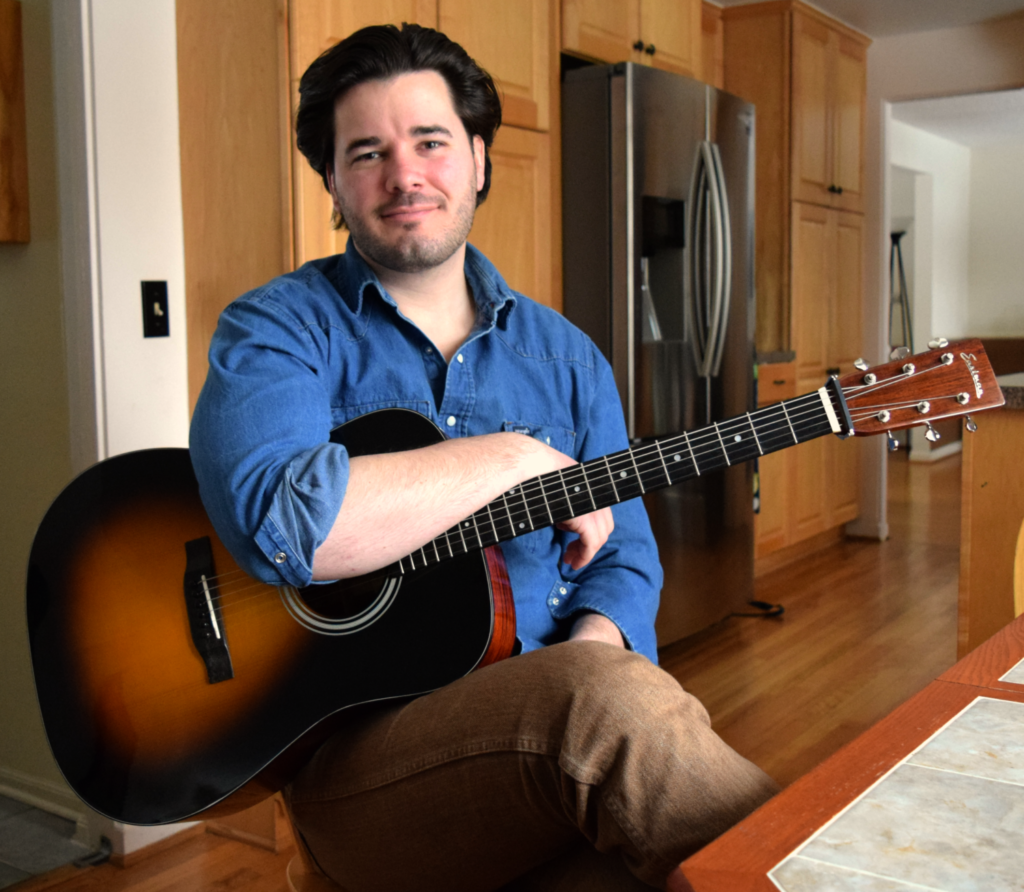 JED: You're right, Tim O'Brien is fantastic in that regard. His song "Buffalo Skinners" off of his Fiddler's Green album is a great example of that.
Oh yeah! That whole album is gold!
JED: Ethan I am glad we had this opportunity to talk about your music. Thanks for joining me!
Thanks so much for reaching out. I hope to see your project sometime soon live!
Stay in touch with Ethan on his Instagram account. Hear what he's pickin' on his SoundCloud account. Featured article photo by Cayla Fromm.