As you've all seen from our interview with Mikael Jonassen, Norway is home to some incredible talent for acoustic music. Today's guest is also a banjoist who I'm excited to be speaking with. Thor thanks for taking some time to chat with me and give me some insight into your music. Introduce yourself to our readers.
Hi! Thanks for reaching out for this interview. My name is Thorbjørn Olsen. I live in Stavanger, a town along the southwestern coast of Norway, where I study, play, teach and compose music.
JED: Tell us a little bit about your beginnings. Your origin story, so to speak. How did you get into music, and what made you choose this path over others?
Music has been around me as long as I can remember. My mother bought me my first instrument when I was in kindergarten, it was an electric keyboard. I played around with it a lot. My mom is not a musician, but she helped me tune in to my ear and truly listen. She put it in simple terms for me – "listen to when the music shifts, and find out whether it goes up or down."
JED: Wow, so she doesn't play, but yet she was able to engage your auditory awareness? That is really neat. That is so intuitive. How did she know to do that??
My mother grew up in a Christian environment where they used to sing together a lot, so I think music has been a significant part of her life since then. I also remember her singing and humming around the house. But how she knew when to come forward and tell me exactly what I needed to know at the exact right time, that still amazes me. Mother's intuition, perhaps?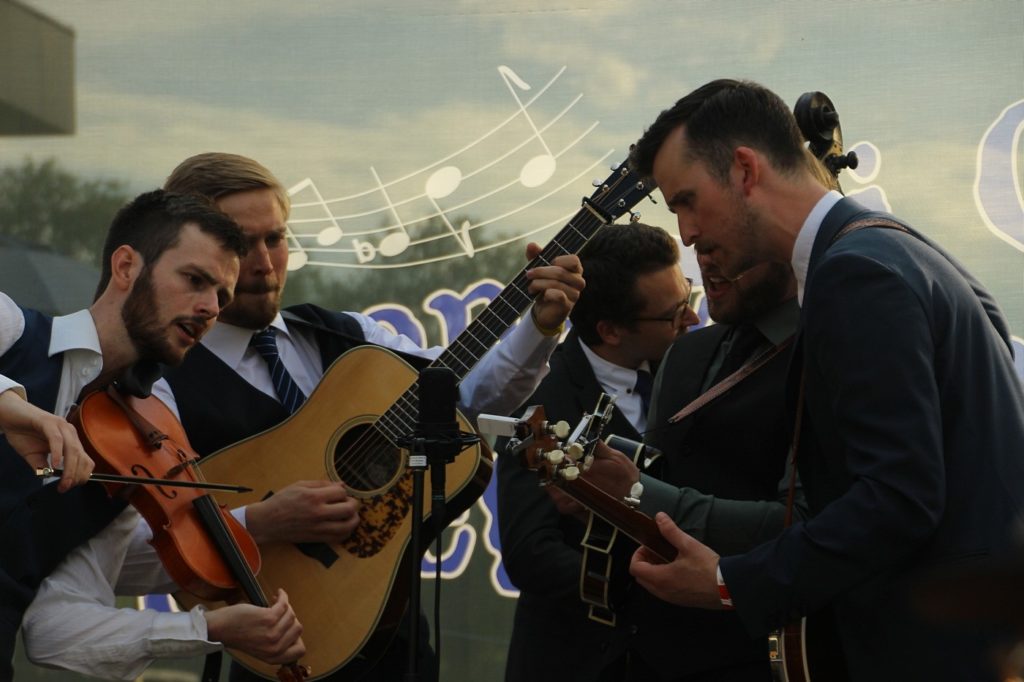 JED: Moms always know 🙂
I played drums in the school band for a couple of years in elementary school, and although it wasn't always the most musically inspiring, it really provided me with a sense of community around something musical (which I have found again later, through bluegrass music). Then my father got me a nylon string guitar for my 9th birthday, I think it was. I didn't really play it much until I was around 12, but that's when I really got hooked.
JED: Wow man, talk about strange coincidences; I always wanted to be a drummer, I also started lessons on guitar when I was 9 but didn't take it seriously until I started taking lessons from a more advanced teacher when I was 12. We related?
Dude! That is strange. Don't tell me you started playing the banjo at 20 too!?
JED: Ah see now our experiences start to deviate haha!
I listened a lot to rock music, bands/players like AC/DC, Sabbath, Zeppelin and Hendrix gave me the biggest kick in a long time! At the music program in high school, I started getting into jazz. I remember becoming a bit overwhelmed by the gigantic base of information out there, all the possibilities on the guitar, all the different things to practice.
But after high school, I found a new source of inspiration in country guitar and chicken picking. I recall listening a lot to Jerry Reed and Danny Gatton at that time, being amazed by their open-string licks and right hand-technique. It came to a point where I tried to learn a fingerstyle guitar arrangement of Foggy Mountain Breakdown. Coincidentally, I had a friend telling me about how he had a cheap banjo lying around at home, and how he would happily lend it to me. I bought it from him some months later. I think one year passed from when I first borrowed it to when I decided the banjo was going to be my new main instrument, and that I would dedicate all my practice time to that. The number of hours I spent practicing suddenly increased a lot after that switch. I would go as far as to say I truly learned the importance of practice through learning the banjo. After a while, I needed to find someone to play with. I reached out to an acquaintance who was studying at the jazz program at the local university and asked him if he would want to begin exploring this music with me. (Now, a couple years later, we're in a band together – Strengeplukk – with which we've been touring a fair bit.) From there, bluegrass (and also country music) has been this black hole that has been pulling in almost all of my attention, time and money, haha. I still study jazz, though. But through the past years, jazz for me has been more a method of learning than a genre. So to absolutely be honest, it has been an easy choice. I've known for a while that music is what I want to do.
JED: What are some of your favorite albums, and how do they influence your work?
I've been listening to so much different music throughout my life, and it's really hard to pick just a few. I think I'll just focus on the albums that set me on this acoustic path.
Will the Circle Be Unbroken by Nitty Gritty Dirt Band probably marks the turning point in my musical history. It was the first grassy/folky album I ever listened to. I don't even know how I found it. Most likely through the algorithms of Spotify. Anyhow, to me it captured the sense of community that I later have learned is a big part of bluegrass music. It was also the album that inspired me to try out singing.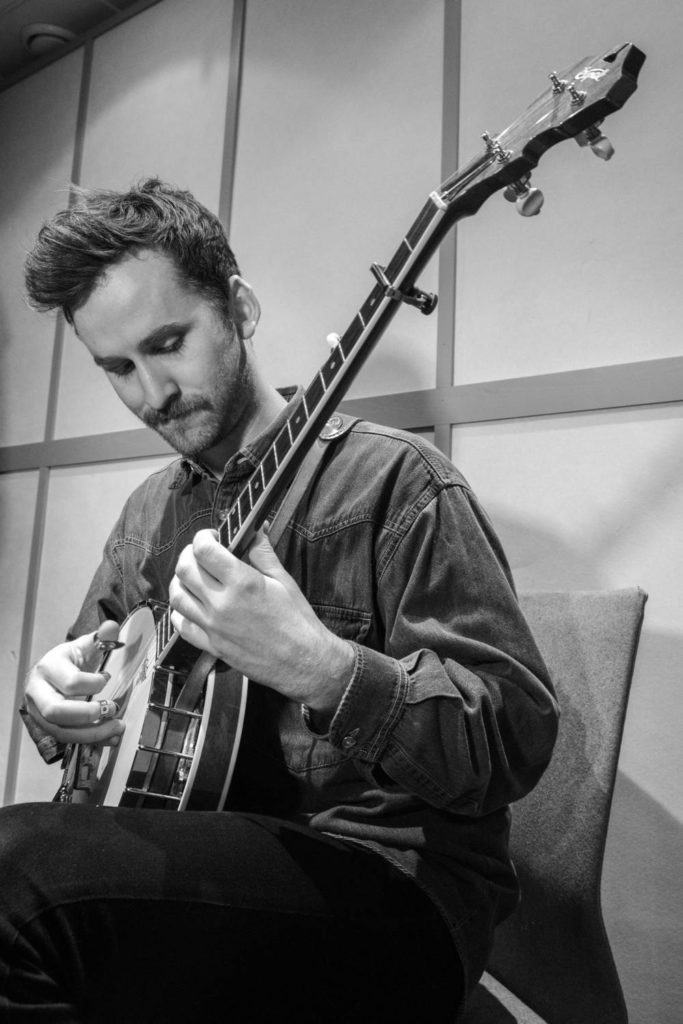 Home Sweet Home by Doc and Merle Watson is another album I remember from when I first started playing banjo and bluegrass. I was becoming very fascinated by the high lonesome sound, and I learned several tunes and breaks from that album.
Noam Pikelny plays Kenny Baker plays Bill Monroe is an album I keep coming back to, because it's just so beautiful and inspiring. I am a huge fan of Pikelny and his style. The way he plays melodic lines like a fiddle player, and yet makes it sound «banjoistic», keeps amazing me.
The Bluegrass Album by Bluegrass Album Band is another great one. The drive, the swing, the blues, and the harmonies. Woooh!
The Punch Brothers have been inspiring me for a long time now, but I think I have to go with All Ashore as my top inspiring progressive album. They are doing an exceptional job at showing what's possible with traditional bluegrass instrumentation.
JED: That last sentence summarizes The Punch Brothers really well. I remember when "Who's Feeling Young Now?" came out in 2011 and thinking, "I've never heard these instruments sound like this."
I know, right? To be honest, I wasn't a big fan at first.
JED: Me either; it gave me a headache. It was so far over my head.
That's because I felt a much stronger pull towards the "high lonesome sound," which for me was the essence of it when I started learning to play the banjo. I didn't understand them, and that's because I had yet to understand bluegrass music at all. I just wasn't ready. Then, after a couple of years of listening to traditional bluegrass music, I re-discovered them, and the impact was huge. Now they're without a doubt at the top of my list. As a musician, I guess you must know the rules in order to not only bend them yourself, but to be amazed by someone else who effectively bends them. Haha.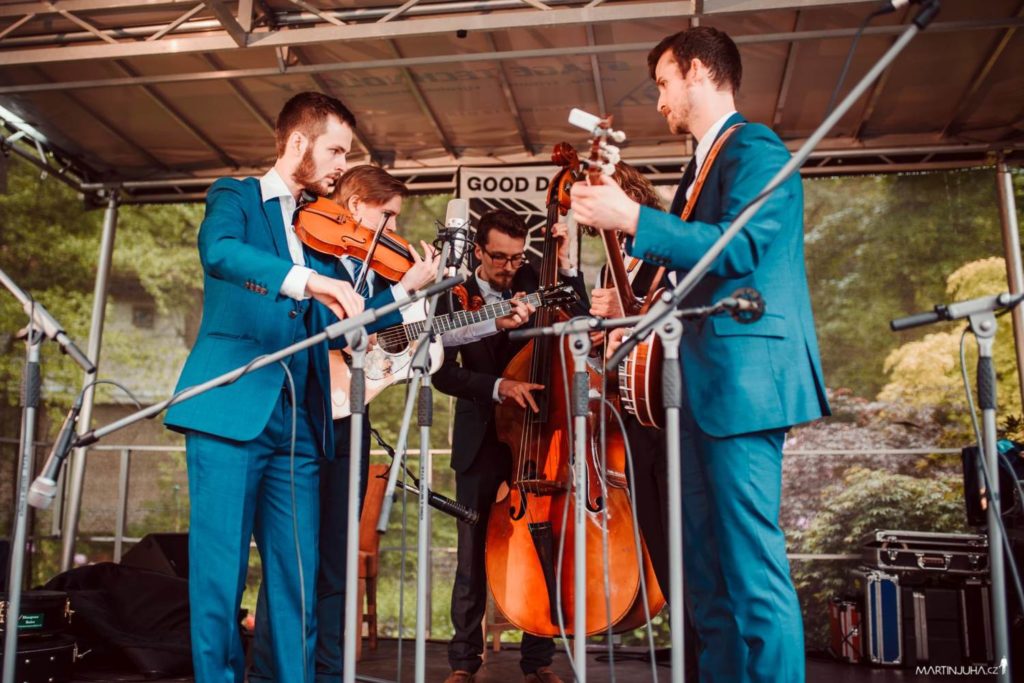 JED: Agreed man, with time comes appreciation for the more sophisticated music of Thile and PB. Which part of your music career do you enjoy the most – live performance, recording, writing, etc.?
I think my favorite part of my career this far has to be touring, although that's the most exhausting part, too. We've had some great times on the road with my band Strengeplukk. We've been doing a summer tour every year for the last 4 years now. We usually have a lot of laughs, jam whenever the opportunity arises, meet a lot of interesting people and create a bunch of nice memories together.
JED: Who are three musicians that you think are underrated or deserve more notoriety for their art?
Three musicians… Let's see. Travis Toy is a killer musician. He plays pedal steel, dobro, banjo and electric guitars. He plays really hip stuff on the E9th neck, lots of stuff other players would only do on a C6. His style shows that you don't need a specific tuning to dictate how to play, because it's the 12 same notes anyway (in the West, at least). And I very much like the way he blends traditional country and jazzy, more modern sounds.
Matthew Davis, whom I know you know, is a monster banjo (and piano) player. He inspires me to keep growing and keep learning new things on the banjo. His newest solo album (Outlander) is just filled to the brim with beautiful melodies and exciting stuff. Also, nice guitar playing, Jed!
JED: Ha! Thanks! Matthew is so awesome. We gotta interview him soon.
Matt Menefee is another monster banjo player. One of his bands, the Hit Points, are doing some very cool arrangements of video game music from throughout history. I think what all these musicians have in common is that they explore different styles and genres of music and bring that back to bluegrass or country, in a more traditional setting. That's inspiring to me.
JED: Yeah man, similarly to The Punch Brothers, The Hit Points are expanding what we thought was possible with bluegrass instrumentation. Tell us a little bit about your current rig – what does your "rig" consist of? What instrument(s) do you play, pedals, mics, etc.?
I play a Czech made banjo, by a luthier named Rosta Capek. It doesn't have a whole lot of fancy inlays, being a student model, but it sounds good and plays well. As far as dobro goes, I am currently borrowing a Beard JD signature which I have used a little bit for studio and gigs. That one is a beast, too. I also have a Dekley SD10 3×4 pedal steel guitar. I've been playing the steel guitar for almost 4 years now, and boy, is that one of the most interesting instruments I have ever touched. I also have a Sigma dreadnought, two teles and a strat, and a couple of effect pedals I use with my electric guitars and the steel.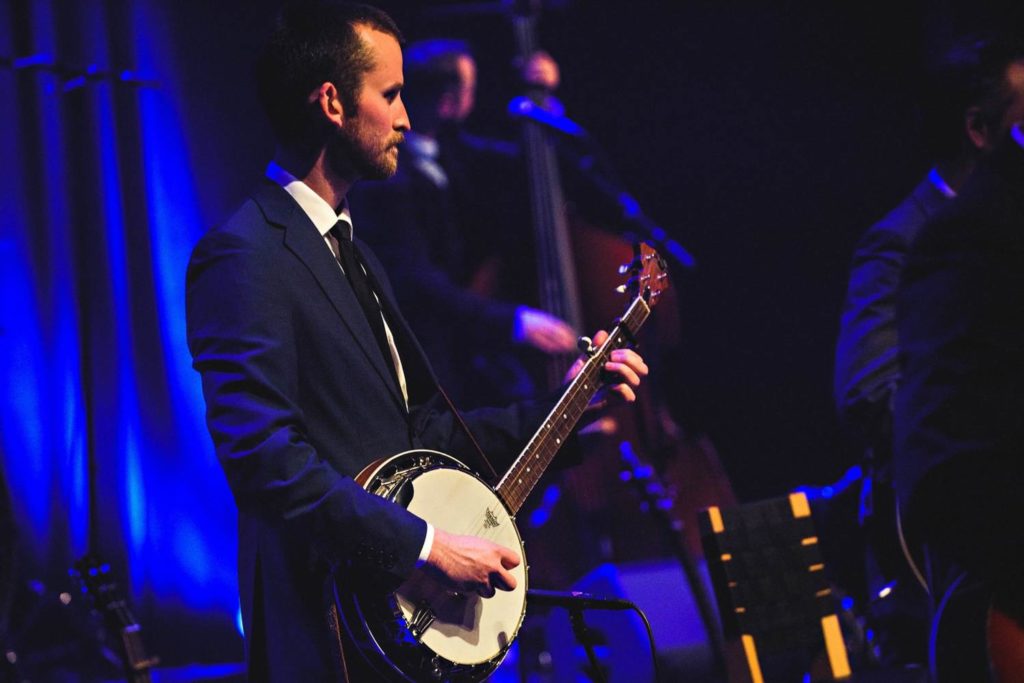 JED: If you were given an unlimited budget for an album production to record your dream album, what would it look like?
I would probably bring my band with me to Nashville, Tennessee, to live in a house there for a couple of months. Go to a lot of concerts and jam sessions and just take it all in. Then we would record the album there, which we would have composed together during the stay. I always find that I learn a lot from recording, so why not focus on making it a true learning experience!
JED: I like the fact that you would focus on attending experiences to inspire before recording. Who are some of the people you would want involved on the project?
I would probably want Dave Sinko to do the engineering and mixing. Other than him, and the guys in my band, I'm not really sure. Maybe invite Chris Thile over to mentor us in the writing process. I'd love to get a glimpse of how his mind works when writing and arranging music. I'd also love to pick the creative brain of Stian Carstensen, a Norwegian multi-instrumentalist with an affection for Balkan music.
JED: What is your favorite album or recording that you've made to date?
I think it is our upcoming Strengeplukk release. We recorded it this December, and I'm excited to hear the finished result! Some of the tunes are of a more traditional bluegrass character, and some of them are a kind of fusion between bluegrass, jazz and Norwegian folk music. I think it's going to turn out very cool.
JED: What are you currently working on?
We're still working on the mixing of the aforementioned recording. We have a single dropping soon. There's another album I'm a part of that is in the mixing process right now, too. It is with a singer/songwriter named Stina Kjelstad. That project has more of a country/americana sound, with drums, electric bass and guitars. I play the steel guitar.
Other than that, the covid-19 virus is not exactly making things easy. We had a lot of concerts and events coming up with Strengeplukk this spring, and it has all been cancelled. It is very unfortunate. I hope everyone stays safe in these uncertain and strange times, and that it will be over soon.
JED: Man you're not alone there; almost every gig I had got cancelled until August. Everyone I know in town has no work. How are things being handled in Norway? Do you have "stay-at-home" orders?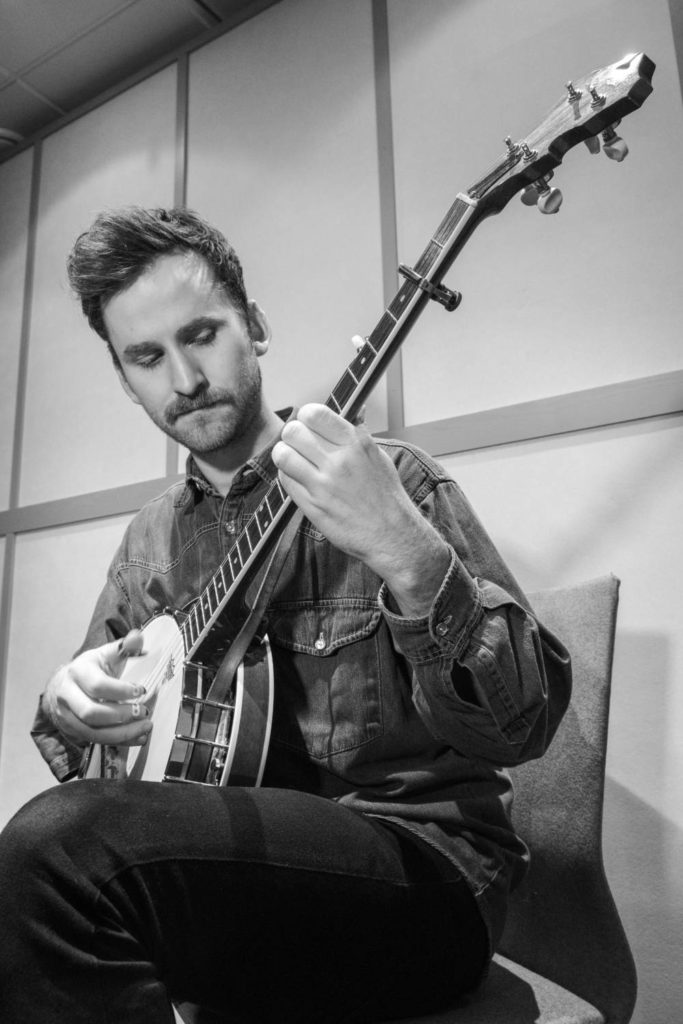 The whole country has been on lockdown since the 12th of March, and it has recently been extended through Easter. We're being encouraged to stay at home as much as we can. We're also being told that the rest of 2020 will probably look a lot like this, with some adjustments. It looks like livestreaming concerts will be a normalized activity by the end of the year . . .
JED: Wow man. These are some crazy times. Thor thank you so much for taking the time to chat with us and give us some insight into your music and your story. I hope you'll stay in touch and keep us updated on your latest and greatest!
Stay in touch with all of Thor's shenanigans on his Instagram. His band Strengeplukk has a lot going on too so be sure to follow them on their Instagram, website, and give their music a listen on Spotify. Featured article image by Nico Laroche-Humby.