Today we're talking to Zeke Sayer, an audio engineer in Lavonia, Georgia. Tell us a bit about yourself, Zeke.
My name is Zeke Sayer from Lavonia, GA and I record people by masquerading as an actual audio engineer in order to capture ideas down, some of which get put out on the studio's label "Gypsy Farm Records".
ACOUSTICULT: Is your studio in Lavonia too? Tell us a little bit about your studio.
My studio is located in Lavonia, Georgia (about 2 hours north-east of Atlanta) and is housed in an old amphitheatre building that was originally used for the winter shows at Shoal Creek Music Park and hosted shows by performers including Dolly Parton, Jerry Lee Lewis, Conway Twitty, Loretta Lynn, Faron Young, The Carter Sisters, George Jones, Tammy Wynette and Ernest Tubb.    
ACOUSTICULT: How did you get into music, and what made you choose this path over others?
I was fortunate to get into music at a very early age, growing up in a venue that hosted bluegrass, gospel and country music (Shoal Creek Music Park – Lavonia, GA) from age 1.
My father (Clem Sayer) was a guitar picker and acquired the music park where he and my mother (Janice, a church pianist) operated the venue year round. After learning to play the drums, guitar and piano, my fascination transitioned to recording.
While hassling the in-house soundman at Shoal Creek, my dad gave me a little 4-track tape recorder (Fostex XR-5) and I've been recording and collecting gear ever since.
I choose to continue with the "musical path" because it's one thing in life I've been interested in practically since birth while virtually everything else around me has veered in someway and music/entertainment/audio engineering has so many different sides and sections if you start to get burnt out in other areas, conveniently.
ACOUSTICULT: What are your favorite 5 albums, and do they influence your work? If so, in what ways? Which specific elements inspire you from these records?
Concert By The Sea – Erroll Garner — The alleged story behind this record is that it was never intended to be recorded, nor was anyone (in the band) aware of the taping at the time but was the product of a secret field recording (with just one hidden microphone to a mono track!) that became one of the best selling Jazz records for Columbia.
Magical Mystery Tour – The Beatles  — I like this record because it was released within the time period of "Sgt Pepper" and continues that sort of production via Sir George Martin and Geoff Emerick that I really dig from that era. 
Sunday In Prater's Creek – The Drovers Old Time Medicine Show — This is the debut of South Carolina's longest running and most beloved medicine show.  It was recorded by Glenn Cannon at Psycho possum studios in Liberty, SC.  
Everywhere At The End of Time – The Caretaker —  I think this is 6 records in all, each inspired by the devastating results of alzheimer's disease.  It's a bunch of classical records sampled mostly from piano and big band 78's, morphed into something else completely and meant to reflect what the mind may be going through as time slips away into space.  Think "the Shining". 
Moondog Suncat Suite – Kenny Burrell and the Satellites — As a fan of Moondog, I was drawn to this record of covers and inspirations of the artist (Moondog), performed by Kenny Burrell who I think became a recluse for most of his career after this album.  Plus it was recorded by a young Joe Meek!
That list is ever rotating but those have been some notable records that I can most always enjoy.  These records continue to influence me as a listener, a person, a performer and engineer. 
ACOUSTICULT: Which part of your music career do you enjoy the most – live performance, recording, writing, etc.?
I try to appreciate my career from every possible angle but believe I like recording the most. I write a lot while I'm recording (as I'm sure most home recordists do) so those two share a lot of the same parameters for me at times. Travelling to foreign places and playing for strangers is always fun and interesting, of course.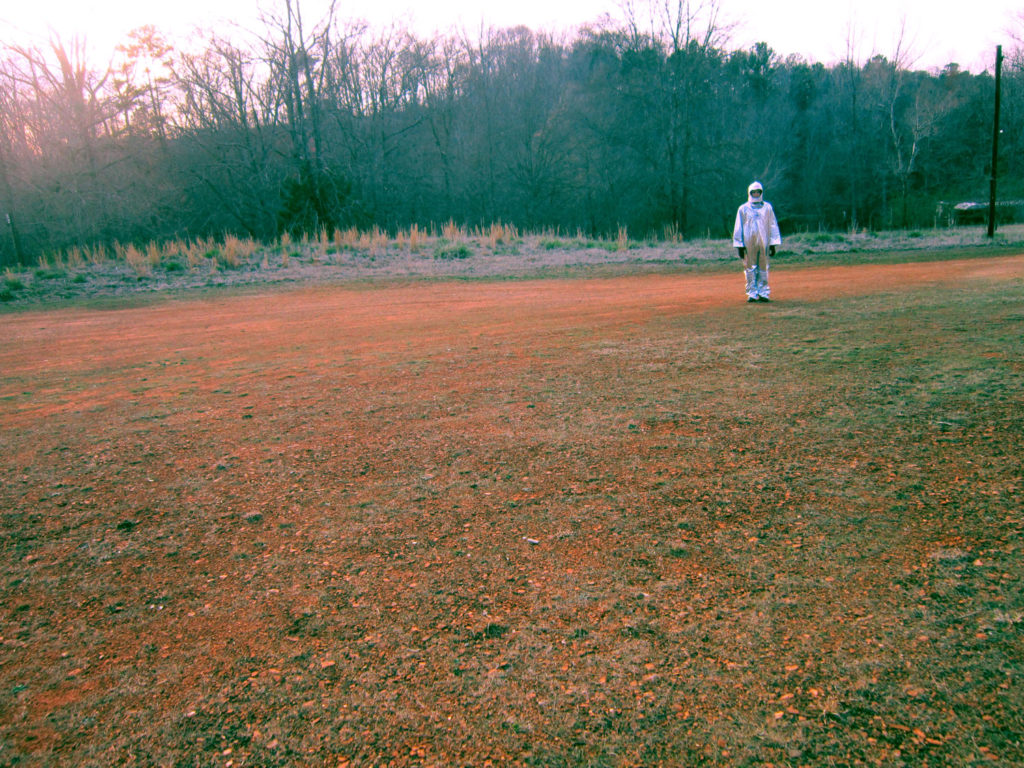 ACOUSTICULT: What are three musicians today do you think are underrated?
Ed Teague (RIP) was a magnificent banjo picker from North Georgia that I remember fondly from my childhood. I can't remember how old he was when he passed away, but he'd seen things for sure. He didn't sing much, if at all but his guitar picker "Lawton" handled that duty wonderfully as Ed clawed/frailed the banjo.  Ed and his band performed songs that I've still to this day never heard anyone else do and I remember him selling records, tapes and eventually CD's out of his Cadillac trunk!
Jim Willingham (Old Smokey, Harry Carey – Athens, GA) is a beast of a man, a real-life hero and this all reflects in his modest but powerful approach to songwriting and performing. While one may consider him "underrated", someone did paint a mural of him in downtown Athens, GA.
Ed Campbell (The Drovers Old Time Medicine Show – Prater's Creek, SC) is one of the best bluegrass (and music in general) songwriters I've ever had the pleasure of calling "friend".
My bonus artist is Tonetta.  I can't listen to his music without shaking something and feeling inspired.
ACOUSTICULT: Tell us a little bit about your current rig – what does your "rig" consist of?
For years I had a great experience with the Roland VS-2480 which was basically a hot-rodded 24-track stand alone hard-disc recorder. Some call it a "poor man's Radar" (iZ Technology) and I still keep it riding shotgun as my back-up system, it's a solid linux operation.
These days I run 16 external preamps (API, SSL, UA, Vintech, Lachapell) as well as various outboard compressors (1176ln, dbx 160x, Shadow Hills) and other little "dirt boxes" into a Lynx Aurora 16-VT interface which flows into my computer running Cockos REAPER + Soundtoys and Waves plug-ins.
I monitor through a pair of JBL lsr308, Pioneer CS-M751, Sennheiser 660s headphones and RCA/Radio Shack "NS10 knock-off" bookshelf speakers.
ACOUSTICULT: If you were given $100,000 to spend on an album production, what would it look like?
That's an interesting daydream since my client's budget usually dictates I operate on 3-5% of that figure. Depending on the artist, I'd probably host a couple of "pre-production meetings" and ascertain the best environment to record the artist(s) whether that's in my room, another facility or in a make-shift campsite guerrilla studio in the swamps – some natural mosquito repellent, cut demos and whittle-out song structure and set aside a modest portion for any vices required to figure out what makes them feel the most comfortable, maybe a fruit and veggie spread, then use a good chunk on packaging the album, pressing to vinyl and then promotion and touring (provided this wasn't something the label was already financing separately), set up mics, get sounds, offer words of encouragement (or discouragement) hopefully when needed and then otherwise do my best to "stay out of the way". 
ACOUSTICULT: What is your favorite album or recording so far that you've made?
Well that's like asking grandma to pick her favorite picture out of the family album. I got to record a track on Cicada Rhythm's second album ("Everywhere I Go" – track: Bare Minimum – Normaltown/New West Records) that turned out to be cool!
I'm fond of my earlier tracks cut for bands like Elf Power, The Barlettas and F.N.C.F. I had so much fun recording those and learned a lot in the process too. I still have a signed suitcase of beer around here somewhere.
ACOUSTICULT: What are you currently working on?
We're about to release the second album from my high school buddy Garrett Carpenter (also known as "Uncle Goo" – Cattywampus!!! – Gypsy Farm Records).  He's like a machine for "country music songs" and has a sense of humor that is a rarity these days. 
I'm also working with a couple of folks out of Clemson, SC (The Haunted Head, Richie and the Drugcakes) and producing another record for my band, The Humms (Athens, GA). 
ACOUSTICULT: Would you be willing to record a video clip for us of something you do that we could post on our website?
There's some interview footage I did recently for the sequel to Athens, Ga: Inside/Out that I'm sure will be cut from the feature presentation, but keep an eye out!