There are many musicians that have come to the American acoustic music scene from "across the pond." An interesting thing that distinguishes Holland-native Owen Schinkel from several others is that East Tennessee State University's international scholarship program was his catalyst to the US. Owen's story is very unique and I'm glad I was able to have him here to tell you all about it. Owen introduce yourself to our readers and tell us a little bit about what you do.
Hey Jed, How's it going man? So, my real name is Owen Schinkel some people know me as the "Sliding Dutchman." That nickname came out of nowhere a few years ago. I was brainstorming one morning about life and other stuff when suddenly there it was; "The Sliding Dutchman." I call myself a Dobro player, but if we have issues with brand names I'll be a resophonic or resonator guitarist. I play the Dobro. I'm currently living in Cork, Ireland. I've been living here a little over a month now. Before this I made my home in Johnson City TN for roughly three years where I attended the East Tennessee State University. I'm currently in the process of getting settled in this new country. Kylie, my wife, and I traded the US for Ireland in the summer of 2019 to get some new views on life and the world. Me having to leave the United States seemed like a great excuse to take Kylie over the pond to a place that is new for us both. We've been working on doing some duo gigs here in Ireland soon. Ireland is not only full of great musicians but also very friendly ones. Lots of new friends are helping us get in touch with the right musicians here in Cork. We've had some great jam sessions in the last few days. Besides that, I've been experimenting with translating some traditional Irish music to the Dobro. Cork is full of so-called 'trad' sessions. A great local band was performing at a pub downtown with a young guy who was shredding the tin whistle. I could totally see some unique sounds exist between a Dobro and a tin whistle!
JED: Tell us a little bit about your beginnings. Your origin story, so to speak. How did you get into music, and what made you choose this path over others?
My story starts in the Netherlands, this is the country I was born and raised in. I grew up in a small village roughly two and a half hours north of Amsterdam. I was raised on a strange mixture of music throughout my childhood. My parents listen a lot to alternative rock, americana and classical music. Bluegrass wasn't part of the CD collection at all. I discovered my passion for bluegrass music through a friend of my dad who is a big music collector. He had discovered bluegrass quite some years ago. His CD collection has a bunch of Flatt & Scruggs, Stanley Brothers, Seldom Scene and Bill Monroe. He got all those, hard to find, records through a German record label called Bear Family Records. They supply most of the European based Bluegrass listeners/lovers with a great selection of music. After listening to a lot of 1st generation bluegrass and researching the genre I sat down and watched three recommended movies that include bluegrass music. The first one was O Brother, Where Art Thou? The second one was Big Easy Express. And the third one, which was my favorite, was the Belgian drama movie Broken Circle Breakdown. I think this was the movie that made me fall in love with the sound of the Dobro. The song 'the boy who wouldn't hoe corn' was featured in this movie. While searching for this song on the web I accidentally stumbled over a version from Jerry Douglas and Dan Tyminski playing this as part of one of the transatlantic sessions from Jerry Douglas and Aly Bain. This blew me away, how could I have never heard something like this before? I wanted everybody to hear this. I was thinking: whatever the guy with shiny horizontal guitar is doing is the instrument I wanted to play! I was hearing that instrument in the movie.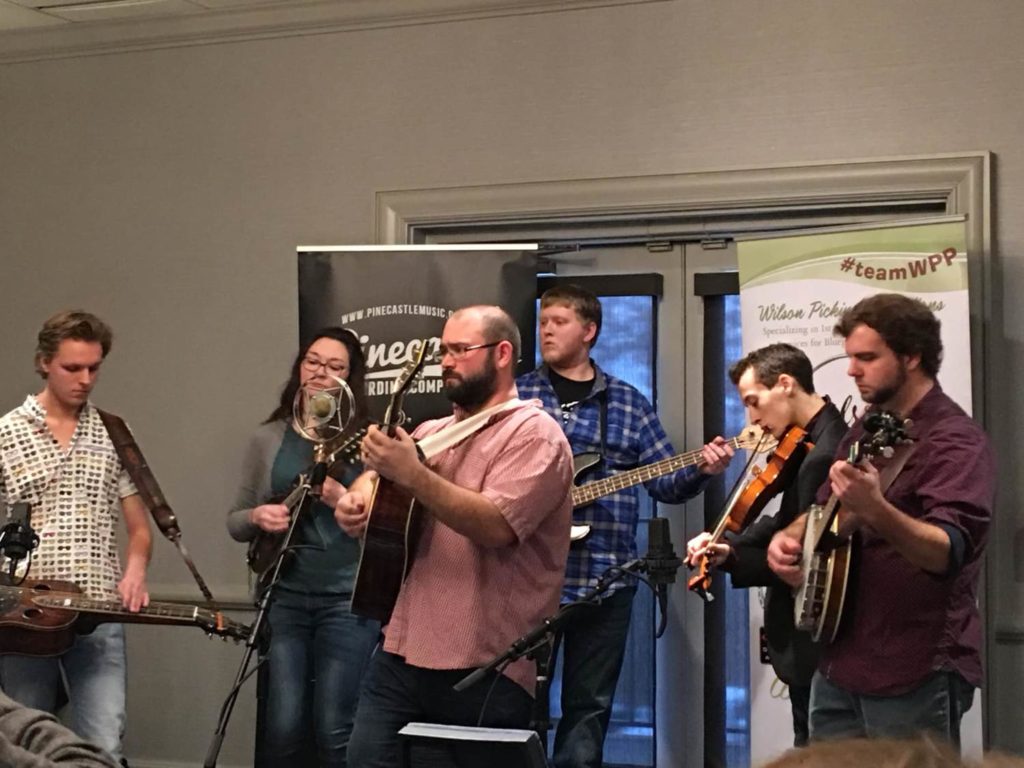 So that's where the playing started. A few days after the discovery I bought a round-neck resonator guitar for about hundred euros. That was my first mistake without even playing my first note. A round-neck was useless for the sounds I was wanting to produce. Some folks of the Dutch bluegrass scene helped me out and told me exactly what I needed, and that was, a squareneck guitar, a slide bar not a bottleneck, two fingerpicks and a thumbpick. And thats where the adventure really started. During that time I was finishing up an associate degree in mechanical engineering and decided that music was making me so much happier then all the other things I had going on in my career. This is when Johnson City came in the picture. I was doing my final exams to complete my degree and had no agenda after that. This was when I reached out to the folks at East Tennessee State University (ETSU) to see if they had room for this Dutch Dobro kid who was eager to learn, and bluegrass addicted. And they did have room! I moved to Johnson City where I ended up having some of the best education that I could wish for. We all know the scenes from Charlie walking around in the chocolate factory, right? Now picture this Dutch kid with a Dobro roaming around the Bluegrass, Old Time & Country music studies classrooms. Just peeking through every window to see how Bluegrass music was being made, it was like chocolate to me. I was blessed to get this opportunity and I wouldn't have done it any different. The friends I made in Tennessee are friends for life. I got to study under the most knowledgeable teachers in Bluegrass music during my time there.
JED: What are your favorite 5 albums, and do they influence your work? If so, in what ways?
My favorite music changes with the month I feel like. My five favorite albums from now might be my least favorite five soon. But I'll list five albums that inspired me a lot throughout the years and that I keep coming back to.
In random order;

Wheels – Dan Tyminski
Live – AKUS
Joe Vall – Live in Holland
Blindfaller – Mandolin Orange
Sweet Baby James – James Taylor
They are so different and that's what I've always liked. I guess it is part of my upbringing, there was never a favorite genre in the household I grew up in. Everything was equally respected. Listening to lots of different styles music helps me to understand music in general a lot better. Beside bluegrass and its relevant genres, I try to listen to a bunch of other styles of music to keep my ears and mind fresh. Listening to Cuban and Latin music inspires me for example to use different rhythms in my playing. It also makes me explore some odd chords that you don't find in bluegrass which are sometimes a challenge to find on the Dobro.
JED: Which part of your music career do you enjoy the most – live performance, recording, writing, etc.?
I love live performing, especially if the group I'm playing with has a good stage vibe going, and if not, I'll try to bring that into the group. For me having fun on stage is number 1. If there is no fun on stage the music will often miss this certain spark that makes me stoked to play. Some of the most fun gigs I've ever played were at the famous moonshine distilleries down in Gatlinburg and Pigeon Forge Tennessee. Just having a bunch of fun picking music with some of my best friends results in everybody having a great time. I also dig recording/producing music lately. I had the opportunity to spend many nights in the recording studio from ETSU. This is a state-of-the-art space with lots of nice gear. I have always been an audio geek and learning the ins and outs from the modern recording industry inspired me to dive into that subject of music as well. I'm currently assembling a mobile recording setup that will be able to do all the things I need it to do. Kylie and I love to do random recording projects to try to create the best sonic and musical quality with just a few simple tools. Recoding yourself and your own music is also a great learning tool that I recommend for every musician out there.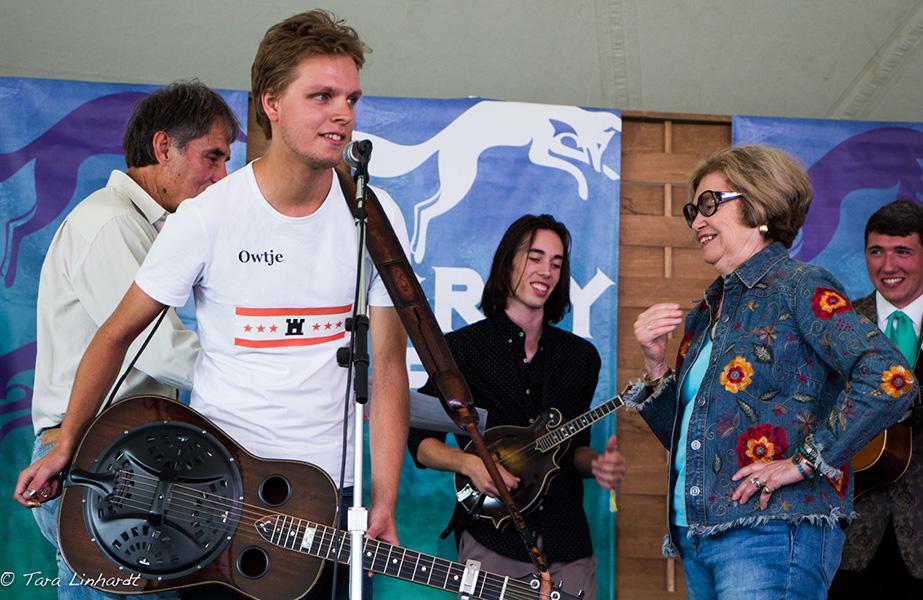 JED: Who are some musicians today do you think are underrated or deserve more notoriety for their art?
I'll just answer this question in a way so I can shout out a huge thanks to all my friends who I met while I was living in Johnson City. Every single musician that I met down there because of Bluegrass music deserves more notoriety. The fact that there are young people devoting their lives to Bluegrass music is a very hopeful thought. Especially my buddy Tyler Griffith. I believe coincidence happens with a reason. At a point in time we were both looking for a place to live in JC and thanks to Aaron "Frosty" Foster and John Goad we became roommates. Tyler took me under his musical wing and gave me some of the best informal education in Bluegrass music that I could wish for during my time in Johnson City. Next person who deserved more fame is this phenomenal musician by the name Brandon Green. He can play it all and teaches it as well. Brandon is the main banjo and dobro instructor at ETSU. He was my first actual teacher and helped me enormously becoming a better musician. And last but not least is one of my favorite songwriters and mandolin player Shawn Lane. I've been rediscovering his solo records the last few weeks. And the more I listen to his mandolin work the higher my arm go in the air asking why in the world he never gotten an IBMA award for mandolin player of the year? He deserves that.
JED: Tell us a little bit about your current rig – what does your "rig" consist of? What instrument(s) do you play, pedals, mics, etc.?
My main axe is a Koch resonator guitar. Big shout out to Markus Koch for building this great instrument. Markus is wood wizard from Munich Germany. I've owned this guitar for about four years now and I love it. His building style is unique, and he puts love into every instrument he builds. I've rocked some country gigs plugged in as well. Paul Beard, another great luthier, mounted a Fishman bridge pickup in my instrument two years ago. This pickup works phenomenal together with the Jerry Douglas Fishman Aura pickup. I use the aura image number three for the Dobro geeks out here. I'm curious to try a one of those Tonedexter imaging pedals in combination with that Fishman pickup ome day. I have a friend in Germany whose dad owns a really nice collection of Neumann mics that I might ask to help me out one day to create some image maps if I ever get a Tonedexter pedal. For studio recording I love a single Neuman UA87i, and a spaced pair of AKG-C414's is a great second choice. My Dobro sounds a little different each session so it's always a surprise what will sound good that day in combination with the other instruments on the project. I've had some good recordings made of my instrument with two small diaphragm Sennheiser MKH8040's in a space pair a few inches above the sound holes. I know it sounds strange, but it worked great for backing up a singer-songwriter.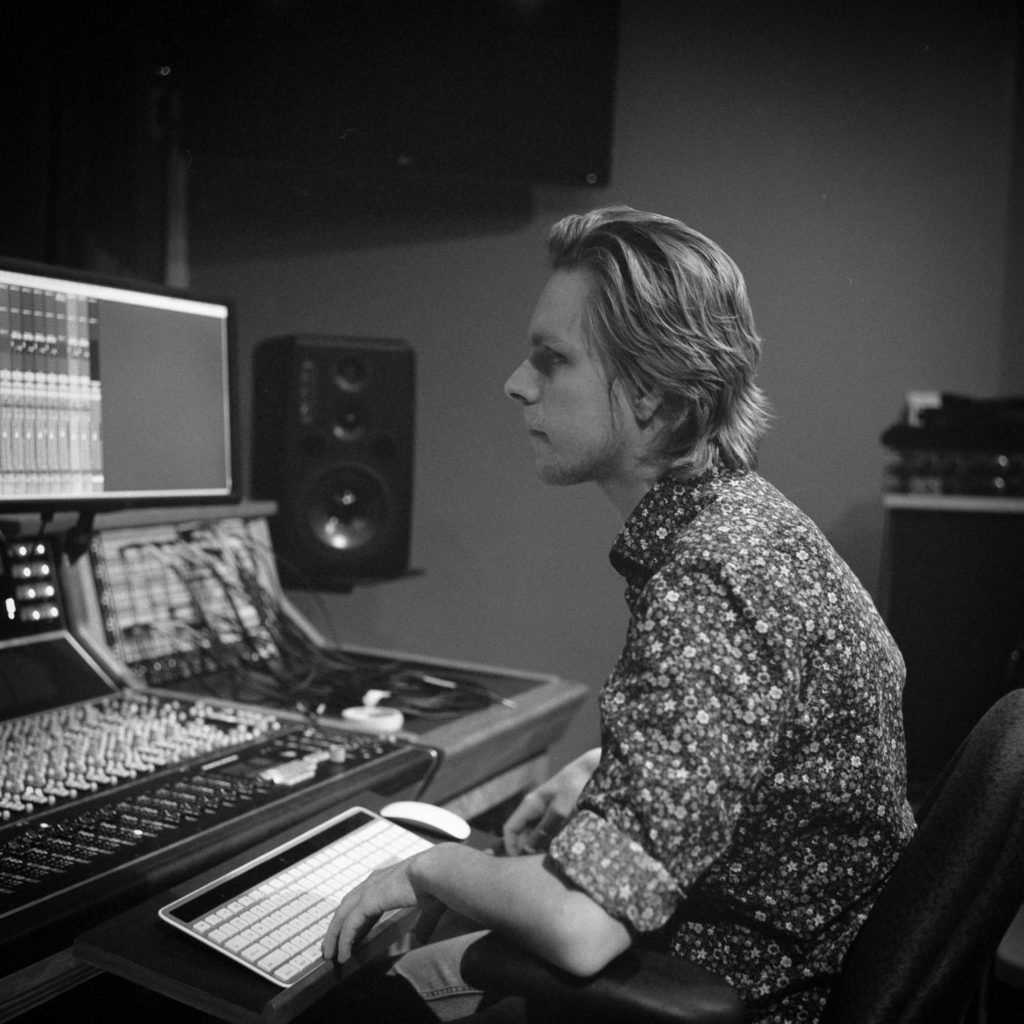 JED: If you were given a $100,000 budget for an album production, what would it look like?
I would first purchase a cabin on a mountain side in the triangle of Johnson City, Asheville and Boone and equip it with some recording gear and live of ramen noodles for the rest of the year. And then invite all my friends to participate in this massive phenomenal recording project that I will call the Ramen Sessions.
JED: Ya know I've asked that question to a lot of musicians and I can say with 100% confidence that I've never had a response quite like that. Who would you get to come eat ramen and pick?
Do you want me to make a list with people haha? Man, you don't have enough paper for that. But you're on the list.
JED: Ha! Well I'm flattered.
I've had so many great musical moments that I wish I would have captured. I remember the first jam we had with you. It was with Kylie and Harry on the third floor of SPBGMA. If I can capture moments like those in that cabin, I'll be happy man. I love live recorded material, but I also love music with a good sonic quality. I'm not going to make a list with people because I'm way to afraid to forget that one friend you know. I do know who's going be behind the console, that'd be Billy Wolf and Bill VornDick.
JED: What is your favorite album or recording that you've made to date?
I had a blast recording an EP with the band King Springs Road. This group is formed with two of my former roommates and is named after the street we lived on in Johnson City. Band members of the group are Tyler Griffith, Max Silverstein, Josh Meade, Kylie Anderson, Nienke Bruinsma and myself. We recorded an EP called Time For The Blues with all original material in 2018 in the studio from ETSU. We had a great time working with one of my favorite professors Ben Bateson who was engineering and producing. Mastering was done by Dan Boner who did a terrific job.
JED: Tell me about the songs you recorded; did you write any of them?
Most of the songs on that EP are written by Tyler Griffith. We also got a great song from songwriter Dennis Barrett on our recording. Dennis wrote some great well-known Bluegrass songs throughout the years. The King Springs Road band is an internationally tinted group with two of the members being from the Netherlands. We've done a little EP release tour in the Netherlands back in December of 2018 which was very successful a ton of fun. Kylie and I can't wait to reunite with the group again in the future to make a bunch more music. We're all young and are exploring the world at the moment so we don't when or where this will be. The chemistry of that particular group is great and that reflects on the music which makes playing with that specific group something special.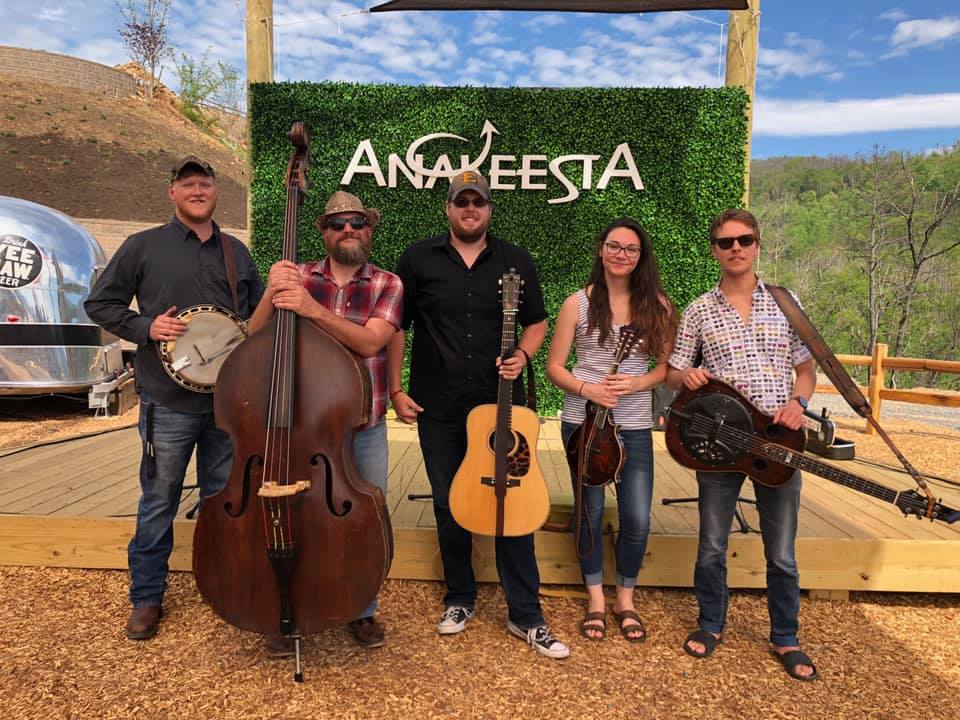 JED: What are you currently working on?
At the moment Kylie and I are working on a musical duo to get us playing out here in Ireland. Kylie is a fantastic mandolin player and we both play a bunch of guitar in this duo formation which is a bunch of fun. We love working up material that works with Dobro, Mandolin and Guitar. We obviously get a lot of inspiration from watching Sierra Hull and Justin Moses playing duo stuff together. We also love watching the Chatham Rabbits, Rob Ickes & Trey Hensley and Mandolin Orange. Oh and, the name for the duo project is likely going to be called "Long Way Home" which is really applicable for us both at the moment! So, keep an eye out for that.
JED: We will absolutely do that! When should we expect that to be released?
Our plan is to do a bunch of live gigs in the upcoming months to figure out what material we like to record on the first Long Way Home EP or album. We're planning on a bunch of original music and some known music in a new coat. Being in Ireland and having this new amazing scenery is really inspiring to work on new material. Hopefully before the summer of next year we have some recorded material ready to share with the world.
JED: Owen that sounds really exciting. Thanks again for taking the time to chat with us. Y'all have fun across the pond and say hello to John Nyhan for me!
Owen's website.