There are few people who've had the opportunity to tour as extensively at such a young age as Tristan Scroggins. At only 24 he's been on the road with his father's band "Colorado" for the last 10 years. He has played innumerable stages across the country (and outside the country) sometimes touring for 250-300 days out of the year. He's recently settled down in Nashville and taken a long-anticipated break from the road. I'm glad he could make time to chat with us today! Tristan, if you would, introduce yourself to our readers.
Hey there, my name is Tristan Scroggins, I'm (mostly) a mandolin player, and I live in Nashville, TN. In addition to being a mandolin player for hire, I'm also a composer, a historian/freelance archivist, a producer, a writer, and general nerd. 
JED: Tell us a little bit about your beginnings. Your origin story, so to speak. How did you get into music, and what made you choose this path over others?
I've heard bluegrass since nine months before I was born. My dad, Jeff Scroggins is a really incredible banjo player and I grew up around him playing in different bands. My parents never really pushed music as something for their kids to do but one day I decided that I really wanted to play the banjo like my dad. He started to teach me but I didn't really understand it. He had his grandfather's mandolin lying around the house and when I picked it up it just made a lot more sense to me. I could find melodies really quickly by ear.

We lived in Albuquerque, New Mexico at the time and a friend of my Dad's named Bob Fisher had been coming down from Santa Fe every week or so to jam with my Dad. Bob played mandolin and guitar and started to give me mandolin lessons (and later tutored me in math and taught me to play chess). Sharon Gilchrist lived in Santa Fe at the time and hosted a weekly jam so Dad and I would drive an hour each way every week to play in this jam. Between all of those things I started learning pretty quickly.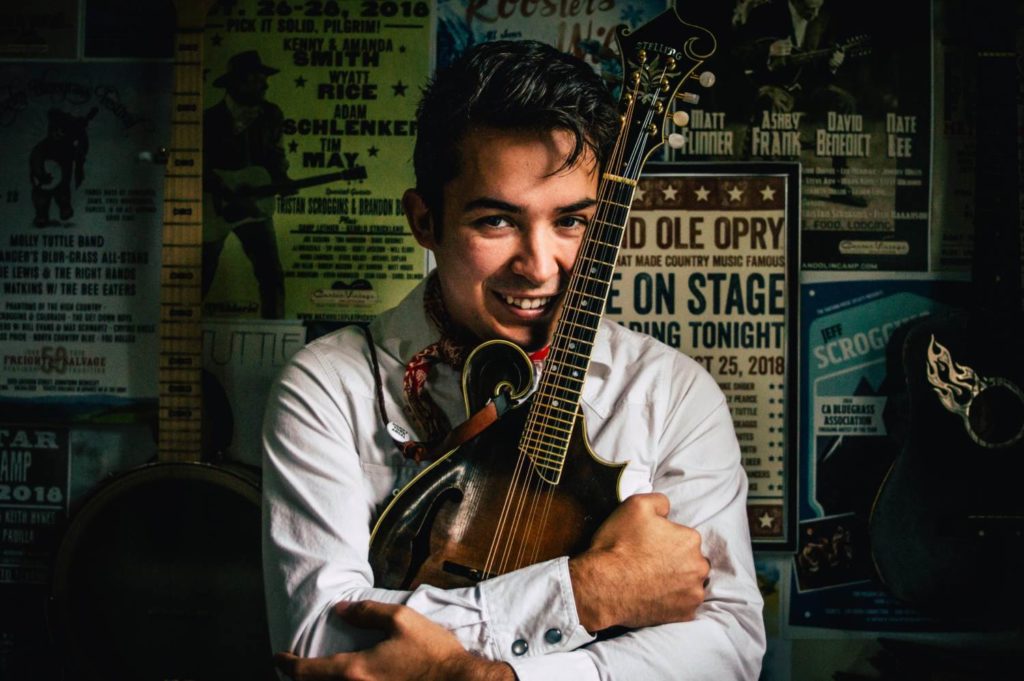 When my parents got divorced, I followed my Dad up to Denver. He had already been playing with some bands based out of there and I had gotten to go to some festivals with him and meet some other really helpful people. I hit kind of a musical growth spurt when I was about 14 and got a lot better all of a sudden. Dad and I decided to start a band together which was the beginnings of Jeff Scroggins & Colorado.

I toured in that band for 10 years and played my last official show in July of 2019. We toured hard in that time. The last three years I spent with them Dad and I spent about 300 days a year away from home.

I moved to Nashville in 2018 to be closer to the many good friends I had made when touring who all happened to live in Nashville. When I decided to take a step back from touring it was really a great thing to already be living in town because I started to pick up side work right away and the support of the community really gave me much needed grounding.

I've been lucky enough to work with some of my heroes since moving here and have gotten to play on the Grand Ol' Opry and at the Ryman. I'm really living my best life right now.
JED: Who are some of the artists you've gotten to play the Opry with?
I had never really thought about playing the Opry until I went with Molly Tuttle to her Opry debut. I'd never been before and seeing this show with such direct ties to everything I love still operating more than 90 years later really blew me away. The craft of it, the production, the crew, it was all something really special and I immediately knew I wanted to play on that stage. Fortunately, Molly asked me to play with her when she was asked back a few months later. It was a really great experience. A few months after that I got a call from Dailey and Vincent asking me to fill in with them on the Opry and that was in the winter when they have it over at the Ryman. I've gotten to play with them a handful of times now and it's always a lot of fun. Everyone in that band is such a great player and I've known and looked up to Patrick MacAvinue since I was a teenager. He does a little dancing during one of the Dailey and Vincent songs and when I'm there I join him. We both learned to clog from Mark and Eileen Schatz and I was able to show Eileen a video of us dancing together on the Opry before she passed away earlier this year. It seemed to really touch her to see that tradition being passed on and kept alive and I think that that's part of what makes the Opry and traditional music so special.
Though I didn't know it at the time, music was ultimately an escape for me when I was growing up. That's kind of a cliche thing to say at this point but I've realized recently that that was really what was driving a lot of my decisions. I grew up in an unsafe, unpleasant environment and, really early on, I noticed that the better I got at the mandolin, the more validation from others I received and the more likely I was to get to spend time away from a life I didn't like (whether it be at home, or in my neighborhood, or at school). My Dad competed in a lot of banjo competitions and won several banjos which he sold to supplement our income. Around the time I started playing and as I got better, people would encourage him, or he would want to bring me, to these contests to compete. I joined a local band when I was 12 which gave me somewhere else to be other than home on the weekends. When Dad and I started Jeff Scroggins & Colorado, touring was a way for me to not have to be at school. I missed 100 class periods my senior year of high school.
JED: Wow. How did you manage to graduate with that many misses?
I was a relatively good student otherwise so my teachers were pretty flexible. They knew that I had a job and a reason to be gone and that I wasn't just skipping school so they would let me turn in things late and retake tests. I remember that my chemistry teacher let me turn in essentially a semester's worth of work in on the last week of the school year bringing my grade up from a D- to a B+.

As I've taken a step back from touring as much, I've had to rediscover my love of music and performing. For so long, being good and getting better was a way to keep myself on the road, constantly running from my problems. So when I stopped and actually worked on my issues and realized I didn't like traveling that much, I thought that I didn't like music also. But really I do love performing and I love the satisfaction of creating something that sounds good. That's what drew me to music and even specifically to the mandolin in the first place.
JED: It is good to hear that you can still find enjoyment in the process. You're too good at it not to. That being said, I can definitely understand the associative burnout; sometimes it isn't the music that you don't like it is rather the lifestyle you've had attached to it that makes it difficult. What are your favorite 5 albums, and do they influence your work? If so, in what ways?
Drive – Bela Fleck
The Bluegrass Sessions – Bela Fleck
UFOTOFU – Bela Fleck and the Fleck Tones
New Grass Revival – New Grass Revival
The Telluride Sessions – Strength in Numbers

I really love new acoustic music and I really love Bela Fleck. There was a time in my life where I was listening to Bela every day for hours on end. My parents have told me that when I was a toddler there were only three albums I liked to listen to and one of them was UFOTOFU. That album lives in my musical DNA. The New Grass Revival was my first favorite band, and I love (their generally unloved) final record. I've listened to it 1000 times and am never sick of it. The next record I discovered that I loved was the Telluride Sessions which is no real surprise considering it has both Bela and Sam [Bush]. Following that thread I found Drive and The Bluegrass Sessions and I just love those records to death. I love Bela's tunes and I love the music that that group of people create together. The writing, phrasing, energy, track order, and everything in between are hugely influential on my choices as a musician.

That being said, coming from a background with this as my favorite stuff, it took my awhile to learn more about traditional bluegrass and the roots that lead to these new acoustic branches which has been invaluable in my attempts to create something similar that isn't just reductive.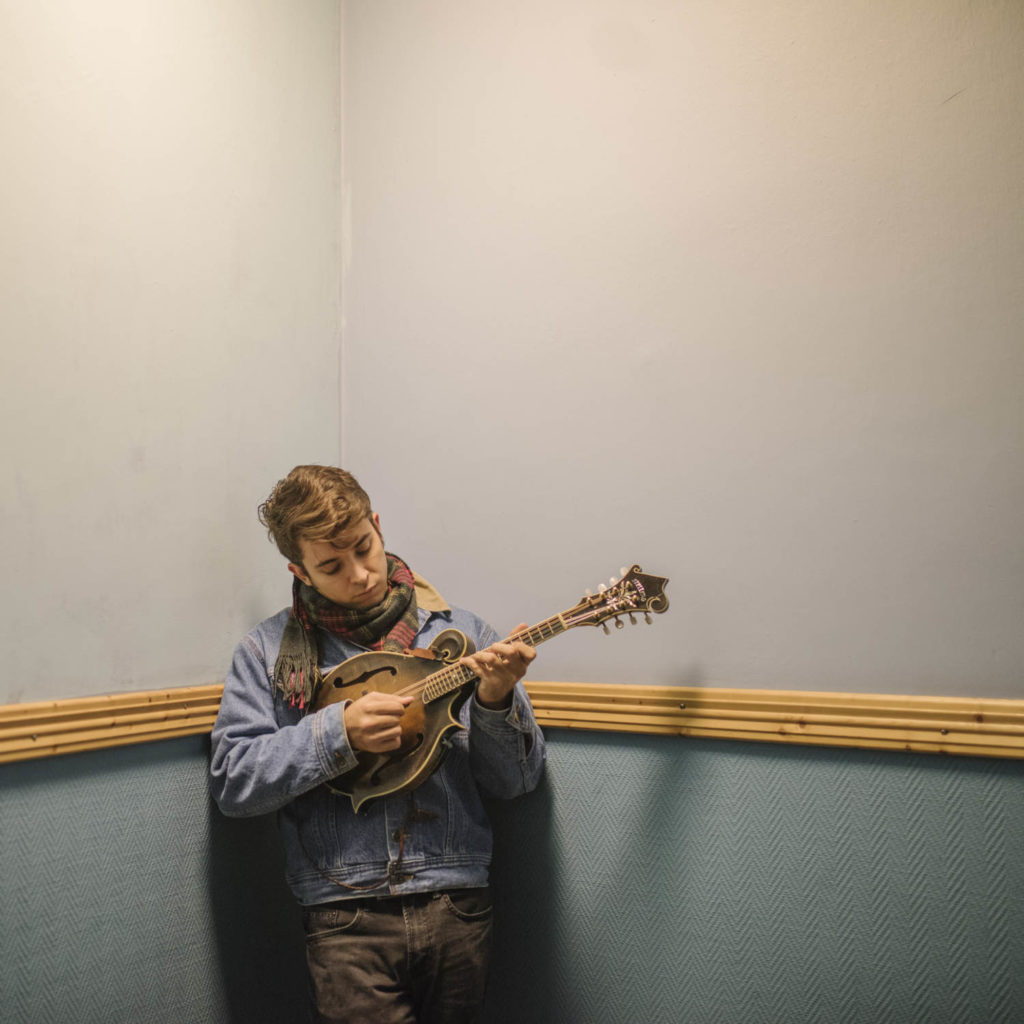 JED: Ya know I can really relate to this. My introduction to bluegrass music wasn't Bill Monroe, The Stanley Brothers, or Jimmy Martin. My draw to the music was through Nickel Creek, Bela's Bluegrass Sessions, NGR, AKUS, etc. But through the more progressive outlets of the music, I've wound up finding a greater appreciation for the more traditional veins of it. I also came to the more traditional music through the Coen Brother's "O' Brother Where Art Thou?" movie.
And there are tons of other songs, artists, and probably even albums that I have listened to more than some of these but these are such a huge part of why I love this sort of music in the first place and I never get tired of them.
JED: Which part of your music career do you enjoy the most – live performance, recording, writing, etc.?
I enjoy performing the most I think. I like locking in with people in the moment on stage and I like for people to enjoy it. It's very meaningful for me, as an introverted person, to be able to share my personality and something as vulnerable as self expression in such a public setting. I really like writing too but it doesn't give me that same satisfaction. Writing just mostly satiates my need to get my thoughts out of my head.
JED: What are three musicians today do you think are underrated or deserve more notoriety for their art?
I think that Casey Campbell is one of the most incredible mandolin players I've heard. The ideas he has and how flawlessly he can execute them are incomparable. He just isn't usually in the spotlight.

I think there are a lot of mandolin players who don't really get the attention they deserve from the community. There are a handful of people that, deservedly, always get attention for their work but you don't really see as much adoration for folks like Barry Mitterhoff, Dempsey Young, Donna Stoneman, Jimmy Gaudreau, or even folks like Roland White or Jesse McReynolds who are all such innovators with unique voices. I suppose that's true of any instrument though.

I'm breaking the rules of this question more by listing two more people and that would be my Dad and Greg Blake. I suppose I'm biased for having played with them for a really long time but they are some of the best musicians and stylists I've ever played with. My dad has such eclectic tastes and has written so many different types of tunes but most people have just never heard any of them and Greg is such a talented singer and guitarist. They're just not great at self promotion.
JED: It really is incredibly difficult to manage your own publicity and be a committed artist. I admire anyone who can strike a balance between the two without compromise. Tell us a little bit about your current rig – what does your "rig" consist of? What instrument(s) do you play, pedals, mics, etc.?
I've played a '92 Stelling S5 built by John Hamlett for the past 10 years. I really love how it sounds. I use banjo gauge EVO fret wire and a cast tailpiece. I always use Straight Up Strings and almost always use a tortoise shell pick. I don't have a pickup and just play into whatever mic they put in front of me.
JED: If you were given an unlimited budget for an album production to record your dream album, what would it look like?
I understand the premise of this question but I don't really know how to answer it. The idea of the only constraint being "my dream album" makes me think I would probably just try to make an album of other people who wouldn't really get the chance to make a recording of their music. That or I'd put together a band of a bunch of friends that vined really well, rent a house for a month, live together, learn each others material, and make six different solo albums with the same six people. If somebody would like to give me the money to do that I can accept charitable donations as a non-profit.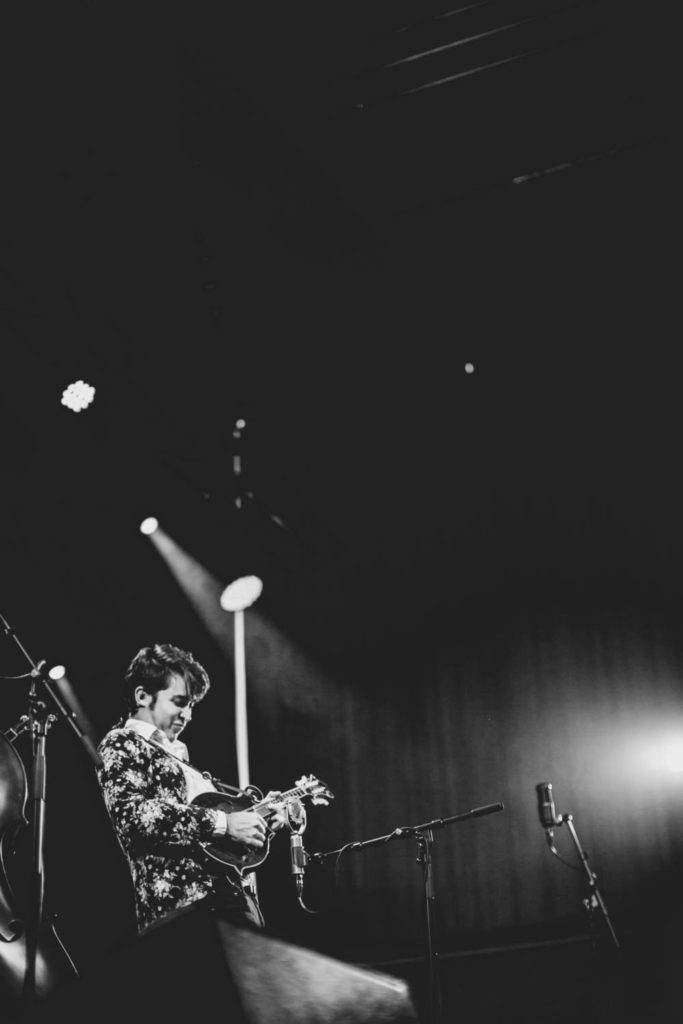 JED: Haha! You're prepared! Who are some people that you'd want to play on the album? Who would you want mixing and mastering? Would you want a producer?
I'm not sure who'd I'd want to play. I haven't had a chance to play  with that many different people to see who I think would vibe the best with me and each other. But there are some folks like Hasee Ciaccio or Patrick Sauber who I think would be really fun to play with. I really love the tone that Dave Sinko got out of my mandolin for this new Scroggins and Rose recording that we're working on so I'd probably want him to be the engineer. And I've always wanted to have Anna Frick master one of my projects I don't understand how a lot of that sound stuff works though so I'd probably want a producer to help with that. Maybe in this capacity I'd probably choose somebody like Chris Eldridge or Bela Fleck or Aoife O'Donovan. 
JED: What is your favorite album or recording that you've made to date?
It'd be pretty hard for me to pick a favorite. I really like the two most recent things I've done which are the latest Jeff Scroggins & Colorado album called Over the Line and this upcoming Scroggins & Rose record. But I'm generally pretty proud and fond of all the recordings I've released. It's taken some time but I'm happy with my balance of my perfectionist side with understanding that recordings are just a reflection of who I was right at that moment.
JED: What are you currently working on?
I've got a few different things in the works. My duo, Scroggins & Rose recently finished recording our album thanks in part to a grant from the FreshGrass Foundation. That really helped us make it sound really beautiful and capture the energy of each piece.
JED: Tell me more about the FreshGrass grant. How did you come into that?
The FreshGrass Foundation has a variety of grants and commissions they give out every year and this year they gave Scroggins and Rose a grant from their album fund to finish our record. It wasn't anything to complicated — we wrote an application, applied, and were accepted. It was a nice little vote of confidence. I won their inaugural FreshGrass Mandolin Award this year too so they seem to like what I'm doing haha. 
JED: That is great! What else are you working on?
David Benedict and I are co-producing a project that hasn't been announced yet but I'm really excited about it and I know other people, especially other mandolin players, will be too when we get to talk about it. I just recorded on the new album of previously unrecorded John Hartford tunes. That was really fun and there are some many great people and great tunes on that project. I'm really proud to be a part of it. I'll probably be making another recording of some cross-picking stuff to go along with some teaching materials I'm prepping for next year's camps.
JED: Tristan it has been really great to catch up with you. Please let us know as your projects near completion so we can be on the lookout for them!