Hey Mike! Thanks for taking some time to chat with us today. Tell us who you are, what you do, and where you're located?
Hey everyone I'm Mike Gaisbacher and I am a bassist living in Nashville TN.
JED: Where are you originally from Mike?
I am originally from southwestern PA, about an hour south of Pittsburgh.
JED: Tell us a little bit about your beginnings. Your origin story, so to speak. How did you get into music, and what made you choose this path over others?
I really didn't start playing bass until college. I started playing a drum set in high school and that's where my interest in music at large started.
JED: Very interesting man! So you didn't grow up with music, per se'?
I did not grow up with music at all. I was not really serious about music in any way until high school. No one in my family is into music and I wasn't really around it growing up, especially bluegrass and folk music. Growing up my parents would just listen to the radio in the car or at work and it was usually set to the classic rock or pop country stations but that was about the extent that music was a part of my family's lives.
I did buy an upright bass while in highschool and played in a string band in my hometown but really had no idea what I was doing, and that only lasted a couple months. When I got to college, which I started on drum set, I realized there was a bass teacher there and I thought that I could at least get a basic understanding of the instrument so I started taking lessons about once a month, when I could afford it.
JED: So where were you attending college at that time?
At that time I was going to a community college in Cleveland that had a jazz studies program and a "transfer agreement" with Berklee. So I basically just did the first two years of college there and all the standard music classes (ear training, theory etc..) there.
JED: Got it – so you completed your freshman and sophomore years at the community college and then completed your junior and senior years at Berklee?
Yep! Then it happened that there were multiple drummers and a lack of upright players so I was just put in a lot of the ensembles as the bass player and was just thrown into the fire. Eventually I decided to shift my focus to bass and about a year and a half later I transferred to Berklee in Boston and then that's where my experience with acoustic music really started to take off.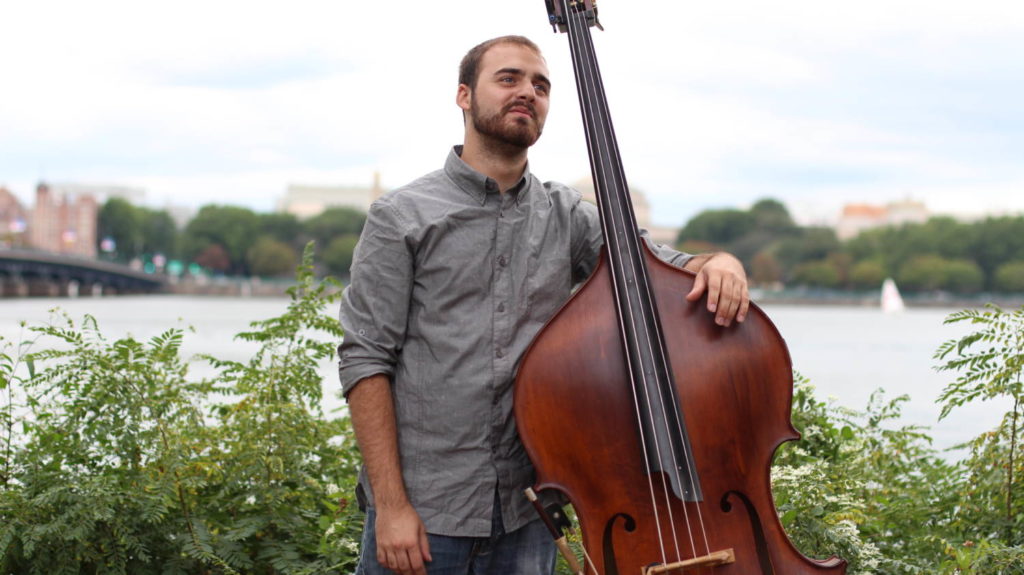 JED: Tell me more about transferring to Berklee. When did you do that and what were some of the highlights of that experience?
I transfered to Berklee in 2013 and it was a great experience, although honestly a little intense at times. I realized my first semester that I was in classes with people that had been going to college for music longer than I had been playing bass, since I only really started playing bass my second semester of college and when I transferred to Berklee I was considered a 5th semester student which is halfway through the degree program.
I feel like Berklee was where I was able to really make some great connections with people and that was how I ended up in this scene. The people playing acoustic music at Berklee seemed very excited about it and I was at that point listening to a lot of Bela [Fleck], Edgar Meyer, Punch Brothers and the like but really didn't know much more than that.
JED: What are your favorite 5 albums, and do they influence your work? If so, in what ways?
I find it really tough to decide on five albums overall so I'll just give you five that are either always at the top of my list or to me favorites as of recent.
Haas Kowert Tice – You Got This
I think this is my most listened to album ever, when I first heard it I just immediately connected with the music and still feel the same way about it and thought to myself, this is the type of music I want to be involved in.
Hawktail – Unless
Kind of the same influence as "You Got This", the same band plus Dominick Leslie and again just am so in love with the musicianship of all these folks and the music they create together. Their arrangement ideas, tune writing, everything. There is really something special about the music that these folks create.
Edgar Meyer – Uncommon Ritual
I think this is this first album I heard and understood Edgar's playing and how the bass could be used in ways not typically thought of. In a lot of the tracks Edgar's playing is vocal like and it really struck me as something special.
John Hartford – Going Back To Dixie
I have to include some John Hartford, and this album just has great songs and I love Roy Husky Jr's playing on this. Some of my favorite feeling music is things he has played on, in the past couple of years I have been digging more on more into his playing.
Marvin Gaye- What's Going On
This is a newer favorite of mine. Just a couple weeks ago I sat down and listened to this album, and then listened to it about four more times that day. As a whole piece it is just such a great collection of music, how it's arranged where some of the transitions between songs just work so well.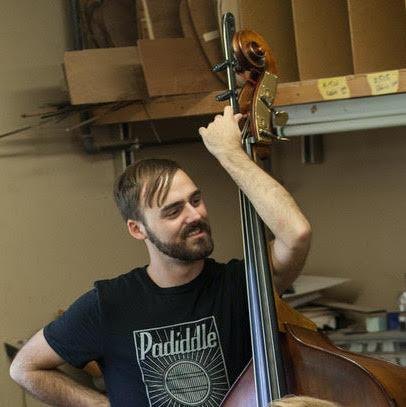 JED: Which part of your music career do you enjoy the most – live performance, recording, writing, etc.?
I'd say performing. In all honesty I'd say I love the community music leads to. I can go to most parts of the country (and many parts of the world) and have a connection with people, either because I have met them somehow already or just the music itself. I guess performing leads to this a bit because most of the gigs I do tend to be travel dates.
JED: Tell us a little bit about your current rig – what does your "rig" consist of? What instrument(s) do you play, pedals, mics, etc.?
I currently have two uprights, both with removable necks from an amazing luthier in Boston, Jed Kriegel. The newest one is a fully carved bass that Jed imports from Germany, regraduates the top, puts the removable neck system in, varnishes and sets up. He also machines his own tuning machines. On that I have a realist "lifeline" pick up, which I'm not too fond of but it works for now.
My other bass is a New Standard La Scala hybrid bass, which is also a bass made in Germany and then imported to the states and then set up. This bass has a pickup installed in the bridge by Eric Aceto of Ithaca strings.
For both of the basses I typically run them through a Grace Designs Felix and blend the pickup with a DPA clip-on microphone.
JED: If you were given a $100,000 budget for an album production, what would it look like?
I'd honestly probably just use it as an excuse to play with some of my hero's and also use it to support myself for a while so I could have the time to really dig deep into playing and figure out what it could look like.
JED: Who are some of your heroes that you'd want to involve in the record?
I'd find a way to involve Paul Kowert and Edgar Meyer somehow, Brittnay Haas, Mike Barnett, Simon Chrisman, Wes Corrbett, and so many others I would want an excuse to play music with.
JED: What are you currently working on?
As of right now I am transcribing a tune off of Adam Hurt's fretless gourd banjo album and trying to figure out how to make it work on bass and maybe come up with an arrangement that could work in a band I've been playing with.
Also prepping for a gig with Jim Hurst in a couple weeks.
JED: That sounds like that'll end up really interesting. That is cool that you know Jim. How did you meet him?
I met Jim through Missy Raines. If I remember correctly, I was just at her house for a party and she just mentioned that Jim was looking for a bass player for some dates and she passed along my info. That also led to Jim recommending me for some dates with Claire Lynch who I have also been playing with for about two years now. I've been so lucky to work with both Claire and Jim, they are a pleasure to work with and I truly enjoy the music I get to play with them.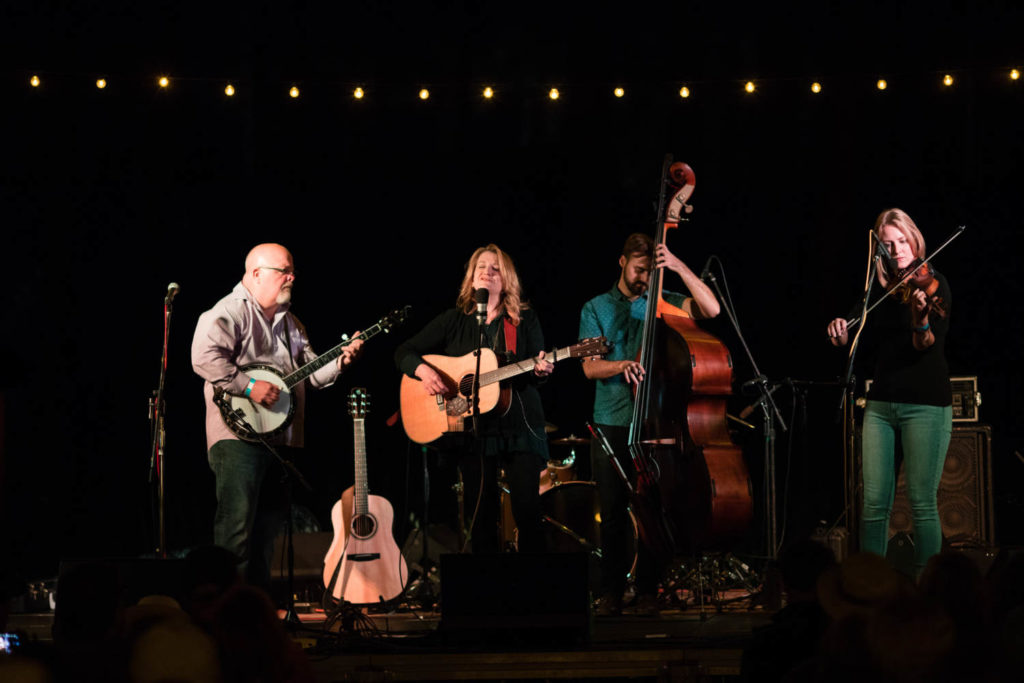 JED: Very cool man. Well Mike I've enjoyed hearing about your music and your story. Thanks for talking to us!
Keep up with Mike on his Instagram. Featured article photo by Michael Dellheim.