Today we're sitting down with Samantha Snyder. Samantha, tell us a bit about who you are, what you do and where you're located.
I'm a musician and songwriter based in Lexington, North Carolina. My primary instrument is the fiddle, but I also spend a lot of time on rhythm guitar, and I'm a vocalist. I gave up trying to put a particular genre label on my music a long time ago, but it is based in Southern and Appalachian traditions and heavily influenced by rock.
ACOUSTICULT: Tell us a little bit about your beginnings. Your origin story, so to speak. How did you get into music, and what made you choose this path over others?
My parents enrolled me in Suzuki violin lessons when I was three years old. (The Suzuki program, part of the classical music world, puts an emphasis on training young people to have good ears and solid technique.) I caught on pretty quickly. My brother started Suzuki guitar lessons a couple months after me, and since we had similar repertoires we started playing duets, first at home and then for local events. Along the way we began learning songs that weren't in the Suzuki books, like some Irish fiddle tunes and some folk songs, and then we got involved in a weekly jam session at the Cook Shack in Union Grove, NC, which swung us in the direction of bluegrass and also exposed us to a lot of old country music. We bought our dad a bass for his birthday about four years in, and once my brother taught him how to play, we formed an acoustic trio that ended up touring the country for about eleven years and releasing six albums before retiring in October of 2018.
Music has introduced me to friends that have become like family and has shown me parts of the country I would have never seen otherwise. But most importantly, it connects with people in a way that is nothing short of supernatural. I can't begin to imagine my life without it, so choosing this path has felt like a no-brainer. It definitely comes with its challenges, but it's worth it.
ACOUSTICULT: What are your favorite 5 albums, and do they influence your work? If so, in what ways?
This is an ever-changing list, but at the moment, it includes, in no particular order:
"Leftoverture" by Kansas, which embodies what I love about prog rock. I really admire the complexity of the music, and the lyrics have always kept me thinking and interpreting, no matter how many times I've heard the songs. It's one of those albums that you can listen to with your brain turned off or analyze every piece – either way, it's amazing. Steve Walsh is a big influence for me vocally, as well.
"The Whippoorwill" by Blackberry Smoke. The band is one of my absolute favorites, and I think this album is their masterpiece. The songwriting and the musical approach have had a huge impact on my own work. I also get vocal ideas from the lead singer, Charlie Starr.
"Full Moon Fever" by Tom Petty. Every track is brilliant. Tom Petty had a way with words that made it clear he just got it. He understood life – the good and the bad – and he knew how to turn it all into music. If I can end up having even a sliver of that tendency I'll be happy.
ACOUSTICULT: I have to say – this album might be my first exposure to music ever. My parents have videos of me when I was an infant rocking back and forth on my hands and knees in-time to a song off of that album. I wish I could remember which tune it was? Maybe "A Face In The Crowd?" Guess I need to go home and dig through the home movies.
I love it. What a great album to grow up with.
"Forever and a Day" by the Kruger Brothers. They have quite possibly been the greatest inspiration to me of any musicians I've ever heard, and this album in particular has always gripped my heartstrings. Forever grateful for their work.
"Shake Your Money Maker" by The Black Crowes. This one's a current obsession of mine. I'm positive it will influence my work – it'll just take some time for me to see in what ways it does so.
ACOUSTICULT: Which part of your music career do you enjoy the most – live performance, recording, writing, etc.?
For a long while now, I've thought that writing and arranging songs is one of my favorite parts of the job, because it allows for the most deliberate creativity. I can take all the time and effort I need to dial something in the way I like it, and it's always exciting to speculate about the way the tune will be received by the audience. However, I'll have to say, there are few things that beat the feeling of a good live performance. Some of the happiest moments of my life have been on stage.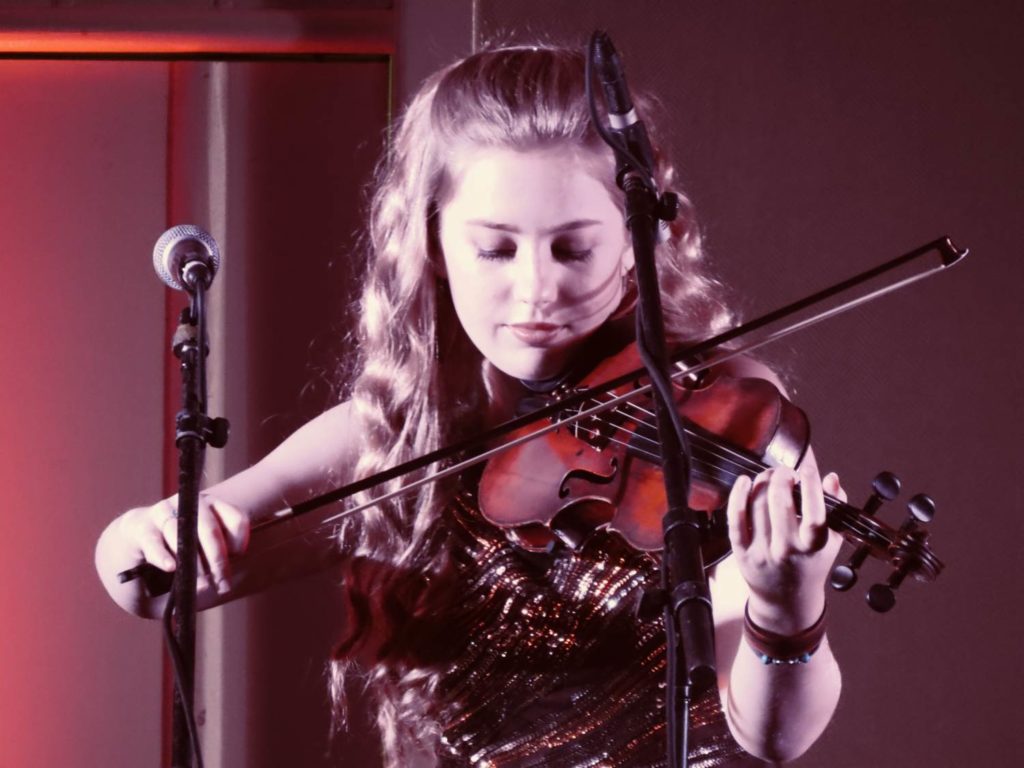 ACOUSTICULT: What are three musicians today that you think are underrated?
Charlie Starr from Blackberry Smoke is an absolute force of nature. He writes songs that are deep and down-to-earth at the exact same time. He sings in an utterly genuine way (his live performances are identical to his recordings) and plays a killer guitar. Blackberry Smoke does have a great following, but I think they deserve the status of a modern-day Lynyrd Skynyrd.
Brent Cobb is a country singer-songwriter I've been listening to a lot in the past couple of years, ever since I discovered him. His work, like Starr's, is completely honest and full of heart, and his vocal delivery is both skilled and conversational, which complements his songwriting style. I would love to see him at the top of the industry – we need more music like his to be catching the general public's attention.
Zeb Snyder, my brother and the guitarist for the Appalachian Road Show, is someone I will always acknowledge as well, because I've never met anyone else with his level of investment in music. He just absorbs it and lives it, and you can hear that in his playing. It has always inspired me.
ACOUSTICULT: Tell us a little bit about your current rig – what does your "rig" consist of?
My main fiddle is a bit of an enigma; when my luthier discovered it, he estimated that it was around 250-300 years old. He thinks it was made by Thomas Newton, although there's no way to tell for sure, since there's no label anywhere on the fiddle except for a partially-obscured London address on the back. Regardless of where it came from, though, it's one of the best fiddles I have ever encountered. I also play a beautiful Jimmy Edmonds fiddle that I use for alternate tunings, so usually they're both on the road with me. My guitar is a 1955 Martin O-18. It's a total beast. For my bows, I use two CodaBows (a carbon fiber brand). Both of them are from the Diamond collection. They've been super reliable over the years, and knowing they're more durable than wooden bows gives me peace of mind when I'm traveling.
ACOUSTICULT: If you were given $100,000 to spend on an album production, what would it look like?
I'd definitely select an engineer and a studio that would support a relaxed creative process and that would be game for a fairly raw finished product. I want recordings that sound like a live performance would, which is rare nowadays, but it's something I recognize in most of my own favorite albums and artists. Being able to take my time and focus on producing something that captured the spirit of the music, not just the notes, would be ideal.
ACOUSTICULT: What is your favorite album or recording so far that you've made?
I think that would have to be the Snyder Family Band's last album "The Life We Know." We feel like we had really found our sound at that point, so it was a rewarding album to record. I have done a lot more songwriting since then, but I see my originals on that album as a step in the direction I've ended up taking, so that makes me look back on it fondly. It was also my best recording experience so far as a vocalist.
ACOUSTICULT: What are you currently working on?
At this moment I'm off the road. In my day-to-day life, I'm a junior at High Point University pursuing a mathematics major and a minor in history. But my musical wheels are constantly turning, even during the semesters. I've been writing a lot of songs, listening to and studying loads of music, and teaching fiddle lessons via Skype. I've got some big plans in the works that I can't share yet, but they've got me really excited for the near future. I can't wait to hit the road again.
ACOUSTICULT: You've got me on the edge of my seat Sam. Please keep us in the loop on your upcoming venture. Great to catch up!