Jason Bailey of Nashville joins us today. Jason, tell us who you are, what you do and where you're located.
My name is Jason Bailey. I live in Nashville, Tennessee and have lived here for several years however originally, I am from Birmingham, Alabama. Primarily I play mandolin but I also play the whole mandolin family: mandola, octave mandolin, bouzouki, mandocello as well as other instruments like tenor banjo, electric mandolins, and guitar.
ACOUSTICULT: Tell us a little bit about your beginnings. Your origin story, so to speak. How did you get into music, and what made you choose this path over others?

Music has always been important and interesting to me.  When I was very young I would listen to my Walkman all the time and typically would go to sleep while listening to music. 
ACOUSTICULT: What would you listen to during the day and while going to sleep?
At that time I don't really recall what all I was listening to. I know I listened to the radio, and I had this cassette of Paganini that I loved as well as whatever albums my Dad was spinning (Anything from Bob Marley, Jimi Hendrix to Crosby Stills and Nash, and obscure albums like Stephen Stills' Manassas). 
ACOUSTICULT: What were your early musical influences?
Other than listening to some great albums, I recall in 3rd grade seeing a violinist and thinking I want to do that. I did briefly take lessons but unfortunately I broke the rental violin we had and stopped taking lessons. After that, I was just listening to music and being amazed at how it could make you feel so many different things.
Then, when I was in high school I got my first guitar, an electric Squier Strat. I started learning classic rock and grunge rock (it was the early 90's).  Shortly thereafter I got an acoustic guitar after hearing the MTV Unplugged concert that Neil Young did in 1993. For me the "acoustic" sound really clicked.  There was something special to me about both the character of an all acoustic band as well as the fact that the album was live. 
That really began my journey into acoustic music. The summer after graduating high school, my dad came home from a garage sale with a cheap mandolin. It really spoke to me for some reason. Then, I had a friend that was an accomplished guitarist and when I got the mandolin he said I really needed to check out the Garcia/Grisman albums. I knew who Jerry Garcia was but not that David Grisman guy. Oh my! Did that change everything. I had no idea that genre of music (Dawg and jazz/jam/grass) even existed. I proceeded to buy everything Grisman had put out and then went looking for CDs of the musicians that played with him; Tony Rice, Sam Bush, Ricky Skaggs, Stephane Grappelli, etc. etc. Then, I went on to seeking out the musicians who played with all of them as well. This was all before the internet and YouTube. I had to go to the local CD store and look through the CDs and read liner notes.  Nevertheless, by the time I started my sophomore year in college I decided the music thing was something I really wanted to dig into more deeply and declared my major as music. It was hard for me at first since I couldn't read music, yet. But I stuck with it and am thankful I did.
ACOUSTICULT: What are your favorite 5 albums, and do they influence your work? If so, in what ways?
This is a very difficult question.  My favorite albums change as time goes on and as more people release incredible music. But I will break it down into 5 albums that I think had the biggest affect on me early on. These are listed chronologically and not by rank.
Bob Marley – Legend (or any Marley).  This was the first music I truly enjoyed as a young kid and still resonates with me today.  Truly fantastic musicians. Every instrument is played with passion, restraint, sensitivity and an incredible rhythmic pocket. Nothing has a better feel than Bob.
Jerry Garcia / David Grisman – The first album they put out had the biggest influence for me but everything that Grisman was involved with had a huge impact on my mandolin playing early on.  The way they fused together bluegrass, swing jazz, gypsy jazz, folk and jam band sounds is amazing.
Tony Rice – Manzanita.  For me this was the first album I heard that the bluegrass sound really blew me away.  I had listened to other older and more traditional bluegrass but at that time I had a hard time listening past some of the lesser sonic quality of an old recording to really hear what the music was really saying.  Manzanita helped me to understand and enjoy bluegrass. When I heard Tony's modern approach to some of the tunes it made me want to dig deeper and see where all this came from.
Stephane Grappelli – Just One Of Those Swings.  This album is just smooth and very well recorded.  It was done live and the energy is just as amazing as the playing.  This album really got me more interested in jazz music.
Matt Flinner – The View From Here.  Flinner became my next big wave of musical influence.  On paper he does a lot of what the previous mentioned artists have done, fusing bluegrass with jazz, celtic, and other genres.  However, Flinner's tone, right hand technique and especially his compositions all really stood out to me as being something special.
ACOUSTICULT: Which part of your music career do you enjoy the most – live performance, recording, writing, etc.?
I absolutely enjoy all of it!  As long as I am being musical, preferably with friends, then I am happy!
ACOUSTICULT: What are three musicians today do you think are underrated?
Gosh, that is also a very difficult question to try to answer. There are so many great yet unknown musicians everywhere and all over the world. In fact, I often say that 99.99% of humans are actually musicians wether they have played an instrument before or not.  
On another note,  I think I personally have underrated a lot of musicians by not truly understanding what it is they do.  The more I learn, listen and really dig deep into an artist music, I almost always hear new things that pretty much guarantee that I am more impressed than I originally was with their art.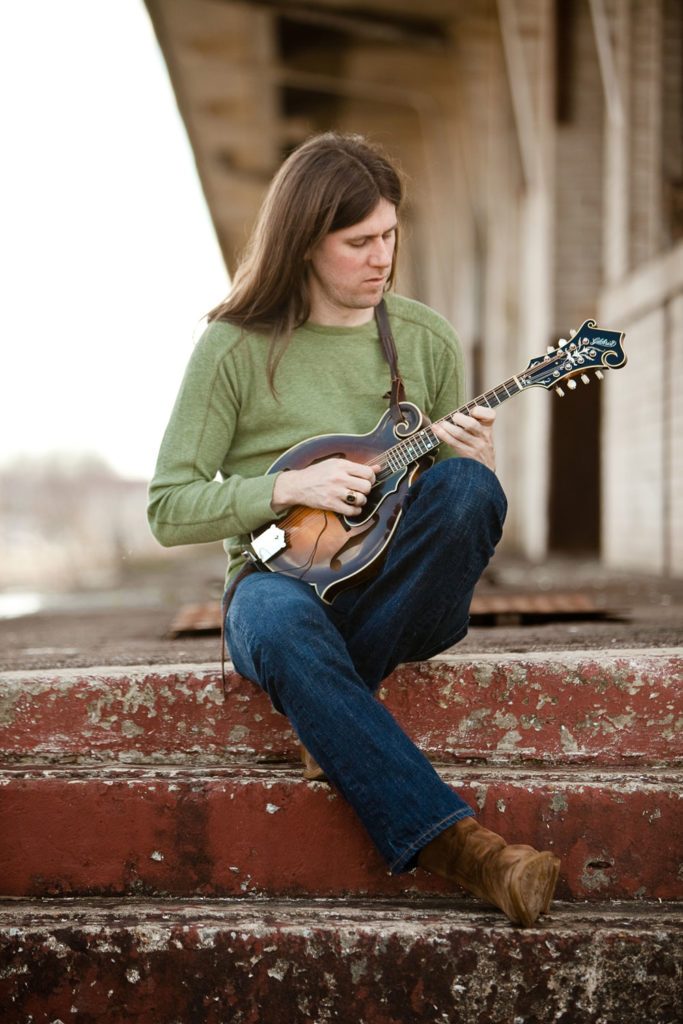 ACOUSTICULT: Are there 3 that particularly stand out in your world as people who don't get sufficient recognition for their talent?
My first thought is pretty much everyone I know. But that is more than three people.  Since I have to answer the question however, I'm going to pick three names that are known accomplished musicians who get recognition but that I think should be getting even more recognition. Before I name them I should say that I am lucky and blessed to know and get to make music with tons of incredible musicians, known or unknown.  I could easily talk about each one and what makes them such great musicians. But you said pick three so, here are the three names that I pick: Ross Martin (guitar), Shad Cobb (fiddle), and Kenny Smith (guitar). These folks have depth and skill truly at the absolute highest level. Although they are well known in certain circles and are true professionals i think for me I can't praise their skill enough. If anyone reading this doesn't know who any of these folks are then please go find them!  
ACOUSTICULT: Tell us a little bit about your current rig – what does your "rig" consist of?
My rig is a bit varied.  Sometimes I just play one of my best acoustic mandolins, Gilchrist or Heiden, on a mic. You can't go wrong there. Other times I will plug in. In fact, I plug in most of the time for live performance. Being plugged in opens the world to a lot of different options that are completely unavailable to the true acoustic tone of being on a mic. I typically will use either my Gilchrist or my Collings MT, run it through the Tone Dexter pre amp, and then depending on the needs of the gig/song I might have any combination of these pedals in the signal chain. Distortion, Delay, Octave pedal, Organ simulator, Leslie rotary simulator. Also, I will often go all electric and use either a Rono 8 string or a mid 50's Gibson EM-200 and run them through a Fender Super Reverb.  These particular electric mandolins have fantastic tone and a touch response that is not too dissimilar to a nice acoustic mandolin when run clean however with also all of the advantages and character of very nice magnetic pickups run through vintage tube amps. 
ACOUSTICULT: If you were given $100,000 to spend on an album production, what would it look like?
Can I use that money to make 10 different albums? 
ACOUSTICULT: Ha! Best answer yet. In theory if it were allocated only to one project, what would that look like?
I don't think I have ever thought about spending that much on a single album.  I mostly like recording music, for my own albums at least, where you go in and play the songs live (or as close to live as possible) and then pick the best versions to release. I prefer recording the sounds of real people playing tangible instruments and how we all interact together in a live setting.  Although that type of album isn't cheap, it costs nowhere near 100k. I guess if I was given that much money for a single album I would probably just have to give most of it back.
ACOUSTICULT: What is your favorite album or recording so far that you've made?
My favorite is generally whatever is my latest work. Waltz For Somebody is my most recent release and really explores the more mellow jazz side of my playing.
ACOUSTICULT: What are you currently working on?
As far as albums are concerned; currently, I am writing a bunch of tunes.  There is not a particular goal at the moment but when I catalog and arrange enough cohesive material I will start the next recording project. Other than that, I am always working on better technique and timing.  
ACOUSTICULT: Be sure and let us know when the wheels start turning on your next project Jason! Thanks for taking some time to sit down and chat with us!
I will definitely keep you posted on future projects.  Thank you for thinking of me for this interview. It is a pleasure and an honor and I can't wait to learn about all sorts of great musicians from your series. Thank you Jed!