If you happen to be at a bluegrass festival, and see two girls holding instrument cases and think "those must be twins," you're right and it's The Price Sisters. I kid, there are actually several sets of twins that are prominent bluegrass figures, but the Price Sisters have become one of the most notable with their distinguishable sibling harmonies, rooted traditional approach, and undeniably "twin" looks. They've become the darlings of the traditional bluegrass circuit in the last 5 years, releasing two albums on Rebel Records and touring in the United States, China, Ireland, and Germany. Today I'm talking with one half of The Price Sister's duo, Leanna Price. Leanna, thanks for being here! Would you mind to introduce yourself to our readers?
Hi! I'm Leanna Price. I play fiddle and am the primary lead singer in the 5-piece band led by my twin sister, Lauren, and I, The Price Sisters. I am originally from Ohio, but currently based in eastern Kentucky.
JED: What part of Ohio? What made you relocate to Eastern Kentucky?
I'm originally from the Southeast corner of Ohio, Sardis to be exact. The town is situated right on state route 7 along the Ohio River, and is home to roughly 560 people. We're about 50 minutes south of Wheeling, WV, if you follow the river. My sister and I relocated to Kentucky when we began our college career there in January of 2014. I am currently still living in the college town of Morehead, which is right off of I-64. So far, it's proved to be a pretty convenient home base for traveling.
JED: Tell us a little bit about your beginnings. Your origin story, so to speak. How did you get into music, and what made you choose this path over others?
My sister and I grew up listening to our parents sing together during family gatherings, and of course, we wanted to be like them. Lauren (my twin sister) and I first began singing together around the age of 4, but it was never anything we pursued or worked at from the perspective of a family band. Singing together was just something fun we were able to do. When we were around 10, we decided to take lessons on our instruments, (fiddle for me,) however, we didn't gain much interest. On a whim, we decided to attend Bluegrass Week at the Augusta Heritage Center in Elkins, WV when we were 16 – a week-long camp with focus on workshops in the major bluegrass instruments and vocals. We walked into the camp without any knowledge of bluegrass artists, recordings, or community, but left with a new obsession.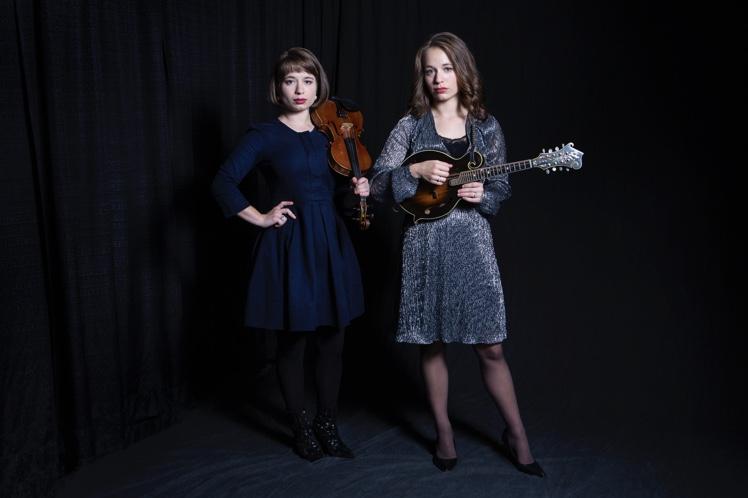 JED: How did you hear about that camp and what made you decide to attend it?
We originally heard of the camp from Ginny Hawker – a very prominent old-time Ballard singer from WV, and a close friend to Hazel Dickens. At one point or another when Lauren and I were around the age of 14, we acquired a cd of Ginny's and fell in love with her singing style. Until then, we were completely unfamiliar with her, or the large catalog of music she and others of the like worked from. The soulfulness and authenticity of her voice is and was a quality we hope to emulate. She mentioned the camp to us, and at that point, we had never heard of it. Under her recommendation, we decided to attend Augusta for the first time when we were 16.
Before attending Augusta, I had hardly ever been around other musicians who played bluegrass or similar music, and therefor had no real desire to learn much about the music myself. After experiencing the community-feel that exists within this type of music I was hooked, and wanted to learn as much about it and it's history as I possibly could. When we graduated high school, playing and singing was still nothing more than a hobby for Lauren and I. Upon starting college, we didn't have much time to play on our own and had little access to musicians who liked the same kinds of music that we did. For a few months, we hardly played at all, and realized just how much we missed it. After some careful consideration, Lauren and I both made the decision to transfer from our original school to Morehead State University.
JED: For those that might not be familiar with Morehead, it is one of the few universities in the country that offers a Bluegrass/Americana/Traditional music concentration. Although he didn't end up graduating with his original plan of a degree in performance, Chris Stapleton got his accounting degree from Morehead.
We both graduated from MSU in 2017 with a BA in Traditional Music. In 2016, we signed to Rebel Records, and have since released two successful recordings for them. Bringing things up to the present-day, we're looking to go back into the studio early 2020 to begin work on our third release for Rebel.
JED: Excellent! Can you give me any insight into what we should expect from your third album? Any new directions or special guests?
We're very excited to get back in the studio. Though we don't have any definitive studio dates scheduled at the moment, we have a rough idea. Lauren and I were most fortunate to work with a few of our musical heroes and very special guests for our first two releases for Rebel, and are very proud of both releases. At the time, we did not have a regular traveling band, and pretty much only worked gigs when school (MSU) was on break. Since graduating in 2017, we've begun to establish ourselves as a working, touring group, and have solidified a tight and talented full-time band. It is our hope that the next record will fully showcase our more developed and mature sound as a band.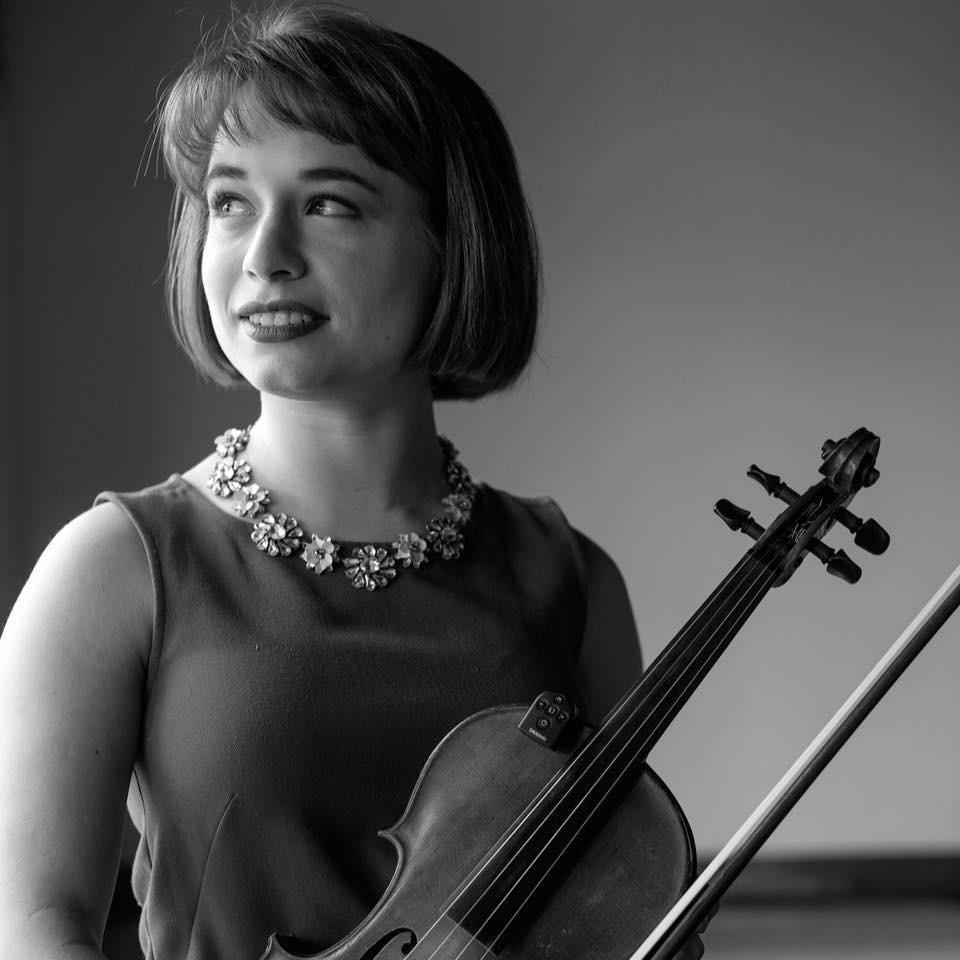 JED: What are your favorite 5 albums, and do they influence your work? If so, in what ways?
Del and the Boys – The Del McCoury Band. I was around 12 or 13, this was the first recording of Del I'd ever heard, and was immediately hooked. Jason Carter's fiddling has had a huge influence on me ever since.
Kenny Baker Plays Bill Monroe – Kenny Baker. Many believe this album to be, myself included, the quintessential album of Bluegrass fiddling. I was first introduced to this album around 15, and it remains my go-to not only for fun listening, but especially when I get frustrated or feel stuck. I feel like every time I listen to this album, I hear something different or new than before. It constantly inspires and challenges me to listen more closely.
Twenty Year Blues – Nashville Bluegrass Band. Stuart Duncan, Mike Compton, killer song selections, strong arrangements . . . It's as good as it gets.
Give Me Old Time Music – Arthur Smith. This is a compilation album largely featuring Arthur's work with The Delmore Brothers. Arthur's fiddling served as a standard for many of the pioneering fiddlers in bluegrass and country music. His work with The Delmore Brothers proved to be some of the most iconic hillbilly and country music recordings of the early 20th century.
Bluegrass Time – Bill Monroe and His Bluegrass Boys. This was the first album of Monroe's that I listened to in its entirety when I was around 15. To me, this album is a great example of how Monroe was able to maintain his own sound while staying relevant to the changing country music scene and folk revival of the 60s. I enjoy the way his mandolin playing and Richard Greene's fiddle playing work together.
JED: That is an interesting observation about Richard Greene's fiddling. You know he was also on 3 of Tony Rice's "spacegrass" albums. It is always neat to me when a musician can make their sound work across many different genres and styles of music. Mr. Greene definitely did this throughout his career (see his discography here.) I completely agree! It's so interesting how those things work out, and is fun to listen to such a variety.
Which part of your music career do you enjoy the most – live performance, recording, writing, etc.?
Live performance is probably the most enjoyable aspect for me. I love the energy of a good set. Standing next to my amazing band mates and creating music, and listening to the new things they come up with is so exciting for me. Being able to listen to each other and play off of one another is so fun, and a healthy challenge. Seeing the enjoyment of the audience is such a gratifying thing.
What are three musicians today do you think are underrated or deserve more notoriety for their art?
Mark Kilianski, Lauren Price, and Josh Gooding.
I only recently met Mark during our European tour with The Bluegrass Jamboree. We (The Price Sisters) performed from November 18th-December 16th in Germany, Austria, and Switzerland as part of a package show with Chicken Wire Empire and Hoot and Holler (Mark Kilianski and Amy Alvey). I was impressed by Mark's ability to pull from a variety of guitar styles to create one unique and sustainable sound in a duo setting. Mark was a graduate of Berkeley in Boston, and is gaining notoriety particularly in the old-time and stringband world, but I feel as though he has a lot to say and I would like to see him garner further recognition.
Lauren is my twin sister, but she is one of the hardest-working and most dedicated mandolinists of her age. Not only was she the first female instructor at the prestigious Monroe Mandolin Camp, but she was also the youngest instructor at age 21. She has vigorously studied the Monroe catalog and his influences since she was roughly 17, but in more recent years, she has become adept at applying those stylings to other areas of traditional and country music. She is one of the few mandolinists, (another was Sierra Hull) to have received a feature article in Mandolin Cafe, and is gaining quite a bit of momentum among her peers.
Josh Gooding is originally from California, but has moved to Johnson City, TN, to take classes at ETSU. Josh has a very punchy and classic "bluegrass" approach to the mandolin. He's studied a lot of Frank Wakefield and Buzz Busby's music, but is a highly inventive player himself. Though he's a young player, his knowledge of a mandolin neck is obvious, and his energetic and lively approach is highly entertaining.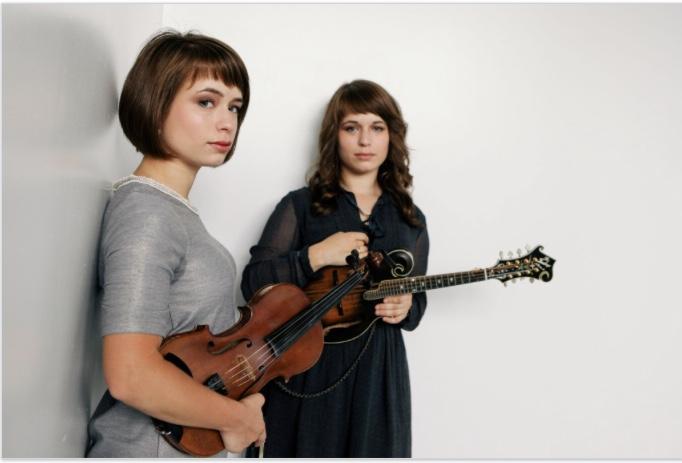 JED: Tell us a little bit about your current rig – what does your "rig" consist of? What instrument(s) do you play, pedals, mics, etc.?
Until 2 months ago, I had played a late 1800s German-made fiddle for 7 years. I recently purchased a turn-of-the-century French fiddle, and am in love. I currently use a Coda Diamond Bow, Pirastro Eudoxa rosin, and D'daddrio Helicore heavy gauge G, D, and A strings. I use a Kaplan non-whistling E string.
JED: Do you find the Helicore E string to give you trouble?
Unfortunately, yes. Out of all the strings, I had the most trouble with an E breaking, and found the tone of a regular Helicore E to be a little too shrill for my taste. I'm also fond of Thomastik Super Flexibles, but Helicore Heavies have always been my go-to.
JED: What is your favorite album or recording that you've made to date?
Definitely "A Heart Never Knows." This was our first full-length release for Rebel Records, and I'm very proud of the work out into that project.
JED: Tell me more about what you put into that album that makes it your favorite.
Having graduated from MSU only two months before recording, I feel as though the album was a good culmination of what Lauren and I both had worked toward while in school. She and I chose and arranged each track before seeking some final advice from our producer, Bil VornDick. I'm proud to be able to say that.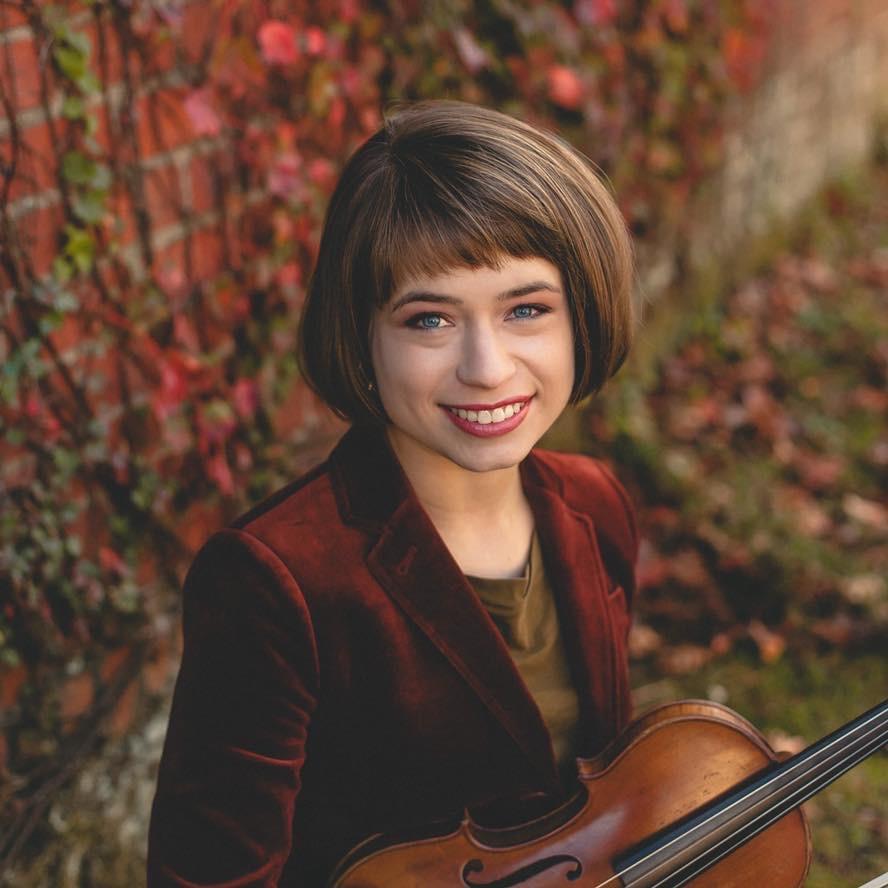 JED: That is awesome that you were able to have Mr. VornDick produce your album! What are you currently working on?
My current priority is to work on collecting songs for our next recording project, which will most likely come to fruition early next year . . .
JED: We will be anxiously awaiting your next release. Thank you for taking the time to chat with us Leanna!
Keep in touch with LeAnna on her Instagram and website. Featured photo by Gabe Osborne.