I always love getting to interview musicians from my neck of the woods. Today I am excited to introduce you to fiddle player and central-Arkansas native, Pete Brown. Pete tell us what you do and where you're located.
Pete Brown – fiddle player for Cedar Hill and The Acousticatz – located in Benton, AR
JED: Tell us a little bit about your beginnings. Your origin story, so to speak. How did you get into music, and what made you choose this path over others?
My dad had an extensive record collection of old country, western swing and bluegrass and he played it around the house throughout my childhood. I was always drawn to the fiddling in Bob Wills music and the bluegrass recordings. When I was four years old, my dad was good friends with a country radio disc jockey in Little Rock. He carried me down to visit the DJ, Brother Hal, at the radio station on a Saturday morning. He asked me live on the air what I wanted to be when I grew up and I said "A fiddle player, like Bob Wilks."
JED: Ha! "Wilks!" That's hilarious.
My family watched all of the country music shows on Saturday television. We watched Porter Wagner's Show, The Wilburn Brothers Show, The Flatt and Scruggs Show and later, The Jim Ed Brown Show. This inspired me even further. When I was five years old, my dad took me to see Flatt and Scruggs at the Fun Barn in North Little Rock.
JED: "The Fun Barn?" Tell me more about this venue. I never heard of that place growing up.
There was a local country music show that aired on Saturday mornings on Little Rock television called the Tommy Trent show. My dad was good friends with Tommy Trent and his band. On weekends, Tommy used a movie theater that had been converted to a music venue to put on shows. Occasionally, he would catch a big name act coming through Arkansas. Daddy carried me backstage to meet Lester and Earl.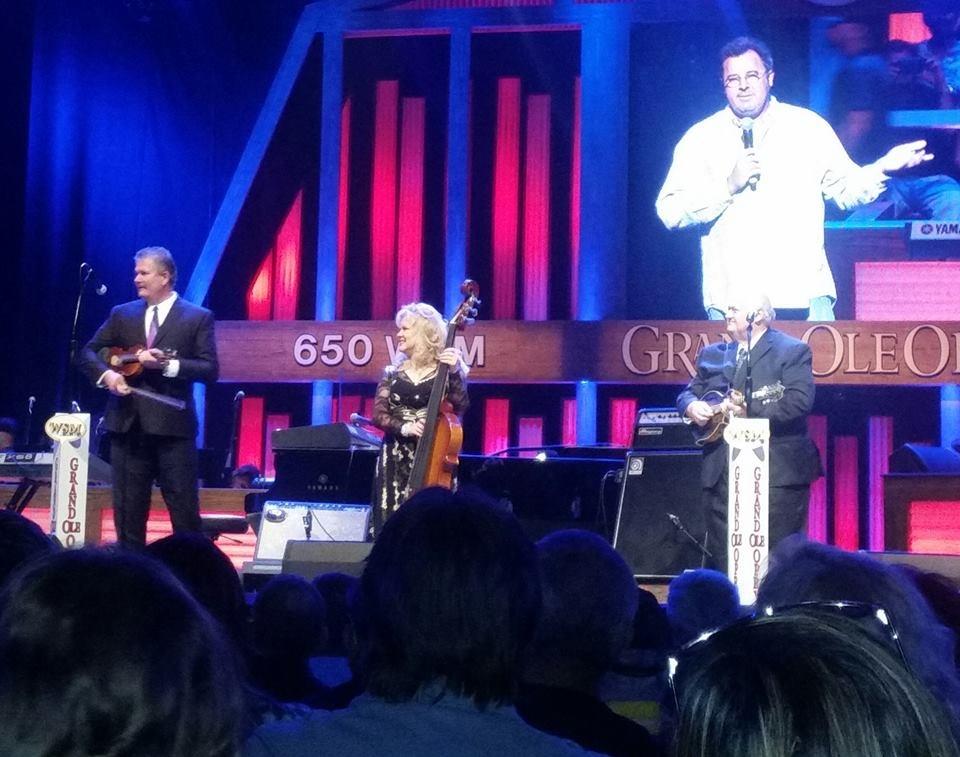 JED: Did your dad know Lester and Earl? How did he get to go backstage?
He didn't know Lester and Earl but it was his connection to Tommy Trent and his musicians that got us the invitation to go backstage and meet them. But I wanted to meet Paul Warren (Flatt & Scruggs' fiddle player at the time) instead of Lester and Earl. Paul was really kind to me.
JED: Tell us more about meeting Paul Warren. How old were you when this happened? Did you guys jam together at all or was it more of a "hi & bye?"
I was only five when I met Paul. He was sitting on a chair backstage. I remember that he picked me up, sat me in his lap and was very friendly and talkative. Believe it or not, at five, I was little.
For years I asked for a fiddle and in the fifth grade, the band/orchestra leader came to our school to talk about instruments and I saw this as my chance to get a fiddle. They bought me a learner fiddle and we moved to another school district to a school that had no strings program. With no one to teach me, I got out my fiddle and compared it to a Flatt and Scruggs album that showed Paul Warren's fiddle. I thought if I adjusted my tuning pegs to look like the picture, that I would be on my way.
JED: Ha! You know that is actually really observant. Ya know? Like the fact that you paid that much attention to his fiddle is a statement of your attentiveness to detail at a young age.
Needless to say, it wasn't a great beginning. My dad's friend that was a guitar player figured out how to tune it for me and about my fiddling nearly drove my parents crazy. We found a barber that was a fiddle player and I begged to get a haircut every week to get a few more pointers. From there, our community had a little impromptu country music show and I would go every week and play the three songs that I knew.
JED: What part of Arkansas were you in at that time? What community was this?
Collegeville Community (near Benton and Bryant) in Central Arkansas. It was there I met a fiddle player named Frank Counts that took me under his wing. I thought he was the greatest fiddle player of all time since he could note with his little finger. From there, I started listening to Tommy Jackson tunes for new material. When I was 12, I was playing in a little gospel bluegrass group and met a family band that was just starting out and I was invited to join them. This family, the McGaritys, formed Blue Mountain Bluegrass and we toured the country all through my teens into early twenties. I started playing country music in my twenties and did quite a bit of session work around Little Rock. The Nashville Network had a national video contest and my video of Orange Blossom Special won the contest.
JED: That is awesome! I wish TNN was still around. They did some really cool stuff back in the day.
We lived on the road for about 13 years before several of us decided to move back home. When I got back to Arkansas, a childhood friend called and said that we were going to play bluegrass again and I resisted at first – I had decided that I was burned out on music for a while…but she was persistent. When we started playing, I felt that connection to bluegrass that I was missing and fell in love with the music (and her) all over again. She and I have a little band called the Acousticatz (that we still have fun with) and about eight years ago, got the call from Frank Ray to play with Cedar Hill and we have been so lucky to tour with Frank to Europe, Canada, all over the USA as well as appear on the Grand Ole Opry. Bluegrass music is such a blessing – I love the music and the great people that you meet in bluegrass music.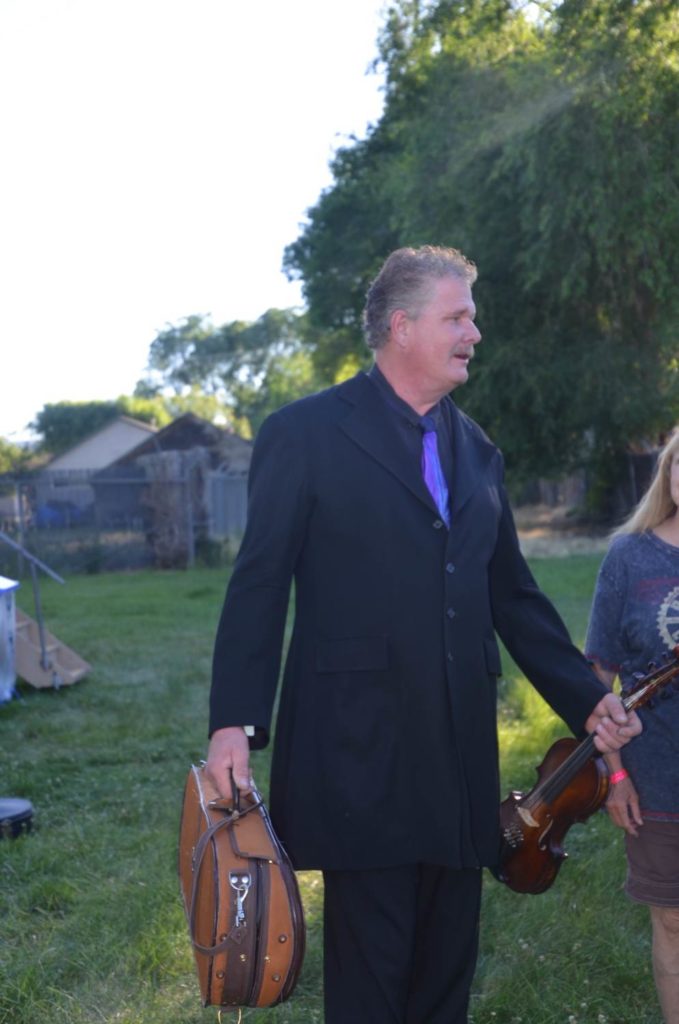 JED: Bluegrass is interesting isn't it? There really isn't anything like it. What are some of the big differences that you noticed in your environment after leaving the country community and coming back to bluegrass?
I was getting back to real music again where it was about the music and not being a "product." I had been away from the genre for twenty years but it was like I never left. Great friends in the bluegrass world are lifelong.
JED: What are your favorite 5 albums, and do they influence your work? If so, in what ways?

Flatt & Scruggs – 1948-1959 Box Set. There are 17 songs on this boxed set that Benny Martin plays fiddle on that is the ultimate bluegrass fiddle playing – timing, back up, breaks – everything about it is text-book bluegrass fiddling.

Tony Rice – Manzanita. The first bluegrass album that I ever heard that didn't have a banjo on it that stood on its own. The breaks on this album are all perfect. I wore this album completely out.

Kenny Baker – Plays Bill Monroe. As far as fiddle tunes go, I learned every fiddle tune on this entire album. Baker was flawless and this was the perfect interpretation of Bill Monroe's music.

The Dixie Dregs – Dregs of the Earth. I had never heard anyone play guitar like Steve Morse and to have a fiddle in the context of a rock and roll band was a mind blower for me.

Pink Floyd – The Wall. The only piece of work by any band that I have on 8 track, cassette, album and CD. I have every note of it memorized.
JED: Which part of your music career do you enjoy the most – live performance, recording, writing, etc.?
Live performance – I love the instant gratification of connecting musically to other musicians and listeners.
JED: What are three musicians today do you think are underrated?
Musicians today are better than any musicians in history. I study the old guys and my top three would be Benny Martin, Scotty Stoneman and Art Stamper.
JED: Tell us a little bit about your current rig – what does your "rig" consist of?
I play a Glenn Boyd custom built five string fiddle and a custom built eight string fiddle.
JED: Do you use any sort of DI or pedals on stage?
I mainly play into stage mic. If I have occasion to play plugged in, I have a LR Baggs pickup on one fiddle and I play through an all tube Fender tweed amp. My pedal board is used for a little reverb and a couple of digital delay settings.
JED: If you were given $100,000 budget for an album production, what would it look like?
There would be a lot of money left over for sure. It would be a straight ahead traditional bluegrass fiddle album and most of the musicians on the project would be folks that I currently play with – I'm blessed to play with some of my favorite folks.
JED: Who would you want to play on it? Where would you want to record it? Who would mix/master it?
I would use the current members of Cedar Hill. It seems really popular to see how many guests you can have on a CD, but I want to record with folks that I'm privileged to pick with all the time. Kenny Baker recorded with the guys he normally picked with in the band. We would record and master with Jon Raney – Raney Recording in Drasco, AR. He is the best in the business.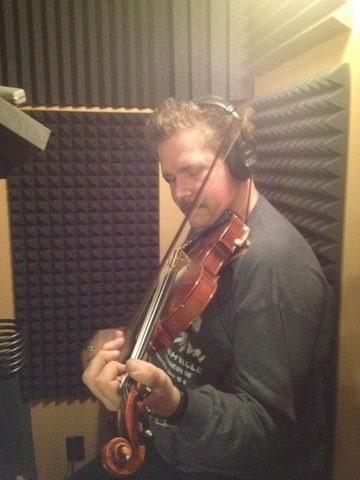 JED: What is your favorite album or recording so far that you've made?
I've been on some really good recordings with Cedar Hill but I would have to say that our last Acousticatz project, Everything Old is New Again was the project that I poured myself into – I recorded and engineered it.
JED: What are you currently working on?
A new original Cedar Hill project is in the works as well as an Acousticatz gospel project.
JED: Awesome! When can we expect to see these projects released?
Hope to have both projects completed by late spring, 2020.
JED: We'll be keeping an eye out for these projects. Thanks for joining us taking some time to chat with me Pete!