Today we're getting to chat with the infamous Johnny Calamari. Johnny I'm stoked to have you here and I really appreciate you making the time to answer some questions and tell us about what you do. If you would, introduce yourself to our readers and tell us what you do and where you're from.
I love all of you, I play the bass. My name is Johnny Calamari from Johnson City Tennessee. My name is fake but my grind is real.
JED: I always knew that name was just a cover – alright "Johnny" so tell us a little bit about your beginnings. Your origin story, so to speak. How did you get into music, and what made you choose this path over others?
"The Bug" (the music bug) bit me in the ass and throat real good when I was about able to walk and get into trouble. I started singing in choirs at my home church in Waynesboro PA. Our organist/choir director Pastor Fred Gross taught us so many things and could handle my…well let's call it "extra energy" at rehearsals and during performances. It wasn't uncommon to see your boy sitting on the organ bench "helping" pastor Fred turn the pages. Otherwise I would be crawling a wall or a cross or eating paste or something half wild.
JED: It sounds like Pastor Gross was quite the patient man. We've all got someone like that who our parents are thankful for. It sounds like he fostered a lot of your musical development!
Once into grade school Mrs. Janet Smedley (kinda like medley) took over my music education. She got me into singing in school plays and in 5th grade got me playing the Tuba in the school band. I stayed very active in music through high school and into college.
JED: So how did you make the change from tuba in grade-school to upright bass in bluegrass ensembles?
Well I wanted to play guitar after I saw the movie Labamba starring Lou Diamond Phillips. So for Christmas that year Ho Ho brought me a red electric guitar. I quickly became a short haired head banger and stated patching up my jean jacket. I wanted to be somebody's James Hatfield and started jamming in a garage band that was super influenced by The Band, Mr. Big, Led Zeppelin, and Alice In Chains. My grandfather Carl (who died way before I was born) played the upright in his family band from Chambersburg PA. I waited until I was about 33 to buy the sexiest/most bad assed Bass known to man…who shall be remembered as "Hot Carl" in historical books. If I would have named him anything else…"Rump Shaker" would be the only thing that could close.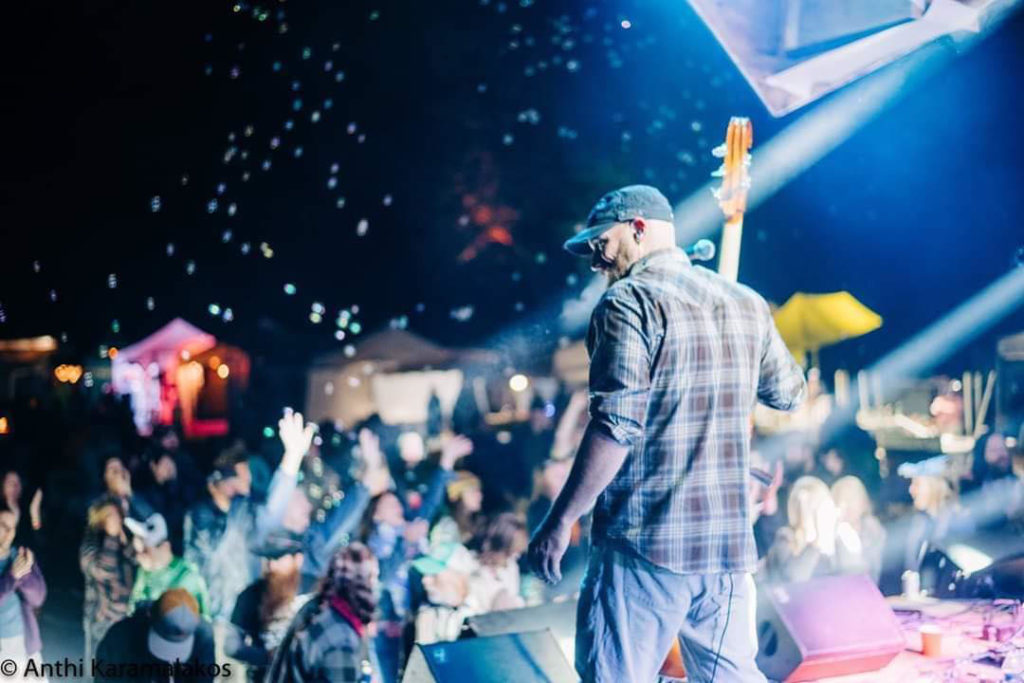 JED: Both names are understandable and seem appropriate. So your grandpa Carl is responsible for your transition to the upright bass?
He is definitely the seed planter in my life just through pictures and his legacy. Chris Wood from The Wood Brothers inspired me heavily around the time I purchased "Carl." When I got him home I had a funk/jazz jam with a Hammond player. So the funky sauce really is what brought me to the upright and I've been playing bluegrass ever since!
JED: That is awesome! What are your favorite 5 albums, and do they influence your work? If so, in what ways?
Presence – Led Zepplin
AJA – Steely Dan
Midnight Marauders – A Tribe Called Quest
Natch'l Blues – Taj Mahal
Aereo-Plain – John Hartford
Zeppelin taught me how to groove, the Dan opened up my jazz brain, Tribe taught me about influence, rhythm, and phrasing. Taj taught me about musical DNA and roots and the blues. Hartford is/was my first mentor of Bluegrass. He taught me not to take life so damn seriously all the time and told me that weed is OK and how it goes together well with string band music!
JED: Man that is arguably one of the most diverse influence lists I've seen since AcoustiCult's inception. Ya know Matthew Davis was the first person to introduce me to Steely Dan. You've played with him in the band Circus No. 9 yeah?
Yeah I met Matthew and Thomas Cassell at IBMA in 2016. They assembled and began recording material shortly after that. The bassist who was their full time bassist was on maternity watch with his family the summer of 2017 and they asked me to be his sub. That was absolutely one of the most life changing journeys I've ever taken in my life and I had no clue of what to expect. But I met the road that summer and I've been in LOVE with it ever since. One of my favorite take away memories from that trip was driving with Matthew in the passenger seat in Hollywood CA heading down sunset towards the sea…listening to "bad sneakers," one of my favorite Steely Dan songs. Matthew and I were nailing the harmonies and the hornlines with our mouth trumpets. It was a very rich experience!
JED: That is really fantastic. Matthew is an incredible musician and I'm glad you got to hit the road with him and Thomas. Which part of your music career do you enjoy the most – live performance, recording, writing, etc.?
PEOPLE! I love making new friends and connecting the dots of the Globe together with my interactions through music. I love action, gigs getting booked, calendars getting full, working on new fresh material for the first time and I LOVE to see my friends lock in and drive their talents to new heights with other talented people surrounding them. Another favorite of mine is to do fill in gigs and to sub for bands. Especially bands that are in different genres…I learn so much when I dive into the musical fire waters head first and try to swim my way through…it brings out hidden skills that I have forgotten all about sometimes and reinforces the need to listen to other music or to tighten up on my practice game.
JED: No kidding man. I am the same way – I love getting to get some new material in front of me and embrace the challenge. The music is really convicting like that – it'll let you know you need to practice more! 😀
Fasho.
JED: What are three musicians today do you think are underrated?
If we are specifically speaking terms of bluegrass musicians it would be a list that I don't even want to attempt. I've come across "nobodies" who play everything on every stringed instrument and can sing every part that live very private, very analog lives that really don't want anyone to know about them or to have to go anywhere. Those people BLOW my MIND! To shoot you straight I would say; Warren Blair, Garret Wren, and Steve Street come to mind first.
JED: Tell us a little bit about your current rig – what does your "rig" consist of?
Currently my choice rig is Kay Bass with Zyex strings to Line A input of RMI Basswitch DI/preamp > XLR to sound board. If its a bigger room if its a bigger room with no subs I'll run a line out of the Basswitch into a combo amp which at the moment is a Gallien-Krueger MB112. I recently started working with Epifani amps and will be upgrading to a bigger head and cabs in 2020. With Dangermuffin I get to "Double" as bassist which means that I play both upright and electric bass at shows. So that line is Fender bass > Line B input on Basswitch DI/preamp > XLR to sound board. The Basswitch is a simple solution to achieve this task. Its an A/B box with an EQ in one channel and you can also blend channel A and B together. My buddy Todd Parks of the Sam Bush band turned me on to it. It's a great piece of gear for working "Doublers."
JED: Man I used to use Medium tension Zyex strings on my 40s Epiphone upright. I really like how easy those strings are on my fingers and how they respond to a heavy hand. Do you notice that the E string is particularly low tension and maybe a little "muddy" or "undefined?"
Totally exactly a floppy, farty undefined tone in that E. I may try some different E strings to beef down the meat wave from that low low end game.
JED: Man keep my updated on what you try. I'd like to hear more feedback on a mixed set of strings using the other Zyex strings. If you were given $100,000 to spend on an album production, what would it look like?
Completely the dopest thing ever! I'd have all my buddies on a list and I swap them into 5 piece acoustic bands first. Then I'd assign each band a song to rip apart, dissect, flip on its head, and reconstruct. Then we would turn it into a musical and hit the road muppets style… Fo sho baby!
JED: You're definitely the first person we've had take that approach to that question. Who would you want playing on the album? Where would you record it? Who would you want to mix & master it? Who'd cater? 😀
On the record….on the record I will use a handful of my buddies that are available in Johnson City. Twin fiddles, twin mandolins, beefy guitar, like 14 banjo players, a shape singing choir of sisters from Sand Mountain, Adam "Smoochie" Williams on Appalachian drum kit. I don't have one yet but we are currently looking for a gospel pianist/organist in the JC area. I would either record at ETSU or at Dangermuffin guitarist/sound engineer Mike Sivilli's home studio in Asheville. The mastering is another story…I've heard that Pharrell Williams masters anyone's music for $25k per song. He is really good. So unless we forgo touring on the "muppet bus" and tour hobo style by rail which sounds amazing to me…we will get one or 2 songs mastered by him or just leave em be (raw mix) depending on which route we go. The catering will be done by "Jimmy's Krispy Chicken" (the business is inside the gas station) off of I-81 south TN exit 40. Biscuits, chicken, meat, fruit salad, greens from "Taste Buds" in JC, succotash smothered in butter and peanut butter pie from "Reds BBQ" in JC. Only foods that are gonna sounds real good on the record.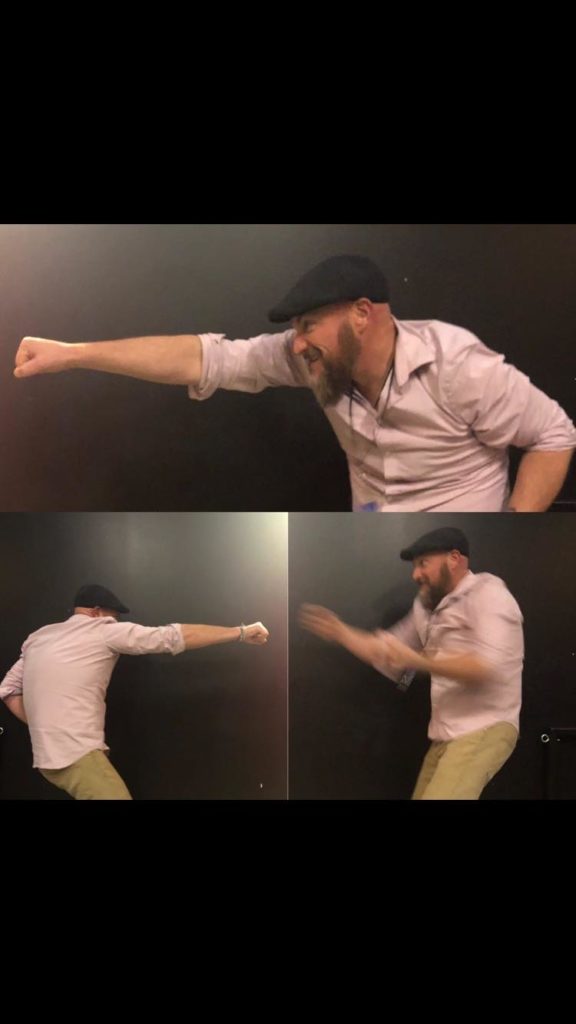 JED: I definitely want to be present at that recording. Sounds delicious. What is your favorite album or recording so far that you've made?
So far my favorite was playing on Jobi Riccio's Strawberry WIne EP last summer.
JED: Didn't Nick Davis engineer that? That was at his house wasn't it? I'm pretty sure I made an appearance at that session.
Indeed Dick Navis. Worked with Tburd (Thomas) Cassell and Matthew Davis of Circus No. 9. It is wild to have mentors half my age but working on this album under the direction of these talented young friends as a hired hand was a breeze. I consider these young players the new batch of musical pioneers. Playing music with young players keeps me on my toes, relevant in the genre, and pushes me to grow as a player. I believe that the natural limits of playing acoustic music is presently being forged into new shapes sizes and colors. We have have only scratched the surface and I feel right at home being a part of it all.
JED: I really appreciate your optimism and good energy for the future of the music. It is refreshing to see someone from a generation before have such a positive outlook for the future as opposed to a "now-back-in-my-day" approach.
Being any part of new musical intelligence and playing with these younger musicians keeps me relevant and on my toes.
JED: What are you currently working on?
Still doing lots of live shows with Dangermuffin, Thomas Cassell Band, Dream Catcher and the Tellico Band. I recorded with Tray (aka "beef") Wellington in November for his solo record "Uncaged Thoughts." The Thomas Cassell Band is gearing up to record some new tracks and shoot some videos. Tellico has recording time for a new album in lined up for February. Dangermuffin is also working on all new material for an album this spring which we are super excited about. Then yours truly will be cutting a special Holiday record with all of your favorite jams plus some original material for 2020. I have a top secret, top notch band of hillbillies and hommies working on this project and its gonna be coming at ya live this spring. There will be a tour to support it and all that business.
JED: Well Johnny it has been great to catch up with you and chat. Thank you so much for taking the time to do this! Stop in again soon!