There are few people I've ever spoken to that can claim the musical heritage that today's guest can. Being a first generation musician, I've always found it intriguing to hear of my friends talk about growing up in a family surrounded by music, and to say that Jesse was 'immersed' in music would be an understatement. Today we're going to get a lesson in North Carolina music history and talk to the front man for the iconic bluegrass band The Lonesome River Band, Mr. Jesse Smathers. Jesse, thanks for taking some time to chat with me. Can you give us a little introduction to yourself?
Hey Jed! Thank you for the opportunity to talk a bit. I'm Jesse Smathers mandolin player, as well as, lead and tenor vocalist for the Lonesome River Band. I have lived my whole life in Eden, NC and early 2019 moved to Floyd, VA. That's where I currently reside. I also work part time (when not traveling with the Lonesome River Band) at the legendary bluegrass and old-time record store County Sales.
JED: Tell us a little bit about your beginnings. Your origin story, so to speak. How did you get into music, and what made you choose this path over others?
Growing up, music was always the biggest part of my life. It was always there. My grandfather, Harold Smathers, and grand Uncle Luke Smathers, recorded for June Appal and were awarded the North Carolina Folk Heritage Award in 1993 for their contributions to North Carolina Folk Music with the Luke Smathers String Band. Based out of Haywood County, NC, they played a very neat mix of acoustic music compiled of old-time, western swing, and pop songs from the 20's. They called it 'Mountain Swing.' So growing up I heard a lot of their music, as well as my Dad's band. My dad worked at Rockingham Community College in Wentworth, NC and formed a band called 'Campus Tradition' with some other musicians who worked on campus. Dad also played at local jams and nursing homes so whenever he went out to play I always went.
When I reached the age of 10 or 11 I started to take major interest in playing guitar; more than just strumming open strings. Prior, my dad would keep a cheap one tuned up and on a stand every day, probably hoping for the day I would seriously want to learn. One day I asked him to show me some stuff. He showed me my first few chords and it was on. I was hooked! Growing up I had some great friends who were pickers around town and that also gave me an opportunity to learn and listen, no matter the genre. I always have just gravitated to anything authentic in whatever genre. My parents always made sure I was exposed to fiddlers conventions and festivals. I would roam around in the mud at Galax Old Fiddlers Convention, the Charlie Poole Festival in Eden, where I grew up. I just had numerous opportunities to be around music.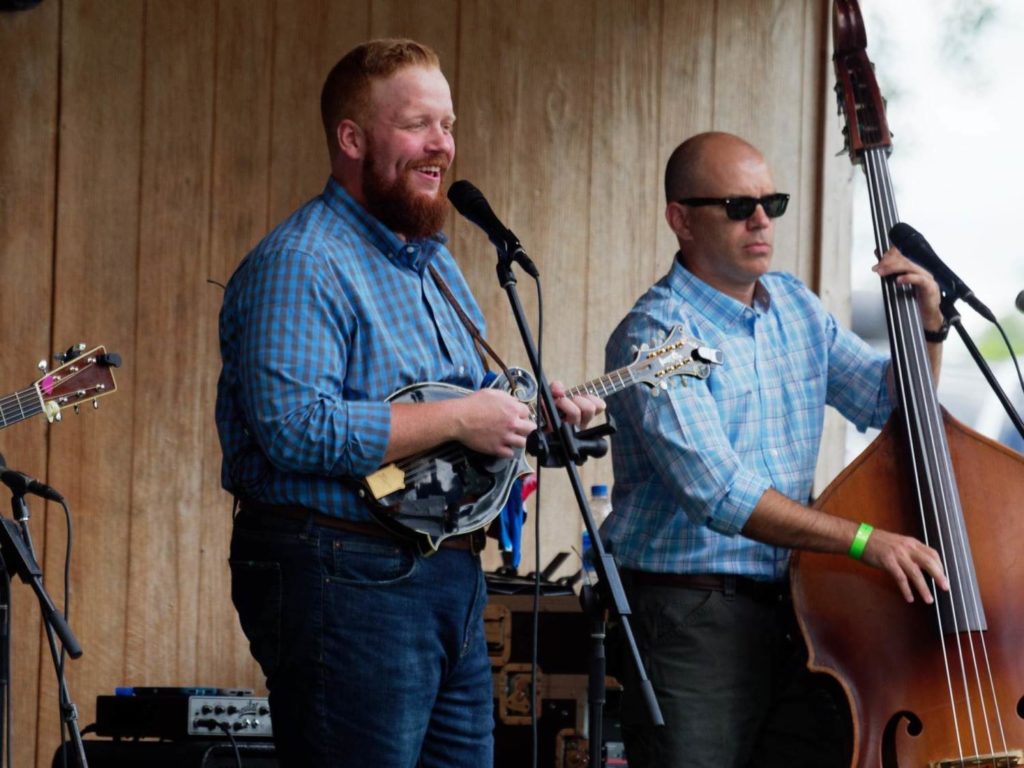 JED: Wow man. I had no idea how far back your family's history in the music went. It sounds like you couldn't escape the music even if you'd tried!
Yeah, music has always been a huge part of my family. I played a lot of music with my dad growing up, but wish every day I could have played with my Grandfathers band (The Luke Smathers String Band). He passed when I was very young. I feel like the sound of their band is kinda ingrained in my being though it was before my time.
I remember my folks taking me to several bluegrass and country music concerts as a child. At a young age, I got to witness the great Porter Wagoner perform at The Grand Ole Opry. When I got older I introduced myself to Dave Matthews, the Allman Brothers and Eric Clapton, Van Halen and AC/DC. But one thing that really stands out in my head as one of the earliest life changing moments was being able to see Lonesome River Band with Tony Rice in Reidsville, NC.
JED: Oh man I bet that was a really cool show. That didn't happen much did it?
Nah, I don't suppose! It was pretty epic to witness all these different concerts. It had a huge impact on me growing up. Things I will cherish forever that definitely molded me as a singer and musician for sure. I can think back to all of the NUMEROUS impactful moments and don't take any of them for granted.
JED: You know man it is one thing to be exposed to a diverse spectrum of music, but the fact that you find a way to gleen something from those individual musical influences says a lot about your openness. I really respect your appreciation of the different musical influences that you've been exposed to.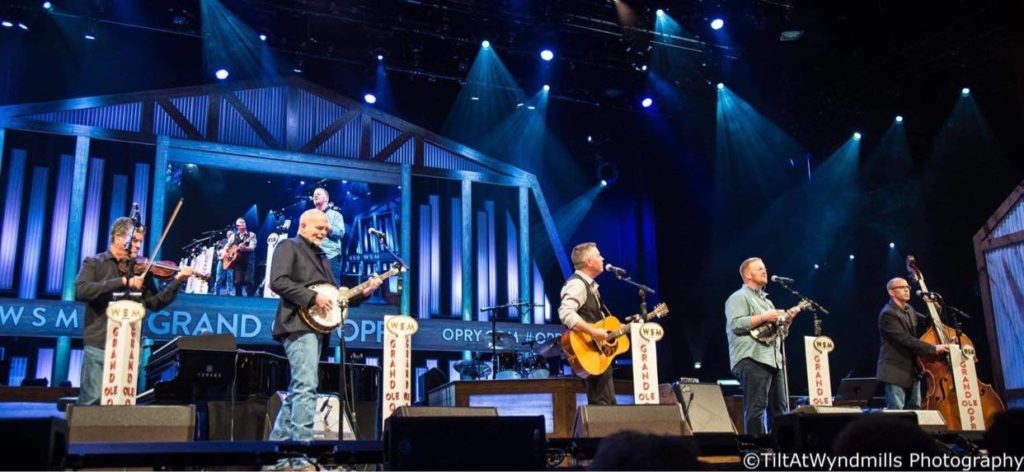 It sure molds one as a musician to keep that open mindset. I'm constantly being molded and influenced. Music is all changing and is very subjective, and even though there may be a genre or a style I may not care for, I still will find SOMETHING I like about it and can learn from it. Just as long as it stays authentic to that style. I wouldn't say I am a traditionalist, but I want things to be authentic and people to stay true to themselves and whatever genre they choose to perform. That's something that I've always admired in other musicians and something I strive to do myself. With that being said though, I have never wanted to copy someone. To paraphrase Tony Rice once said it's about finding your own "Musical Identity."
JED: That's my ultimate goal.
When I graduated high school and got into college, about a half a semester in I got a call from James King to be the mandolin player and tenor singer in his band. He offered me the job straight up. I didn't own a mandolin at the time, yet, was very familiar with his music. I was able to borrow a mandolin from my friend Wade Cox, who has now passed, and learned all I could from the stack of CD's James gave me. I was no doubt faking the mandolin, learning all I could in a short amount of time. I remember seeing James at Wayside Park in Stuart, VA numerous times during my childhood. I was even able to jam with him at Galax Fiddlers Convention during my teen years. I was going to college with the hopes of being a school teacher, but the opportunity called and I just couldn't pass it up.
Sometime in the Fall of 2010 is when my career as a musician started. James taught me a lot about the road. Sometimes what to do, and a lot of what not to do, but he was always very kind to me. I remember soon after I joined we went on a twenty-one day run to the west coast. To the best of my recollection we left Summersville, WV and drove non stop to Sparks, NV. That was a 36 hour trip, non-stop, in a mini-van.
JED: DUDE. 36 Hours . . . non-stop . . . that is the most bluegrass thing I've heard in a while.
There were Little Debbie cakes and Coke cans, and fast food bags piling up on the way out there. By the time we got back you could have taken a shovel and cleaned that van out. I was green as a gourd and that for sure was an eye opener. After looking back I wouldn't change it for the world. He is one of the greatest lead singers I have ever stood beside. I miss him dearly. But yeah…. It was definitely Bluegrass. From there I went on to play guitar with the band Nothin' Fancy for a year and a half, then on to playing the mandolin and singing with Lonesome River Band, which is a dream come true. I grew up listening to that band, and filling the shoes of some of my heroes who have come before is such an honor.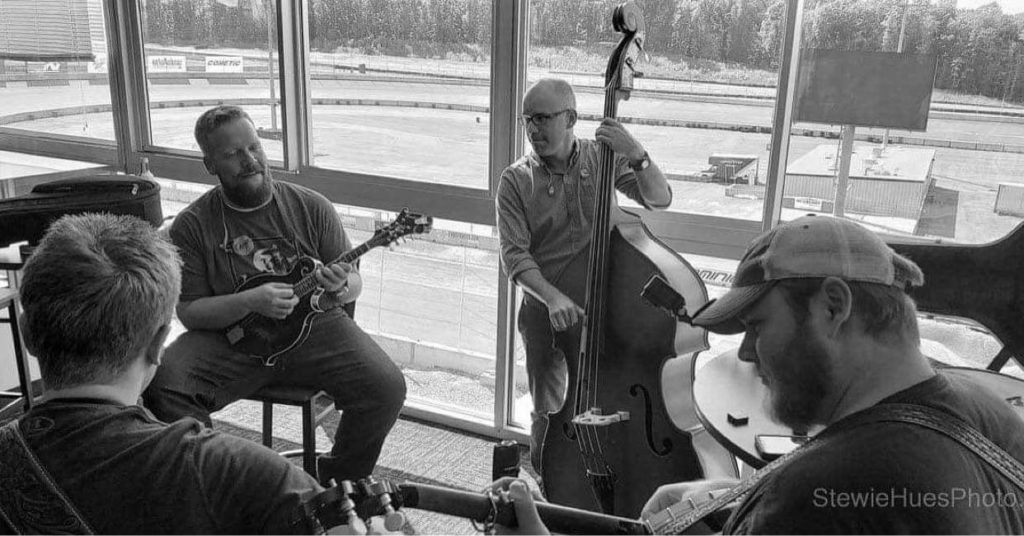 JED: That is so cool that you've been able to play for a band you watched growing up. That is quite the "full circle" experience. Man what are your favorite 5 albums, and do they influence your work? If so, in what ways?
This is always such a hard question for me to answer when anyone asks. I always hate to leave stuff out that has had a huge impact on me. I sure will give it my best shot though.
Tony Rice Plays and Sings Bluegrass – I can't pick a favorite Tony Rice album; they are all my favorite. I do remember my dad having the cassette of this when I was younger and me wearing it out. The attack of this record and Tony's gritty and soulful singing and playing just captured me. The way he drove Bill Emerson's banjo with his rhythm. Also I love to always hear Tony's vocal phrasing and interpretation. Though there are many vocalists I love, Tony will probably always be my favorite singer in ANY genre. It had a huge impact on me. Galveston Flood and Thunderclouds of Love….nuff said
Lonesome River Band (Carrying the Tradition) – That album all and all probably has molded me the most as a Bluegrass player. I feel like when that album came out (before I was born) that it totally changed bluegrass. How it was played and sung. The driving rock and roll like down beat and Tim Austin's rhythm guitar playing backing up Sammy's groove. Sammy has the best way of feeling timing. He sometimes plays on the front edge of the beat, and on the back of the beat. Sometimes he is right in the middle. He has such a flexible banjo roll. He is a true stylist and as a player, that's something that I strive to do. It makes it so much fun to play with every weekend and is a true dream come true.
Eric Clapton (One More Car, One More Rider) – I always dig this album out when I want to hear musicianship at its finest. Nathan East on Bass and Steve Gadd on Drums is the epitome of a groove in my opinion. And Billy Preston may be one of the finest musicians that ever lived. There aren't any words to describe the excellence of Eric Clapton. This CD came out in the early 2000's and I would be lying if I said I don't turn into a big goober every time I hear it. I have had the pleasure of seeing Clapton a couple times, and he always carries the best band with him ever but I think this album really captures what a live performance should sound like. The song selection, the overall mix, and the musicianship is just second to none.
Del McCoury Band (Cold Hard Facts) – To me Del has just the coolest material there ever was. This album is just a good example, but I encourage anyone to listen to every single album he's ever recorded. He is Bluegrass royalty to me. Whenever Del sings something, just like Sammy, he is a true stylist, and true to himself. It doesn't matter if he is singing "Love is a Long Road" by Tom Petty or singing harmony on a cover of U2 (In The Name Of Love from Dierks Bently's "Up On The Ridge"), he stays true to himself and what he does the best. Like fine wine, he gets better with age, and honestly, he makes everything he sings on better. Listening to any Del record can make a bad day turn good. Del McCoury everyday keeps the doctor away.
Skaggs & Rice – I have always appreciated a less is more ideal when playing and singing in any genre. It's all about the feel. This album captures that perfectly. Ricky Skaggs is just the GOAT.
JED: Which part of your music career do you enjoy the most – live performance, recording, writing, etc.?
I have some dear friends here near Floyd I love collaborating with, and would love to do some more collaborating with other great musicians and writers, but have always been very reserved about writing.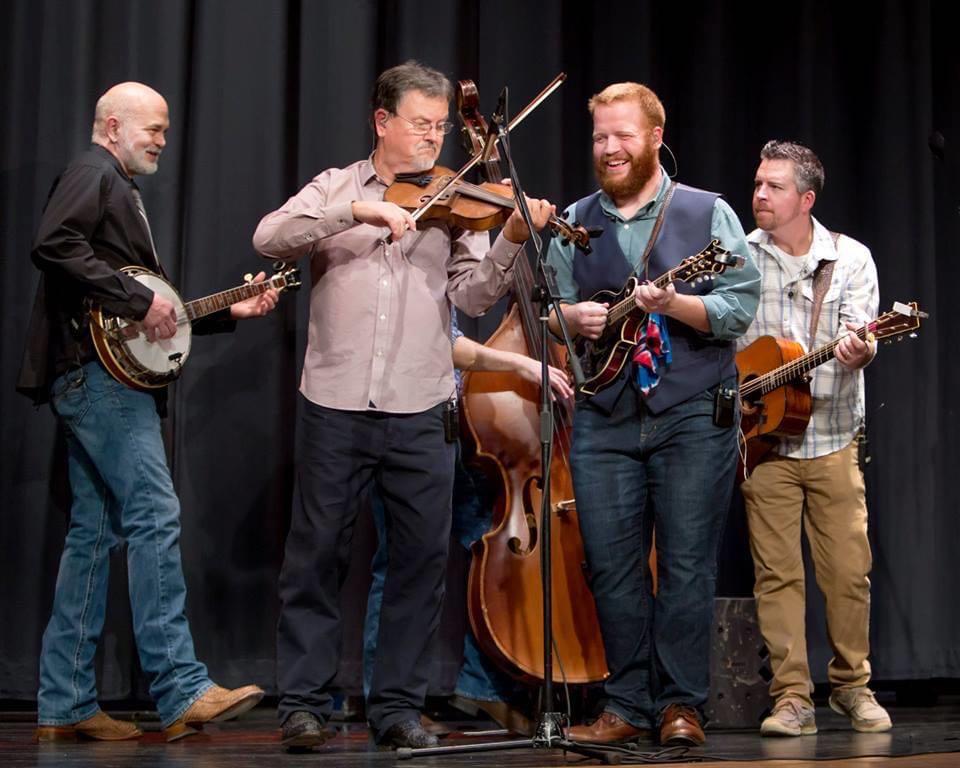 JED: Writing is one of the hardest literary endeavors I've ever faced. It is amazing how difficult putting thoughts to song in a catchy way can be.
Yeah man, I get very nervous. My favorite part of the career is by far performing. I try to give everything I have on stage, whether it be singing, playing, heck I may even dance a jig while I'm up there. I love recording too, and always find myself to be more creative in the studio trying to branch out, but performing live is where I have always found a comfort zone. I feel and give so much while I'm up there.
JED: What are three musicians today do you think are underrated or deserve more notoriety for their art?
It's hard for me to narrow it down to a certain number. There is so much talent I respect and admire that has never gotten it's due.
Tony Mabe who sings and plays banjo with The Junior Sisk Band. Tony is one of my dear friends and one of my all time favorite musicians. He can wear out anything with strings or keys.
Heather Mabe who also sings with The Junior Sisk Band, and plays rhythm guitar with him. Heather is married to Tony and the two have been great friends to me over the years. Heather is my favorite female vocalist in the world. I have seen her share the stage with Alison Krauss, and Suzanne Cox. She Takes a backseat to NO ONE!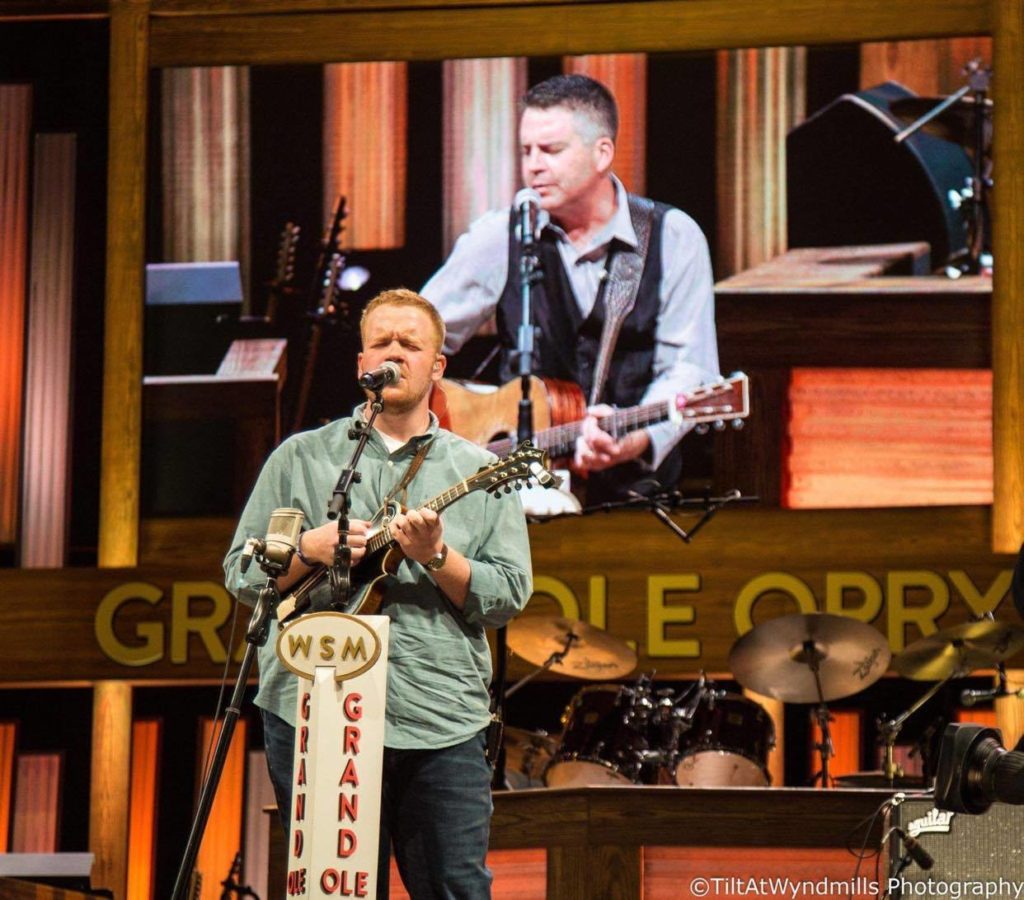 Johnathan Dillon plays Mandolin with The Junior Sisk Band. I have known Johnathan since I was in high school. He is another who can shred on any instrument, and he is one of my absolute favorite musicians. He can drive the crap out of a bus too!
Brandon Rickman, my bandmate, and singing partner in the Lonesome River Band is so deserving of so much. His singing is incredible, and is such a powerful rhythm player. He knows how to push and pull with a banjo more than any rhythm player I believe I've ever heard. His songwriting is second to none as well. He has written parking lot jam favorites like "Rounders Spirit" and even great country songs. One of his most recent songs was a song recorded by a great new band, The Red Clay Strays, the song is called "Good Godly Woman." It's a super solid track and actually was featured in the new movie 'Doctor Sleep' (the sequel to 'The Shining').
Barry Reed (bass player for the Lonesome River Band), is such a versatile musician. He is one of the best bass players on the circuit. Before shows he can be heard practicing complex jazz songs, or even playing along with Chaka Khan.
JED: Tell us a little bit about your current rig – what does your "rig" consist of? What instrument(s) do you play, pedals, mics, etc.?
I play a Hinde mandolin made by Steve Hinde in New Hartford, Iowa. I think that Steve is one of the best builders in the world, not only at building mandolins, but guitars, mandolas, and electric mandolins as well. I've never played an instrument of his I didn't love. Along with the mandolin, I use a DPA-4099 wireless mic. It really helps produce the tone of the mandolin, as opposed to plugging in. When singing, my vocal mic is a Peluso PS-1. Peluso Mic's are all hand wired here in Floyd, VA. John and Mary Peluso assemble them along with Chris Newit. It's a small family-run business in Floyd VA. A lot of modern bluegrass has been recorded with their mics. I personally don't think there are any better. Most all of the next LRB project will be recorded with Peluso mic's.
On guitar I play a 98' Collings D-2H and a 53' Martin D-18 when I do select gigs on the guitar.
JED: If you were given an unlimited budget for an album production to record your dream album, what would it look like?
Well I have the musicians picked out, and most of the song ideas as well with the hopes I'll get to do one in the near future. I definitely have hopes. I would keep it a driving 5 piece bluegrass band, and just try to make it authentic to what I have always loved and hope that it touches on what has always influenced me over the years.
For cover art, I've got some friends who are great talents at drawing and painting. I've got an idea of who I think could do a great job. I would just want something simple, kinda like myself.
JED: You're one of the first people who has mentioned design work on their "dream album." I like the fact that you've actually put thought into that aspect. Do you have any plans to record something like this in the near future? I'd usually ask who you'd want on the album, but seeing as you've got something cooking I don't want to spoil the surprise.
2020 I am surely hoping to get a solo record. It's just a matter of getting it all organized. I am very excited for it to come together though.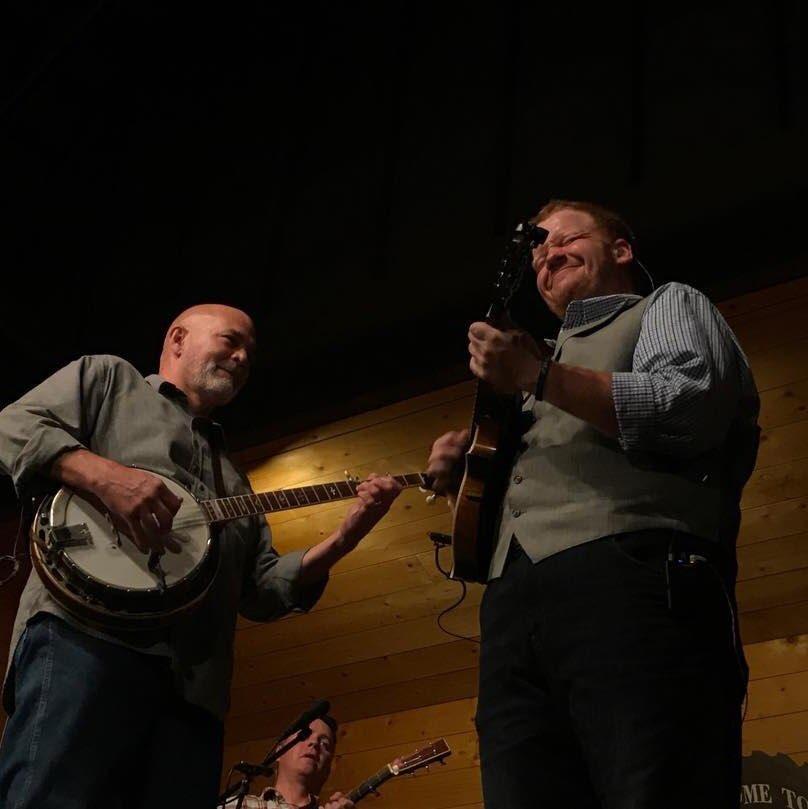 JED: What is your favorite album or recording that you've made to date?
My favorite would have to be Lonesome River Band's – Mayhayley's House That album was nominated for Album of the Year in 2018 by the IBMA.
JED: Why is that one your favorite?
I really appreciate the song selection on that album. It was well received. The new albums we are working on though, WILL be my favorites though. I can't wait for those to be heard.
JED: What are you currently working on?
Along with refining my plans for a solo record in the future, Lonesome River Band has been in the studio completing two records. We have been working on a secular record as well as an all gospel record. In all the years the band has been, LRB has never done an all gospel record. I'm most excited about that. It will consist of songs all written by the Easter Brothers.
JED: Well Jesse it has been great to get to talk to you. Thank you for joining us and telling us a little bit about your story. Please keep us updated on the release of the next LRB album and let us know if that "dream album" ever comes to pass; we'd love to hear it.
Stay in touch with Jesse on his Instagram, and Lonesome River Band's Instagram & website.