Today I have the pleasure of getting to sit down with the Italian transplant Ms. Cristina Vane. Cristina moved to Nashville from L.A. last year in October. Since she arrived she's been working diligently to get her music in front of Middle Tennessee's devout music lovers at places like Dee's Country Cocktail Lounge, The Post 82 Legion, and 5 Points' beloved 5 Spot. Cristina tell us a little bit about yourself.
My name is Cristina, and I live in Nashville, Tennessee. I am a singer, guitar & banjo player, and songwriter. I also work at a local guitar shop in my spare time.
JED: Tell us how your musical story began. What made you decide to play music?
I have been told by my parents that they heard my warbling away in my crib from a pretty young age, so I think singing has always been a natural form of expression for me. My dad and sister loved to sing too, I feel like I spent a lot of time singing along to things and doing little impromptu concerts for family until I picked up the piano at 6 or so. My childhood was rife with music, but I didn't think I wanted to be a musician. I sang in choirs for most of my schooling, and discovered guitar around the age of 13. I was more interested in playing classical flute music at the time so guitar wasn't a big priority at the time…but then I wrote my first song in high school and realized I could combine my love of poetry and music together, and that it was a hell of a lot easier to write on a guitar than on a flute! It sounds like a big sugary cliché but I genuinely chose to pursue music professionally because it is one of the only things that consistently makes me feel better – even if I feel terrible. At least while I am playing or performing I don't feel that way temporarily, and in fact I often feel slightly better after. I wasn't sure my other passions would endure in the same way music and writing have.
JED: Tell us about some of your favorite music. Who are some of the people who've influenced your sound the most?
This questions is pretty difficult for me. Right now some of my favorite albums are just compilations of legendary performers like Skip James, Blind Willie Johnson, Hank Williams, etc. I love the RCA Victor Women of the Blues compilation a whole lot too. I listen to a lot of vinyl and it's pretty hard to choose. Jake Xerxes Fussell's self titled debut from a few years back is an amazing record that I hugely enjoy too.
JED: Which part of your music career do you enjoy the most – live performance, recording, writing, etc.?
I enjoy touring right now a great deal. Meeting new people and playing for them feels like I'm doing the footwork for my cause, almost, like I am converting them to my music. That kind of became my goal, whether its 2 people in a cafe or a rockin room somewhere. The kindness I am shown on the road is special, and every time I leave to "work" on tour, I come back with experiences that have made writing really fun of late too. Those are the two big ones for sure.
JED: Who are some musicians you'd like to see get more recognition for their work?
Sunny War, Jake Xerxes Fussell, and J. J . Cale (sorry he is dead but still SO underrated/little known). Sunny is from LA where I used to live and she is a virtuosic guitar player, she plays "clawhammer" or I think what is more accurately described as a two finger guitar style where she just uses thumb and index. She's totally rad. Jake Xerxes Fussell is the son of a musical anthropologist and I have yet to find someone who didn't enjoy his record when I put it on. He blends old time verses and ideas from standard folk traditionals of American history with his own writing and style. Love him! If you don't know J.J. Cale, well, you probably DO know him and just don't know it. He wrote many songs that Clapton (and others) made famous- Cocaine, Call Me The Breeze, After Midnight and always retained his signature Tulsa laid-back sound. He is a total genius of songwriting and creating a mood.
JED: Tell us about your guitar. What d'you play?
I play a custom National Resophonic single cone resonator. It's a steel Resorocket with a cutaway, and I go through a Blues Jr.amplifier. I run a small pedal board: I have the JHS Butch Walker Ruby Red double drive pedal, a Diamond tremolo TRM-1, and sometimes ye olde Boss Blues Driver just to have it as backup. I endorse Pighog cables because they're blue (first of all) and also they last forever – stomped on them for years now.
JED: If you were given $100,000 to spend on an album production, what would it look like?
…I mean if I HAD do spend all of it on the one album I supposed most of it would go to flying in/accommodating/compensating the musicians I'd want on it. I'd love to go back to Peter Gabriel's Real World Studios just outside Bath, England. I did an EP there once a while ago and it was totally magical! Two days was not enough. That being said, I suppose with that big of a budget I could convert some really inspiring place (like Taos, New Mexico or Durango, Colorado) into a studio or rent out some cool building like rock bands on big labels used to and just take it over for months. That would be pretty cool.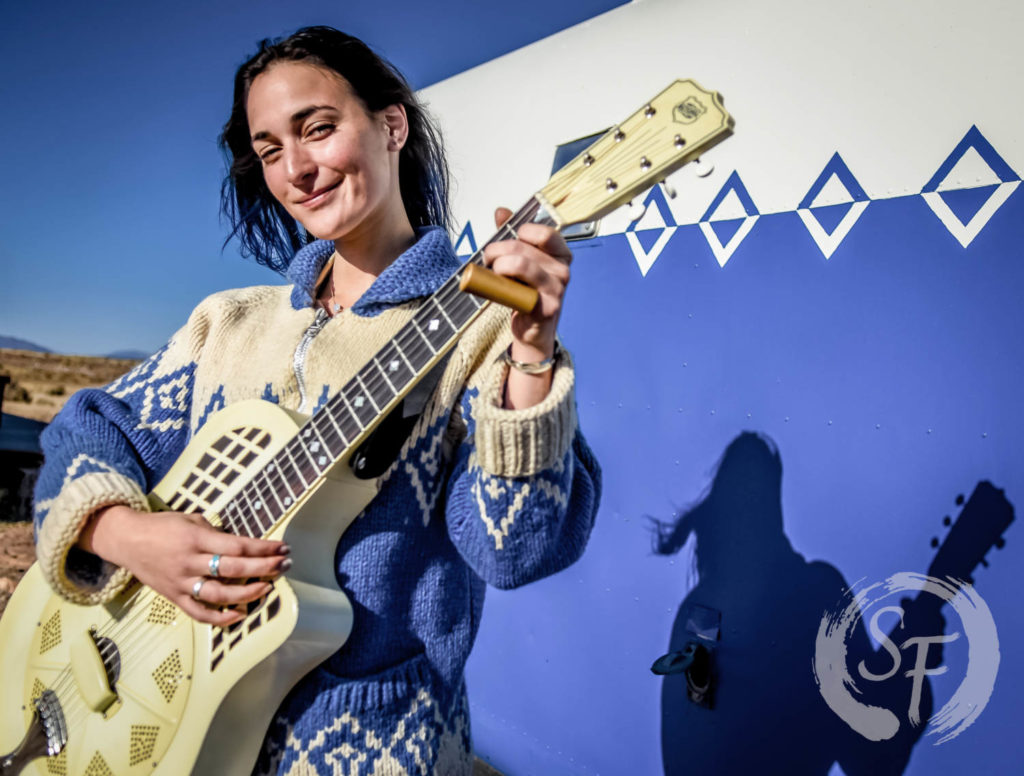 JED: What is your favorite album or recording so far that you've made?
I just finished up my first full length album and I am proudest of that so far, which is maybe common for artists to like their latest stuff most. I had Cactus Moser producing and drumming, Tommy Hannum on steel, Nate Leath on fiddle and Dow Tomlin on bass, and Rodney Dawson engineering the audio. They are all so talented and were so eager to help me turn the sounds I had in my head into actual songs. It'll be a little while before it comes out but I'm very excited about it.
JED: Will you pretty please tell us when you're fixing to release it?
Well I'd honestly love to! I have a lot of really awesome patient and generous fans who have funded half of this record, so they want to know too! The reason it is unclear is that we are shopping this record to several different agencies and labels, and this takes a good amount of time. However, within the next month or so I should definitely have an idea of what it's fate will be!
JED: What are you currently working on?
Mostly working on getting this record out and into existence, and touring next year! Right now I am also working on some fundamental guitar technique stuff, some western swing, and basic jazz theory. That's all new to me- and I'm always trying to continue working on fingerstyle guitar, bottleneck slide and clawhammer banjo. I just have a pretty strong desire to work on my technique and skills as a player since I made the move to Nashville, and that takes a lot of work on the side of trying to make and promote original music. Patience is key! Also I'm really excited about a show I'm playing on December 19th at the 5 Spot with Chris Scruggs, Kenny Vaughn, and Mallory Eagle. Y'all come hang!
JED: It is a job you never 'clock-out' of. Cristina thank you for taking the time to chat with us! Stop in and say hi again soon.