I met Christian when I moved to Nashville for the first time in 2011. He and I lived in "Flatrock" – two rent houses situated about 100 yards from each other in a rural lot a few miles outside of Murfreesboro TN. Those two houses were home to Jake Stargel, Cory Walker, Cody Martin, Austin Ward, Jarrod Walker, Austin Wilder, Christian and I. Jake had his studio set up in one of the houses and we had some amazing jams and recording sessions there. Christian, for our readers who haven't met you, tell us about a little bit about yourself.
My name is Christian Ward. I'm from Apple Valley, California, and currently live in Gainesville, Florida. I play fiddle, teach, record, and write. My current band is called Medicine Springs, but I do a lot of freelance work as well.
JED: What got you started? I know you have familial connections to this music but what made you keep going with it?
I started playing Suzuki violin when I was nine. My stepfather, Eric Uglum, is an excellent bluegrass guitarist and singer, and he was a huge influence on me when I began to study fiddling. He showed me what to listen to and what to strive for in my playing. My mom is also a fan of bluegrass, and she was really great about getting me involved in everything she could. After about two or three years of playing, I didn't really think twice about not pursuing it. I was having too much fun with it to consider doing anything else.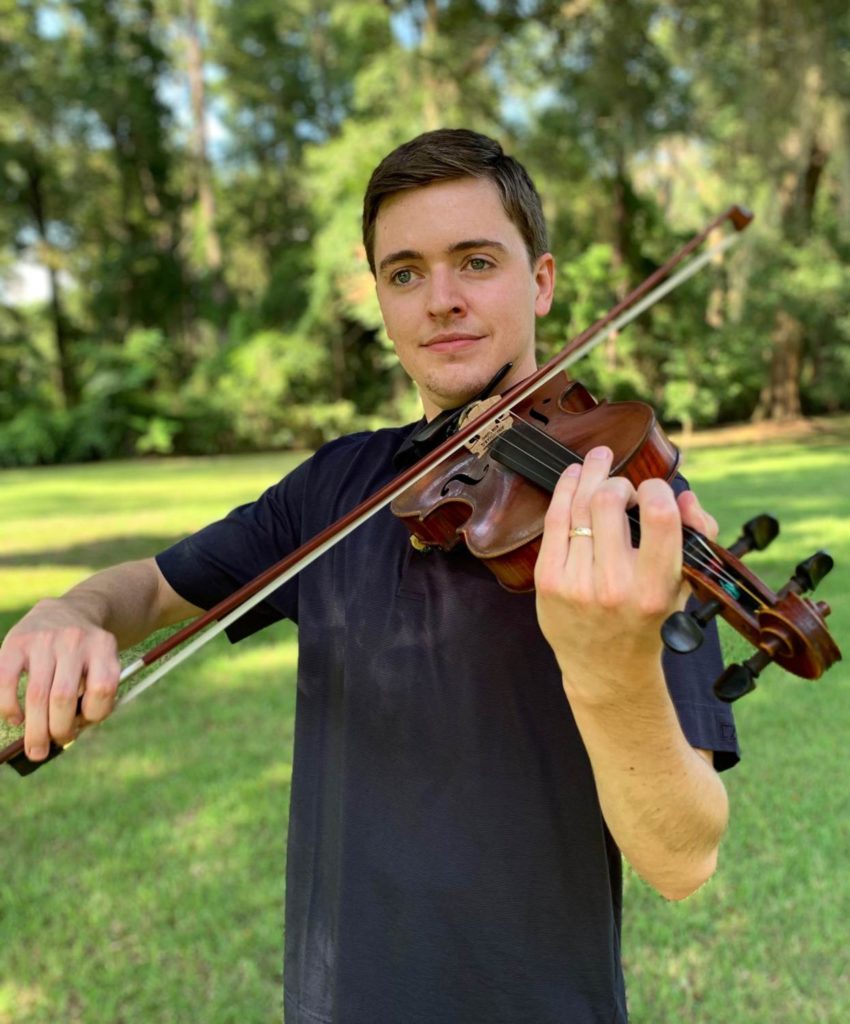 JED: What are your favorite 5 albums, and do they influence your work? If so, in what ways?
In no particular order:
1. Nashville Bluegrass Band – Idle Time
NBB initially drew me in more because of my interest in the fiddle. I'd say Stuart Duncan has had the most influence on my bluegrass fiddle playing, and his work with the band showcases his super tasteful backup. I also really love how Alan O'Bryant sings and the the songs that the band picks. The overall style is a really compelling balance between modern and traditional bluegrass with an old-time flair. No other band has really ever sounded the same.
2. Townes Van Zandt – Delta Momma Blues
I find myself coming back to Townes' material as sort of the benchmark for what a song should be. He's got so many songs that seem fairly simple at the outset, until you sit down and try to write something in the same vein. It's extremely difficult to write as simply as he does and to make it resound in a unique way. This album has so many great examples of that.
3. Radiohead – OK Computer
I began listening to Radiohead about eight years ago and it really changed the way I listen to music. It's music that seems to defy any genre classification, and the approach seems to be concerned with exploration more than anything else. There's a lot of variety in the way the songs are structured, but there's also a cohesiveness that ties the whole thing together—lyrically and sonically. I think this album captures a lot of the anxieties that hang out below the surface in modern life. It's aged well too.
4. Svend Asmussen – Musical Miracle, Vol. 1: 1935-1940
This was the first recording of Svend I checked out, and it really inspired me to go beyond bluegrass. I can trace a lot of my interest in jazz fiddling back to hearing Svend for the first time. His lines can provide a great bridge for fiddlers who want to have more color in their playing. Jazz has always been easier for me to interpret when it's played on an instrument I know, and that's where Svend's recordings have been really helpful and inspirational.
5. Bob Dylan – Bringing It All Back Home
Like most songwriters, there was a period of time where I was pretty obsessed with Dylan. I just couldn't believe how great the songs were. They also helped me understand how open-ended the possibilities are when writing a song, even if it's still technically in the folk or blues tradition. A song can start one place and go somewhere completely different. I think Dylan's respect for roots music has allowed him to take the kind of leaps he has and move the tradition forward. In a musical sense, but also in a literary sense too.
JED: Which part of your music career do you enjoy the most – live performance, recording, writing, etc.?
It depends. Right now I'm really enjoying the writing process—from the initial inspiration to the stages of revision. I enjoy recording and performing more if I feel the writing is strong. It all kind of hinges on that, and the process is mysterious. What works one day doesn't work the next. I think that's what keeps me coming back to it. You get better at it, but you never come close to figuring it out.
JED: What are three musicians today do you think are underrated?
That's a difficult question. There are so many musicians who might fly under the radar in terms of commercial success but are very well-respected by other musicians. I think Chris Henry is one of the best mandolin players out there. He writes really intriguing stuff and understands authentic bluegrass on a very subtle level. He's a dynamic performer too. Bryan McDowell is phenomenal on multiple instruments. In particular, I've always dug his fiddle playing. He's super smooth and tasteful, and his improvisational ideas never fail to surprise me. Gaven Largent is one of the most natural players of my generation that I can think of. On both banjo and dobro, he has a really effortless feel and an old-school approach that I like a lot.
JED: Tell us a little bit about your current rig – what does your "rig" consist of?
Most of the time I play a German factory fiddle from the early 1900's. It was re-voiced by Royce Burt and works great as a bluegrass fiddle. I use an Emile Dupree bow, but I have a couple of Coda bows that I use as well. I've been exclusively playing on D'Addario Helicores for years now. My back-up fiddle was made by Robert Glier in 1894 and re-voiced by Stuart Duncan. It's a great instrument that belonged to Randy Scruggs and had been in his family for some time. Maybe Earl played it at some point. Who knows? When I plug-in, I use an LR Baggs pickup and run a Fishman Aura through a Fender Acoustasonic amp. The main guitar I use for recording and songwriting is a 60's Gibson Lg-0.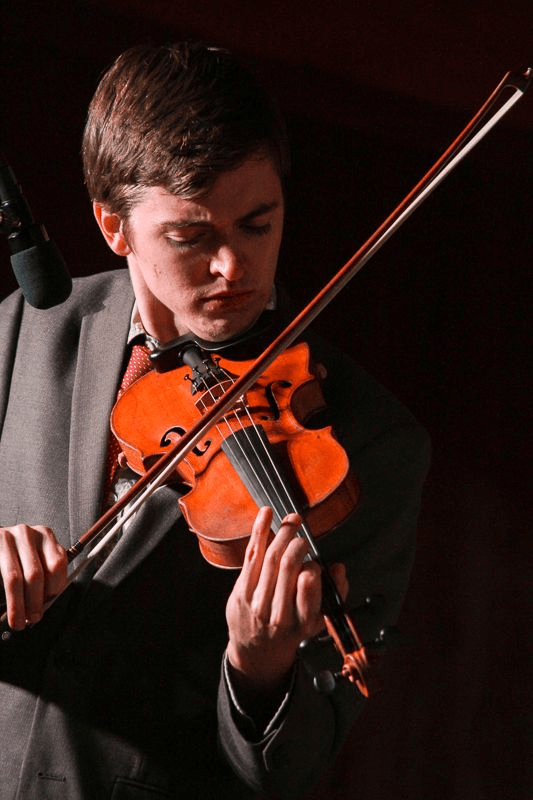 JED: If you were given $100,000 to spend on an album production, what would it look like?
Probably similar to what it'd look like with a quarter of that budget! I really enjoy being able to track live with a group of core musicians. You end up with a project that has a lot more personality that way, rather than having a bunch of special guests on every song. There are a ton of musicians I'd love to record with, but I'd probably invest more in the atmosphere of the session than in trying to hire every "big name" musician that I could. In other words, I'd like to make sure the location of the session was ideal, and that everyone involved felt comfortable offering their own creative input.
JED: What is your favorite album or recording so far that you've made?
Probably the recordings I made with Chris Stuart and Backcountry. Chris is such an awesome writer, and I felt like I had a lot of freedom in how I arranged my parts. I have yet to put out my own album of original material, but that's definitely in the making.
JED: What are you currently working on?
I'm writing material for an eventual record or EP. The trouble is that the more I write, the more I want to toss the old stuff out. The record will most likely have a folk/bluegrass core, but I'm open to other directions it could go. I do want it to be at least ninety percent original though. I have musicians in mind, and I know where I'd like to record. I just need to consolidate my songs, and come up with a budget, of course. Unless something was being implied by that question about 100k…
JED: Ha! If I had it to spare I'd definitely help put out a Christian Ward record :D. Man, I am really glad you were able to join us for a bit and chat. Thanks for your time and thoughts. Let us know when your EP is getting ready to come out! Till next time!