Hey Sav! Thanks for making some time to chat with me about your music and your story. Tell us who you are, what you do, and where you're located?
I'm Sav Sankaran, and I'm an upright bassist and vocalist with the NC-based bluegrass band Unspoken Tradition. I previously toured extensively with The Dixie Bee-Liners, among others. I live in Asheville, NC.
JED: Tell us a little bit about your beginnings. Your origin story, so to speak. How did you get into music, and what made you choose this path over others?
I was classically trained from a young age and explored a lot of genres, but always held old-time and bluegrass close to my heart and chose to focus on it. I'm a first-generation American, born into a family of Indian immigrants. For me, being born and raised in Appalachia and having ownership over its culture is as formative and important to me as my family's Indian heritage and culture. I was always trying to balance my parents' culture with my own. I think that's what drew me to bluegrass and old-time music – it was a music of identity, of MY American identity. By learning it and playing it I could assert my ownership over my country, and develop a sense of belonging.
JED: What an interesting perspective man! You're the first musician I've interviewed who is a first-generation American. That is a unique blend of cultural influence. What are some of your favorite albums, and how do they influence your work?
My music taste is so eclectic; that's a loaded question that could probably be an entire standalone interview! I'll just mention a couple that have been formative for me as it pertains to bluegrass. One that stands out for me is Bob Paisley & The Southern Grass' "Live in Holland." I have proclaimed the gospel of The Southern Grass over the years to anyone that would listen. To me they were, and continue to be, the gold standard for what I think a "traditional" bluegrass band should sound like. Another really influential album for me was Blue Highway's "Still Climbing Mountains" from the early 2000s. I have always loved their stellar song choices, pristine arrangements, vocal prowess… you name it – they've got it. I think they set such a good example of how to establish a "band sound;" how the whole is greater than the sum of its parts.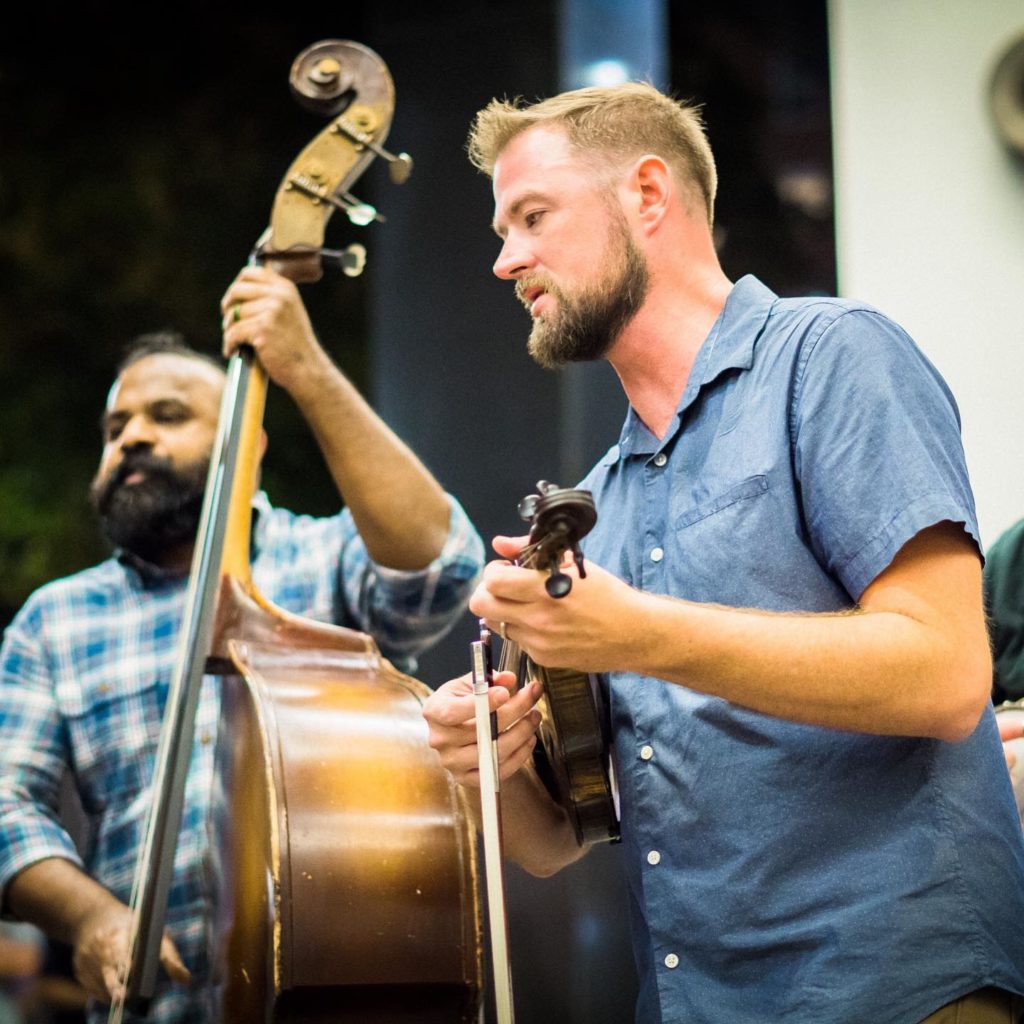 JED: A huge part of Blue Highway's sound to me has always been Tim Stafford's writing.
Yeah, I love Tim's songwriting, too! I feel like their storytelling is such an integral part of the sound they've crafted; you almost can't separate the band from their catalog, which is a great problem to have.
JED: Which part of your music career do you enjoy the most – live performance, recording, writing, etc.?
I think for me there is nothing that rivals the simple act of playing music with other people. Whether that is in front of an audience or in my living room is immaterial to me – I think the thrill for me is to communicate with the other musicians in a shared dialect. I think that's another thing that attracted me to playing acoustic music – there is an immediacy and an intimacy to it that's intoxicating.
JED: Man I think a solid, low pressure, and quiet jam session is about as musically satisfying as anything else I could do. Jamming allows you to focus strictly on vibing with the other musicians. If you can get to where you can do that on stage, your show becomes magic.
Yes, exactly! That's always the goal for Unspoken Tradition; to create that sort of atmosphere on stage where the audience feels like they've been given an opportunity to just watch us enjoy playing music together. Obviously we try to play to the energy of the crowd, but the joy for us comes from what we can create together. That being said, I think under the current circumstances we are all missing the opportunity to play for a crowd!
JED: Who are three musicians that you think are underrated or deserve more notoriety for their art?
The first one that comes to mind falls outside the world of bluegrass: Western NC vocalist and songwriter Dulci Ellenberger of the bands Fwuit! and Cowboy Judy. She is one of my all-time favorite vocalists, and an incredible songwriter that has immeasurable depth. Her songs span the spectrum from silly ditties to songs with so much gravitas and substance.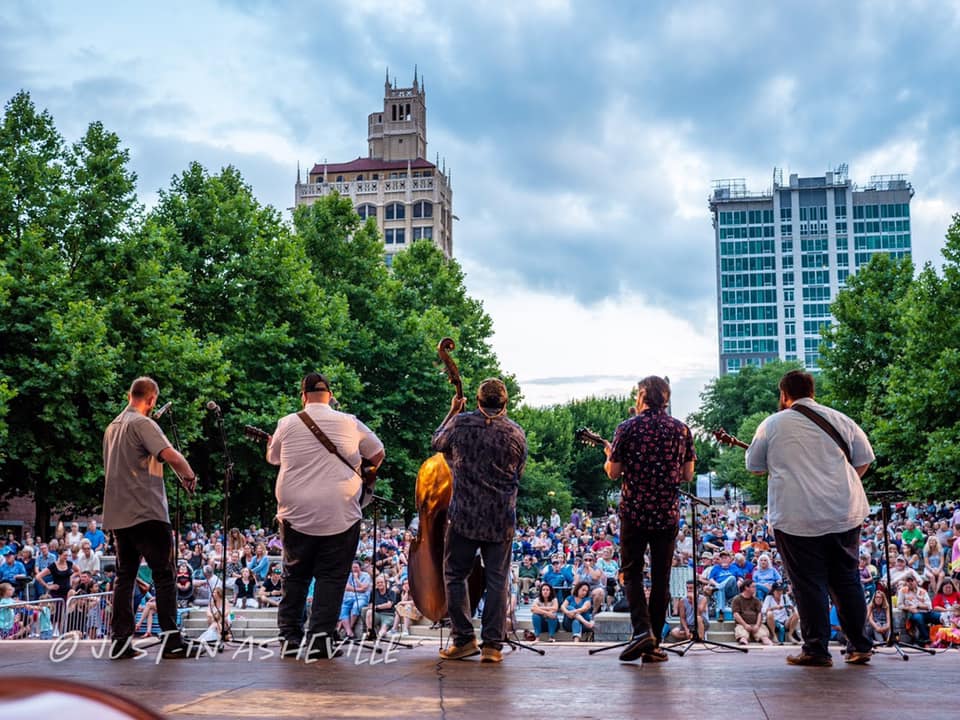 Another artist that I think deserves more recognition is the Alex Leach Band. It's not often a band that is ostensibly very traditional in style sounds so novel and fresh. I love his singing, as well as his banjo and guitar playing. Alex spent time in the Clinch Mountain Boys, and you can hear the influence of the Stanleys in his music, but it is uniquely his own. I was excited to see them sign with Mountain Home, the same label as Unspoken Tradition, so I look forward to a new release from them soon.
Gina Furtado has certainly been lauded for her amazing banjo virtuosity, but with her new band and project that came out last year, I don't think she gets enough credit as a singer and songwriter. I've always admired her banjo stylings, but I think her newest release shows just how multifaceted an artist she is.
JED: Tell us a little bit about your current rig – what does your "rig" consist of? What instrument(s) do you play, pedals, mics, etc.?
My primary bass is a 1949 American Standard.
JED: I've wanted to find an old Standard or King for a few years now. The few that I've been able to play sound amazing.
I absolutely love the way the old Standards sound; I think it's the quintessential old plywood bass- it's got great, resonant low end, just enough definition to avoid being muddy, and you can really dig in and get it to "thump." I tend to be pretty aggressive, particularly with my right hand attack, and more than any other bass I've had, this old Standard really responds to that and allows me to pull a lot of tone.
It was originally restored by the late Lonnie Hamer in Pennsylvania, and he built a great ebony fingerboard for it that has served me really well. It has an adjustable bridge made by Dustin Williams of Williams Fine Violins in Nashville. To amplify it, I use a Fishman Full Circle pickup which I then run into a Fishman Platinum Pro EQ, and an Acoustic Image Coda II amplifier.
JED: I use the Full Circle on my old Epiphone. I feel like it represents my bass very accurately.
I prefer Thomastik Spirocore medium gauge strings, although I have had success with D'addario Helicores as well. When I have to fly for gigs, I use an NS Design CRT Electric Upright bass, which I absolutely love.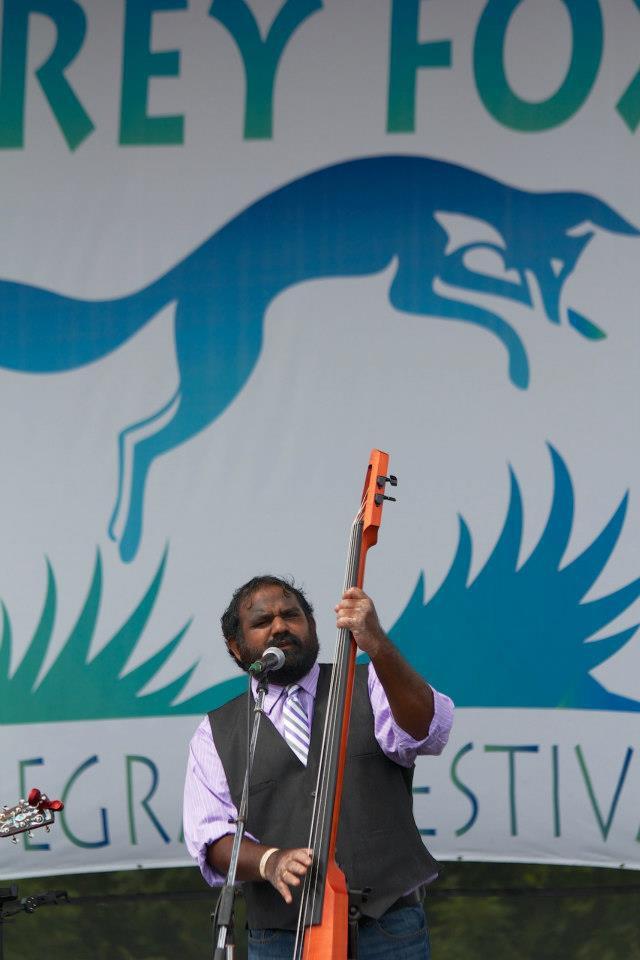 JED: Have you ever used the D'Addario Zyex strings? I used the medium tension strings and really liked them, but the E was incredibly "ropey." Like it was too loose and had no definition at all.
I tried them once very briefly, but higher tension strings have always been my preference. I think they offer a good balance of pizzicato and arco tone, because I do occasionally play with a bow as well. I've never played on gut, though, and I know that players who do like the Zyex for a more stable string that still approximates gut.
JED: Thats a good way to put it – like a more stable and "hard" gut tone. If you were given an unlimited budget for an album production to record your dream album, what would it look like?
I have had this lingering idea for years to write and perform a concept album that is inspired by my family's journey, sort of an exploration of the American immigrant experience through the medium of acoustic music. The way I imagine it is to have traditional musicians from different cultures collaborate and interweave the various styles of music to create something richer, denser – something that illustrates how our greater culture benefits from the contributions of so many varied individuals with diverse backgrounds.
JED: Dude – you should do that. That is uncharted territory with your name written all over it. What is your favorite album or recording that you've made to date?
Back in 2011, I made my first solo record, "Back to Bassics." I was lucky enough to get to record that project with some incredible musicians, including heroes of mine like Adam Steffey and Ron Stewart. It included some of my originals as well as songs written by Jon Weisberger, Charles Humphrey III, and Phil Barker, among others. It was my first attempt at making a recorded project that was solely focused on showcasing my playing, singing, and writing, and although there are some things I would have done differently – I'm really proud of it.
JED: That is such a satisfying feeling; to be able to look back at a musical project and say "after all this time, growth, change, and maturity I can still appreciate and be proud of that." What are you currently working on?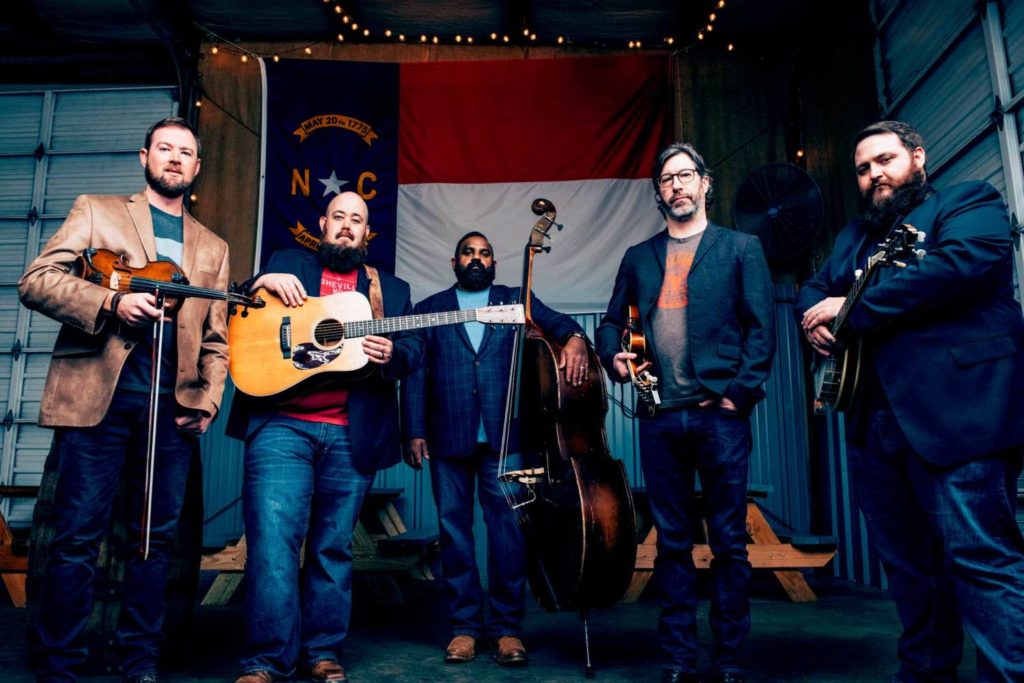 Unspoken Tradition is getting ready to head back into the studio soon to record some new music that will be out in the second half of 2020 and beyond. I'm really excited to share that music with y'all – it's gonna be great! I'm also taking on freelance writing gigs – artist bios, album press releases, marketing copy, features; I'm open to really anything that's music-adjacent in that venue.
JED: Well I'd imagine that if you're open to it it'll find it's way to you. Dude I really appreciate you taking the time to talk with me and share part of your story with out AcoustiCult readers. Keep us updated on the new UT album!
Follow Sav on his Instagram and Unspoken Tradition's Instagram, Spotify page, and website. Featured article photo by Sandlin Gaither.