Acousticult is excited to have Hillary Klug speaking with us today. She's seen some incredible success over the past couple years with her performances. Hillary, tell us a bit about who you are, what you do and where you're located.
My name is Hillary Klug, and I fiddle and dance. I'm Tennessee born and raised. I lived most of my life out in the country. 18 years in Fayetteville, Tennessee and 7 years in Lynchburg, Virginia. I moved to Nashville about 18 months ago, and I love it.
Tell us a little bit about your beginnings. Your origin story, so to speak. How did you get into music, and what made you choose this path over others?
I was born and raised in Fayetteville, Tennessee with an older brother and sister. We were homeschooled, and we were very involved in church. I started clogging at age 8, but I didn't even know what a fiddle was until I randomly started taking lessons at age 13. My best friend started taking group violin lessons, and she asked me to join her. I knew it would be a bad idea because my family didn't have extra money for things like violins or lessons, but I mentioned it, and my mom was actually cool with it. She helped me buy a violin. We split the cost 50/50, but we made a deal that if I ever quit lessons, then I would have to pay her back for her half of the instrument. I started group violin lessons, and it was terrible. It took us three months just to learn Twinkle Twinkle. I was a proactive kid, and I went ahead in the book and figured out how to read music, and where the notes were (we had tapes), and I listened to the audio CD, and I learned three songs on my own. But when I proudly played them for the class, the teacher scolded me and told me I shouldn't be playing those songs yet. So that was the end of violin lessons. What kind of teacher doesn't reward a student's excitement and proactivity?
The deal with my mom was that I couldn't quit, right? So where would I continue my lessons? I happened to meet a fiddle teacher at the local contra dance. It's such a coincidence that we even happened to go to the dance. My sister has some hippie friends (one of whom she had a crush on), and they invited us to the dance. Jim Wood and his wife were there leading the band, and the band was full of their students and local old-time musicians. The old-time scene was thriving, and I was just learning that the fiddle and violin are the same thing. I started fiddle lessons with Jim Wood as my mentor, and I made a bunch of friends who also played old-time music, and I developed my skills playing in the contra dance band every other week.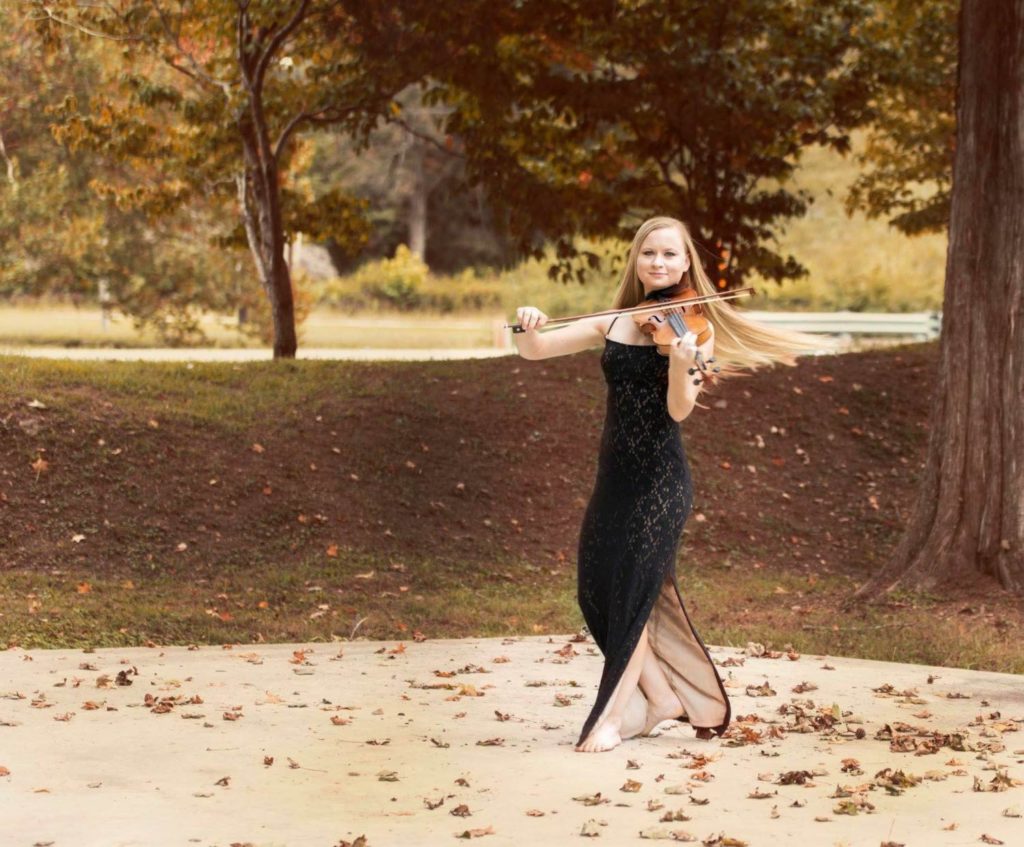 Nobody in my family plays music or dances, and I had no idea that the world of old-time music and dance existed, but the more I learned, the more I was drawn to it. Mostly because my family has no heritage, traditions, or culture. I took on fiddling as dancing as my identity, and I plugged myself into the old-time community. My folks were very encouraging, and they took me to lessons, and jam sessions, and festivals.
I met Thomas Maupin at these festivals. He's the six time National Buck Dance Champion and he's received the National Heritage Award for his contribution to the arts. He's a National Treasure and a living legend. He became my dance mentor, encouraging me to develop my clogging into more of a buck dance style.
My mentors changed my life, and it wasn't just about the fiddle or the dance. Thomas' family took me in as one of their own. I spent late nights at their house working on school work after long days teaching fiddle students. Thomas and I went out and fed the goats and weeded the garden and picked the okra. He taught me the old-time way through his words and actions. He's an inspiration to me in the way he keeps the tradition alive. He's always teaching, encouraging, and demonstrating. Thomas' passion and dedication has been recognized by the many awards he's received. I'm honored to be one of his proteges, and it's my privilege to carry on the buck dance tradition.
My fiddle mentor, Jim Wood, was a huge part of my life, and he did way more than just teach me the instrument. He held me accountable for my actions. He challenged me to develop strong values. He taught me ethics, analytical psychology, and religion. We had many intellectual conversations about existential issues. He helped me with my English degree by proofreading many of my papers (he also has a degree in English). His family adopted me as their own. They instilled in me the habits of daily practice and exercise. We even played music together in church as a string trio. Because of them, I am disciplined, I am focused, I hold myself to higher standards, and I push myself beyond my limits.
Because of them, I am disciplined, I am focused, I hold myself to higher standards, and I push myself beyond my limits.
There are tons of stories I could share, but one that really stands out is the first time I ever pushed myself. I guess I was soft and weak. I didn't do anything if it was too hard or required too much work. Jim invited me on a 13 mile bike ride one time (back before I did any regular exercise). He knew there was an impossible long and steep hill, and he wanted to teach me to push myself. Since I was out of shape, I was worn out before we even got to the hill. It was so hard and painful, but when I finally made it to the top, I was so proud of myself. Through that experience, I learned so much about discipline and pushing myself. Now I continue to exercise everyday. Sometimes it doesn't feel good, but it is so rewarding. I'm stronger both physically and mentally. I don't give up when things get hard or painful. The discipline has spread to every area of my life. Practice, business, and relationships.
I put the fiddle and dance together at age 22 when I started street performing in downtown Nashville. I went to compete in a fiddle contest, and I didn't realize parking was gonna be so expensive until it was too late. I had already taken a ticket and pulled into the garage. I was a starving college kid, and I don't know if I had the money to get out of the garage. But I had my fiddle and I was wearing my cowboy boots. And I knew street performing was a thing. So after the contest, I took my fiddle and my boots over to Broadway, and I set out my case for tips. I started playing, but nobody wanted to listen. It was very frustrating having so many people look at me funny or ignore me. But I didn't give up. I tried harder. I started tapping my foot. A few people noticed. I started stomping my foot. A few people actually stopped to watch. Then I started moving my feet, and people started taking pictures and videos. People loved the fiddling and dancing, and they tipped me plenty of money to pay for parking.
Before I left, I met some other street performers who regularly performed on Broadway. They encouraged me to come back. They gave me advice and told me the rules. I came back the next week with a dance board and an amp. I wasn't very good at playing and dancing at the same time, but nobody cared. It's the street, and you don't have to be polished or professional. It was a great platform for me to develop my skills. I experimented, and after hours and days and weeks and months of performances, I figured out what would draw the biggest crowds. What would hold the audiences' attention the longest. I would dance in boots for the cowgirl look. That's what the tourists wanted to see. Since I was playing by myself, I needed a fuller, more rhythmic sound. I started cross-tuning so I could play constant double stops. My bowing became mostly Georgia shuffle, and you can hear my style developing on my first album, which I released in June 2018. Shortly after, I added vocals. Because doing two things at the same time isn't enough. Gotta do three things at once. Singing, dancing, and fiddling.
Doing two things at the same time isn't enough. Gotta do three things at once. Singing, dancing, and fiddling.
I never dreamed of being a "dancing fiddler," but here I am. Usually fiddlers don't have solo careers. Fiddlers have to join a band, right? So it's weird how it all happened for me. I had a video go viral on Facebook, and then my social media blew up, and I had people calling me for gigs around the world, and companies wanted me to endorse their products.
It started with a completely unprofessional iPhone video of me on my back porch playing and dancing my original tune, "Le Petit Chat Gris." It has reached over 9 million views on Facebook. Right when I released my CD, people started ordering it and streaming it. I actually made money. I didn't expect that. It's just fiddle music. I didn't know people would be interested. I mostly just made it in order to prove to myself (and everyone else) that I could play. As silly as it sounds, I had no idea I could actually sell it. But it was the best coincidence to have a viral video at the same time as a CD release. Marketing genius. I couldn't have planned it better.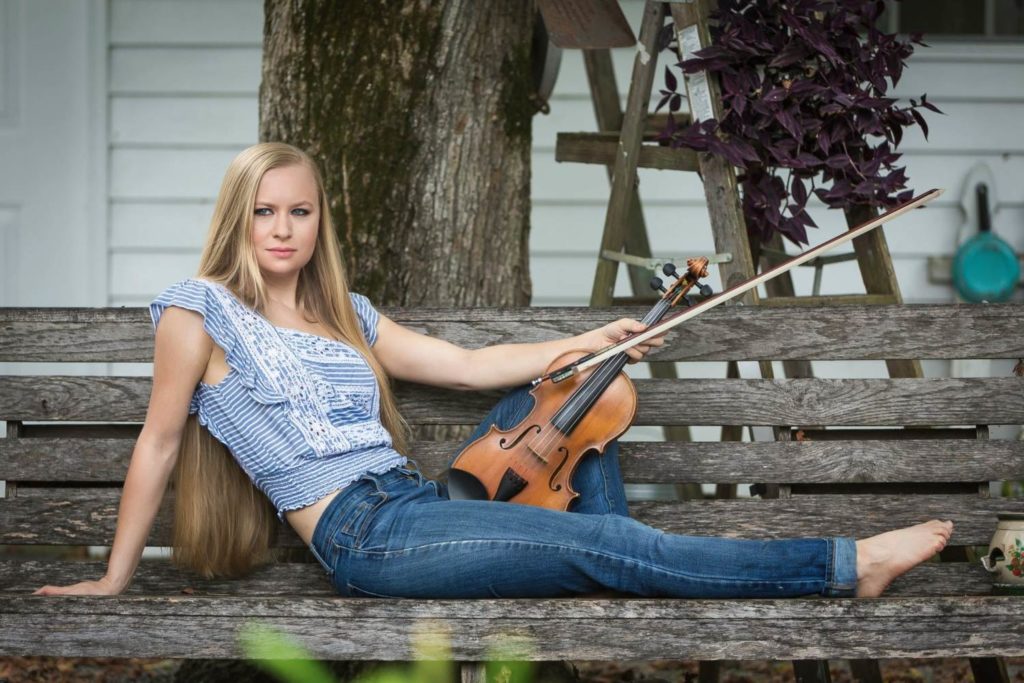 My life has completely changed in the 18 months since then. I have over 739 thousand followers on Facebook with 14 viral videos. The biggest video has over 61 million views. I made my first national TV appearance, and I appeared in the movie "Wild Rose" dancing and playing my original tune. My tune is also on the soundtrack. I played my first international show in January 2019 in London, and it was sold out! I played with the Nashville Symphony at the Schermerhorn in February. I've made 4 European tours this year performing solo, teaching workshops, and performing with orchestras. I'm now endorsing a string company, two fiddle companies, and a bow company!
I'm playing on Thomastik-Infeld strings. I particularly like the Dominants for recording. Krutz sent me a fiddle, and I love performing and recording with it. I shot a video with Mairead Nesbitt, and she brought me a carbon fiber bow from her instrument line. The bow had hot pink hair, and it looked so awesome in the video. Mairead is also sending me a fiddle to play, and I can't wait to check it out!
I'm really slowing down for the year. I'm able to focus on being a content creator. I have several projects in the works, so stay on the lookout!
What are your favorite 5 albums, and do they influence your work? If so, in what ways?
The red and blue albums from the Beatles. No, it doesn't influence my work, but it's good music, and it really helped me through the long drives back and forth to college or to Nashville. I also like the Beatles' other albums, but the red and blue are my favorites for singing along. I know every word.
Queen's greatest hits. No, it doesn't influence my work, but it's good music, and same as the Beatles, it helped me through long drives. I love singing along, and I know every word.
Several of Kenny Baker's albums. I always thought it was cool how Kenny could be considered both a bluegrass and an old-time fiddler. I transcribed many of his old-time tunes, and he influenced my earlier fiddling (before my street performing).
Fiddling Arthur Smith. He's a Tennessee fiddler, and one of the earlier fiddlers to record. I transcribed most of his music, and he was a huge influence in my earlier fiddling (before my street performing)
I listened to a lot of bluegrass such as Tony Rice and Ricky Scaggs and Bluegrass Album Band and Doc Watson and Bill Monroe. I wanted to play bluegrass, but it never really worked out. I never had a good outlet for it. I also listened to a lot of Irish such as Kevin Burke, Lunasa, Bothy Band, and Planxty. I had a big Irish fiddling phase, but it's more of a hobby for me now. I'm releasing some Celtic music on my YouTube channel, and my next album with probably be Celtic.
Which part of your music career do you enjoy the most – live performance, recording, writing, etc?
Content creation! I love making videos for my different social media outlets! I love traveling and performing, but I've been performing solo, and I really look forward to being able to perform with a band. I don't like recording audio as much because I'm so critical of myself. It's never good enough. I always judge myself so harshly.
Content creation – that's a unique viewpoint, something that Acousticult is all about! What are three musicians today do you think are underrated?
My fiddle mentor, Jim Wood. He's the best musician nobody's ever heard of. He plays a million different genres and instruments. He's a virtuoso, and he's a creative genius. He doesn't have social media or a website, so in this day and age, he virtually doesn't exist. You should know he has a studio out in Lynchburg, TN. He has recorded several of his own records, and does phenomenal work recording and producing records for other artists. He has a knack for it. He's brilliant. He did my first record. He's producing my next record. He's the perfect accompanist for my music. He knows exactly what I like for rhythm and arrangements and harmonic variations and dynamics. I've never played with anyone better. (If you want to contact him, send him an email!)
My friend Rick Taylor of Huntsville, AL. He's the best songwriter nobody's ever heard of. He's written and recorded many phenomenal songs with intense passion and emotion. His melodies are resonant to the core of your soul. You know the music is strong when it gets stuck in your head after hearing it just once. Rick is coming out with a new record soon called "The Edge of Light," and I hope it gets some traction in the music business. People should hear him. (If you want to look him up, here's his website)
Elijah Vincent from Utah. He's another gifted songwriter and musician. I've heard him recording in the studio, and I've heard his album. His songs are phenomenal and incredibly deep. His lyrics are so gut wrenching, I cried the first time I heard his music. His music is very moving and inspiring to me. I don't know what he's done since he created his record. I know he's playing some shows, but I don't know if anyone is listening to his music. I hope he gets some traction in the music business and get his music out there. It's seriously worth listening to. (If you want to look him up, his Instagram is @elijah_vincent_ )
The music industry is tough. I could name several more phenomenal artists who play or write amazing music that nobody listens to. And then there's mediocre musicians who everybody listens to. And I don't want to insult anyone, but I just want to point out that it takes more than just talent. It takes tons of time and energy and business skills. Sometimes it's all about knowing the right people, or having tons of money to spend on promotion and marketing. There's no universal formula. I have much respect for independent artists, and I wish them all good luck.
I couldn't agree more. Tell us a little bit about your current rig – what does your "rig" consist of?
I play fiddle, dance, and sing all at the same time. I have to be wireless, so I have two Shure wireless transmitters and receivers. I use a Bartlett fiddle mic and a CountryMan vocal mic. I have boundary mics for my dance board. I use a few fiddles for each performance, and I keep them in separate tunings so I can change keys really fast. I usually perform and record on my 50's Roth, and my new Krutz. I also have a Juzek strung up with different strings for DDAD tuning.
If you were given $100,000 to spend on an album production, what would it look like?
I would continue to record at Jim Wood's studio with Jim Wood producing my record. He's the best accompaniment for my fiddling, and he knows my tastes better than I do. I love what he does with my music, and I'd be excited to see what he could do with a bigger budget. I imagine that could involve big name session musicians and more intricate arrangements and instrumentation. I would use a lot of the money for producing music videos to go with the various tracks. I'd also invest a little in promoting the album.
$100,000 would be fun for creating an album and videos, but it's really not good business for a fiddle record. There's no way to make your money back on fiddle music. There's just not a big enough market for it. Perhaps I could explore other genres and maybe delve into Americana or Celtic music. With a greater audience and potential for radio airplay, perhaps it would be a more realistic investment.
What is your favorite album or recording so far that you've made?
I'm really proud of my "Triple Threat Cotton Eyed Joe" YouTube video. I worked really hard on the triple fiddle arrangement and the triple dance choreography. It's done really well on YouTube.
I'm also proud of my first album which is an exploration of the old-time cross-tuning tradition. I used 13 different tunings for the 17 tracks. Some of the tunings are traditional and some of them I invented. I changed the keys of some tunes. I tried different octaves for some tunes. I took some tunes that are normally played in standard tuning, and I tried them cross-tuned. I'm a tuning geek. Don't get me started on tuning or I will geek out and bore you to death. The guitarist, Jim Wood, also used a bunch of different tunings. He used 12 total, and he also invented a few of those. We listed the different tunings in the liner notes. We also used 432hz tuning for the entire project (as a matter of fact, I mostly play in 432hz).
My album is available on my website and my Facebook shop and also most digital platforms.
So Hillary, what are you currently working on?
I have several projects that I'm working on and planning. I'm working on another album of fiddle tunes, and I'm hoping to have it done around Christmas or New Years. It'll have 13 tracks; 11 vocals and 2 original instrumentals. My fiddling will be mostly cross-tuned and sawing on it in my old-time Georgia shuffle style. The CD will have some Celtic flavor with bouzouki and DADGAD guitar. It'll have some old-time elements with bass, mandolin, and banjo. I'm also hiring a cajon player to add energy and make the CD more appealing to a wider audience. I'm even incorporating a song that sounds more Americana. So yeah, it'll be a good fusion of different genres and sounds.
I'm also working on producing a few books of sheet music along with a play-along CD. I have the music typed up, and the audio recorded. I just need to go through the business of designing a cover and having it printed and published. For those beginning fiddlers who want to learn basic fiddle tunes or any of my tunes from my first record, stay tuned for this project.
I'm always thinking about creating content for my social media outlets. I'm always researching to figure out what works best for the different platforms and different audiences. I'm always developing my craft by learning new songs and techniques and dances. I do a lot of photos and iPhone videos and professional videos. I like to use different locations and outfits and hairstyles and makeup. I like to collaborate with other artists and feature dancers and musicians. I put a lot into it, and I really enjoy it. It's so rewarding being able to preserve the old-time fiddle and dance traditions and share them with the world. Just think about how many people are listening and watching who would otherwise never be exposed to this type of music and dance.
I have one more project I want to try, and it might be silly, and it probably won't work, but I'm gonna try it for fun. I have a friend who does electronic music. I met her at the Nashville Symphony. We're talking about doing a collaboration together with one of my original fiddle tunes. She's gonna make it into an electronic track. Then we'll do a video to go along with it. I'm so excited. I'm inspired by the song "Hey Brother" by Dan Tyminski and Avicii.
My third album will be Celtic. I eventually want to do a bluegrass record and a Christmas record. I have a bunch of ideas to keep me busy for a while.
Thank you for being willing to chat with us Hillary. It's been fantastic to take such a detailed look behind the scenes. Congratulations on your videos and music!
Be sure to visit Hillary's website at www.hillaryklug.com.