Anyone who finds a way to be a successful working musician always has a story to tell. Today's guest with me has one of the most interesting ones I've heard in a while. In fact he has SEVERAL interesting stories that I am excited about him sharing with us today. Joining me is guitarist and band leader for Josh Turner, Mr. John Shaw. John, thanks for taking some time to talk with me. For those that haven't met you, tell us a little bit about yourself.
Hey! My name is John Shaw. I was born and raised in Florence, Alabama and I've been in Nashville, Tennessee for 14 years. I'm a guitarist, musical director, and producer. I currently tour full time with Josh Turner as lead guitarist, bandleader, & musical director.
JED: Tell us where your story begins. How did you get into music, and what made you choose this path over others?
Wow…it's kind of an interesting route. I always loved music growing up, I guess I remember my first "obsession" with it was when I first heard the Beach Boys. But even then, I didn't play an instrument, I was just obsessed with the harmonies. That would've been about age 10. Age 14 or so, I had to learn rudimentary guitar for a music appreciation class in school. I asked for a guitar that Christmas and my parents obliged. Then I went full-on down the rabbit hole.
As far as the career path, I definitely had some assistance. My uncle Dennis, who was heavily into guitar stuff, REALLY took me under his wing and got my listening right and my eyes pointed toward quality tone and gear.
My high-school best friend Scott was WAY further along than I was on the instrument. He helped with listening too, but mainly helped by us jamming and him kicking my butt! Haha! Then he'd either show me what he was doing (we literally passed notes in the hall of tabbed-out licks, we weren't normal!), or I'd just be around it enough to figure it out.
One more super formative guy was my first teacher, Patrick Temple. Scott kinda set me up with him and I walked into my first lesson and he just asked me to play something. Well, I was 15 or whatever so I played some sort of flashy lead thing that I'm sure wasn't that great and he just deadpanned "Cool. But you need to learn to play rhythm well." And he just HAMMERED into me the importance of pocket and tasteful rhythm playing. Which was SO helpful to get that indoctrination early on. I never forgot that influence or that lesson. Pat was just such an inspiring guy, too. He really threw a lot of gasoline on the fire of wanting to dedicate myself to being better.
I started gigging around and was having fun playing and developing. At that point, I really had the bug, but I wasn't sure it was a "career path." But I had the good fortune to move to Green Bay, WI my junior year of high school and be exposed to some great teachers that became mentors. I have to name them, because I wouldn't be here otherwise. Bill Hill, David Winkler, and Larry Laraby all encouraged me to "go for it," and they had the musical aptitude and life wisdom to back it up.
I can't skip over the fact that my parents were super supportive, but I felt like they would've been no matter what, you know? I needed that outside "push."
There's a whole other narrative of, once I was down in Nashville and playing in a pretty successful touring Americana band, I almost bailed and went to law school. For the wherewithal to "stay with it," I can thank my friends J.Hall, Charlie Keel, Goose Gossett, an amazingly well-timed Church sermon, and a particularly good Chris Thile & Michael Daves show in Knoxville the night I was there searching for apartments. I can tell that whole story if you'd like, but it's long and borderline unbelievable.
JED: Man if you're willing to tell it I'm willing to hear it.
Alrighty….so…in 2009/2010 I was playing with a band called The Delta Saints. It wasn't "perfect," and I'd already entertained the idea of transitioning more into a session/sideman role on my own in town, but it was darn good and super rewarding music, and I was having a blast. It was also going pretty well, with us able to tour pretty consistently in pretty rad venues. We were also part of a really vibrant "scene" that was based out of East Nashville in that time period. Felt good to be a part of, because, again, music is always about community to me.
Then the roof caved in on me a bit. I was playing a pickup softball game one day and laid out for a grounder and snapped my wrist in two places. I didn't know it right away, so I actually kept working for about a week thinking it was a bad sprain and by the time I got properly diagnosed, some damage had been done. That lined up well with their finding a replacement since I'd been on the fence already, so that was it for me as a Delta Saint.
The girl I was seeing at the time kind of posed the question "what would you do if you can't play anymore?" Which I feel like initially was helpful, and then when I mentioned law school, she kinda ran with that. I could waste a lot of breath on whether or not she was truly pushing me that way, but it doesn't matter. I got caught up in it and that was the plan.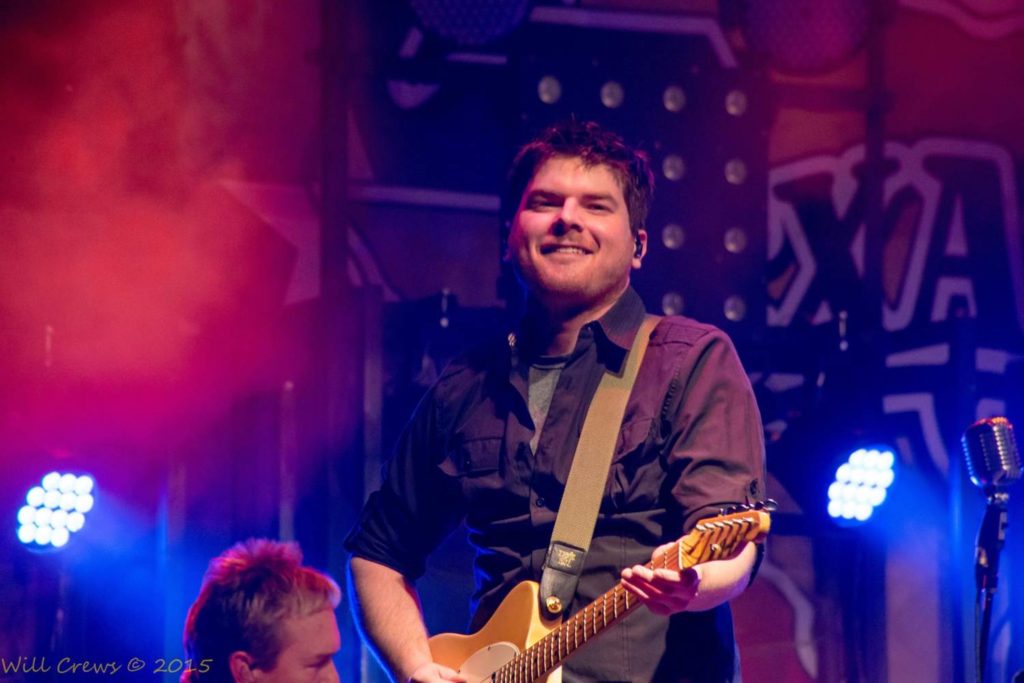 So…fast forward to when I'm visiting schools-I kid you not, every time I looked at a law school there was a hail storm and at some point on the trip I got a gig call. Every trip. Every school. I felt like God was really beating me over the head with how bad an idea it was. To further the madness of it all, my friend Charlie Keel, who I hadn't talked to in months and had no idea any of this had gone down calls out of the blue and basically says "I feel like you're about to make some bad decisions that are going to sideline you from what you're meant to do. Don't give up."
JED: WOW.
And I basically told him what was going on at that point, which freaked us both out. I still can't believe that call happened. Still remember where I was. Green Hills Starbucks. Table right by the bathroom.
Then on my apartment hunting trip to Knoxville (I decided on UT. After all, their hail storm was the least intense), I was feeling pretty depressed and my mom and I wondered into this Chris Thile/Michael Daves duo show at the Blue Room there on the square in Knoxville. I really felt the magic from that show, and even though I did end up signing a lease in Knoxville, I came back to Nashville and started gigging again. I was back in love with it. It took a long time, some physical therapy, and a LOT of woodshedding to get back in good shape to play well. But I was determined to put in the work.
There were a million other things-a church sermon, getting work and counsel from my good buddy J. Hall,  and even an "intervention" by my friend Goose where he basically just said "what are you doing?!" WHILE we were packing the U-haul for me to move. Which resulted in a full on breakdown.
That very night before I was supposed to drive that U-haul to Knoxville, I got a call for a good, regular country gig and offered an apartment that fit my budget (which was the other hangup, I'd let my existing Nashville place go). Same night! Well, I accepted both. 
The next morning, I threw the whole law school thing in the trash. Gave up my seat, cancelled my apartment lease. And, with the exception of a 6 month transitional period where I was both gigging full time and moonlighting by writing copy for spam emails for a marketing company (seriously), I've been paying the bills with music ever since that day.
JED: I'm glad I pestered you to tell me that story man. Thanks for being willing to share that. Though that experience must've been incredibly taxing, it makes for a very inspiring story to be able to share with other struggling and lost musicians. I hope that this story inspires someone reading it. What are some of your favorite albums, and how do they influence your work?
Oh my-let's see. I'll cap it at 5 because I could go all day. I'm a "sponge" when it comes to taking in records and learning things.
At Fillmore East – Allman Brothers Band. This one informed so much about my playing, got me into the slide guitar thing that's still a huge part of the electric side of what I do. It's also a master class in how heavily improvised music can still be "tight," which I really identify with. And you can't beat the emotional stature of Duane's solos on "Whipping Post" or "Elizabeth Reed."
Part II – Brad Paisley. Man this record had a LOT to do with me moving to Nashville. I always loved the instrumentation on these records, which was heavy on the acoustic instruments, but also a ton of tele and steel. This record felt, to me, like a modern extension of the 80's Ricky Skaggs thing. I love those records too, and I thought it was really cool that someone was running with that facet of country music in 2000's Nashville.
How to Grow a Woman From the Ground – Chris Thile. This came out the year I moved to Nashville and I'd NEVER heard anything sound quite like it. I love the melding of influences and the musicianship. I don't have any problem openly declaring that Chris is my favorite living musician. This was proto-Punch Brothers (same personnel, even), and there's a rawness to it. If you watch the "How to Grow a Band" documentary, which I do almost every time I need inspiration, you can feel the same energy on this record. It's like they all were REALLY excited about their "new toy," which was this band. I think this is THE record that made me think bluegrass-style acoustic guitar was awesome and something I wanted to learn how to do well.
All The Roadrunning – Mark Knopfler & Emmylou Harris. This may be the best sounding record ever made. You could make that argument and have a ton of musicians, producers and engineers not fight you at all. Have you heard how many veteran front-of-house sound guys tune the P.A. with it? That's proof in the pudding. The songs are great, and their voices are iconic. Mark's musicianship and note choice is something to be aspired to. And Richard Bennett-good grief. The sideman's hero. The guy. Everything about all of it is so tasteful and well done, and it's captured so well. This is a holistic influence. Not just on my playing, but on my production and engineering approach as well.
These Days – Vince Gill. It's hard for me to pick a Vince record, because he's got so much to do with who I am as a musician. He's the whole package. On one hand, he loves the Allman Brothers and you can hear that when he picks up a 335, but he also loves bluegrass and can chameleon straight over to that when you put an old Martin or a mandolin in his hands. And then he picks up that '53 tele and it's all the Don Rich and Roy Nichols influence. I really identify with that, because those are my three tiers of influence as well. The vocals are amazing with him, always, and all the things I said about Knopfler's musicality are true of Vince too, just in a bit more "twangy" arena. I picked this record because it's a comprehensive study of his whole "thing," but anything he's recorded has influenced me.
JED: Which part of your music career do you enjoy the most – live performance, recording, writing, etc.?
That is a tough one. Making records is definitely my favorite. I love the process of bringing a song to life from a bare bones worktape on up. What part is my favorite to play in that process varies.
I love "just" being the guitar player on something, with someone else producing, because you're maybe being pushed outside your comfort zone or ideas are flying around that you aren't trying to manage or ringlead, so you're just a part of the flow. It's fun to be a conduit for someone else's vision. Not that you're not contributing ideas, but sometimes it's nice to not be "in charge." I've definitely worked under some producers, like my buddy J. Hall and this guy Daniel Dennis over on the East side of town, that squeeze ideas out of me that may not have come out on a record for another year if left to my own devices, and then it's like "hey, that's great, now I have a new trick!" Haha.
That said, I do love production, and I love being a part of the entire timeline of a song from the…y'know…fuzzy iPhone worktape to the preproduction phase, and then you get to tracking it and you see that writer or artist smile because it sounds like they wanted it to sound. That's pretty special. The orchestration and arrangement phase are near and dear to my heart. Most musicians know the score, when you hear a stripped down worktape, you can kind of hear where it should go, and maybe even parts in your head. Bringing those to life really gets at what I love about music.
All that said, I LOVE live music and being a part of that world too. I've done it on a multitude of levels over the years, and all of it is fun. I've been fortunate to be a part of major touring organizations as everything from musical director to one-weekend-reading-charts "sub," and I love any way I get to experience that world, and that every experience is a bit different. In fact, when I feel like I'm getting stale, the literal best thing I can do is go be a "fill in" somewhere. I'll learn some new music and see how they do things, and get some perspective on how to be better.
That said, it doesn't have to be a major tour to make me happy playing live. One of the best, most rewarding seasons I've had in Nashville was when I had two residencies going at local bar/venues. One was a funky John Scofield-esque improv thing that played every Tuesday night at the Family Wash (which no longer exists) for a couple years, and another was a classic country/comedy band called Orangutwang that played once a month. Those gigs weren't "glamourous" by Instagram standards, but they were me making music with my friends (who are world class players that I learn from every time we play), and that's why I started doing this in the first place.
Music is a community thing for me, and whenever I'm in a situation making noise with players I love and am lucky enough to call friends, I'm super happy about it.
JED: What are three musicians today do you think are underrated or deserve more notoriety for their art?
Man, that's a tough one, because I live in a town where everyone is absolutely killer, and our society is so filled with "noise" these days, that a ton of these monster musicians and writers don't stand out like they should press-wise.
My friends Zach and Maggie White are PHENOMENAL players and have such a cool, unique thing going on.
There's a guy named Chris Harris, we played together when I went and filled in with Ashley McBryde's bunch last year, but have been friends way longer. The depth of talent and soul in that guy is unbelievable. His voice and songs are truly transcendent.
And I have to mention Goose Gossett. He's one of the best pure songwriters I've ever known. He should be a household name. When I'm having a bad day or feeling burned out, I listen to his worktapes and it's all alright.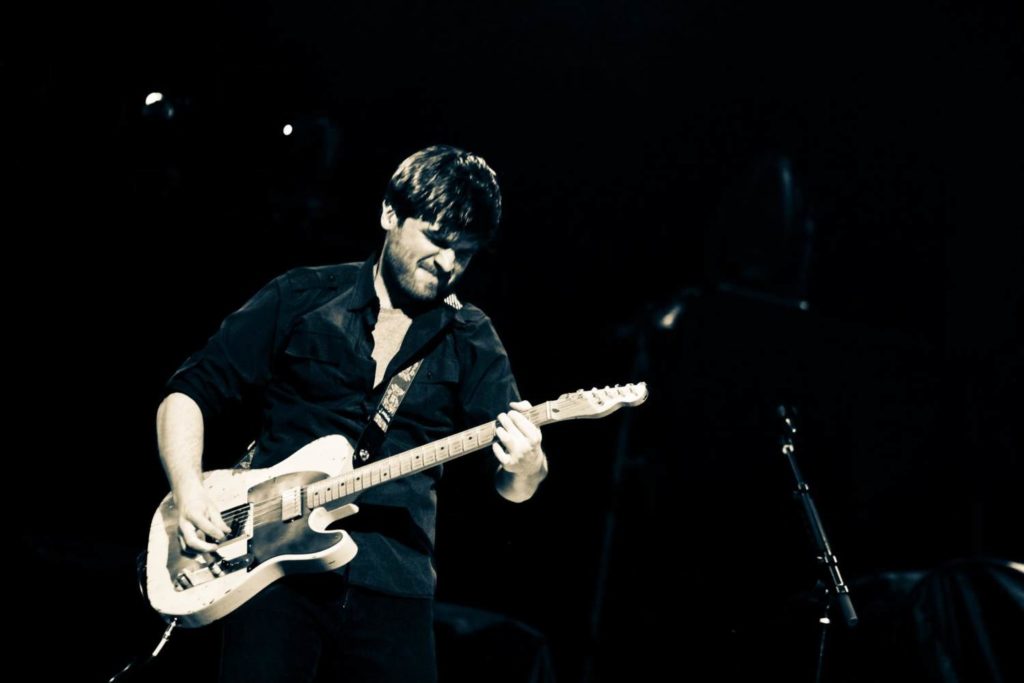 JED: Tell us a little bit about your current rig – what does your "rig" consist of? What instrument(s) do you play, pedals, mics, etc.?
Boy howdy, there's a rabbit hole if I ever saw one. Haha.
So…I have 27 guitars, a mandolin, a banjo, and a few weird things like tenor guitars and such sitting around me right now in the home studio.
I have some pretty special acoustic guitars that have found me over the years. The centerpiece is a 1931 Martin OM-18, which is the first guitar I grab in any situation, and has often been the only acoustic guitar on entire records.
I also have a REALLY good banner logo J-45 from 1943 that I'm the second owner of, a mid 50's 00-18 that's an awesome fingerstyle guitar, and a rad gut string made out of cypress that gets alot of work.
JED: How on earth did you score a 1943 J-45 from it's original owner?
I was hoping you'd ask! This is a great story. So… I was playing the Carson Center up in Paducah, KY. There's this sweet little mom & pop music store up there that's across the street. I always try and duck into those places and just play some instruments that aren't my road guitars, for variety's sake. Well, they had the usual complement of mid level Taylors and stuff, but nothing special. When I'm on my way out, the owner sees my tour laminate and goes "uhh..I have some stuff in the back!"
Me and this dude go down the rabbit hole. Old fender amps, a particularly nice 50's D-28, all sorts of cool stuff. Then he brings out this banner J-45. It's TOTAL wartime spec with the mahogany top and everything because spruce was being rationed for lifeboats and such. Which I just think is too cool. If you ever get a chance to read "Kalamazoo Gals" about that era of Gibson production, it's so fascinating.
Anyway, I play this guitar and it's transcendently good. Outrageous. But, as it should be, it's priced WAY out of my price range. Especially for "impulse buy" status. I thank him and go to lunch, and then come back and play it again. Then I go to soundcheck and come back a third time. This time he tells me the story. I guess the owner bought it new and played it his whole life, and recently passed away. He was a bluegrasser and lived in Symsonia, KY. I was like "did you say Symsonia?" I immediately called my friend Vickie Vaughn, who also happens to be a bluegrasser from Symsonia, KY. I said "uhh..ever know a guy named JT Bell?" She told me he was a friend of her dad's (who had also recently passed away), and he used to come over to the house and pick, and he had this great old Gibson. I was like "yeah…I know…I'm playing it right now!" She couldn't believe it was for sale. His family had only sold it to pay for funeral costs, I believe. The shop owner was floored that I had a bit of a personal connection to it.
At that point he looks around and basically says "look. I think you're meant to have this thing. I'll sell it to you for what I've got in it," which was basically half of the (very fair) tagged price. Well, that was too much serendipity for one afternoon so I handed him my credit card.
JED: WWWWWWWOOOOOWWWWWWW. Those are kinds of stories guitarists dream about man. Wow.
It gets alot of work! It loves a lowered tuning and dead-ish strings. It's pretty cool-still has a "JT Bell Band" sticker on the back of it that I'm definitely not touching.
A few years ago, I lucked into a 30's Gibson L-4 archtop that gets a surprising amount of work. Nice for trashy rhythm parts or jazzy stuff. In the "new" category, I have a collings D-2S that's perhaps the best new acoustic guitar I've ever played. I think Collings is doing the best acoustics in the world, and I probably could've saved massive amounts of money on old ones had I played a Collings guitar sooner.
My mandolin is an Eastman MD-915, one of the old ones with a varnish sunburst finish. It's really well broken in, and has been "tuned" a bit from its original spec by a couple master luthiers.
JED: Does it have the "mando-voodoo" setup that Stephen Perry used to do?
I think it's basically the same situation as that deal. Basically retuning the top and moving some things around. The only physical evidence on the outside is you can see where they opened the f-holes a bit and then touched up the varnish, if you're looking for it.
I was told by the first owner that Lynn Dudenbostel was a personal friend of his and did the work, but I have no proof of that other than it does have a lot of that low midrange "bark" a Dudenbostel tends to have, especially in the chop.
Those 900 series Eastmans are pretty rad out of the gate anyway, with Adirondack tops and really high grade maple, and a paper thin varnish. They out-sound their price point already. So it had good bones. But this one has WAY more extra gas in the tank than any off the shelf one I've played. Something has clearly been done, you can hear it right away. I traded a really, really, REALLY good D-18 for it because it was everything I'd been looking for.
In terms of mics, I've tried everything there is to try, and I keep coming back to a single Neumann KM-184 I bought from House of Blues studios years ago when they were dumping some gear. I bring it with me pretty frequently. I don't know that it's any different than any other 184, but why take the chance? Haha.
JED: It is funny you mention that; I actually recorded on a vintage KM-84 today and I couldn't believe how good my guitar sounded. I've been told that if you can't get a vintage 84, the 184 is your next best option.
I think that's right. And I swear some are better than others, even though the 184 is a "production" mic and supposed to be more consistent.
Now the old KM 54 is the real "holy grail" in this category, but good luck with the hunt and your budget on those. The Gefell M294 gets super close to that vibe, though and it's 80 percent cheaper, and new so you don't have "vintage mic problems." One of those is on my want list for sure. That nickel membrane diaphragm captures so much subtlety.
I've also had great luck with the Slate modeling mic, and sometimes that's nice if I'm at home and want to get a part down and something about the tone needs to change in post. I take the Slate on the road in my "go bag" for anything I need to track in hotel rooms, dressing rooms, etc, and it serves that purpose really well.
On an electric cab, I like the Royer active ribbon. I like warm, earthy electric sounds.
Electric-wise, I have several great instruments but I'd say my "go-to"s are a Mario Guitars T-style for tele stuff. Mario is a craft builder out of Murfreesboro, TN and hand builds the best bolt-on style guitars I've ever been around. I use a Danelectro Baritone and a '57 Strat reissue I've had since 2004 a lot. And I've got a Collings I-35 that recently replaced my '67 ES-335 as my main humbucker guitar. I also use a Fender tele with a Darrin Matney b-bender quite a bit, and a Gretsch 6120 junior. There's a lot of other stuff, but those are the "go-to"s.
Pedals and amps are always changing, but in town I use an old Princeton Reverb and a Dr. Z Carmen Ghia the most, and occasionally a Tone King Imperial, or a Germino Lead55 if it's really rocking.
Pedal wise, the new Line6 HX stomp has been life-changing. It really allows you to layer tons of effects and works well for amp profiles too. You can even load acoustic IRs in there, which is rad. I'm a big fan of the Wampler compressor as a front end for anything plugged in, electric or acoustic. The mini one sounds better to my ears than the big guy, and I'm not sure why, but I don't question it.
Live, on the Josh Turner gig, I'm using primarily telecaster-style guitars for electric parts, because it's really what the gig calls for.
My main guitar is a Mario Guitars T-style with 3 pickups (the "nashville" tele, if you will).
My other tele out there I'm using for altered tunings (half down, or a couple of dropped tunings to cover baritone and tele parts on the same guitar). It's a Fret King Jerry Donahue signature model. Great guitar. Fret King is a great UK-based maker under the watch of designer Trev Wilkinson. They've been wonderful to me over the years, and the JD is all the best aspects of a '52 tele and a 60's maple cap neck tele, and it's chambered like a smuggler tele from '67. We have no stage volume, so chambered or hollow guitars are nice sometimes because they react better off the PA than a solid block of wood.
For live acoustics, I'm alternating between a Collings D1S and a Martin 00L-17, both with the LR Baggs Anthem. I've used a million things to try to reproduce a good acoustic sound live, including some imaging stuff like the Tonedexter, but I keep coming back to the Baggs Anthem and Lyric, because you just can't beat their depth of feel and harmonic complexity.
JED: Jake Stargel is a friend of mine and one of the best flatpickers I've ever met. He swears by the Lyric. The only thing I've heard is that if your monitors are too loud or you're on a noisy stage you can have feedback problems with a Lyric. This made me opt for a K&K Pure Mini when I was shopping for guitar pickups. Since you have no stage volume I guess that keeps that from being an issue?
Well, that's partially true but there's also the super loud PA to consider. Also, that's by no means the only gig I use it on, and even with Josh we regularly do Opry and acoustic shows that are a totally different environment with loud wedges. But you're right, it is a little easier in the "controlled" environment.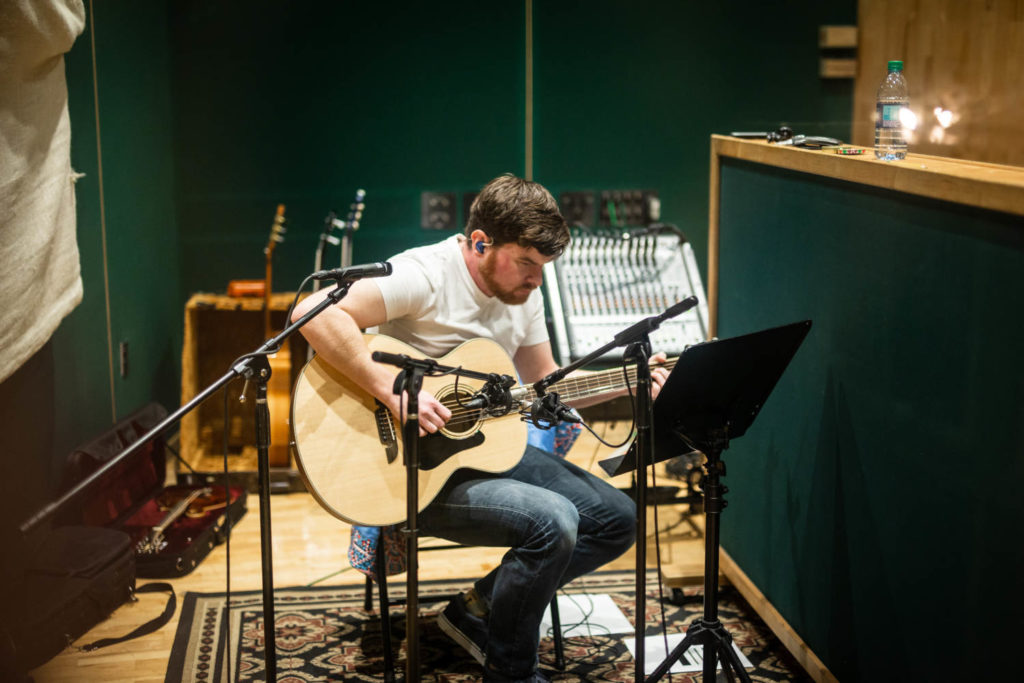 I know this seems counterintuitive and borderline sacrilege, but my buddy Justin Weaver hipped me early on to the fact that the lyric actually sounds better with a feedback buster in the sound-hole. He's who got me on the Lyric train in the first place, and he's 100% right about the buster. Nobody knows the science behind it. Maybe it's stabilizing the top? Maybe just keeping errant frequencies out of the mic? Either way, it really tightens up that pickup and makes it even better. Not to mention the feedback reduction.
JED: But bro . . . a plunger lid in your soundhole? How could you?
Look, man. If you're gonna get that nice, round sound with porcelain highs and deep, swirling lows, you gotta take the plunge. (yes, that was a toilet joke)
JED: Ha!
Every bit of it is running through the HX stomp and out to a couple of DI's. I'm using the Michael Britt cabinet IRs for my electrics, and WAS using the HX stomp to load an image of my old Martin that I triggered with a K&K pickup, but I decided I just liked the L.R. Baggs stuff a bit better, and it's less convoluted if the Stomp goes belly up for some reason.
There's a guy up in Iowa named Greg Farres (GMF Music) that makes the absolute smokinest Tube DI in the world. It's wonderful on acoustic guitar, but I've also used it as my whole rig for tracking electric bass. There's a hundred products out there to "skin that cat," but the GMF tube DI melds so well with the Baggs Anthem/Lyric thing. It's a microphone into a tube channel strip at that point, and it sounds and feels like it.
JED: If you were given an unlimited budget for an album production to record your dream album, what would it look like?
Well, I'm from the Muscle Shoals area originally, and I always get the most inspired and feel like I do my best work down there. There's a studio called The Nutthouse that my friend Jimmy Nutt runs (the Steeldrivers did their Shoals Sessions record there). It's my favorite room I've ever worked in, so I'd want to do it there.
I'd be co-producing with my buddy J, for sure. We always get the best stuff together.
And otherwise, I'd just pull all of my friends out of the woodwork. Some of those folks I mentioned above, and others I've worked with over the years. Make it a party. I've really embraced over the last couple years that music is a community thing for me, and I miss people that I've worked with in the past and loved. The nature of this business is that you work with different people and then one or both of you moves on, but I miss them with a nostalgia you would normally reserve for a family member or that high school summer fling that didn't work out or something. I crave that emotional connection that you develop with people you create with, and I miss it when life takes us to seasons where that's no longer possible. To have all those folks in a room making a record would be special.
JED: Great analogy man. That is a great way to observe missing that connection and feeling. I can really relate to that sentiment. What is your favorite album or recording that you've made to date?
That's tough.
As a player, probably the "coolest" recording experience I've ever had was making a straight-to acetate live record with Ashley Monroe at 3rd man a few years back. No punches, no edits, no pressure, right? Ha! At the time, it was the only facility in the world where that was possible to do at a high level. There's a few more now, including one at Chris Mara's place, Welcome to 1979.
I also played on the Ronnie Milsap "duets" record, which was unreal. I got to be in the room with a lot of heroes for that, and hearing his voice come through the headphones was an absurd experience. Again, no pressure!
All that said, I worked on a record last winter with a cat from North Dakota named Bryan Loweree, and it was a co-production with J. Hall. I think it may be the most complete and also one of the most fun records I've ever been a part of as a producer. It was a bit like I was talking about above, just making music with good friends, and that can't be topped.
JED: What are you currently working on?
I have a couple records in the works from some independent clients, and I'm always running out to do sessions or doing overdubs from home on the time I'm off the road.
We're also working on a new show and integrating new music for the Josh tour, which we'll be putting in over the next month or so, so that's exciting.
JED: Well man it sounds like you're never for want of anything to do. I sure do appreciate you taking the time to chat with us. Keep in touch man and be safe on the road!
Shoot, man, thanks for chatting with me! I definitely try and stay busy, and have been blessed that it keeps seeming to work. I get to the end of every month having paid my bills with music and can't be anything but overwhelmed with gratitude. It was a thrill to get to talk shop with ya!
You can follow John and his adventures on his Instagram & website. Featured article photo by J.Hall.