JED: Hey Jeff! Thanks for taking some time to chat with us today. If you don't mind, tell us a little bit about who you are, what you do, and where you're located.
Hi everyone and thank you Jed for doing this interview with me. My name is Jefferson Louvat, I am Belgian and currently residing in Brussels, Belgium. I am a weather forecaster for the Belgian Air Force as a full time job but music is my true passion and where my heart is I must say. I am a mandolin player plus I play mandolin family instruments.
JED: Tell us a little bit about your beginnings. Your origin story, so to speak. How did you get into music, and what made you choose this path over others?
To make it short, my dad has always been fond of Blues and Southern Rock Blues (S.R.Vaughan, Johnny Winter, Z.Z Top, J.J. Cale, Gary Moore, etc.). In the '70s when I was born, he used to rent LP's at a local music store. One day he came across Long Hard Ride by the Marshall Tucker Band which was also a blues/rock band but with country influences and an eclectic sound. The opening track featured the 5-string banjo and he got struck by this music he had never heard before. Quite soon after he came back home with banjo records by emerging artists like Tony Trischka or the New Grass Revival in their early years. Later, in the late '80s, my older brother Steve asked my parents to learn the guitar after one of his classmates brought a guitar to school. Despite the fact that guitar is a great instrument, they propositioned him to learn the banjo instead because it was much less common. This is where it really started from; a cadet always wants to imitate his elder brother so I picked up the mandolin at age eleven. Quite rapidly we were both swallowed by a devouring passion for Bluegrass music and our respective instruments. Around fourteen, I picked up the fiddle and the guitar at sixteen. But I soon realized that three instruments were too much for me, so I dropped the fiddle a few years later. I am still playing some guitar now and then.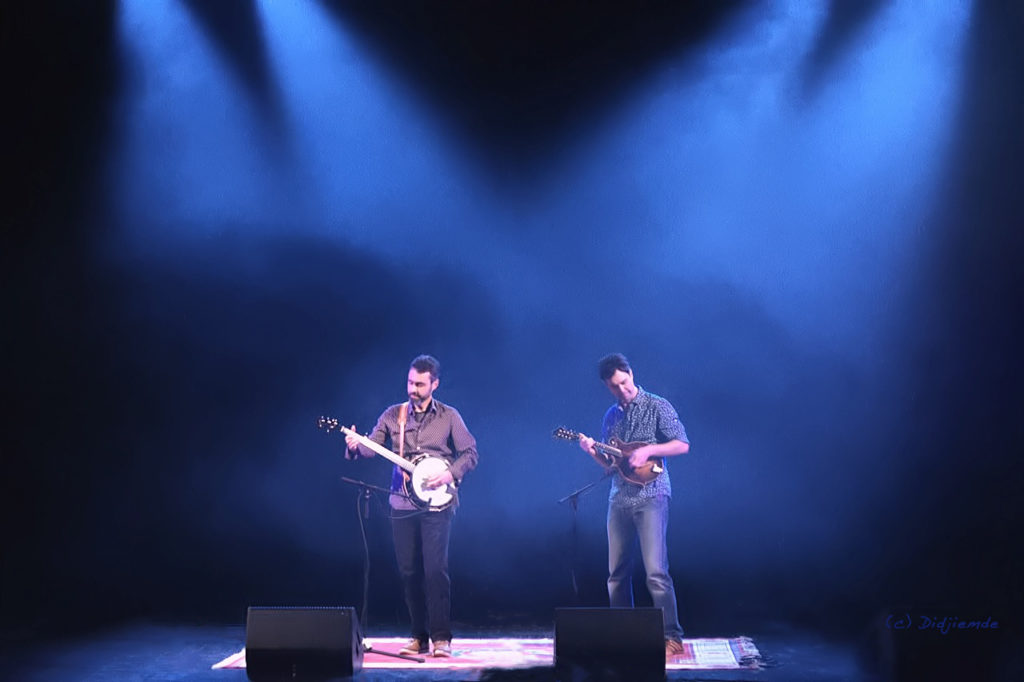 JED: Ya know that is interesting, I was learning fingerstyle guitar initially and got drawn into the world of bluegrass music because my brother played mandolin. It is interesting to hear that you were so overtaken by that passion – I felt the same way – it's like I didn't really have an interest in anything else once I found acoustic music.
Totally Jed. As a kid I used to play with toys and games of my age but as soon as I discovered music I just focused on it 100%. I felt like I was a bit special since no one else at school listened to Bluegrass or played mandolin, I really was the only one. You have to know that this genre of music and instruments were definitely not common in Belgium back in those days. Only a small group of older people would know what it was. Nowadays, things are a bit different although Bluegrass is still marginal, it is less "weird" to say you play mandolin or banjo. Things are changing hopefully.
JED: You are a part of the change! What are some of your favorite albums, and how do they influence your work?
There are so many, this is always a tricky question but if I have to pick a few I would certainly choose Late as Usual the first solo album by Sam Bush. Thanks to this record, Sam was one of the very first mandolin players I ever heard. He became my mandolin hero and was one of my biggest influences throughout my teenage years. His style merging rock, reggae, blues, and bluegrass always amazed me. When I was turning fifteen, Sam was playing with Emmylou Harris in a band called the Nash Ramblers. This was in the early 90's. They did a tour in Europe and happened to play at the Belgian coast. I was so excited to see my hero that I couldn't sleep for nights prior to the concert as you can imagine. My parents and my brother were standing at the entrance door and as soon as they opened it I ran like a fool to the first row and sat right in front of Sam's stage spot. Jim Lauderdale and Buddy Miller did an opening duo set then Emmylou and her band arrived on stage. Sam was there right in front of me, I couldn't believe it. I prepared in advance, with the help of my dad, some papers with messages written in big letters I would show Sam between the songs. First I introduced myself, told him I was a mandolin player…etc… The last message said I would love to meet him after the show, and I did. We talked for a moment in the lobby of his hotel with the rest of the band passing by. What a wonderful moment and fond memories.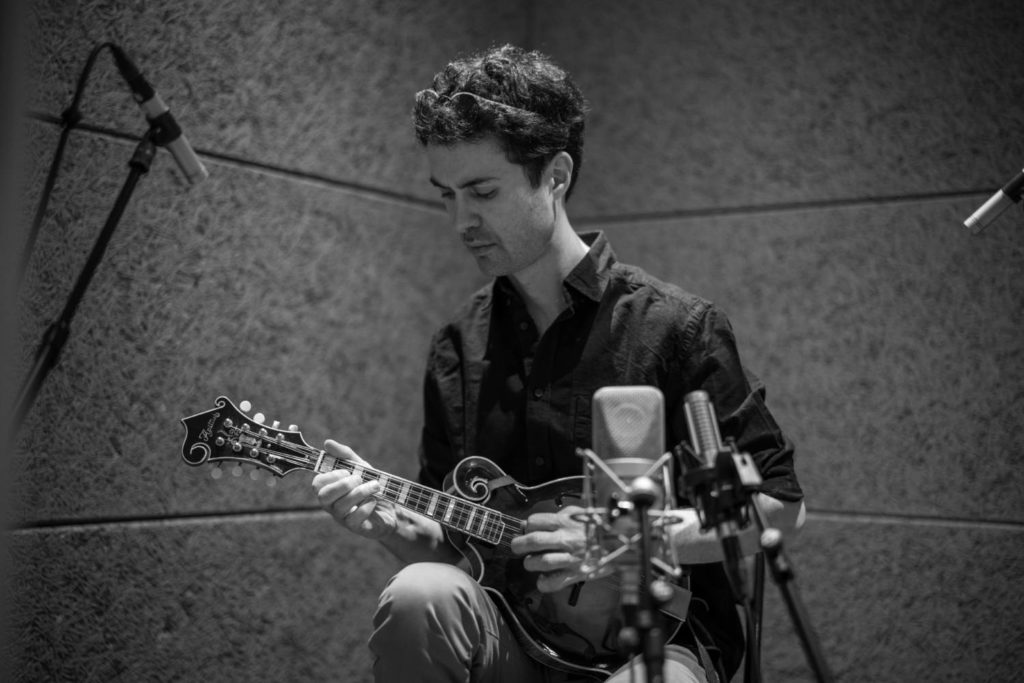 JED: That is awesome! So you wrote that you wanted to meet him on paper and held it up between songs so he would see it? Was it just normal 8.5 x 11 inch printer paper or was it like a big cardboard sign?
Yes it was written on A4 format print paper I taped together. And believe it or not, I still have them somewhere in my archives.
JED: That is awesome man. I love that.
Other albums would certainly be No Hurry by guitarist Scott Nygaard featuring John Reischman on mandolin, ALL the New Grass Revival records, and Béla Fleck's Drive album. These records are true gold mines for instrumentalists. The groove, the timing, the musicality, the tone are phenomenal. I spent hundreds of hours trying to replicate by ear all these fantastic mandolin breaks from LP's or cassettes. It was definitely a giant step for me in developing my skills and trying to find my own style of playing.
JED: Man "Drive" is truly a gold-standard album. As a guitarist, Tony's playing on that album is as influential to me as his playing on any of his own albums. I can't believe I never get tired of it; I listen to it so often. It is as musically relevant as when I first heard it 14 years ago. Bela deserves a lot of credit for writing songs that don't sound complicated, but are incredibly musically interesting. His Tales From The Acoustic Planet 2 has some great tunes on it too.
I totally agree, it is amazing how I can listen to these albums a million times and never be tired of. True musical Masterpieces. In a way, I've never heard anything better or even equivalent in this particular music genre since then.
JED: They are really timeless works of art. Which part of your music career do you enjoy the most – live performance, recording, writing, etc.?
Live performance for sure, sharing music with the audience, sharing the good vibes and all the emotions music can spread is a wonderful feeling and so rewarding. In these crazy COVID times I am deeply missing playing live and do hope we'll be able to make it again real soon. A world without live music is not the same, we need it so badly.
Recording in a studio is also fun when you can fix your music with high quality equipment in order to perpetuate your work for anyone, anytime, anywhere. I also really enjoy composing and although I do not consider myself a particularly skilled composer, I've written a few pieces in my life that I am pretty proud of.
JED: Who are three musicians that you think are underrated or deserve more notoriety for their art?
Hard to tell, there are so many that I actually have no specific names to give. To me notoriety is pretty much directly linked to the genre of music you play. Commercial music verses less popular music etc. It depends on so many parameters (time, environment, opportunities to get exposed, chance…) I come from the rather small world of Bluegrass and I know a lot of extremely talented musicians who are known in their field only and totally unknown outside this musical genre. Once you are capable of covering a wider range of music styles then you can reach out to a wider audience; Chris Thile, Alison Krauss, and Béla Fleck are some fine examples.
JED: Tell us a little bit about your current rig – what does your "rig" consist of? What instrument(s) do you play, pedals, mics, etc.?
I play a 2019 custom (I am left-handed) Apitius mandolin built by Oliver Apitius. He is from the Toronto area in Ontario, Canada. He is known as one of the finest mandolin builders of his time and in addition, he is a perfect gentleman. I am very happy to play an instrument that is so good and made by such a humble and lovely person. I also play an old 1916 Gibson H-1 mandola, and a 2017 mandocello made by a very talented young belgian guitar luthier named Mathieu Boulet.
JED: What kinds of strings and picks do you use?
Strings and picks choice is a quest on which most players spend quite some time as I did. String-wise I use D'Addario EJ74s. It is a good compromise regarding the quality and price as I restring my mando rather often. Concerning the picks, I love the second generation of the Dawg and also the Pro Plec 1.5mm. Despite the fact it is made of plastic it delivers a warm, mellow and woody sound. I've been playing these picks for years but on the other hand it does not fit to all kinds of mandolin music. When I need more accuracy and sharper sound or attack I use a Jim Dunlop Primetone sculpted semi round. It also depends on the weather and humidity rate and how the instrument reacts to it. Some days one particular pick sounds better than another so I choose the pick that compensates for the lack of what I need to hear and feel. Anyway, no matter the pick I use, it is always around 1.5mm.
JED: If you were given an unlimited budget for an album production to record your dream album, what would it look like?
I think it would be an album including mostly if not entirely my own compositions recorded with several of my heroes and Sam Bush would be in the top three for sure. I would do it in one of the finest studios in Nashville to get "THE" sound. It is good to dream isn't it?
JED: Absolutely! Who else would you want to guest on the album? Who would you want to produce it? Who would you want to engineer it?
If I may keep on dreaming, I would ask Béla Fleck to cut some banjo tracks and to produce the album. He is such an accomplished musician. Everything he did in his career up to now is terrific. It would be a lifetime achievement for me to work with him.
There are some great engineers in Nashville, guys like David Sinko, Ben Surratt, and Bill Vorn Dick…to name a few.
JED: You have great taste Jeff. I will keep my fingers crossed that you can make this album some day! What is your favorite album or recording that you've made to date?
I used to play for decades with my brother Steve as a duet and later as a trio with a bassist (Louvat Brothers). While I was still in the band we made two records including one on a famous German label "Acoustic Music Records" called Contrasts and featuring our good friend Byron Berline on the fiddle. I also recorded two albums with one of the finest French bluegrass flat-picking guitarists, Thierry Massoubre; one of them, A Walk with You featuring the one and only Stuart Duncan on the fiddle and Missy Raines on the bass.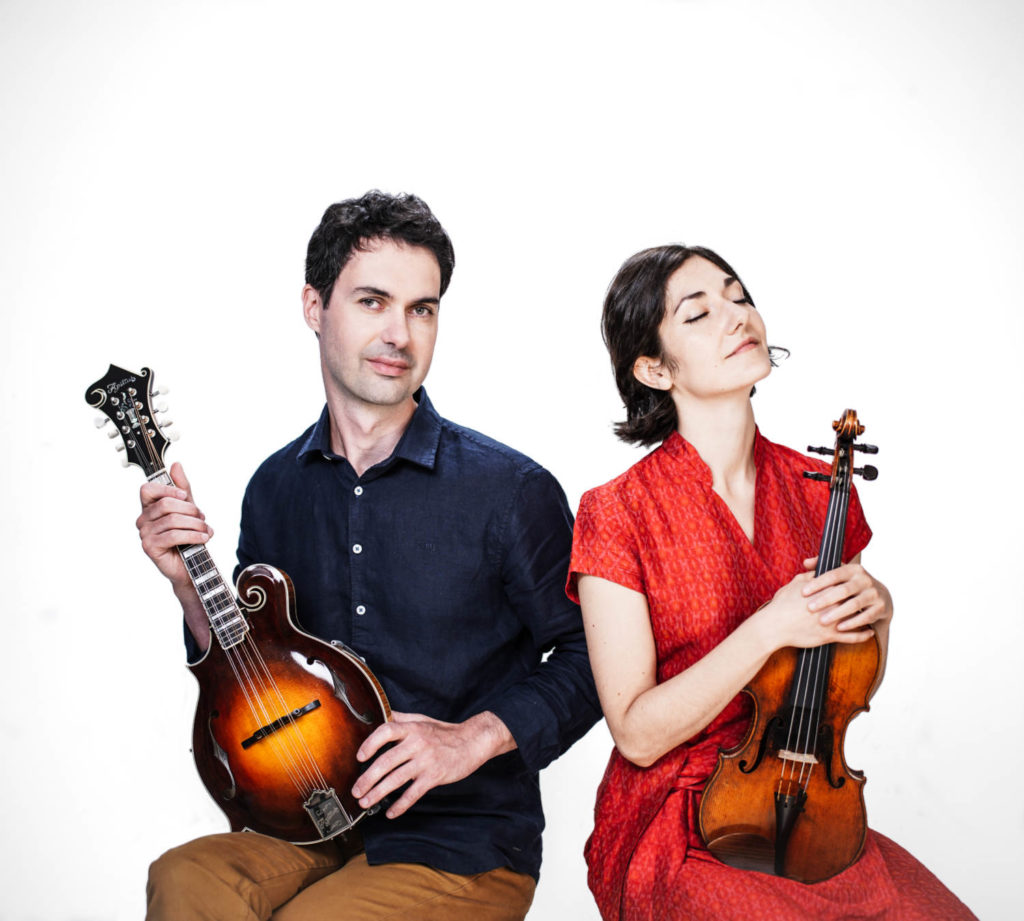 JED: What are you currently working on?
Since I left the Louvat Brothers trio in 2017, I started a new musical adventure with my partner and violinist/violist Ariane Cohen-Adad. Together we form "Szabadsag" (meaning freedom in Hungarian, I have Hungarian roots). This duet blends traditional music from the Bluegrass and Irish repertoire with Klezmer and Eastern European music and Yiddish songs as well as our own compositions. Since we started this project I've incorporated mandolin family instruments such as mandola and mandocello. We use every possible combination of our five instruments to deliver the widest panel of sounds we can. It is very interesting to ask yourself what instruments would sound the best for a given tune or song.
We just released a brand new album entitled Ellis Island which is now available directly from us at or via our official distributor. We also took the liberty to overdub more than two instruments on the record and to add some percussion. I am very proud of this record as it explores new fields to me. The musical process of writing is different from what I was used to in a band. As a duet you have to think differently as with a quartet for example. You feel more exposed, there is no place to hide If I may say so.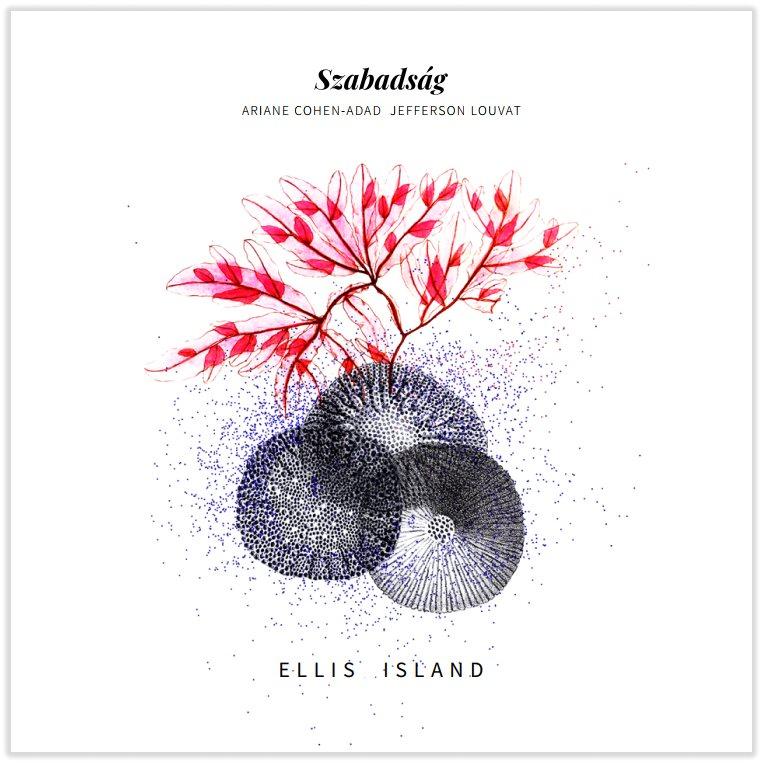 JED: Man I am stoked to hear it. Thank you so much for taking the time to tell us about your music and your story. Congratulations on the release of Ellis Island! Please stay in touch with us and stop in and say hi again soon!
Check out Jefferson's website. Featured article photo of Jefferson and his Apitius mandolin by François Roland.