Three years ago I had never heard of The Wooks. It wasn't until my brother told me about a new band that he was joining from Kentucky that I became familiar with the Kentucky-based "rhythm and bluegrass" band. Leader of that outfit for several years was none other than today's esteemed guest. Within the last year he's retired from the Wook life to attend to other endeavors, but he's been kind enough to humor me with an interview which I am super excited to share with you all! Arthur, introduce yourself to the folks at home, would ya?
I'm Arthur Hancock and I live in Paris, Kentucky. I play bluegrass and old time music as well as try to write songs on my own. I spent years playing in a bluegrass band called The Wooks, and have recorded with my father (Arthur the 3rd) as "Arthur & Arthur." I am also playing in 2020 as a duo with Chris Shouse formerly of 23 String Band.
JED: And man, you're moving! I'm really sad to hear about your relocation but I hope it's a good thing for you. Will you still be considered to be living in Paris, KY or will it be in a different town?
I'll be living in Frankfort, Kentucky. My girlfriend and I are looking forward to it and the community there.
JED: Well I hope the move treats you right man. Tell us a little bit about your beginnings. Your origin story, so to speak. How did you get into music, and what made you choose this path over others?
My Dad was lucky enough to know all the cats living and playing in Lexington during one of the big bangs of bluegrass music that happened around local clubs and at the Red Slipper Lounge. That moment in time revolved primarily around J.D. Crowe and my dad has maintained a friendship with him since they met.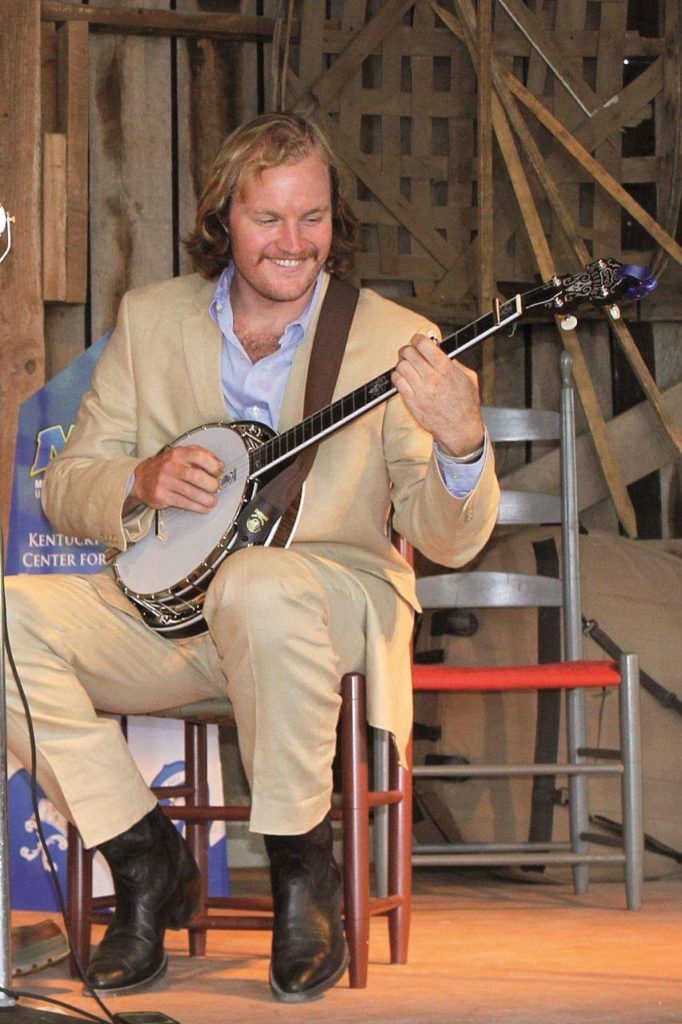 JED: Man, tell me how your dad and JD met.
Dad met JD in the 60s. I'm not sure exactly where but I imagine the scene was not unlike Bluegrass Wednesday Nights at Post 82 in Nashville or Monday nights at Dee's Lounge. There was a joint called Martin's Place and Dad used to get up and play Tiny Broken Heart and Two Little Boys. They've been friends ever since.
I was playing guitar and learning tunes when I entered high school and I watched my dad record the project "Sunday Silence" with JD on the 5 and I knew I wanted to play banjo at that time. I was taking lessons from Anna Marie Simpson in 2002 then moved on to some lessons with Ben Krakauer in 2003/2004. When I made it to Nashville for college I was lucky to discover that Alison Brown was teaching banjo lessons and that I could get college credit for it.
JED: Dude that is awesome. Remind me, did you go to Vandy?
Yes I went to Vanderbilt. Nashville has changed so much.
JED: Yes it has!
I did that for a few years. It was a cool time but it wasn't until I was in my mid twenties that I discovered the jam scene and all the tunes people were playing. I really hadn't played with anyone other than Galen Green, Joe Andrews, and my Dad. I wish I had taken music seriously when I was in college but it's all worked out and I've learned a lot along the way. I Iove playing music because of the connection between the audience and the musicians and the events we get to attend as players. It's important to maintain the traditions of Appalachia's musical heritage.
JED: What are your favorite 5 albums, and do they influence your work? If so, in what ways?
Levon Helm's Dirt Farmer, Robert Earl Keen's No. 2 Live Dinner, Townes Van Zandt's At My Window, Jody Stecker and Kate Brislin's Return, and Foghorn Duo's Lonesome Song.  All music influences us. No matter what we say. Music that moves us becomes part of our DNA. All these records are important to me and have influenced me to push towards my roots. 
JED: Which part of your music career do you enjoy the most – live performance, recording, writing, etc.?
I actually love recording. It preserves a moment forever which I think is really cool. I intend to do more of it.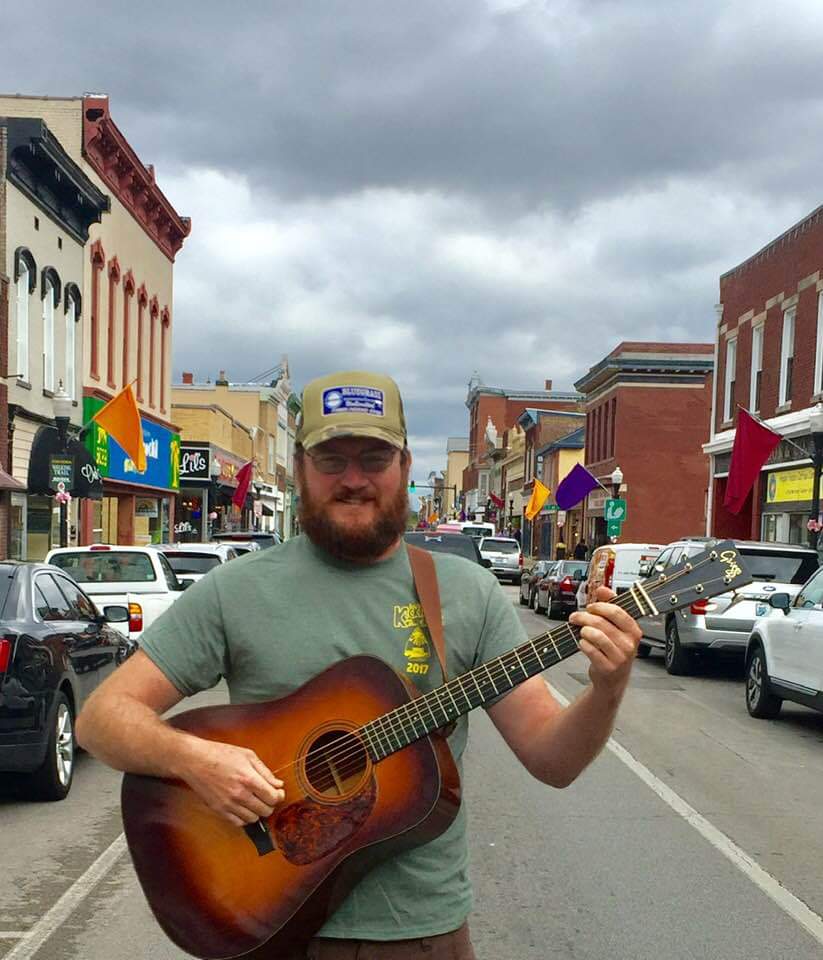 JED: Good – the stuff you record is great. That country album you cut ("Alive at Hillbilly Central") back in September 2019 is rippin'. Man, can you tell me the story of how you came across that Larry Rice tune you showed me a few months ago while we were riding around in the Tacoma?
My dad was friends with Larry from his days hanging with Crowe. Larry was living and playing in Kentucky. I remember meeting Larry at Tampa Bay Downs in Florida. He liked horse racing and was very nice. I grew up listening to his records and I've been so amazed no one cut his song "Take Me Back To The Country." I jammed the tune with The Wooks some and we mixed it with Northern White Clouds. It was fun to make it country and I've got the phone recordings to prove the transformation. I think it's a song I can really relate to so it was fun to sing it. I wanted the Waylon vibe with the intro outro being a nod to Peter Rowan's "Thirsty in the Rain."
JED: The cut is killer. Who are three musicians today that you think are underrated or deserve more notoriety for their art?
John R. Miller without a doubt, but I'm going to dodge your question here a little bit because I am currently witnessing two of my favorite writers and musicians enjoying success. Andrew Marlin of Mandolin Orange and Tyler Childers. I'm so glad to see them kicking serious butt out on the road and I only hope their story continues and their fan bases continue to grow.
JED: Gosh man, I got to see Tyler at The Ryman just last week and I've never seen an audience sing lyrics like that; they knew almost every song he played. He'd start strumming a chord after some silence and the crowd would just lose it. You and Tyler grew up together playing bluegrass and writing songs, yeah?
I opened a bluegrass and BBQ joint in Lexington in 2012 with a buddy named Wilson Sebastion. Tyler came in playing with a band called Small Batch. I remember the first time I heard Tyler sing "Shake The Frost." I knew he had a serious talent but I never dreamed it could reach the heights it has. I'm super proud of him. We got to know each other and had a lot of fun playing music together.
JED: Man, he's really killing it. Tell us a little bit about your current rig – what does your "rig" consist of? What instrument(s) do you play, pedals, mics, etc.?
I play a Griggs G18 guitar and run a K&K pickup through a Fire Eye DI. It's real simple. I've got a lot of banjos but I can't play those anymore sadly. I use Fishman Rare Earth pickups on my banjos.
JED: If you were given an unlimited budget for an album production to record your dream album, what would it look like?
I've recorded with the people I dream of recording with and it wasn't as costly as it might seem. it's all about relationships for me and recording with people that you really connect with. That's a priceless thing.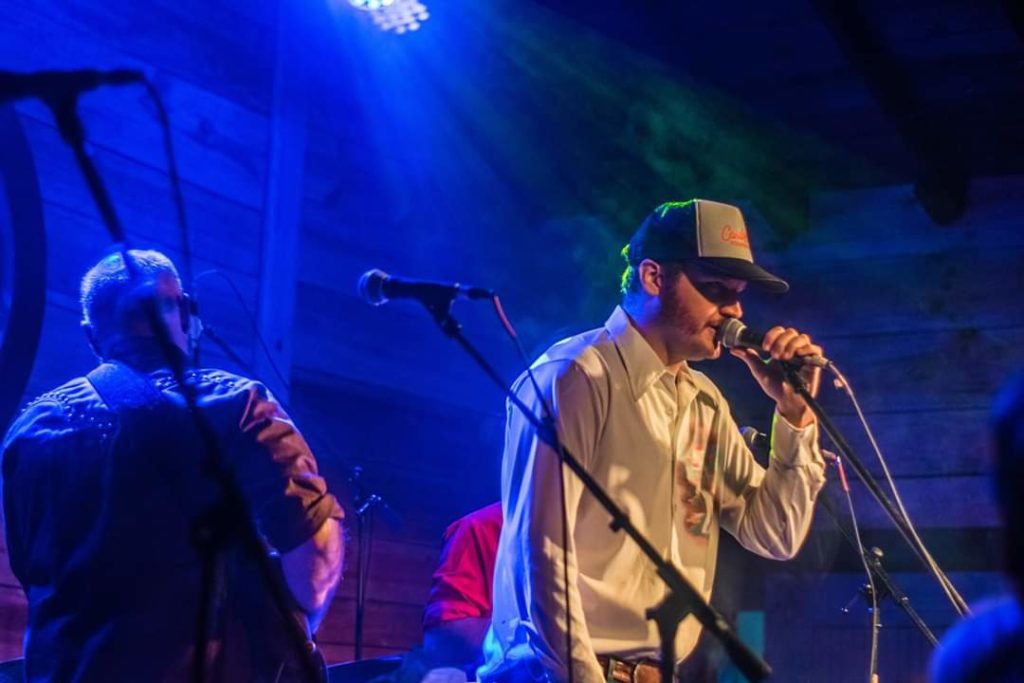 JED: Well stated man. What is your favorite album or recording that you've made to date?
"Little Circles" by The Wooks.
JED: Dude, Wookie Foot Shuffle is my JAM. You wrote that yeah? Didn't you tell me once that song was actually written to be played on clawhammer banjo?
I actually heard Wookie Foot Shuffle in a dream and wrote it clawhammer style when I woke up. I have the iPhone recording of the first time I played it. I wrote it at my parents cabin on our farm.
JED: Wow man, I didn't know it came to you in a dream. What are you currently working on?
I just recorded a 5 song EP with George Guthrie, am playing shows with Hancock & Shouse, and have plans for multiple other recording projects. I am also working on a podcast I hope to roll out this spring.
JED: Dude! I had no idea you and George were working on anything! When will that be released? Loved getting to watch you and Chris play that double booking with Harry & Maddie. What is the podcast gonna look like?
The Short Tiger EP will be out February 28. The podcast is called "The Musical Guest Book" and will debut soon! Short interviews with live performances.
JED: Well man I'm excited that you're committed to staying musically active outside of touring. Thank you so much for taking the time to chat with me about your music and your story. Stay in touch man!
Thanks so much and I look forward to seeing you soon.
Keep up with Arthur at his personal Instagram or his duet project Instagram. Featured article photo by Alexis Faye.